The TopRanked.io Weekly Digest: What's Hot in Affiliate Marketing [+ Textmagic Affiliates Review]
This week's all about magic. From the magic of AI to the magic of text (our affiliate program of the week is Textmagic), and everything in between. We'll even take a bit of a detour into how magical thinking will make you a better (stronger) affiliate. So stick around to the end for all the latest from OpenAI, Mozilla (new social network alert), affiliate programs, and… magic.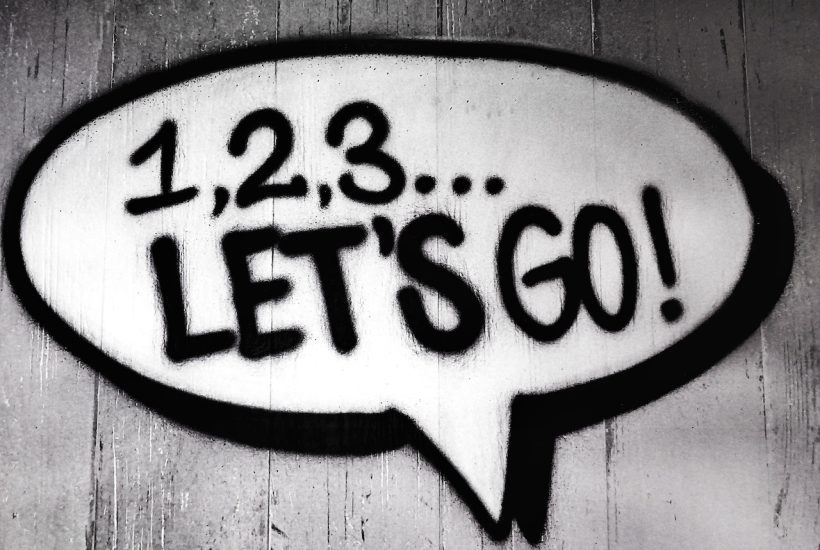 Quick Disclosure: We're about to tell you how Textmagic run a top-notch affiliate program. And we really mean it. Just know that if you click on a Textmagic link, we may earn a small commission. Your choice.
For millennia, our feeble human minds have attempted to explain all sorts of things as magic.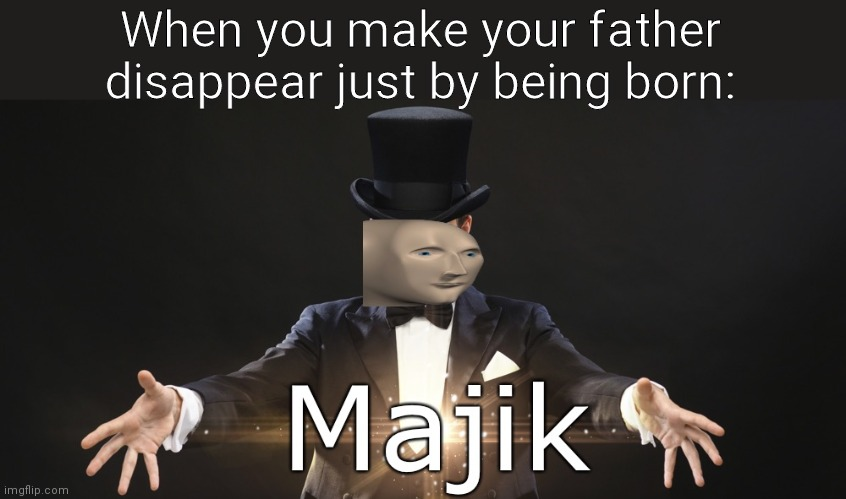 So naturally, when AI came along, there was only one logical explanation.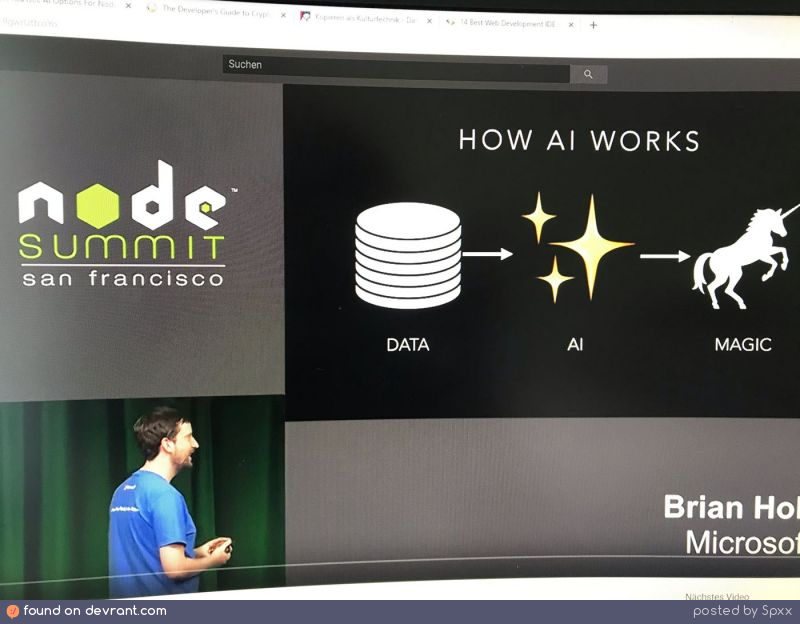 Now, of course, AI's not the only technology that has been described as magic. In fact, there's even a pretty common saying by Arthur C. Clarke about it: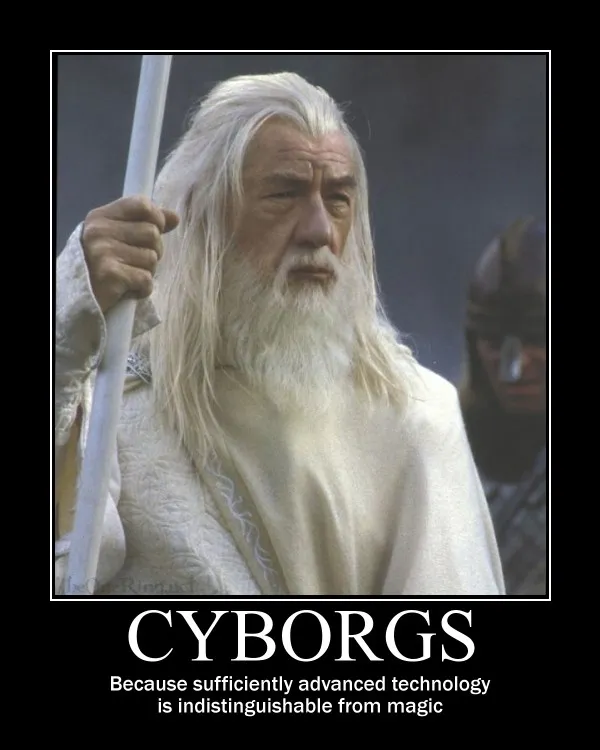 That means, sooner or later, AI's gonna stop feeling like magic.
But that doesn't mean it's going to become irrelevant.
In fact, plenty of 'magic' technology is now more relevant than ever… just like our affiliate program of the week.
TopRanked.io Affiliate Program of the Week — Textmagic
If you're old enough to remember when text messaging first became a thing, you'll remember it felt kinda magical at first. Fast forward to today and, despite the magic being long gone, it's now more relevant than ever.
From package delivery notifications, 2FA authentication, marketing, and everything in between, text messaging is bigger than ever.
And right at the heart of it all is this week's affiliate program of the week — Textmagic.
Here's What Textmagic is all about
To steal the words right off the Textmagic website, Textmagic is "the all-in-one solution for all your business texting needs."
And when they say "all", Textmagic really does mean "all". We're talking about everything from integrations with every major platform (e.g., Zapier) to weird features that most people won't need (e.g., Textmagic has an email-to-text feature).
Basically, if you have some text and you want to send it to a phone, a messaging app, or an email address, Textmagic has you covered.
Dito for receiving — Textmagic still has you covered.
And if you want to do that sending in any sort of fancy automated way, Textmagic also has you covered.
Here's a little about the Textmagic affiliate program
Okay, okay. I hear you. You don't need the Textmagic "all-in-one solution for all your business texting needs."
What you really need is a great affiliate program, right?
Lucky for you, Textmagic has you covered. Here's what Textmagic has for you:
Textmagic runs a tiered, recurring commission structure that starts at 20% and works up to 30% as you refer more clients to Textmagic.
A free 60-day Textmagic cookie for every one of your Textmagic referrals.
Prompt monthly payouts from Textmagic with a minuscule $10 minimum balance requirement (if you sign up with Textmagic via FirstPromoter here).
All the affiliate tools and tracking features you know and love. Exact specs will depend on what platform you signup for Textmagic with. (FirstPromoter or ShareASale)
Here's how to get started with Textmagic
While the Textmagic affiliate program is every bit as good as you'd expect, finding out about it isn't.
In fact, the only trace of it on the Textmagic website is the T&Cs page.
So, if you're looking for a link straight to the signup form, your best bet is going to be to head here.
Affiliate News Takeaways
OpenAI Kills a Bunch of Startups — What This Means for Marketers
Not that I need to say it (but I'm going to say it anyway), but OpenAI announced a bunch of stuff this last week. The most exciting of which is "GPTs".
For anyone who missed it, here's what Altman and Co are rebranding "GPT" to:
By the way, in case you missed it, that Tweet is a not-so-subtle jab at Musk's "Grok" AI. (Which, honestly, given how boring OpenAI's content policies are, I'm kinda excited for…)
Anyway, what really matters here (aside from getting a bit more power over your interactions with ChatGPT) is that the announcements this week pretty much killed a bunch of "AI" startups.
Here's the first summary I found in case you're interested in the various ways OpenAI just killed startups:
Now, to be clear, this isn't necessarily a death blow to direct OpenAI competitors like Anthropic (or Grok). Nor is it a death blow to every AI 'wrapper' company.
What it is a deathblow to is any company that was just a thin 'wrapper' over the OpenAI API. You know the sort — the ones where you could upload a PDF and ask questions, or the ones that were basic 'agents', etc.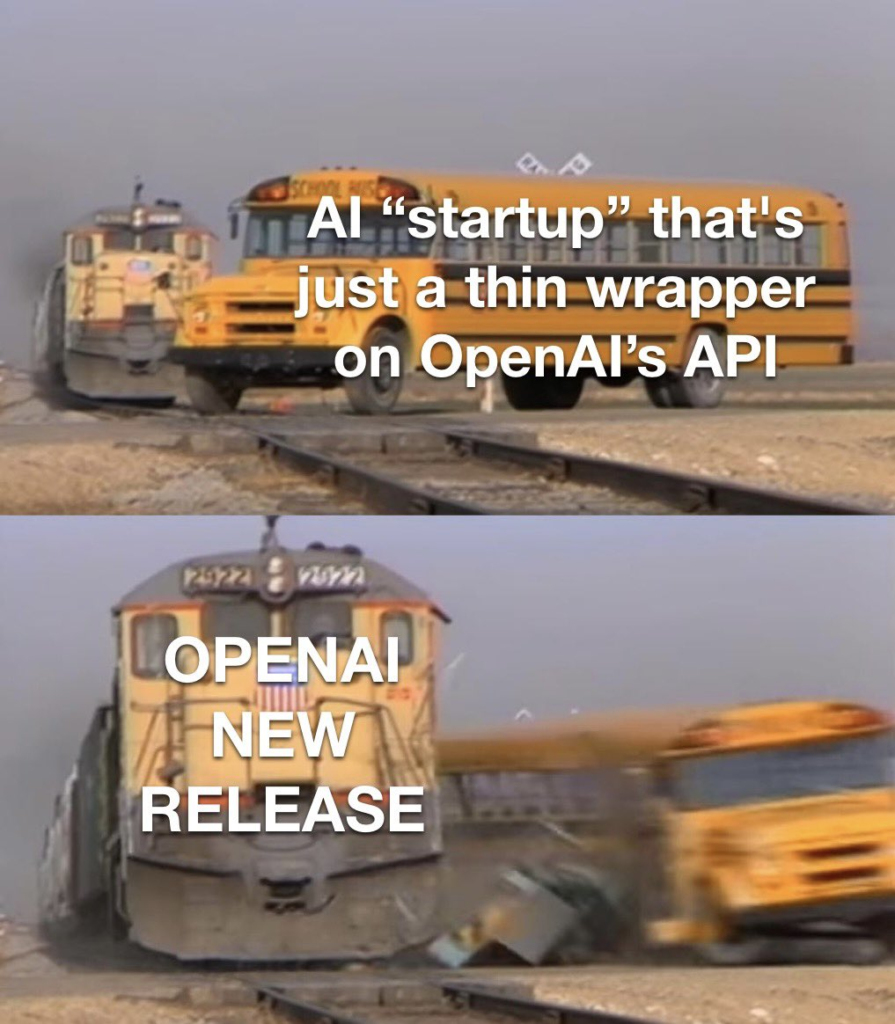 As for the 'wrapper' companies OpenAI won't kill — they're the ones that provide significant value over what's directly in OpenAI's ballcourt. A great example here would be Content at Scale, which incorporates a bunch of SEO features that you can't reproduce with OpenAI for starters (not to mention that even the OpenAI 'wrapper' part of their product probably has countless hours worth of experiments with prompt engineering behind them… you know, the sort of stuff you're not going to reproduce on your own… you should really go check out their product here.)
Now, as for what any of this has to do with marketing, that's simple.
Remember how the whole "AI will kill SEO" thing has been buzzing at different times over the last year?
This is just another step towards AI-killing a bunch of stuff… and that includes SEO.
(PS: AI won't kill SEO… just some of it. See this take on the AI vs SEO thing.)
Takeaway
Look, while AI is going to kill a bunch of stuff, don't expect OpenAI/Google/etc. to do it all alone. While OpenAI might have killed a bunch of startups this week (and will probably kill a bunch more soon), don't expect it to kill all of them.
While summarizing PDFs and browsing the web is well within the OpenAI ballpark, don't be so sure they'll be so keen to, let's say, develop WordPress plugins. Or games. Or to give you proper, in-depth betting tips and picks with live odds, upcoming fixtures, and some links to top sportsbooks.
And this is where you, the marketer should be looking — you should be looking to provide value beyond what foundation models alone are likely to provide.
To illustrate, take the sports betting example. Let's say a fanatic does manage to create a betting GPT that doesn't trip up the OpenAI content filter. The best their GPT is going to do is spit out a summary of whatever Bing search turns up first. And then if they want live odds… well, good luck to them… unless they've also got a sports API subscription they're willing to share with their pet GPT).
Also, don't forget that if someone's accessing information regularly, they'll probably just end up finding another source that can put all of that together in a nice UX. There's a reason Lynx went out of fashion way back in the dark ages of the internet.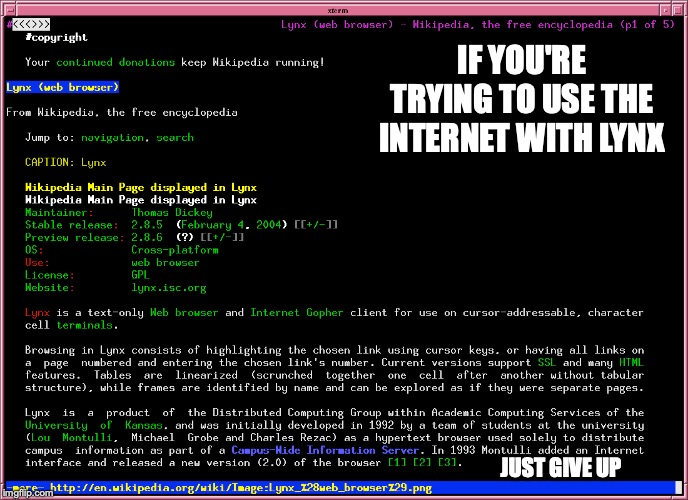 And that, dear reader, is where you should be focussing your energy if you're worried AI is about to kill your affiliate business — provide value where OpenAI and Co probably won't.
Oh, and PS: If you're looking to sell something to a bunch of AI startup founders who are now looking for new ways to build a bit more of a moat around their OpenAI wrappers, there are a bunch that could probably benefit from some text messaging integration… so go sell them Textmagic.
Mozilla Officially Launches its Version of New New Twitter
With Pebble/T2 shutting down a couple of weeks ago, and Bluesky/Threads/etc. consolidating around some steady growth, you'd think the race to build New New Twitter would be slowing down.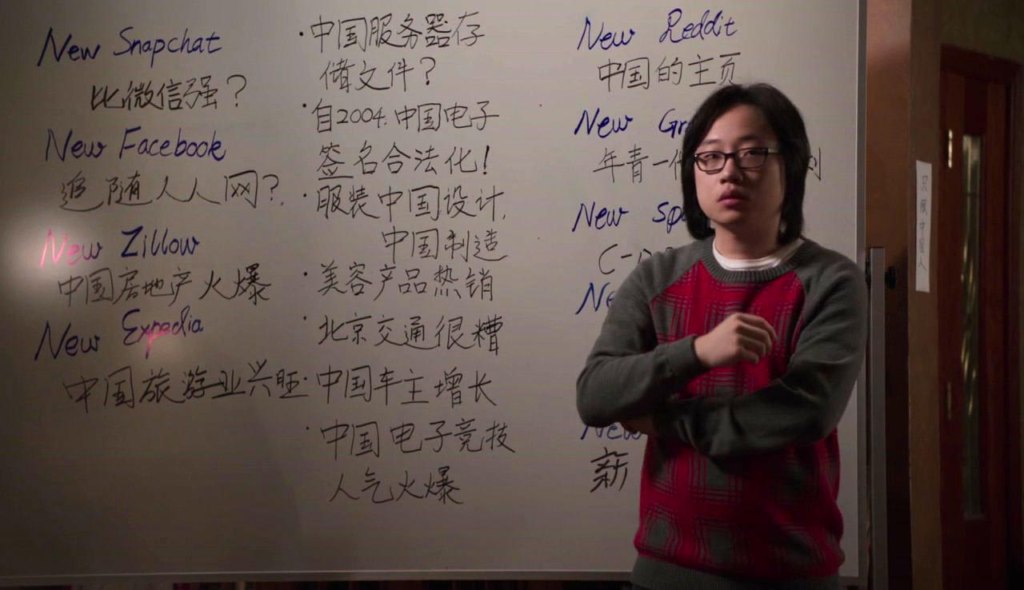 Turns out, it's not.
Enter the latest competitor to throw their hats into the new Twitter arena — Mozilla (the creators of Firefox).
To cut a long story short (the TechCrunch article linked above is about 2k words…), Mozilla's convinced that the future of the social internet is the "Fediverse".
Now, this is a topic we've written about before, so if you don't know what the Fediverse is yet, too bad — we're not going to provide a primer here. Instead, here are a few past entries on the Fediverse, straight from the TopRanked affiliate news digest:
Ok, now that you're back, let's get to the meat of the Mozilla story.
To start with, here's the general 'thesis' behind their Fediverse bet (besides the obvious 'Musk opportunity'):
Mozilla wants to promote a bunch of moral-based stuff like 'trust and safety' (that we've been debating for years now), and the desire to create a 'collaborative and open internet'.
More importantly, outside of the feel-good PR, they're also picking up on growing dissatisfaction with the current social media landscape in general.
On the second point, there's plenty of data floating around right now that points in that general direction.
Now, granted, a lot of it is of the purely anecdotal 'more of my friends are starting to cut back on social media because it sucks' type (but, at a certain volume, anecdotes do sort of count as data).
But there's also quite a bit of 'hard' data, like this recent Morning Consult study on posting frequency.
Here's a graph from it: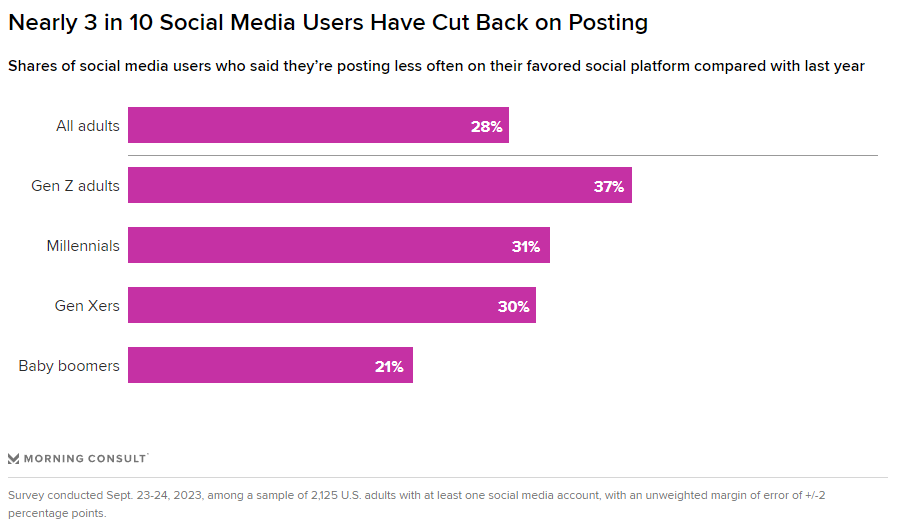 Or the dozens of reports about TikTok's engagement rates dropping this year.
Dito for every other major platform. (Although, let's be honest, declining engagement on the likes of Facebook isn't really that much of a surprise.)
As for an explanation for this decline, Carolyn O'Hara (Mozilla's Senior Director of Content) says this:
"I think that it's a pretty poor track record by existing companies that are only model motivated by profit and just insane user growth, and are willing to tolerate and amplify really toxic content because it looks like engagement…" This, she says, is leading to "Consumers feel[ing] that the vibes are off a little bit…these platforms aren't necessarily working in their best interests, or satisfying them."
So, assuming declining engagement has anything to do with user dissatisfaction, there probably hasn't been a better time to launch into the social media space.
As for how Mozilla plans to go about it, there won't be any reinventing the wheel here. Instead, they'll be building around the Mastodon ecosystem. That could be good news for Mastodon, which has kinda stalled since the initial hype earlier this year.
Here are a couple of graphs for 'engagement metrics' (more data available here):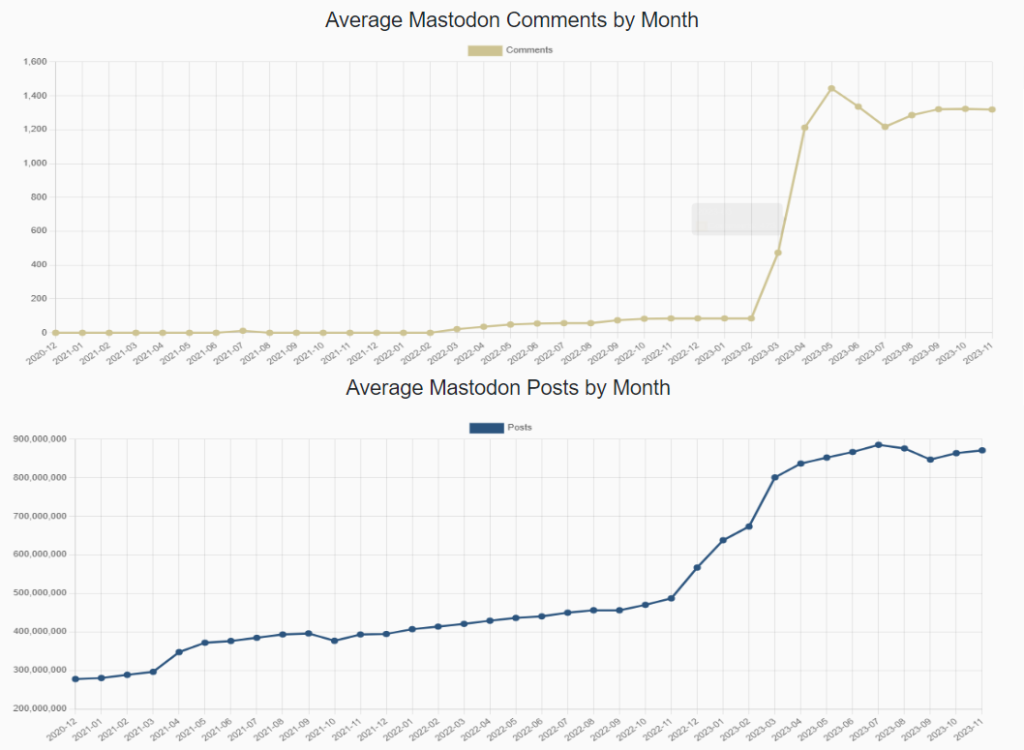 Now, obviously, they're paltry numbers compared to major platforms. But still, those 900 million monthly posts (made by about 1.7 million monthly active users) aren't something to sniff at.
Especially when you consider Mastodon currently has a bunch of headwinds that major platforms don't.
To name just a few:
Mastodon is 'complicated' compared with signing up for a regular social network.
Mastodon is more or less just a bunch of nerds running servers in their Mom's closet. This creates problems around servers suddenly disappearing, taking users (and their data) with them.
Mastodon, while not terrible, lacks the slick UX and mobile apps of major platforms.
So, theoretically, Mozilla throwing some of its Google Bucks behind the platform could be the tailwind it needs to get moving. For starters, there are much-needed Android and iOS apps in the works. (And, if Firefox is anything to go by, these will be every bit as polished as any other major platform.)
So now the only question is, will the Mozilla Fediverse bet pay off?
Takeaway
As we've said before, it's probably still too early to go all in on the Fediverse. But, as the last year has shown, there's a lot of jostling in the social media space right now — especially around Twitter/X alternatives.
So it's probably worth at least investigating right now.
Even more so now that Mozilla's getting involved. After all, they will be making what is probably the first properly cashed-up bet on the Fediverse. (Sure, there's also Bluesky, but it chose to go out and create its own Fediverse protocol. That could become a major headwind now that ActivityPub is consolidating as the de facto standard with Threads promising to eventually support it, a W3C recommendation in the pipeline, and just about every other Fediverse platform using it).
As for what you should test the Fediverse out with, my guess would be to target a technical crowd given the 'hurdles' and the 'run your own server' nature of the Fediverse right now.
And as for what to sell to this technical crowd… how about a product like TextMagic?
Closing Thought
For many people, 'magical' thinking is something they like to think they're above.
Take that Arthur C. Clarke bit from the opening about technology == magic. There are plenty of haters out there who will tell you you're a less-evolved human if you think about it as magic.
And, if I'm completely honest, I kinda reacted the same to the latest TikTok trend that's bubbled up into the mainstream consciousness — "delulu is the solulu" (translation — having delusional thoughts is how you make your dreams come true).
In fact, this almost fits nicely into the (pop) psychological definition of 'magical thinking'.
But then I read this article, which reframes the whole "delulu" trend as basically being "positive thinking."
And that got me thinking… maybe delusion's not such a bad thing after all.
Now sure, normally if we want to achieve something, we need to set goals. And how we reconcile 'delusional' with the 'A' in SMART (Attainable) isn't always clear.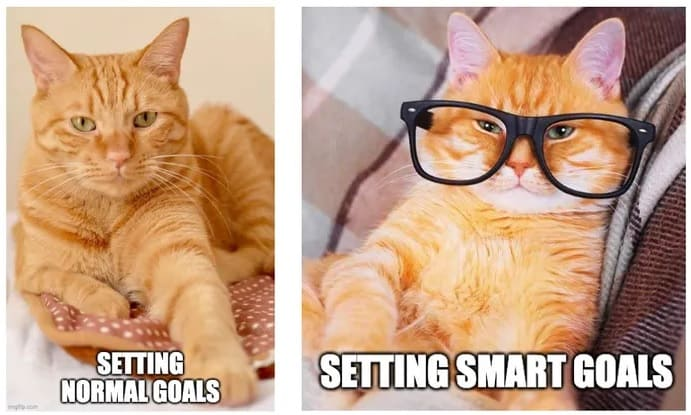 But on the flip side, at what point does the attainable become delusional? After all, how can we predict what will be attainable?
Something as simple as a little bad luck can quickly put something otherwise 'attainable' out of our reach. And luck could also make the unattainable fall right into your lap.
And besides, what's going to be more demotivating — tripping up on the road to your 'attainable' goal of achieving a solid affiliate income, or having that same stumble as you chase your "I'm going to become a multi-billionaire no matter what" delusion?
I'm going to argue that if your delusion is delusional enough, it's going to take a whole lot more setbacks to throw you off course than it would if your supposedly 'attainable' goal started feeling out of reach.
So why not embrace the "manifesting", the "delulu is the solulu"… the magical thinking?
Especially when you've got an affiliate program with magic right in its name to help you on your journey down the road that doesn't end until delusion. (So go work your magic with Textmagic.)
__
(Featured image by SevenStorm JUHASZIMRUS via Pexels)
DISCLAIMER: This article was written by a third party contributor and does not reflect the opinion of Born2Invest, its management, staff or its associates. Please review our disclaimer for more information.
This article may include forward-looking statements. These forward-looking statements generally are identified by the words "believe," "project," "estimate," "become," "plan," "will," and similar expressions, including with regards to potential earnings in the Empire Flippers affiliate program. These forward-looking statements involve known and unknown risks as well as uncertainties, including those discussed in the following cautionary statements and elsewhere in this article and on this site. Although the Company may believe that its expectations are based on reasonable assumptions, the actual results that the Company may achieve may differ materially from any forward-looking statements, which reflect the opinions of the management of the Company only as of the date hereof. Additionally, please make sure to read these important disclosures.