The Name Says It All: Clean Air Metals Inc. Is Delivering the Metals Needed for a Clean and Green Energy Future
While lithium might get the lion's share of attention in the green energy metals race, it also tends to distract from the simple fact that we're going to need a whole lot of other clean air metals to get there. Metals like platinum, nickle, and palladium are equally as crucial, which puts companies like Clean Air Metals in prime position to become true leaders in the green energy metals sector.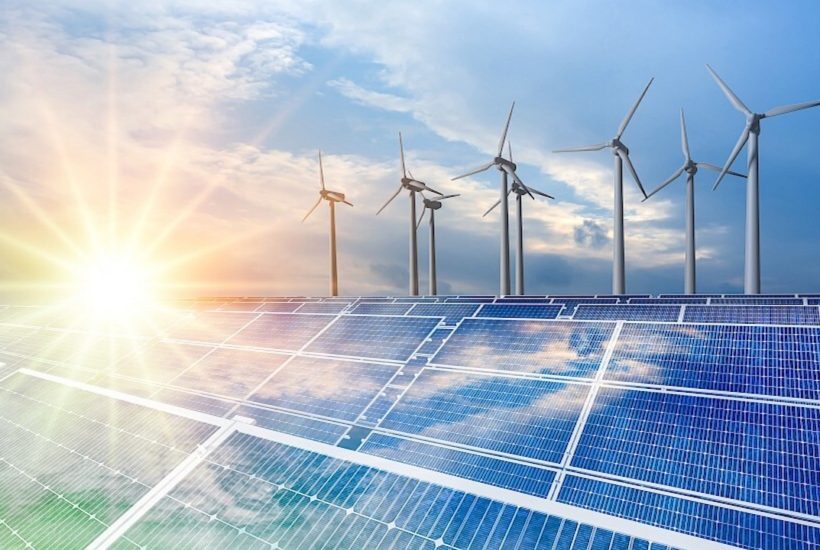 We hear a lot of talk about the need for lithium as a key mineral in our green energy future. And this is perhaps for a good reason. It is, after all, the common denominator in the best battery technologies available to us today.
However, while all the attention it garners may be well-deserved, it also tends to distract from the simple fact that we're going to need a whole lot more than just lithium. Even something as simple as a cursory look at the chemistry of any lithium-ion battery reveals a host of other minerals at play.
For example, take the chemistry favored by electric vehicle manufacturers: lithium nickel manganese cobalt oxide (LiNiMnCoO). Also known as NMC, the predominant mineral here is nickel, not lithium, as we might have intuitively suspected.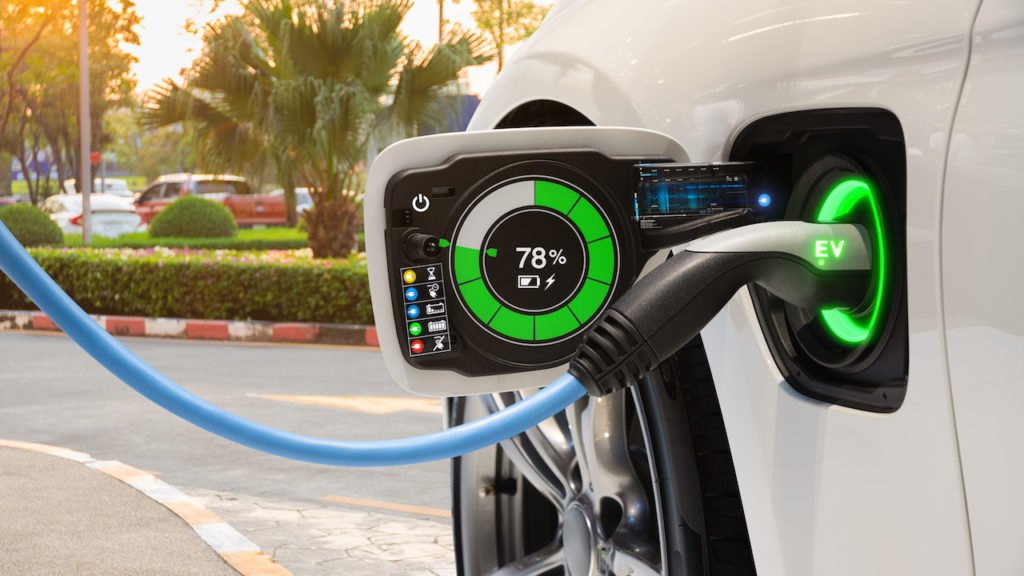 But there's more. Clean energy metals go much further than those required by batteries. There's also platinum (for its use in hydrogen fuel cells) and copper (for its use in wind turbines and electric vehicle motors). And then there are even metals crucial in emission-reducing technologies, even if having no immediately obvious application in fully-renewable energy technologies. Emission-reducing catalytic converters, for example, depend on palladium.
So if we need all of these metals to make the green energy revolution feasible, who are the companies supplying them to the world? One candidate worth a closer look is the appropriately-named Clean Air Metals Inc. (TSXV: AIR).
Clean Air Metals for a Green Energy Future
Clean Air Metals Inc. (TSXV: AIR) stands ready to help meet the demand for green energy metals. This is thanks to the density of minerals central to the clean air revolution being a key highlight of its Thunder Bay North (TBN) project.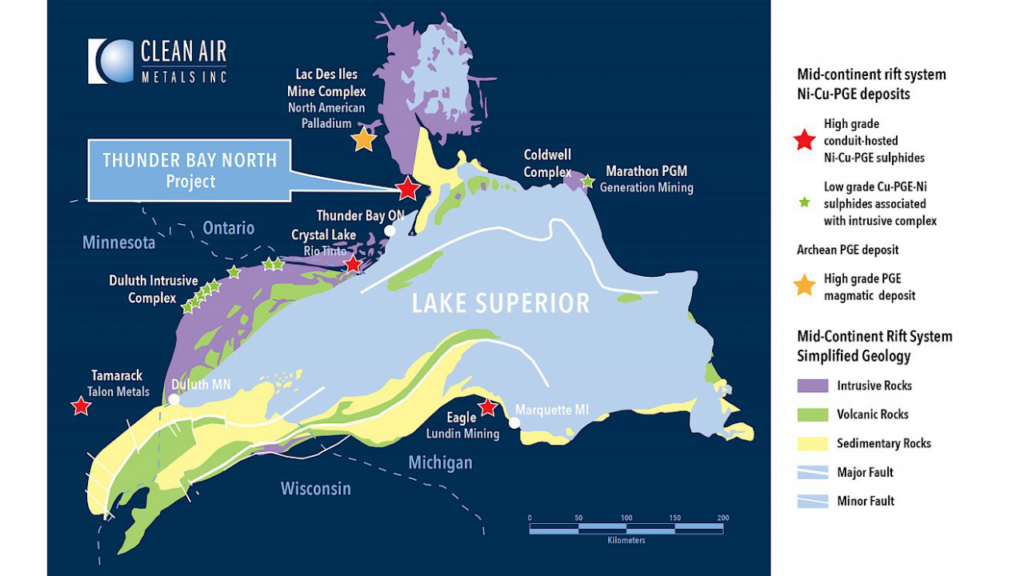 Located about 50 km northeast of the Ontario city of Thunder Bay, TBN lies in the highly prospective Thunder Bay mining division. Here we find a project rich in platinum, palladium, copper, and nickel, with high-grade resources within two large magma conduit bodies hosting the Current and Escape deposits.
Together, the Escape and Current deposit hosted by TBN — which Rio Tinto and Panoramic Minerals previously owned — were vended into a shell company. This then became Clean Air Metals via a reverse takeover, with both deposits acquired for a total of C$15 million.
Previously, the two deposits have seen almost $100 million in past exploration by prior owners Rio Tinto and Panoramic Minerals. Now Abraham Drost, CEO, Clean Air Metals Inc, is gearing up to bring it back, noting that "it was (former CEO of North American Palladium) Jim Gallagher and I that were recruited to come in and run the deal and bring it back to trade as Clean Air Metals on the back of this remarkable set of assets."
The Results Speak for Themselves
Those assets have been churning out value since Clean Air Metals took them over in 2020. The latest set of assays results from infill drilling on Escape and Current speak to the high-grade nature of the deposits. Hole 83A cut an impressive 46.0 m of 3.03 g/t platinum, 3.94 g/t palladium, 1.33 percent copper, and 0.51 percent nickel.
Those platinum, palladium, and copper grades are stellar, and they speak to a set of deposits that boast impressive metals totals. The Escape deposit, which was subject to considerable additional drilling in 2021, should see its indicated resource (849,481 oz of 6.16 g/t platinum equivalent) grow materially on the next estimate. And that will go along with the indicated 2.23 million platinum-equivalent ounces (at 5.79 g/t platinum-equivalent) Clean Air Metals already has at the Current deposit.
Drost comments, "the objective of the drilling is to bring the inferred resource into indicated and the indicated into measured. But are we going to add materials? Absolutely. We could add as much as two years to the mine plan."
That growth will come on the back of a recently released preliminary economic assessment for TBN that gives the project a pre-tax NPV, discounted at 5 percent, of $425 million, IRR at 31 percent, and a post-tax NPV, discounted at 5 percent, of $293 million.
The estimate projects total mill feed of 12 million tonnes at 7.3 g/t platinum-equivalent, at a cash cost of $86.61/tonne over a 10-year mine life. The grades at TBN provide an exceptional 59 percent margin in the first five years of output, offering a rapid 2.6-year payback post-tax on initial capital costs of $367 million.
The plan comes together as Clean Air Metals looks at developing what were two separate deposits (Escape and Current) as a single project. The past work on Current had already shown it was a viable project, but "the real breakthrough that Clean Air Metals brought to the table, was the 50,000-60,000 m of additional drilling at Escape to demonstrate that it also could add economically to the mine plan," says Drost.
Thanks to that work, Clean Air Metals is moving into 2022 with a project that is relatively low risk, low in capital intensity, and quick to production, with robust financial metrics.
A Responsible Green Energy Investment
In pursuing metals that are integral to the clean air revolution, Clean Air Metals is an exploration and development story investors can feel good about. Not only is it planning to produce metals that are vital to reducing global air pollution and addressing climate change, but the company has adopted leading industry standards for the management of health, safety, and the environment.
The company is putting its money where its mouth is in that regard, having recently published an ESG report for TBN. Drost says in the report that "in the EU and increasingly in North America, investors are ESG driven. In the EU, it is well known that a company must be ESG reporting before investors will consider the technical merits of one's project."
Clean Air Metals sees the ESG report, which is a rarity for an exploration-stage company, as a way to differentiate the company from its peers. It also may have played a role in the recent $12.5 million in private placement money that Clean Air Metals was able to raise for the project. That investment included a $1.65 million strategic investment from noted investor, Michael Gentile.
Clean Air Metals Are the Key to a Green Energy Future
The funds raised will help Clean Air Metals move its project towards pre-feasibility as it markets its minerals endowment to the broader investing public. And this comes at a cruicial time as global investment in green energy ramps up.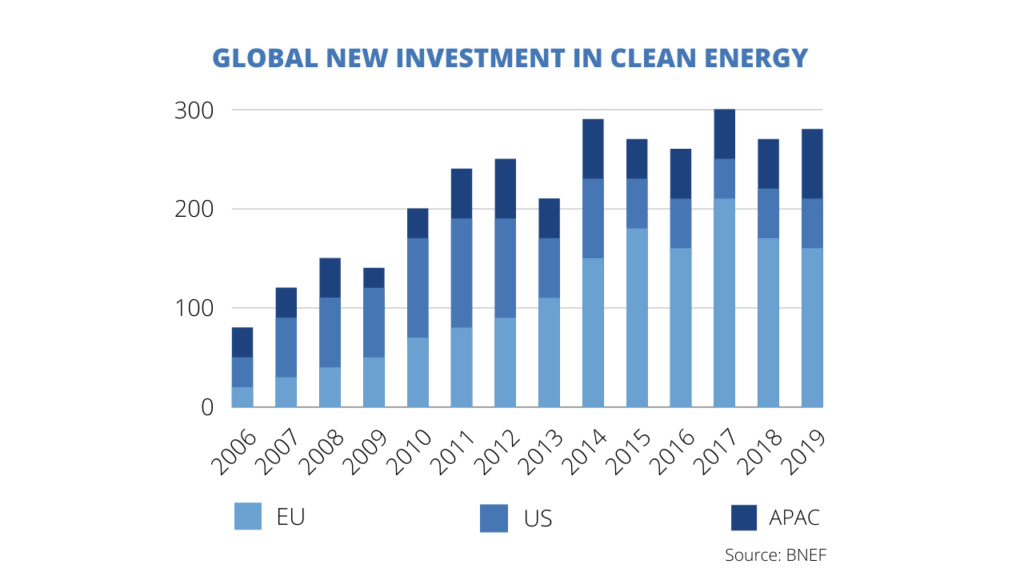 TBN's rich copper and nickel mineral resources join its platinum and palladium mineral resources as key commodities that will be in greater demand as the world transitions to clean energy. Drost notes, "having put out a PEA with very favorable economics, most favorable grade, lowest capital intensity, proximity to infrastructure, this is a story that needs to be told for 2022."
With Tesla recently cutting an agreement with Talon Metals for their nickel supply in nearby Minnesota, TBN's location near the auto company infrastructure could attract investment interest from automakers seeking to strengthen their strategic supply of metals. TBN could also send ore to nearby mines looking for feed material for their plants. The opportunities for synergies appear compelling.
Clean Air Metals offers exposure to metals that will both ease the transition from internal combustion engine vehicles and provide the commodities the world will use to create a zero-emissions future. As such, it seems particularly well-positioned for growth in the current environment.
For more information on Clean Air Metals, visit its website here.
Make sure to follow Clean Air Metals on social media for the latest news:
__
(Featured image by Fit Ztudio via Shutterstock)
DISCLAIMER: This article was written by a third party contributor and does not reflect the opinion of Born2Invest, its management, staff or its associates. Please review our disclaimer for more information.
This article may include forward-looking statements. These forward-looking statements generally are identified by the words "believe," "project," "estimate," "become," "plan," "will," and similar expressions. These forward-looking statements involve known and unknown risks as well as uncertainties, including those discussed in the following cautionary statements and elsewhere in this article and on this site. Although the Company may believe that its expectations are based on reasonable assumptions, the actual results that the Company may achieve may differ materially from any forward-looking statements, which reflect the opinions of the management of the Company only as of the date hereof. Additionally, please make sure to read these important disclosures.