Woman to Watch: TV personality and entrepreneur Martha Stewart
Martha Stewart is a household name now but she overcame troubles to get where she is now.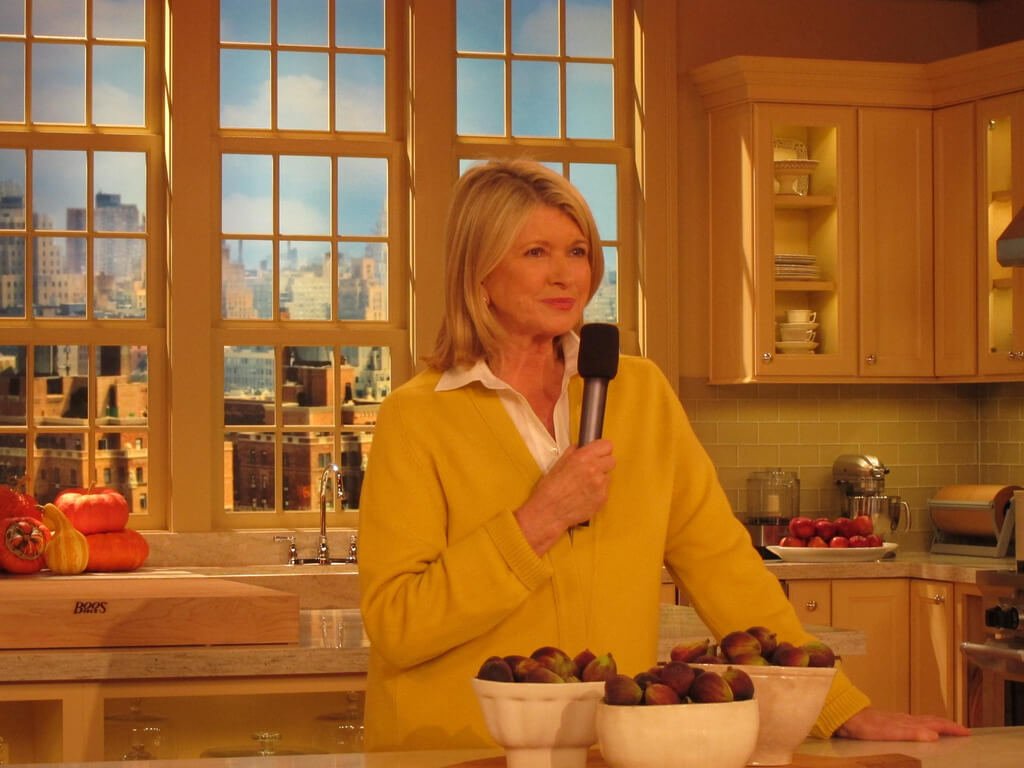 You may have heard of her these past few years as Martha Stewart's name is all around businesses, companies and even television shows, therefore becoming a household name. She even went on to create her own "media empire." However, despite experiencing a tough time behind bars, her time there did not stop her from establishing more business ventures, writing more books and hosting a show with an iconic rapper.
Martha's early days
Born Martha Helen Kostyra in Jersey City, New Jersey, on August 3, 1941, Stewart spent her childhood at the town of Nutley in New Jersey. While studying at a grammar school, she helped coordinate birthday parties for her neighbors' children. She had a modeling job when she was in her college years, where she made appearances in runways and television and print ads.
Following her stint in modeling, Stewart studied the ropes of gourmet cooking with the help of the late Julia Child's "Mastering the Art of French Cooking" book. She proceeded to establish a catering company together with her partner, Norma Collier. It became a hit to customers, including corporate and celebrity clients, because of her gourmet food and the creativity she poured out on her food's presentation.
Making her way to the media industry
Stewart then went to the publishing industry when she wrote and published her first cookbook titled "Entertaining" in 1982. Of course, it was not made possible if it was not for her brilliance in cooking.
She was handling the catering for a book launch when Crown Publishing President Alan Mirken saw the talent of Stewart as evident from how her company handled the party's food. Mirken then approached her husband at the time, Andrew Stewart, to introduce him to her.
This encounter led to another door opening for Martha as writing a book was one of her dreams. It also paved the way for more of her successful cookbooks such as "Martha Stewart's Quick Cook Menus," "Martha Stewart's Hors D'oeuvres" and "Martha Stewart's Wedding Planner."
More opportunities came to Stewart after her cookbooks as Time Publishing Ventures, Inc. collaborated with her in 1990 to work on a magazine known as "Martha Stewart Living," to be published every month. She also started the eponymous television show in 1993, and it aired for 11 years.
After her purchase of the "Martha Stewart Living" magazine from Time Warner, Inc. in 1997, Stewart formed her own media and merchandising company, the Martha Stewart Living Omnimedia, Inc, (MSLO), merging her magazine, TV show and books in the process. She became its chairman and CEO.
Two years later, Stewart's company went public. Its value reached $1.8 billion right after it entered the stock market, and each stock in the company cost almost $37. The firm enjoyed further success when it recorded $295.6 million of annual sales and $21.9 million of profits in 2001.
The ImClone scandal and brief incarceration
However, things took a downturn for Stewart when she became involved in the ImClone stock trading case. She bought almost 4,000 shares of the biomedical company that family friend Samuel Waksal owned.
When Waksal learned via a tip about the U.S. Food and Drug Administration's (FDA) rejection of its cancer treatment drug called Erbitux before the news hit the public, he alerted the company's stockholders and instructed them to sell their stocks. But this plan backfired when the U.S. Securities and Exchange Commission got hold of that knowledge, along with the news of Waksal's attempt to sell his stocks, leading to Waksal's arrest under the accusation of insider trading.
Stewart's name emerged in the case as well two years after Waskal's arrest. It was revealed that in December 2001, she sold her stocks before the announcement of FDA rejecting the approval of Erbitux. During the controversy, she resigned from her positions as the chairman and CEO of MSLO.
As a result, she was then arrested under illegal insider trading charges and spent five months each imprisoned at the Alderson Federal Reformatory for Women in West Virginia and in house arrest. She was also fined $30,000 because of her lie about selling her shares in the company and was banned for five years to perform her roles at MSLO.
During her time in prison, she read many books and was given the task of decorating the prison for Christmas with only $50 as budget. She also organized an event where she read all her Christmas cards to her inmates, especially to those who do not receive any letters from their loved ones.
Stewart's time and kind gestures for her fellow inmates led to a deeper appreciation for the imprisoned entrepreneur. They even gave her an affectionate nickname, "M. Diddy."
Her imprisonment did not stop her business from progressing, surprisingly. During that time, her K Mart products' sales did not suffer, and her magazine's sales for advertisements and her interior paint line were also unscathed amid her incarceration.
Before her release, she also had opportunities waiting for her like her talk show titled "Martha," which ran for seven years from 2005 to 2012, and the spin-off of Donald Trump's "The Apprentice," which aired from September to December 2005.
In an interview, Stewart shared that throughout her imprisonment, her family continued to support her, and her optimism regardless of the situation kept her in place, helping her endure such a dark time in her life.
Successful comeback
Stewart's career made a quick recovery post-imprisonment as more business opportunities came her way like writing and publishing "The Martha Rules," a book about building and maintaining a startup, in 2005 and launching house models inspired by Stewart and built by KB Home. She also rejoined MSLO's board of directors in 2011 after the expiration of the five-year ban and resumed her duties as chairman of her company in 2012.
She also made her way into television shows like a cameo in the first season of "Ugly Betty" and portraying the role of a private school headmistress in "Law & Order: Special Victims Unit." Her episodes in both shows aired in 2006 and 2012, respectively. In October 2012, PBS aired "Martha Stewart's Cooking School," a cooking show based on the book of the same name. It is now in its fifth season.
Her biggest television project is her unexpected team-up with rapper and good friend Snoop Dogg in a variety show titled "Martha & Snoop's Potluck Dinner Party." This unlikely pairing and the show have been well-received, with Vulture calling it "a fun show." The show is currently airing its second season on VH1.
Venturing into the world of wine
Still looking for growth, Martha Stewart has entered the wine industry with the establishment of her newest company, the Martha Stewart Wine Co.
According to the company's brand management director, Kristin Rozum, Stewart and wines go hand in hand because of her expertise in lifestyle and her desire of "making the moment perfect."
But the one thing that sets Stewart's wine company apart from others is her judgment of wines. She does not look at them objectively or technically, but she gauges them if they can lead to beautiful moments in events.
Some wines have been added to the "Martha's Favorites" collection, and these include California's Sierra Trails Old Vines Zinfandel and France's Racine Rosé Côte de Provence.
Rozum stated that one of the company's goals is to help wine drinkers discover more selections of wines. She further detailed that the company sells wines at affordable prices, with a price range of $9 to $25.
(Featured image by Buttontree Lane via Flickr. CC BY-NC-ND 2.0)