What Kind of Website Does My Business Need? Pre-designed or Custom?
If you need a website for your business, there are a lot of options out there, to the point of it becoming completely overwhelming. If you're brand new to the world of business, and you're not sure about things like your target audience or unique selling position, then a pre-designed theme is probably a good place to start. Learn about the difference between pre-designed and custom WordPress themes.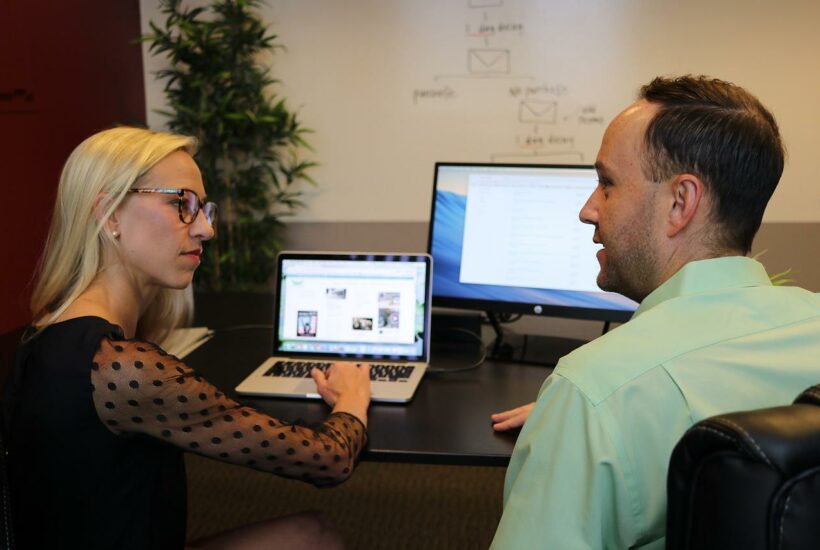 In today's world, if you own a business, you've got to have a website. Without one, the chances of your ideal customers being able to find you are slim to none.
But designing and developing a website requires a wide range of skills rarely possessed by one person, and if you don't build websites for a living, it can be tough to even know where to begin.
There are a ton of options out there, websites can be very expensive, and it's difficult to know what kind of website your business actually needs, especially if you're just starting out.
That being said, in keeping with my mission to help business owners and entrepreneurs achieve greater success, I thought it would be good to share some insight on this topic.
After building websites for well over 20 years, I've learned a thing or two about what kind of website will work best for a particular business.
So, if you're asking yourself, "What kind of website does my business need?" then this article should give you a better idea of what will work best for you.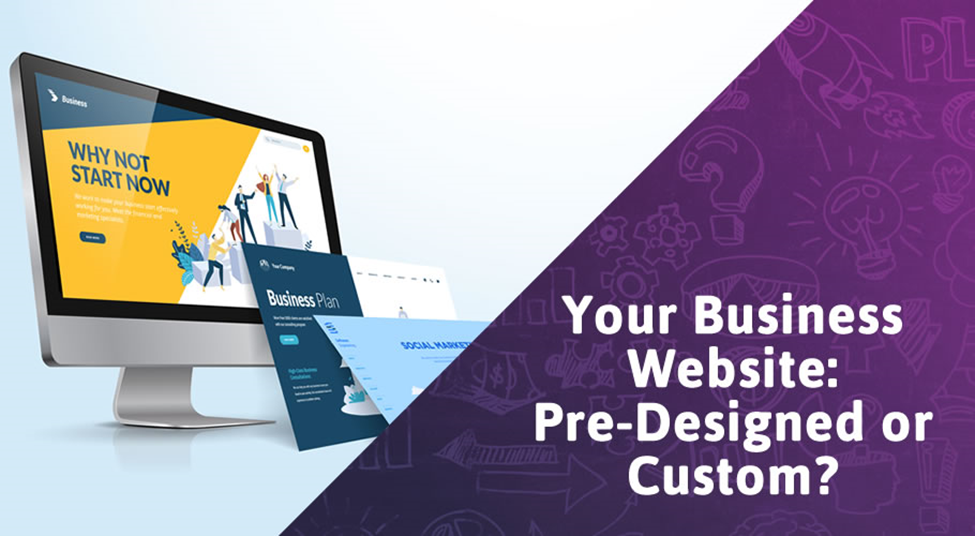 What Kind of Website Does My Business Need?
If you want to build a website for your business, there are a plethora of options out there, to the point of it becoming completely overwhelming.
But for the purposes of this article, I'm going to make things a bit simpler by discussing just two of the most popular choices – pre-designed WordPress themes and custom-themed WordPress websites.
Yes, there are also third-party DIY builder sites, such as Wix or GoDaddy's free Website Builder option, but if you're a serious business owner who wants to set yourself apart from your competitors and have full control and ownership over your website, I don't recommend going that route.
Before I continue, though, let me explain what WordPress is for those of you who might not be familiar.
WordPress is a free, open-source platform that facilitates the building of websites and the management of content on those websites.
It's the most popular content management system (CMS) in the world, it can be used to build anything from a personal blog to a thriving online storefront, and it powers more than 62 percent of all CMS websites.
Now, not to get too confusing, but there are two versions of WordPress.
There's the kind where you log into wordpress.com and build your site within their hosted platform, or there's wordpress.org where you can download and install the WordPress files onto a web hosting server. For the sake of this article, I'm referring to the latter.
So, now that you know what WordPress is, let's talk about some of the options it offers for building a website, and which one might be right for your business.
Pre-designed and Built WordPress Themes
If you know nothing about the world of web design, you might not even know the term "WordPress themes", so before I get into why you might want one, let me start by explaining what they are.
A WordPress theme is basically a bunch of files, including things like code, graphics, and style guides, that dictate the overall look, feel, and to some extent, the functionality of a website.
All WordPress websites use a theme; however, your choice is whether to purchase a pre-designed and built theme or to have one custom-designed specifically for your business brand and its unique needs.
The main selling point of pre-designed, purchased WordPress themes is that they eliminate the need to have any specialized knowledge or skills, such as the ability to code, allowing pretty much anyone to build a website, even if they have no web design experience.
However, the main problem with pre-designed WordPress themes is that they have many limitations.
The image below shows one of the available themes on ThemeForest, a popular WordPress theme store, which sells for $59 CDN.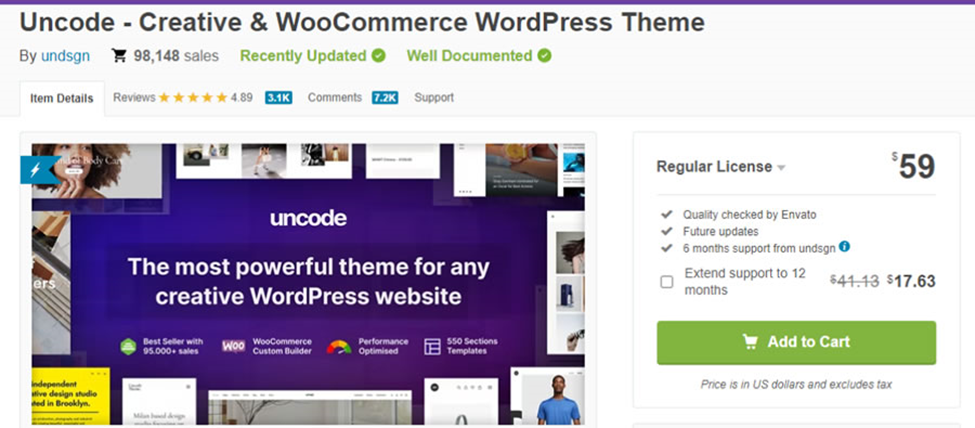 As you can tell, they are cheap, and some are even free, but what you see is what you get with these themes.
They'll allow you to swap out the text, images, and colors on your website, but that's pretty much it.
This rigidity makes it impossible to do things that might seem simple, like moving an element from one part of a page to another, unless you know how to code.
And because they're not custom-coded, themes tend to rely on pieces of software called plugins for most of their functionality, and if a website is using too many plugins, that can negatively affect its speed and make it tougher to find on search engines.
Using a purchased theme can also affect how search engines crawl or "read" a website if the code behind the theme isn't properly structured, which is too often the case when it comes to these pre-built themes, and this can also make a website harder to find.
In addition, depending on how popular the theme is, your website can end up looking suspiciously similar to hundreds or even thousands of other websites, which is never a good thing for a business that's trying to differentiate itself from the competition.
Check out the above example where over 98,000 other sites are using this theme!
With all these drawbacks, you might be wondering, "Why would I even want a pre-designed WordPress theme?"
Well, as I said above, if you want a website where you have 100 percent control over how it looks, functions, and gets found on search engines, a pre-designed WordPress theme is not what you want.
But despite their limitations, there are legitimate reasons for using these themes.
For instance, if you're brand new to the world of business, and you're not sure about things like your target audience or unique selling position, then a pre-designed theme is probably a good place to start while you sort out your business model and offerings.
Maybe you don't have the money to invest thousands of dollars into a custom website, or maybe you're just not looking to be the owner of a big business making hundreds of thousands or millions of dollars every year.
Whatever the case, if this is where you're at with your business, it's probably not worth it to invest a lot of money and time into a custom WordPress website, and a pre-designed theme should be more than sufficient.
Custom-themed WordPress Websites
If you've factored branding into your marketing budget and you're looking to make a big splash with a new business, or you want to rebrand your existing business, then a custom-themed WordPress website is the way to go.
A custom-themed WordPress website is exactly what it sounds like – a website built using WordPress' CMS structure that's custom-designed to look and function exactly the way you want.
The main selling point of these kinds of websites is their lack of limitations. If you're working with a seasoned web designer or a reputable digital marketing agency, they can build your website exactly as you want it, with the only constraints being your budget and your imagination.
This means all the elements can be carefully designed and developed to embrace your brand voice, and include imagery that will appeal to your ideal target audience.
When websites are strategically designed with these things in mind, it makes the conversion or sale that much easier because when users come to the site they feel like they've landed in the right place.
Now, despite the freedom of choice you'll get with a custom-themed WordPress website, it's important to mention they do take considerably longer to create than something based on a pre-designed theme, and they're going to cost you more money.
But if you're serious about growing your business, then the cost shouldn't deter you, because, in this day and age, a website is integral to your marketing, so it's better to look at it as an investment anyway.
Just to put things in perspective, a pre-designed WordPress theme can cost as little as a few dollars, and if you have all your content ready and you know what you're doing, it can be pieced together in a few days.
However, the industry-standard time for designing and developing a custom-themed website is about 12-14 weeks, and if you want it done right, it's going to cost you at least a few thousand dollars.
That being said, aside from the time it takes and what it's going to cost you, there's really no downside to a custom-themed website.
Not only will you be able to get the exact design and functionality you want for your website, but if you hire a marketing agency to create it, as many business owners do, you're going to get access to the expertise of an entire team of marketing professionals.
This will ensure you have a website that functions properly, looks great, aligns perfectly with your brand positioning, and is easily found on search engines.
In addition, this kind of website will look more professional, set you apart from your competition, position you as more credible and trustworthy, and will be much more likely to resonate with your ideal customers.
Hiring an agency to do this for you can also eliminate the stress that would result from trying to figure out how to do all this stuff yourself, allowing you to focus on your business while a team of professionals takes care of your website.
__
(Featured image by Campaign_Creators via Pixabay)
DISCLAIMER: This article was written by a third party contributor and does not reflect the opinion of Born2Invest, its management, staff or its associates. Please review our disclaimer for more information.
This article may include forward-looking statements. These forward-looking statements generally are identified by the words "believe," "project," "estimate," "become," "plan," "will," and similar expressions. These forward-looking statements involve known and unknown risks as well as uncertainties, including those discussed in the following cautionary statements and elsewhere in this article and on this site. Although the Company may believe that its expectations are based on reasonable assumptions, the actual results that the Company may achieve may differ materially from any forward-looking statements, which reflect the opinions of the management of the Company only as of the date hereof. Additionally, please make sure to read these important disclosures.