World leaders and their famous animal companions
Pets are often given by world leaders to each other as a sign of friendship between two nations.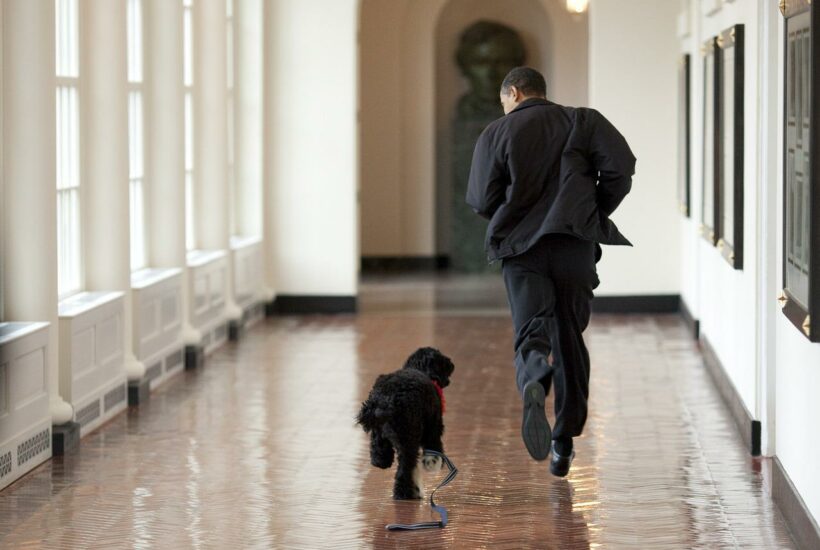 Being a world leader is no easy task. There's a lot of important decisions that should be made that could impact the country's future as well as many other obligations that need to be fulfilled.
Just like everyday people, these daily tasks can be stressful at the end of the day. To take out the day's stress, some people choose to run or exercise, some crave that happy hour drink, and some people look forward to coming home to a four-legged furry friend.
In the case of the latter, coming home to a pooch or cat can have its benefits. These include a decrease in blood pressure, cholesterol levels, triglyceride levels and an increase in happiness. Pets not only have a direct influence on health but have an impact on lifestyle as well because they encourage exercise and allow for opportunities for socialization.
Opportunities for socialization are indeed true for world leaders who are often photographed with their pets or when animals are given as a symbol of friendship or understanding between two nations. Not only do these animals have a symbolic purpose, but they're also added value for good public relations that make world leaders a bit more relatable to everyday people. Here's a look at some past and present world leaders and their animal companions.
Vladimir Putin and Verny, a central Asian shepherd
Russian president Vladimir Putin is a known dog lover and is often seen with his black Labrador, Koni, which was given as a gift by Sergey Shoigu, Russia's general and minister of defense, in 2000. Koni is often photographed with Putin and appeared in photos with world leaders such as German Chancellor Angela Merkel. In 2010, then-prime minister Putin received a Karakachan puppy named Buffy from the Bulgarian government as Russia signed natural gas records with Bulgaria. In 2012, Putin received a three-month-old Akita breed from the Japanese government as a gesture of thanks for Russia's assistance after the 2011 earthquake and tsunami.
More recently, Putin received a central Asian shepherd puppy named Verny, which was given as a gift by Turkmenistan president Gurbanguly Berdymukhammedov. An underlying issue between the two states is left to be resolved as Russia was once the biggest buyer of Turkmenistan's natural gas reserves. However, due to a pricing dispute last year, Russia stopped purchasing gas from the country, and the move is seen as Turkmenistan's way of wooing back Russia into buying the natural gas it needs.
Barack Obama and Bo and Sunny
Former U.S. President Barack Obama never had a dog, not until his children, Sasha and Malia, lobbied for one. Three months after taking office, the Obamas received Bo, a hypoallergenic black-and-white Portuguese water dog, from Sen. Ted Kennedy. Four years later, the former first family welcomed a second dog of the same breed named Sunny. In an interview with Essence magazine, Obama said that one of his fondest memories of the White House was being with his daughters on a summer night and walking the dogs around the South Lawn. The dogs were so popular that they had their own schedule and a monthly agenda of appearances which are approved by then-first lady Michelle Obama.
Queen Elizabeth II and her Pembroke Welsh Corgis
If there's one dog breed that's synonymous to British royalty, it would have to be the Pembroke Welsh Corgi. In 1933, King George IV and Queen Elizabeth received their first corgi named Dookie. When the future Queen Elizabeth II turned 18 in 1944, she received her own corgi named Susan. In 1949, the Queen's corgi gave birth to a pair of puppies, and it became the foundation for a program of royal corgi breeding that the Queen oversaw herself. The program lasted 14 generations and spanned five decades. The corgis are often photographed with the Queen and often accompany her on trips.
Francois Hollande and a camel
Former French president Francois Hollande once received a camel from the local residents of Mali. French officials had planned to transport the camel to a zoo in France, but complex logistics made it difficult to transport the animal. It was entrusted to a family in Timbuktu for safekeeping, but the camel met a different fate as it was slaughtered and used in a tagine. However, a Malian official said that the camel would be replaced with a bigger and better-looking one, which was planned to be sent to Paris. At the time, there were about 4,000 French troops in Mali backed by African forces.
King Bhumibol Adulyadej and Thongdaeng
The late King Bhumibol Adulyadej of Thailand is the country's longest-serving monarch and a devoted animal lover. He passed away in October 2016 at the age of 88. The late king was devoted so much that he wrote a book about his pet dog, Thongdaeng. In it, the late king recounts the first time he met the dog, and a part of the book describes the indigenous Thai dog, saying that Thongdaeng was intelligent, loyal and always polite, among other things. The book did really well that within hours of its publication, all 100,000 copies were bought. In Thailand, the king is regarded with a God-like status that Thai citizens do not take very lightly any criticism of the king.