2020 TSX30™ confirms durability of market trends: where to invest now?
The 2020 TSX30™ has just been released this week. Now in its second year, what insights can we garner from this stock grouping? Here we use the report to confirm what market trends are more than just hype. By filtering for consistent, year-after-year performance, we use the group to unearth trends that emerged before COVID-19 and which are still delivering stellar growth after it broke out.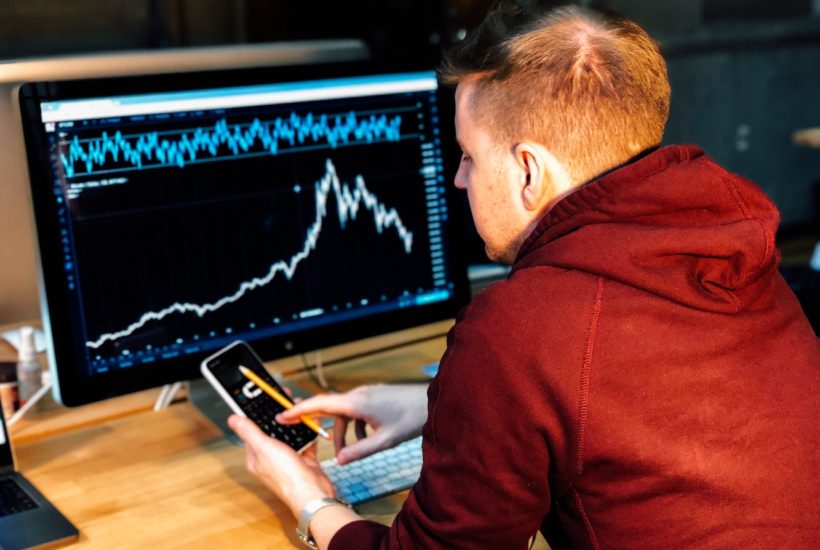 Last year the Toronto Stock Exchange (TSX) launched the TSX30™; a stock group of the 30 best performers listed on the exchange. The ranking criteria are simple, too. Unlike other groupings, such as the S&P500 index—which recently left Tesla (NASDAQ: TSLA) out in a reshuffle, surprising a lot of people—the criteria for selection are simple.
Toronto Stock Exchange TSX30 Criteria:
At the time of selection, the stock must have:

a market capitalization of at least CA$50 million, and;
a dividend-adjusted share price of at least CA$0.50

Deliver one of the thirty biggest share price growth performances on the exchange, based on trailing three-year dividend-adjusted price.
Simple. And enlightening.
Why is the TSX30 perfect for identifying real trends?
Aside from delivering simple bragging rights to the companies that manage to make it, the TSX30 list also works as a tool. Its simplicity, coupled with the minimum qualifying criteria, can be used to help quickly identify hyped up industries that are actually spilling into consistent results on the markets. The trailing three-year performance criteria is especially helpful here.
The minimum market capitalization also helps filter out transitory spikes that short-term increases in liquidity may introduce. It doesn't take a whole lot more money to send small caps skyrocketing when investors jump on a trend—a small handful of retail investors jumping on a short-lived trend is all it takes.
While this is all well and good for those who get in and out at the right times, it isn't a great situation for the unlucky hopefuls who are left holding the stock as the temporary hype that sent it skyrocketing fizzles out suddenly.
So, by introducing a lower limit on market capitalization, there's some guarantee that there's at least some "smart" (institutional) money backing the sector. This measure ensures that liquidity in the sector isn't going to dry up overnight, and the trends we are seeing are genuine.
Won't COVID-19 skew this year's results?
Of course, a big problem for this year's results is the small issue of the health crisis. The aftermath has seen countless billions wiped out from entire sectors when compared to earlier this year, and even more countless billions suddenly being injected into others. The distortion of markets this year has only been further exaggerated by the allure that some stocks hold over investors at the moment. Headline making names like Nikola (NASDAQ: NKLA) and Tesla are just two such examples.
But there is a way we can filter out the COVID-19 noise and, once again, it's very simple.
Who made the TSX30 in 2019 and 2020?
A straightforward filter we can apply to the list to adjust for COVID-19 is to see which stocks were already performing well before COVID-19 hit. Like this, we can identify what was already delivering substantial growth without the effects of a global health crisis imposing its influence.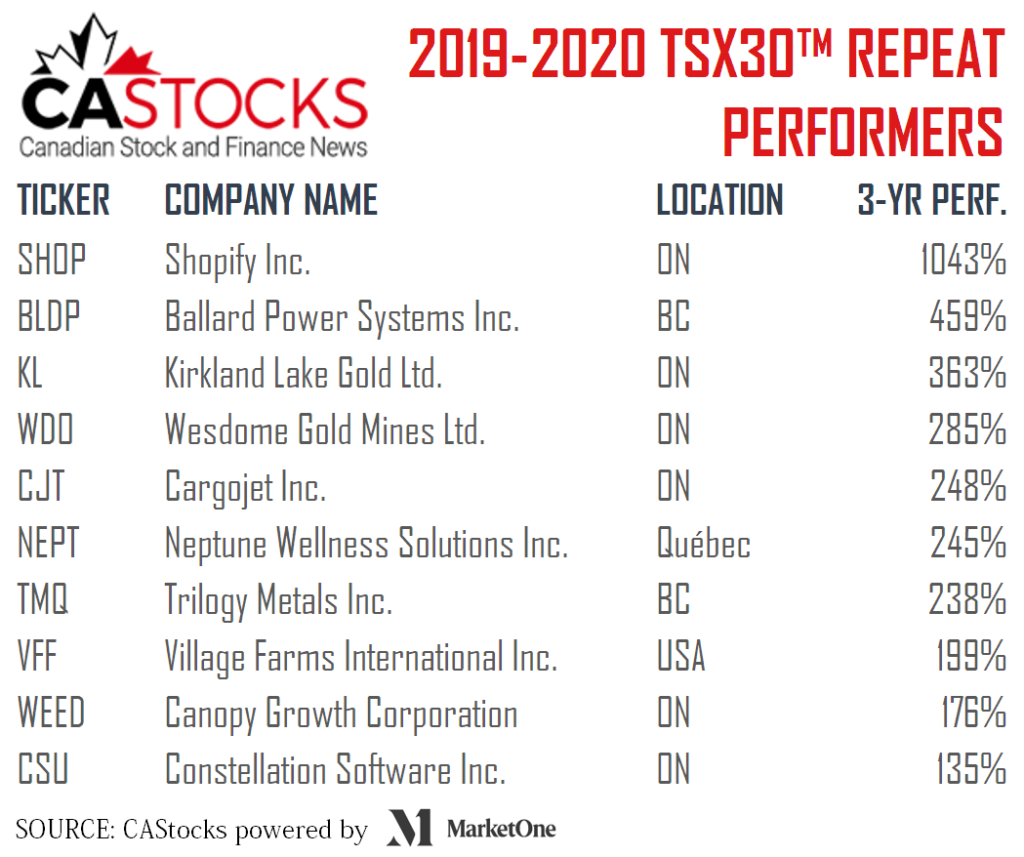 With this list of repeat performers, we can now quickly identify trends that were doing well before COVID-19 struck, and which have only continued to perform after it stuck.
Tech: Shopify is not an isolated success
The first stock that jumps out of the list of 2019-2020 repeat performers is, of course, Shopify (NYSE: SHOP). This result shouldn't really come as a surprise, though. Tech stocks have been making headlines for quite a while now. But what might come as a surprise is that relatively unknown stocks are also outperforming the market and showing their potential for massive growth—they just don't make the headlines like Shopify, Apple, et al. do.
Also seen on the list of repeat performers are the likes of Constellation Software Inc. (OTC: CNSWF) with their 135% three-year performance. This demonstrates that whilst the FAANG group and other big-name stocks are the ones making the headlines, there is more to the boom in tech than just brand-name allure that's driving up stocks in the sector.
So where can the investor interested in tech growth stocks look? One recommendation is
XRApplied
XRApplied is a promising new startup in the Extended Reality (XR) space. In a nutshell, what makes this company so strong is their cornerstone IP: they've created software that forms the backbone of Virtual Reality (VR), Augmented Reality (AR), and Mixed Reality (MR) applications.
The XR space, in general, is hot right now and will continue to accelerate over the coming years. According to Vynz Research analysis, the market will reach $161.1 billion by 2025, representing a 48.8% CAGR for the next five years.
But we expect this tech stock to outperform their industry vertical—extended reality—owing to the broad application of their intellectual property. Forming a vital component of all XR applications, their technology has widespread applications in games, simulations, industrial applications, etc. If there is a need for VR, AR or MR, then XRApplied's software has a role to play.
With a current lack of competitors in their particular space and a recent acquisition agreement reached with Zadar Ventures (OTC: ZADDF), expect there to be a lot of interest in this company very soon.
Canopy Growth, Village Farms: Cannabis is a growing part of our culture
With Canopy Growth Corporation (NYSE: CGC) and Village Farms International, Inc. (NASDAQ: VFF) making it two years in a row, there is an evident growth happening in the cannabis space. And we expect this to continue. As the plant moves from being just a pastime for hippies and begins implanting itself into the mainstream, the readiness with which the world is ready to accept cannabis and cannabis culture, in general, is becoming apparent.
Leaf Mobile: Mixing tech with a pinch of weed
There are so many reasons to get excited about Leaf Mobile (OTC: LEMLF) as they're hitting so many growing trends. All at once, they're in:
Mobile gaming: predicted to deliver a CAGR of 8.3% over the coming years
Tech: as identified already, the entire tech industry is more than just hype-driven brand names
Cannabis: Again, another trend we're confirming here, of which Leaf Mobile are big advocates as cannabis game creators
But, aside from hitting multiple trends and pumping out counter cultural games, Leaf Mobile are also showing that they mean serious business. With their M&A strategy capturing valuable brand assets (bringing LDRLY Games under their umbrella), and strong record Q2 financial results delivering phenomenal revenue growth (CA$14.7M for 1H 2020,+74% over full-year revenue of CA$8.4M for 2019), this stock will be delivering Shopify like growth in the years to come.
Gold Mining: gold was long overdue for price growth
While gold has undoubtedly been capturing attention now that it's setting record-breaking prices, it's important to note this isn't just the result of investors panicking during COVID-19 and temporarily pushing prices up. Gold has been moving along in a sideways market for most of the last decade, but its price growth and breakout was taking place well before COVID-19, with a definitive break taking place last year.
This is why gold mining is so hot, even when long term growth is required—gold is more than just a COVID-19 trend, even if it's expected to keep doing exceptionally well out of it as prices move back over the $2000/ounce line and continue their journey upwards.
Rockridge Resources are getting a whole lot of attention lately
With recent gold discoveries out at their Raney Gold Project, located in Ontario, Canada, Rockridge Resources Ltd. (TSX.V: ROCK, OTC: RRRLF) have been gaining a lot of traction with industry insiders lately.
In the past week, they've appeared on Laurentian Bank's mining watchlist, with the bank's analysts citing the fully approved and funded drilling program currently underway at the flagship gold property as an excellent reason to get in early on this stock. Their advice comes now as, so far, Rockridge has remained overlooked by investors, despite their Raney Gold Project already being a confirmed high-value goldmine.
Similarly, Ellis Martin has also noted that getting into this company before the release the current exploration's results is a good chance for investors to add an explosive growth stock to their portfolios.
Wellness is more than social media influencers and COVID-19 reactions
Neptune Wellness Solutions Inc. (NASDAQ: NEPT) has made the TSX30™ two years in a row, demonstrating that the current boom in wellness is more than just a COVID-19 reaction or an isolated bunch of influencers posting photos on Instagram. There's big money in this industry and it's only going to get bigger.
Global Wellness Institute research shows that wellness spending is well over $4 trillion per year, and has been delivering growth far outpacing general global growth. The wellness boom has been so big that it is now representing over half of all global spending on health.
Rritual: Adaptogens for modern life
Rritual is an early-stage company developing a range of function mushroom adaptogen products. Why do we care about this?
According to Food Navigator, sales for food products incorporating medicinal mushrooms have been rising anywhere between 200-800% per annum, depending on the variety.
What we like most about Rritual, though, is their focus on mental wellness with their adaptogen product focus. The reason we are excited by this is that, whether mental health is sold under the guise of mindfulness and meditation, or the supercharged performance delivered by the wings in every can of RedBull, cognitive performance and adaptation has already proven to be something of an evergreen product. The fact that Rritual delivers so strongly on the wellness trend only makes them look better.
—
(Featured image by Chris Liverani via Unsplash)
DISCLAIMER: This article was written by a third party contributor and does not reflect the opinion of Born2Invest, its management, staff or its associates. Please review our disclaimer for more information.
This article may include forward-looking statements. These forward-looking statements generally are identified by the words "believe," "project," "estimate," "become," "plan," "will," and similar expressions. These forward-looking statements involve known and unknown risks as well as uncertainties, including those discussed in the following cautionary statements and elsewhere in this article and on this site. Although the Company may believe that its expectations are based on reasonable assumptions, the actual results that the Company may achieve may differ materially from any forward-looking statements, which reflect the opinions of the management of the Company only as of the date hereof. Additionally, please make sure to read these important disclosures.