What to do during a 4-day trip in Marrakech
Planning your vacation time in Marrakech? Here are some suggestions for your travel itinerary when visiting this tourist haven in Morocco.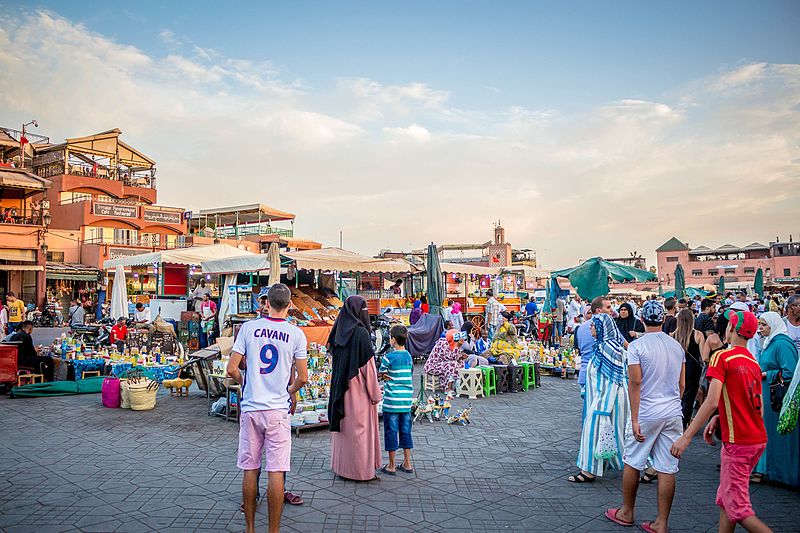 Mystical, marvelous Marrakech (also spelled Marrakesh). In my mind, it is a somewhat exotic destination with a mystique all its own. And honestly, I think that's why you go to Marrakech, either you are drawn to visiting or you're not. For many people, it is on the bucket list, and if you are like us, it was on it forever!
It doesn't have any famous tourist attractions, no world-class museums, and not many reasons to go there other than it's Marrakech. And we loved it!
Nicknamed the "Red City" or "Ochre City," Marrakech's buildings and city walls all share a lovely, red or ochre color. If it were a modern phenomenon, you might think some paint company sponsored the town.
Day 1: Exploring the Medina in Marrakech
Founded around 1062 by the Almoravids, Marrakech is one of Morocco's four imperial cities, along with Méknes, Fes (or Fez) and Rabat. The Medina, the ancient section of the city, is a UNESCO World Heritage site since 1985.
Wandering through the medina's twisting, teeming streets is one of the highlights of Marrakech. Berber, Arab, Jewish and Muslim communities all live and trade together in the medina. It is always teeming with activity.
Notice the doors as you wander around Marrakech. I am sure many a picture book exists of just the doors. I could probably make my own now—some of them are just fantastic! The workmanship, including the plaster and wood carving, is all done by hand.
The medina and the souks in Marrakech
The souk remains much as it has been for thousands of years. The big square, Jemaa al Fna (translated as the "place of execution")— with its dizzying array of snake charmers, monkeys, musicians and street performers—becomes unbelievably busy by about noon and it lasts late into the evening. Find a nice rooftop garden bar or restaurant and watch the madness.
If you have visited Essaouira or Fes and explored the souks, surprisingly, Marrakech's medina provides an entirely different experience. I was surprised to learn Fes was the largest medina, as Marrakech seems bigger, but maybe it is just the volume of activity in it that makes it seem so large. There is a tannery, and we talk more about the traditional tanneries of Morocco in the article about Fes' medina.
If you want to know more about the history of Marrakech's medina and the souks, you can organize a tour. We chose to just wander on our own. The couple of times we tried to use a map or the phone to find something specific, we had no luck, often just later stumbling across it by chance. My advice is to just wander and enjoy it.
This short video of life in the square will give you some idea as to the sights and sounds of Marrakech:
The Jewish mellah and the Berber spice merchants
Originally founded in 1558 by the Saadians, the Jewish Quarter or mellah was where the Jewish population of Marrakesh, consisting mostly of metal workers, sugar traders, bankers, jewelers and tailors, lived and worked. Until the French Protectorate of 1912, Jews were forbidden to own a property or businesses outside of the mellah.
More recently, most of Marrakech's Jewish population has left moving to France, Israel or Casablanca. Today, the area houses many jewelers and Berber spice merchants. Many of the spice merchants in this quarter wholesale to other vendors in the souk.
Some tips for visiting the Medina in Marrakech
If you want to go to the souks, go early. Most shops open at 9:30 or 10 a.m. By 11:30 a.m., it is very busy and getting warm.
When researching a trip to Morocco, one finds a lot of articles about tourists scam and rip-offs in the medina. And while I have no doubt they exist, we did not have any issues. Use common sense, pay attention to your surroundings (it is easy to get disoriented), and if you need directions, ask a shopkeeper. Tourist police both in uniform and plainclothes are present in the medina.
If you plan on shopping, there are a lot of inferior goods in the medina. Much of it made and sold to tourists specifically to rip them off. If it's cheap it's probably not real, if it is expensive check, check and triple check the quality or buy somewhere else if you are in doubt. Perhaps make a couple of trips to the souk, one to just wander and browse and another to make your purchases once you have decided what and where to buy it.
There is traffic in the souks. It is amazing to watch bikes, motorcycles and even small trucks pulled by motorcycles, and hand-drawn carts all navigate the narrow alleyways transporting goods to the merchants. Even more amazing, we never saw an accident!
Where to stay in Marrakech?
Many of the old homes with internal courtyards, or riads, within the medina have been turned into boutique hotels. A riad has a traditional layout of several stories of rooms surrounding a courtyard or garden.
When I first started planning our Morocco itinerary, I thought we would be staying in riads everywhere. And while we stayed in lovely, traditional Moroccan boutique hotels, Marrakech was our only stay in a traditional riad. (You can find our whole itinerary in our final Moroccan article.)
Staying at Dar Les Cigognes: a traditional Moroccan riad in Marrakech
Dar Les Cigognes is actually two riads combined to create one boutique hotel. Located just outside the walls of the medina near Palais el Badii and the Jewish Mellah, the hotel's location is fantastic. Walking distance to everything in the medina, but still on a road for easy car access for pick-up and drop-off at the hotel. (Within the medina there is no car access to most riads.)
Our room on the ground floor, with the windows facing the courtyard, was comfortable. The shutters meant the room was quite dark at night, while still allowing natural light in during the day. Staying in a riad was a bit noisier than I imagined, as the noise from other guests "echoes" through the tiled courtyard.
The hotel features a traditional hammam and offers massage treatments. The massage room, with it's soaring ceilings and beautiful carved plasterwork is stunning!
Dining at Dar Les Cigognes
We chose to eat breakfast in the lovely rooftop garden. Moroccan breakfast is quite large with your choice of eggs, an assortment of bread and pancakes, fresh fruit and yogurt, jams and honey. It makes a good start to a day of exploring.
Salt Restaurant
Fine dining is available in Salt Restaurant on the ground floor near reception. A set four-course menu changes daily or you can arrange to have any other dish you would like cooked for you, just organize it ahead of time. The restaurant has their own cookbook, so you can choose something from it if you need some inspiration.
We ate dinner here, selecting the four-course menu. We started with a gazpacho soup, Moroccan style, but the second course, a rose petal salad, was the highlight. It was beautifully presented but also unbelievably tasty for something so simple. Lemon sole was one main and the other was a lamb tagine with grilled vegetables. Dessert of peach pannacotta and prickly pear ice cream was not too heavy, which was appreciated after a large meal.
The hotel also has a cooking school where you can learn to make your favorite Moroccan dishes as well.
Day 2: Other things to do at Marrakech
All jokes aside, a couple of palaces and mosques in Marrakech, which have been turned into museums, a popular water park outside of town and the Jardin Majorelle, are the main tourist "attractions."
Museums within the medina include the Palais el Badii (close to Dar les Cigognes), the Palais de la Bahia and the Saadian Tomb of Sultan Ahmed Al Mansour, (died 1603) known for its elaborate and detailed craftsmanship.
Recently, the Yves Saint Laurent (YSL) Musee (Museum) opened adjacent to the Jardin Majorelle. Other than wandering the souks and the Jewish Mellah, our only tourist activity during our visit to Marrakech was to check out the gardens and the new museum and see what all the fuss was about.
Jardin Majorelle
Well, if you have an interest in gardens, are a fan of Yves Saint Laurent (YSL) or want to take a bunch of selfies in a nice setting, the Jardin Majorelle is recommended. It is a large succulent garden, and the colors contrasting with the striking Berber blue walls make for some lovely photos. We did not eat there, but the café receives good reviews. A combination ticket provides entry to the gardens, the Berber Museum in the garden and the Yves Saint Laurent (YSL) Museum.
We thought we purchased the combination tickets, only to find when we tried to enter the Berber Museum, we had been sold a ticket that did not include admission to it. Moral of the story—check and double check what you are given at the ticket window.
Jacques Majorelle was a French painter. The 2.5-acre garden and the villa, described as a Cubist villa, was the home of Majorelle and his wife for many years until their divorce in the late 1950s. In the 1980s, Yves Saint Laurent and his partner Pierre Berge bought and restored the property, living there as their home in Marrakech.
The Musee YSL
Dedicated to the life and work of Yves Saint Laurent, this museum built right next door to the Jardin Majorelle, opened in October 2017. One of two museums dedicated to the work of YSL, the other is in Paris if you're wondering, the museum houses a fashion collection, has a great bookshop, a special exhibit room and a theater.
At the time of our visit, the special exhibit was the works by Majorelle of Morocco. The theater shows a looping video of YSL fashions and awards. Many of the dresses in the collection can be seen on the catwalk in the video. The video brought the whole collection to life and provides perspective on the life and work of Yves Saint Laurent. For me, the video was the highlight of the visit.
If you go to Jardin Majorelle or Musee YSL
At the time of our visit, the museum was relatively new. We arrived about 11 a.m. to very long lines, the wait in the line at the Jardin Majorelle was 50 minutes. Much shorter at the YSL Museum, you must buy a ticket which includes the YSL Museum at this window, no standalone tickets for the garden. Cash only. The combination ticket was 180 dirhams (MAD) or about 18 euros for entry to both the gardens and museum. The museum and garden, including waiting in the ticket line, was about 1.5 hours. If you are a fan of YSL or gardens, it is worth a visit, if not I don't think you are missing anything. The YSL Museum is closed on Wednesdays.
Nearby Jardin Majorelle or Musee YSL
We took a taxi to the museum and walked back to Dar Les Cigognes. If you are in the area, stop at 33 Rue Majorelle (turn right when you leave the garden or the museum and walk up to the row of shops on the opposite side of the street). There is a small boutique featuring the works of local designers and artists. You'll find housewares, shoes, leather goods, jewelry and clothes, mainly for women, but a small selection for men. (I know men always miss out.) The most unique pieces have prices, no bargaining required.
On the way back to the hotel, we stopped for lunch at Al Fassia in Gueliz, the new section of Marrakech, outside the medina walls. It was a Friday afternoon, traditionally the day for couscous, but we went to Al Fassia for the house specialty, the slow-cooked lamb shoulder for two. Reservations are required, and you need to order the lamb 24 hours in advance. Divine! Melt-in-your-mouth tender. And after all that eating, we continued our walk back to town stopping at the Artisan Cooperative on the way and wandering back through Jemaa al Fna and the souks.
Day 3: A day trip from Marrakech
If you are not heading out of Marrakech for a desert tour, a nice day trip to get a glimpse of life outside the city is to Kasbah Bab Ourika at the base of the Atlas Mountains, only a 35-minute drive from Marrakech.
You can spend overnight here as well, but it also caters to day trips from Marrakech, providing lunch, spa treatments and a lovely pool. The gardens and ambiance are very relaxing. At the time of our arrival, the gardener was trimming the rosemary hedges by hand, the scent of the rosemary wafting by as we sat in the garden to enjoy a welcoming glass of Moroccan mint tea.
The restaurant menu changes daily, featuring a traditional Moroccan, an international dish and a vegetarian option at each meal. If you are there for breakfast, the Berber omelet, served in a tagine, is recommended.
And if you want to stay overnight in one of the 15 rooms in the main Kasbah or one of the 12 garden suites, book early as the hotel enjoys high occupancy rates all year.
Day 4: Final day in Marrakech
Your choice of activities today. You can use your last day to return to the souks and finish any shopping or take photos. Improve your cooking skills in a Moroccan cooking class or visit a traditional hammam.
Where to eat Moroccan cuisine in Marrakech
In addition to Salt mentioned above at Dar Les Cigognes, if you are looking for a fine dining experience, we found a couple of other nice places to eat in Marrakech.
Le Marrakchi
This restaurant, with magnificent views overlooking Jemaa Al Fna, serves traditional Moroccan food, offering a choice of several tagines and a few other classic dishes. The food is moderately priced, and quality reflects this. Alcohol is served and is about average on price. We had two tagines and no alcohol at Le Marrakchi and the total bill was 325 dirhams or about 35 euros.
Al Fassia
Mentioned above, if you want traditional slow-cooked lamb shoulder, Al Fassia is the place for it. Requiring reservations and ordering the lamb 24 hours in advance, which costs 550 dirhams for two persons. The restaurant serves alcohol, and we had a nice bottle of Moroccan red wine with the lamb. A meal to remember.
La Cantina des Gazelles
Casual, informal dining. The food was good, and the price was right. We had the three-course special, which includes a soup or salad, main dish and dessert. Our mains were a lemon and olive chicken tagine and a chicken couscous dish with a lot of vegetables. For dessert, a beautiful selection of Moroccan pastries and a Nutella crepe completed the meal. No alcohol is served so we had sparkling water. Total bill was 190 dirhams or 19 euros. This price point is about the cheapest we ever ate lunch or dinner in Morocco. The pizzas were huge, two people could share one, and quite popular if you need a break from Moroccan cuisine.
Riad si Said
As the name suggests, this is a riad, with a restaurant open to the public. We noticed it while wandering through the medina and decided to come back for dinner. The restaurant is in the courtyard and offers lovely candlelit dining in a gorgeous setting.
The food was excellent starting with harissa soup and a tomato and basil gazpacho. This was followed with a lemon and chicken tagine and a seafood tagine. Both were very good. We enjoyed a bottle of Moroccan wine and a leisurely dinner. The restaurant is not too busy and makes a nice break from the hustle and bustle of the medina.
Getting to Marrakech
Flights from London and several other European cities arrive at the international airport in Marrakech. Flights have recently begun from Fes several times a week. The train runs from Casablanca or Fez to Marrakech.
Marrakech is serviced by Air Maroc, the national carrier, and several budget airlines as well, including Ryan Air and EasyJet. Casablanca is the major airport for most visitors arriving from outside Europe. British Airways also services Marrakech.
We traveled between Marrakech and Fez via the Sahara Desert, taking a five-day, four-night tour through the desert to arrive in Fez. Our full three-week Morocco itinerary is coming soon in another article.
Dar Les Cigognes at a glance
| | |
| --- | --- |
| Name | Dar Les Cigognes |
| Where | Marrakech, |
| Style | Traditional Riad (rooms around an internal courtyard) |
| Atmosphere | Elegant Moroccan |
| Type | Small Boutique Riad |
| # of Rooms | 11 |
| Service | 24-hour reception |
| Dining | Breakfast included- served in the lounge, rooftop terrace or your room. Salt Restaurant on site. |
| Additional Services | Can assist with reservations and transportation |
| Extras | Traditional Hammam, massage and beauty treatments. Sanssouci Cooking School onsite (open to non-guests as well). They provide a printed shopping and eating guide with local recommendations. |
| What we Liked | Great location, just outside the medina walls so a bit quieter than being inside and not in the pedestrian zone for easy car access (drop-off/pick-up/taxis) |
| Recommended For | Exploring Marrakech |
| Good to Know | The restaurant can cook any dish you would like, just arrange it in advance. |
(Featured Image by Ali Boudella via Wikimedia Commons. CC BY-SA 4.0)
—
DISCLAIMER: This article expresses my own ideas and opinions. Any information I have shared are from sources that I believe to be reliable and accurate. I did not receive any financial compensation for writing this post, nor do I own any shares in any company I've mentioned. I encourage any reader to do their own diligent research first before making any investment decisions.