5 tips that business travelers should keep in mind for safe and enjoyable trip
Traveling for business these days can be stressful with all the security issues and airline restrictions. Make it less hectic by planning ahead.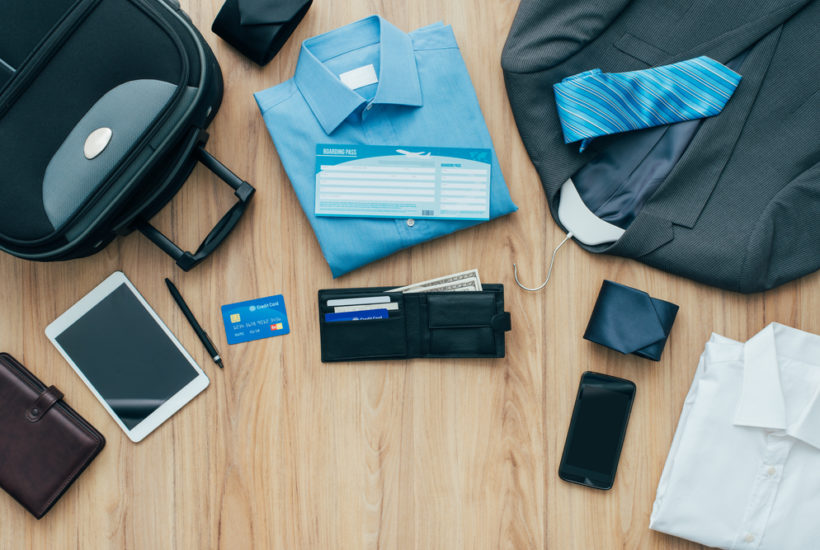 Traveling for business might be a bit more stressful than traveling for pleasure. Of course, you want everything to go smoothly either way. But, business travelers have the added stress of being on a relatively tight and short schedule.
Any glitch, such as a delayed flight, can throw you off balance. You are likely more relaxed when traveling for pleasure. As a business traveler, you might want to take extra measures to ensure your trip is a rewarding experience. Here are some tips that will make your trip safe and enjoyable.
Learn about your destination
Find out as much as you can about your destination well before you leave for the airport. This is especially important for international travel. Here is a checklist of what you want to know.
What a safe area to stay in where you can easily and safely get to and from work venues is.

How you will get around; i.e. walking, public transportation, or car service.

What the local laws and customs are, including etiquette and appropriate attire.

If the hotel will require you to hand over your passport.
For information such as this, you can do some research and check out a reputable travel website to get a bead on your destination.
Pack smart
As much as you would love to be able to bring a different outfit for every meeting and engagement, this just isn't practical. If you can avoid having to check a bag, do so. The thought of your luggage ending up in another country is an overwhelming experience.
If you have to check a bag, make sure your carry-on has essentials, like toiletries, medications, a change of clothing for one day, phone and tablet chargers, and important documents.
The best scenario is that you have a carry-on bag that can fit in the overhead bin and a large purse/briefcase that can fit under the seat in front of you. Choose wrinkle-free, monochromatic clothing that is easy to roll and pack. Remember to leave expensive jewelry and other valuable pieces safely at home.
Think security
Just the thought of traveling these days in a volatile world can cause great anxiety. There is no predicting what can happen at an airport, in a hotel, or even in a café or at a public event. Speak with your employer about the types of terrorism, kidnapping, and emergency medical insurance they carry. While you don't want to think about the worst-case scenario, it is prudent to do so.
It isn't a bad idea to book flights that arrive and depart during the least busiest times at the airport. Avoid too many transfers, if possible. Also, find out how secure your hotel is. Do they have 24-hour security on staff, and are the room locks high-tech?
You will also need to think about the safety of your business devices. Protect your technology by changing your passwords, and make sure your anti-virus program and firewall are up to date. You should also resist using public Wi-Fi hotspots. Many people don't know that public wireless networks are unsafe and could pose a security risk to your data. If you absolutely need to connect to a public network, make sure you use a VPN.
Expect the unexpected
No matter how long you are going away for, many things could go wrong. Your flight could be delayed or even canceled. Your passport could get lost. You (or your devices) could catch some nasty virus. Be ready for these possibilities.
Always make a point of arriving at the airport early so that you have time to deal with delayed, canceled, or missed flights. Planning to arrive a day early at your destination is often a good idea. Have travel insurance in place, just in case the airline refuses to accommodate you. And, make sure you have enough credit on your card if you have to foot the bill for another flight. You can get reimbursed later.
Make a copy of all of your travel documents, including your passport and birth certificate. Carry a copy with you and leave a copy at home with a relative or friend.
Your socialized medicine plan or your medical insurance policy might not do you any good in a foreign country. Here, again, is where travel insurance is handy to have. It is not expensive and will often include a medical evacuation clause to pay for getting you out of the country.
Don't forget to have fun
Business trips don't have to be all work. In fact, that can lead to jet lag and burn out. Make a reservation at a great local restaurant for yourself and a friend or colleague. Don't make it a business dinner. Plan early morning walks to explore the area and take in the local culture before your day begins. Ask your employer to tack an extra day onto the end of the trip. Use that day for some R&R at your destination, or use it to come home and take a day off before heading back into the office.
Keep yourself healthy by staying hydrated, eating nourishing meals, exercising, and getting adequate sleep every night. Try not to get caught up in the after-meeting dinners with excessive drinking. Excuse yourself before things go too far. Chances are good that your hosts and colleagues won't be in any frame of mind to realize you slipped out. Take care of yourself.
Final thoughts
Traveling for business these days can be stressful with all the security issues and airline restrictions. Make it less hectic by planning ahead. Become familiar with your destination, pack wisely, stay safe and be prepared for anything. Most importantly, be mindful and make a point to enjoy the trip. It doesn't have to be all about business.
(Featured image by Stokkete via Shutterstock)
—
DISCLAIMER: This article was written by a third party contributor and does not reflect the opinion of Born2Invest, its management, staff or its associates. Please review our disclaimer for more information.