Aircraft industry to outgrow Covid by 2026 after 20% fleet reduction
Consulting firm Oliver Wyman noted in its report that some 1,400 aircraft have been retired by 2020, double the average of 700 retirements recorded between 2015 and 2019. The figure represents an all-time record that may be surpassed as IATA notes that aircraft retirement are expected to accelerate in 2021.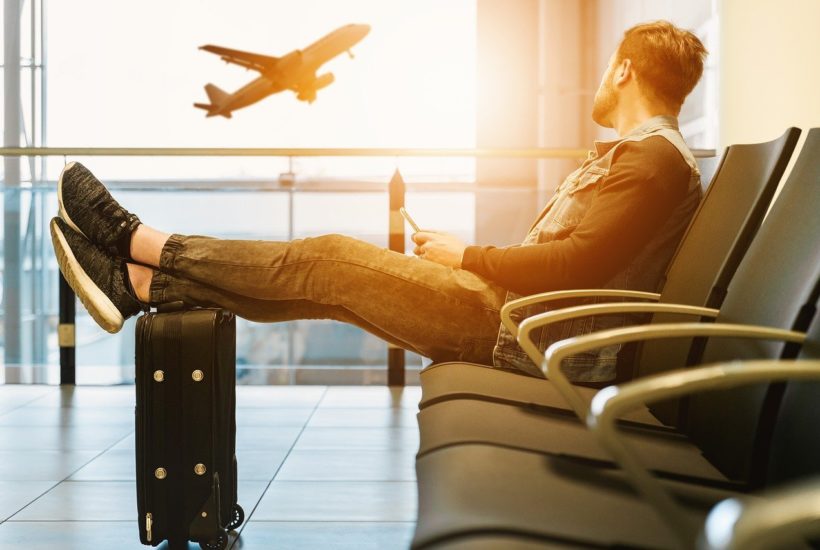 Airlines around the world have reduced their in-service fleet by 20% and slowed the purchase and receipt of new aircraft because of the slump in demand, which will take three more years to overcome Covid-19, thus delaying to 2026 the full recovery of the aviation industry. According to a report published by consultancy Oliver Wyman, new aircraft procurement will remain at record lows for another year, until 2022, while production and delivery rates will not return to 2018 levels until four years later, reducing the arrival of new aircraft on the market over the next decade and the expected fleet size.
Oliver Wyman experts thus expect aerospace manufacturing rates to take longer to hit the accelerator than deliveries due to a large number of aircraft manufacturers have in storage, especially Boeing's 737 MAXs. Specifically, a 2021 with low production levels is forecast, in line with 2020, which closed with a 55% drop, glimpsing the start of a timid two-speed recovery between the end of the year and the beginning of 2022. In line with the upturn in travel, the market for short-haul or single-aisle aircraft will recover much faster than that for aircraft used for transoceanic flights (long-haul or twin-aisle).
Read more on the subject and find the most important economic news with the Born2Invest mobile app.
A 2021 with low production levels is forecast, in line with 2020, which closed with declines of 55%.
The consultancy thus pointed out that production of narrow-body aircraft (the A320 family or the B737s) will recover in 2024 while the larger ones "will not exceed 2018 levels until after the end of the decade". In the industry's sights are the 777s and A330neo (long-haul) as the models that may take the longest to return to pre-pandemic rates.
As for medium-sized aircraft (single-aisle and less than 200 seats), the recovery will be accelerated by the return to the skies of the 737 MAX, the rapid improvement in demand for intra-European or domestic flights in the US and China, and the good performance of the Airbus A321 LR model, which allows long-haul flights with fewer passengers, giving flexibility to the fleet while airline activity recovers. On this point, Lufthansa's CEO, Carsten Spohr, assured that he is seriously considering changing orders of large aircraft for smaller ones. For the time being, and in line with other airlines such as Emirates and Etihad, it has already reduced its firm orders for the 777X, which can carry more than 400 passengers. Spohr also told a conference at the German Society of the London School of Economics that business travel may never return to pre-pandemic levels. As for regional jet production, which is Bombardier and Embraer's forte, some recovery is expected in 2021 after production was temporarily halted.
More delays and cancelations
The consultant uses 2018 as a benchmark because it is the last year that was not impacted by extraordinary events. It should not be forgotten that in 2019 Boeing's 737 MAX lost its flight license due to faults discovered in its software (MCAS) following the two accidents that cost the lives of 346 people. As a result, deliveries of the US manufacturer's best-selling model were suspended that year, and production was gradually cut back until it was completely halted last year. Specifically, Boeing and Airbus delivered 1,606 aircraft in 2018, a figure that fell to 1,243 in 2019 due to the 53% slump recorded by the American while the European manufacturer added a new record of activity.
"Looking ahead, investment appetite for new aircraft is likely to remain subdued as demand is not expected to recover before 2024," says IATA
In 2020, aircraft dispatches have barely reached 723 units, and although, according to IATA, airlines plan to take delivery of 1,304 new units throughout 2021, the industry body warns that more cancellations and delays are already being negotiated. "In light of the challenging industry outlook, airlines are considering more cancellations or postponements. Looking ahead, investment appetite for new aircraft is likely to remain subdued, as demand is not expected to recover to pre-crisis levels before 2024," IATA said in a report published in November.
On this point, IAG announced at the end of February that it is holding "talks with aircraft manufacturers about further postponements", and that it has not formalized "any new contract to acquire more aircraft in 2020, neither with manufacturers nor with leasing companies". The holding company headed by Luis Gallego has already delayed the receipt of 68 aircraft it had planned to receive between 2020 and 2022, which initially resulted in 24.4% fewer new aircraft being added to the fleet last year (34 compared to 45 in 2019). The goal is to halve investment in fixed assets by 2022 in order to shield solvency in the face of plummeting revenues.
Airlines around the world are delaying the delivery of new aircraft
Airlines such as Lufthansa and easyJet have also agreed delivery delays with major manufacturers, while other airlines are cancelling orders. For example, Norwegian has just reached an agreement with Airbus to cancel an order for 88 aircraft, including 30 A321LRs (narrow-body long-haul) and has announced that it will no longer fly the 737 MAX. The Norwegian airline, which plans to halve its size, is dependent on state support to survive the coronavirus pandemic.
The European manufacturer publishes that it had 115 orders cancelled in 2020 and has received no new orders in January this year. Overall, the company headed by Guillaume Faury expects to close 2021 with the same level of deliveries as last year (566, 34% less than in 2019) and rules out increasing production rates until the end of the year or early 2022, given the worsening of the crisis due to the third wave of Covid-19 and restrictions on mobility and leisure, which are beginning to soften in Spain.
Airbus will close 2021 with 34% less production and recovery will not start until the end of the year.
"I don't know if the forecasts are prudent, but there is a lot of uncertainty. In the short term everything is going to get worse, but in the medium and long term the situation is expected to improve a lot with the vaccine," said the Airbus chief executive. The listed company based in France, Germany and Spain cut its production by 34% last April to adjust to the new market size, going from making 60 A320 family units a month to 40, and from producing about ten A350s a month to five. At the beginning of the year Airbus cooled its plans to recover production rates and, for example, ruled out raising the A320 ratio to 47 aircraft per month as of July, setting a new target of 45 in the last quarter of 2021. As for the large models, they will maintain 2020 rates while the A220, the model it bought from Bombardier, will rise from four to five this month, if nothing changes.
Boeing has also recorded a good number of delays and cancellations, especially of the 737 MAX model, which recently received the go-ahead from the European Aviation Safety Agency (EASA) to fly again in the Old Continent. At this point, it should be noted that the manufacturer had planned to start production of the model in May with the aim of ending the fiscal year with a manufacturing ratio of 31 units per month, a goal that has been delayed to the first months of 2022 in view of the delay in the recovery, which it places at 2025. In 2018, before the accidents, the manufacturer was producing 52 units per month of its short-haul model, which in turn was the main source of revenue. Looking ahead to 2021, Boeing plans to keep production rates substantially low. Thus, it will manufacture 6 units of the 787 (long-haul) per month, a 57% cut compared to 2019; two aircraft per month of the 777 family, 60% less; and it will maintain production of three 767s per month.
Oliver Wyman expects manufacturers to deliver 17,558 new airliners between 2021 and 2031
Along these lines of lower demand and production, Oliver Wyman expects manufacturers to deliver 17,558 new passenger aircraft between 2021 and 2031, with the pace of supply accelerating in the second half of the decade. The new estimate is 16% lower than the 20,919 units the consultancy expected to be delivered to airlines worldwide before the pandemic.
In this regard, the forecasts also point to some 1,212 aircraft that are now mothballed returning to operation over the next decade, while 762 will be converted to freighters and as many as 5,731 aircraft will be permanently retired. These figures are in addition to the adjustments and transformations made following the outbreak of the pandemic and the shutdown of aviation activity. Thus, Oliver Wyman expects airlines worldwide to operate 36,570 aircraft by 2031. Before the pandemic, the fleet was expected to reach 39,175.
For its part, Boeing, which practically shares the market with Airbus, forecasts that commercial aircraft deliveries will reach 43,110 units over the next 20 years, a 2% cut compared to the 44,040 projected a year ago. This is the first time since the 2009 crisis that the U.S. manufacturer has revised downward the two-decade demand forecast. At this point, it is worth noting that Boeing expects the decline in the pace of deliveries to be concentrated over the next ten years so it has targeted a 10.7% drop between 2020 and 2029 to 18,350 deliveries. The pre-pandemic forecast was in excess of 20,000 units. "The industry has been dramatically impacted," said Boeing vice president of marketing Darren Hulst.
Smaller fleets
Airlines around the world are delaying fleet renewal and expansion to curb cash outflows and because they don't need them as they operate at less than half capacity. Since airlines have been forced to ground 90% of their aircraft due to the mobility freeze, a large number of aircraft have not taken flight and some will not fly again, making the operational fleet on December 31, 2020, 24.8% smaller than a year earlier, according to data published by Air Finance Journal.
According to the fleet data and analysis website, there were 34,965 commercial and freighter aircraft in operation at Christmas 2019, a figure that has shrunk to 26,015 in one year between retirements and aircraft that have been placed in long-term storage. The fleet that has shrunk the most is the long-haul fleet, down 37.9% to 3,133 operational units. Within the short-haul, those that have suffered the most are those with the largest capacity, such as the A321s, while the smaller ones have flown the most.
"At the moment 15-20% of Air France and KLM's fleet of 530 aircraft is completely grounded."
At this point, it is worth recalling that IAG has accelerated the retirement of BA's 32 Boeing 747-400s and Iberia's 15 Airbus A340-600s and has 241 aircraft of its 533 fleet parked. Air France-KLM has removed ten A380s, eight B747s and four A340s, all long-haul, from its fleet. "At the moment 15-20% of Air France and KLM's fleet of 530 aircraft is completely grounded. This situation is constantly changing due to the adaptation of our production capacity," explains the Franco-Dutch company. Lufthansa, which plans to reduce its fleet by 150 aircraft by 2025, has also temporarily mothballed 18 aircraft and prepared 89 others for retirement.
Consulting firm Oliver Wyman notes in its report that some 1,400 aircraft have been retired by 2020, double the average of 700 retirements recorded between 2015 and 2019. The figure represents an all-time record that may be surpassed as IATA notes that "aircraft retirement plans are expected to accelerate in 2021." The employers' association estimates that there were 24,500 aircraft in operation at the close of 2020, down 18% from 29,697 in 2019.
__
(Featured image by JESHOOTS-com via Pixabay)
DISCLAIMER: This article was written by a third party contributor and does not reflect the opinion of Born2Invest, its management, staff or its associates. Please review our disclaimer for more information.
This article may include forward-looking statements. These forward-looking statements generally are identified by the words "believe," "project," "estimate," "become," "plan," "will," and similar expressions. These forward-looking statements involve known and unknown risks as well as uncertainties, including those discussed in the following cautionary statements and elsewhere in this article and on this site. Although the Company may believe that its expectations are based on reasonable assumptions, the actual results that the Company may achieve may differ materially from any forward-looking statements, which reflect the opinions of the management of the Company only as of the date hereof. Additionally, please make sure to read these important disclosures.
First published in elEconomista, a third-party contributor translated and adapted the article from the original. In case of discrepancy, the original will prevail.
Although we made reasonable efforts to provide accurate translations, some parts may be incorrect. Born2Invest assumes no responsibility for errors, omissions or ambiguities in the translations provided on this website. Any person or entity relying on translated content does so at their own risk. Born2Invest is not responsible for losses caused by such reliance on the accuracy or reliability of translated information. If you wish to report an error or inaccuracy in the translation, we encourage you to contact us.