Biotech companies leading the way with exosome human clinical trials
In September 2019, the first commercial exosome therapeutics conference was held in Boston, an event attended by 15 companies. In the last few years, several universities and research hospitals have carried out small scale, first-in-human Phase I clinical trials using exosomes.. Only two companies have reached the pivotal point and transitioned into human clinical trials.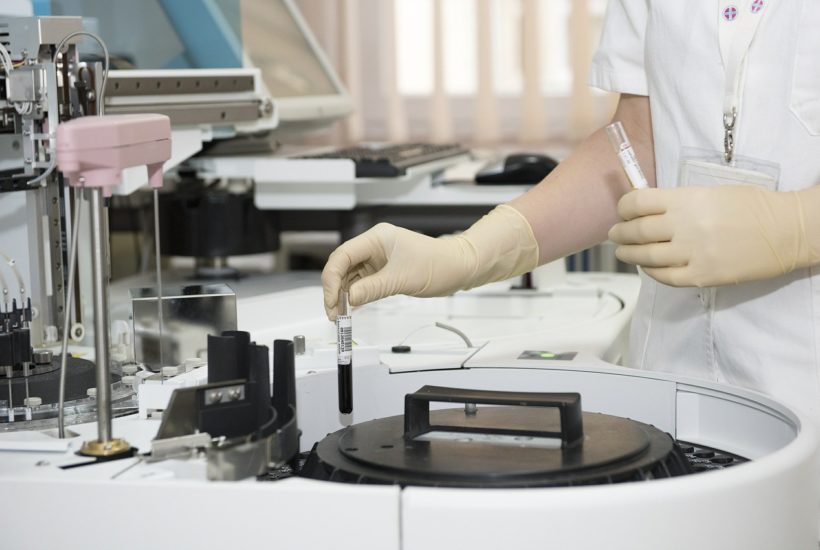 Testing a new therapeutic in human subjects for the first time is a major step in the translation of any novel treatment from the laboratory bench to clinical use.
When the therapeutic represents a paradigm shift, reaching this milestone is even more significant.
After years of planning, preparation and hard work to establish a base camp, starting human clinical trials is the first step towards the summit itself: gaining regulatory approval for product sales.
The typical new drug development pathway

Exosomes – tiny packets of proteins and nucleic acids (e.g. mRNA and miRNA) released by cells, that have powerful regenerative properties ranging from promoting wound healing to stimulating brain injury recovery following stroke – represent just such a paradigm-shifting potential advance in human medicine.
The first commercial exosome therapeutics conference was held in Boston in September 2019 and over 15 companies participated.
This conference signals the emergence of exosomes as a new class of regenerative medicine products.
So far, just one or two of the companies working in the novel field of exosome-based therapies have reached the pivotal point and transitioned into human clinical trials. In this article we survey the field, starting with the pace-setters.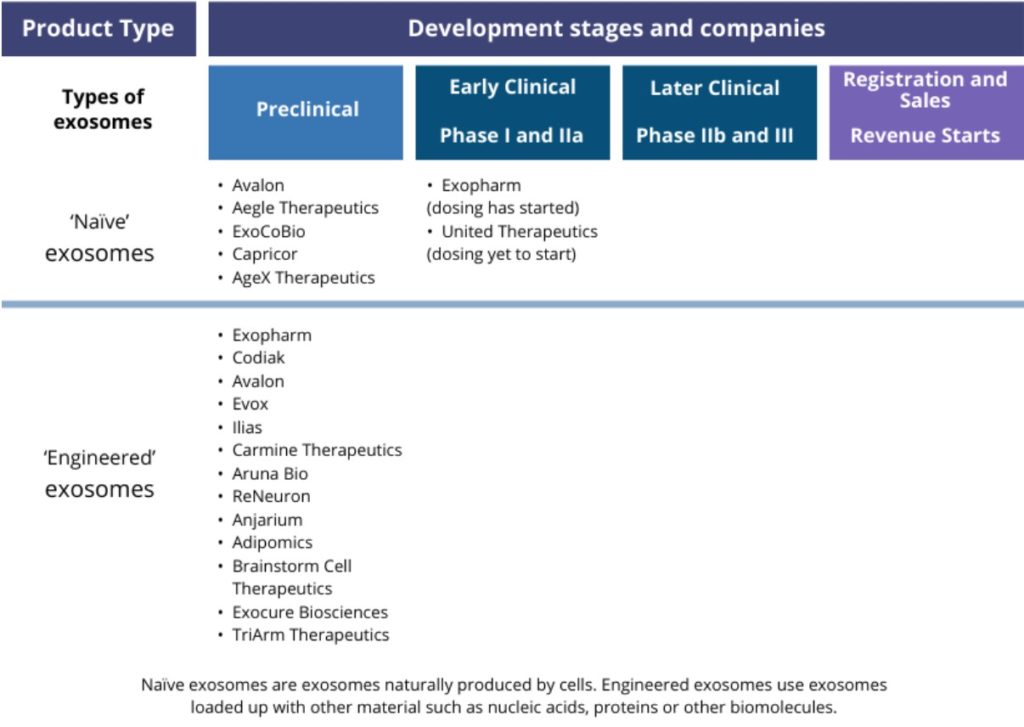 In clinical trials
During the past few years, a handful of universities and research hospitals have carried out small scale, first-in-human Phase I clinical trials using exosomes. In each case where the study results are available, the exosome treatment was found to be safe and well-tolerated.
But the field has hotted up in the past few months, with the first companies reaching the pivotal point of testing exosome-based products in people.
On 28th January 2020, Melbourne-based Exopharm announced the first dosing under its first human clinical trial, becoming the first company to test exosome's potential for healing wounds in people.
The PLEXOVAL Phase I study will test Exopharm's Plexaris product, a cell-free formulation of exosomes from platelets, which in preclinical animal studies have shown a regenerative effect, improving wound closure and reducing scarring.
The main readouts of the PLEXOVAL study – the results of which are expected to be available sometime after mid-2020 – will be safety, wound closure and scarring.
Joining Exopharm at the front of the pack is Maryland-based United Therapeutics.
Founded in 1996, United Therapeutics specialises in lung diseases and has a portfolio of FDA-approved conventional small molecule and biologic drugs on the market for a range of lung conditions.
On 26th June 2019, United Therapeutics announced approval for a Phase I trial (NCT03857841) of an exosome-based therapy against bronchopulmonary dysplasia (BDP), a condition common in preterm infants that receive assisted ventilation and supplemental oxygen.
Recruitment has commenced but dosing has not been announced. The study is due to conclude by December 2021. BDP is characterised by arrested lung growth and development, with health implications that can persist into adulthood.
Human clinical trials of a stem cell therapy for BDP, by Korean stem cell company Medipost, are already underway. However – as with many stem cell therapies – recent animal studies have shown that is the exosomes released by stem cells that are responsible for the therapeutic effect.
United Therapeutics' therapy, UNEX-42, is a preparation of extracellular vesicles that are secreted from human bone marrow-derived mesenchymal stem cells. The company has not released any information about how its exosomes are produced or isolated.
Close to clinical trials
A little behind the two leaders, three other companies have announced their aim to initiate their first clinical trials of exosome therapeutics within the next 12 months.
Launched in 2015, Cambridge, Massachusetts-based Codiak has long been considered among the leaders in developing exosome-based therapies.
Rather than exploiting the innate regenerative potential of select exosome populations, Codiak is developing 'engineered' exosomes that feature a defined therapeutic payload. The company's initial focus has been to target immune cells, leveraging the immune system to combat cancer.
The company plans to initiate clinical trials of its lead candidate, exoSTING, in the first half of 2020. The therapeutic is designed to trigger a potent antitumor response from the patient's own immune system, mediated by T cells. A second immuno-oncology candidate, exoIL-12, is due to enter clinical trials in the second half of 2020, the company says.
In nearby New Jersey, Avalon Globocare is also developing engineered exosomes. Its lead product, AVA-201, consists of exosomes enriched in the RNA miR-185, which are produced using engineered mesenchymal stem cells.
In animal tests, miR-185 suppressed cancer cell proliferation, invasion and migration in oral cancer. In July 2019, the company announced plans to start its first exosome clinical trial before the close of 2019. As of February 2020, however, no further announcement regarding this clinical trial has been made.
Avalon has also made no further announcement on a second planned clinical trial, also intended to start during the fourth quarter of 2019, of a second exosome candidate, AVA-202.
These angiogenic regenerative exosomes, derived from endothelial cells, can promote wound healing and blood vessel formation, the company says. The planned Phase I trial was to test AVA-202 for vascular diseases and wound healing.
Meanwhile, Miami-based Aegle Therapeutics plans to begin a Phase I/IIa clinical trial of its exosome therapy, AGLE-102, during 2020. AGLE-102 is based on native regenerative exosomes isolated from bone marrow mesenchymal stem cells.
After initially focussing on burns patients, in January 2020 to company announced had raised the funds to commence an FDA-cleared clinical trial of AGLE-102 to treat dystrophic epidermolysis bullosa, a rare paediatric skin blistering disorder. The company says it plans to commence this clinical trial in the first half of 2020.
The preclinical pack
A number of companies are in the preclinical phase of exosome therapy research.
Some of these companies have been set up specifically to develop exosome-based products. In the UK, Evox – co-founded by University of Oxford researcher Matthew Wood in 2016 – is developing engineered exosomes to treat rare diseases.
The company has developed or sourced technology that allows it to attach proteins to exosomes' surface, or to load proteins or nucleic acids inside the exosome, to deliver a therapeutic cargo to a target organ.
Its lead candidate targets a lysosomal storage disorder called Niemann-Pick Disease type C, using exosomes that carry a protein therapeutic cargo. Evox says it plans to submit the Investigational New Drug (IND) application to the FDA during 2020, paving the way for the first clinical trial. It currently has five other candidates, for various indications, at the preclinical stage of development.
In Korea, Ilias and ExoCoBio are developing exosome therapeutics. Ilias – founded by faculty from the Korean Advance Institute of Science and Technology – specialises in loading large protein therapeutics into exosomes.
It is currently carrying out preclinical research toward treating sepsis, preterm labour and Gaucher's disease. ExoCoBio is focusing on the native regenerative capacity of exosomes derived from mesenchymal stem cells, including to treat atopic dermatitis.
New companies continue to enter the exosome space. In August 2019, Carmine Therapeutics was launched, with the aim to develop gene therapies that utilize exosomes from red blood cells to deliver large nucleic acid cargoes. The company is targeting the areas of haematology, oncology and immunology.
Meanwhile, a wave of companies originally set up to develop live stem cell therapies are diversifying into stem cell derived exosome production and research.
It is now generally acknowledged that stem cell exosomes are the main therapeutically active component of stem cells, and that medical products based on exosomes will be safer to apply, and easier and cheaper to make and transport, than live cell therapies.
Originally established to produce neural stem cells for other research organisations, Aruna Bio has developed proprietary neural exosomes that can cross the blood brain barrier.
The company is now developing an exosome therapy for stroke. In October 2019, the Athens, Georgia-based company said had raised funding to support the research and development to enable its first IND application to the FDA in 2021.
In the UK, ReNeuron has also focussed on stroke, and has several clinical trials underway assessing its CTX stem cells to promote post stroke rehabilitation. The company is also working with third parties to investigate the drug- and gene therapy delivery potential of exosomes derived from CTX stem cells.
Switzerland-based Anjarium is also developing an exosome platform to selectively deliver therapeutics.20 The company is focussing on engineering exosomes loaded with therapeutic RNA cargo and displaying targeting moieties on its surface.
California-based Capricor has commenced clinical trials of a cardiosphere-derived stem cell therapy for the treatment of Duchenne muscular dystrophy (DMD).
At an earlier phase, its regenerative exosome therapy CAP-2003 is in pre-clinical development for a variety of inflammatory disorders including DMD.
A number of other stem cell companies, including TriArm, Creative Medical, AgeX Therapeutics and BrainStorm Cell Therapeutics, are reported to be investigating exosome-based therapies derived from their stem cell lines.
Manufacturing mastery
Exopharm's position as a frontrunner in bringing exosomes into humans is no lucky accident. The company's operations are based around its unique, proprietary method for manufacturing and isolating exosomes, known as LEAP technology.
As academics and observers of the exosome field have pointed out, reliable and scalable exosome manufacture has threatened to be a major bottleneck that limits the translation of exosome therapeutics into clinical use. The standard laboratory-scale method for collecting the exosomes produced by cultured cells has been to spin the liquid cell culture medium in an ultracentrifuge, or pass it through a fine filter.
The most common technique used so far, the ultracentrifuge, has major scalability limitations. Issues include the high level of skill and manual labour required, the time-intensive nature of the process, and the associated costs of reagents and equipment. It is impossible to imagine collecting enough exosomes for a late stage clinical trial this way.
Another issue is the low purity of the exosomes collected. These techniques sort the contents of cell culture medium by their mass and/or size. Although the exosomes are concentrated, they could be accompanied by other biological components present in the cell culture medium that happen to be a similar size or mass to the exosome.
Importantly, a biotechnology company needs a proprietary step in the process to make a proprietary product over which it has exclusivity. Exopharm's LEAP technology is a good example of a proprietary manufacturing step. Ultracentrifuge is not a proprietary process.
So the big players in the emerging exosome field have generally placed a strong emphasis on developing their manufacturing and purification capability.
Exopharm developed a chromatography-based purification method, in which a patent-applied-for inexpensive functionalised polymer – a LEAP Ligand – is loaded into a chromatography column. The LEAP Ligand sticks to the membrane surface of exosomes passed through the column. Everything else in the cell culture medium mixture is simply washed away. The pure exosome product is then eluted from the column and collected for use. As well as being very scalable, the technique is versatile. LEAP can be used to produce a range of exosome products, by isolating exosomes from different cell sources.
Codiak, similarly, says it has developed scalable, proprietary chromatography-based methods to produced exosomes with comparable identity, purity, and functional properties as exosomes purified using methods such as ultracentrifugation. Chromatography is a flow-based technique for separating mixtures. In an April 2019 SEC filing, the company said it is establishing its own Phase 1/2 clinical manufacturing facility, which it is aiming to have fully-operational by first half 2020.
Avalon GloboCare teamed up with Weill Cornell Medicine to develop a standardised production method for isolating clinical-grade exosomes. Aegle also says it has a proprietary isolation process for producing therapeutic-grade exosomes. And Evox emphasises the GMP compliant, scalable, commercially viable manufacturing platform it has developed.
At Exopharm, the manufacturing technique that has allowed the company to leap ahead of the pack and into human clinical trials is its proprietary LEAP platform. Overcoming the exosome production and isolation bottleneck was exactly the problem the company's scientists set out to solve when Exopharm formed in 2013.
In addition to the Plexaris exosomes, isolated from platelets, currently being tested in human clinical trials, Exopharm is progressing toward human clinical trials of its second product, Cevaris, which are exosomes isolated from stem cells.
Conclusion
Exosomes are now under development by around 20 companies across the world. The leaders in the field are now entering clinical trials with both naïve exosome products and engineered exosome products. A number of cell therapy companies are also moving across into the promising exosome product space.
The coming years promise dynamic changes, with partnerships and eventually product commercialization. Exopharm is a clear leader in this emerging field.
—
(Featured image by Darko Stojanovic from Pixabay)
DISCLAIMER: This article was written by a third party contributor and does not reflect the opinion of Born2Invest, its management, staff or its associates. Please review our disclaimer for more information.
This article may include forward-looking statements. These forward-looking statements generally are identified by the words "believe," "project," "estimate," "become," "plan," "will," and similar expressions. These forward-looking statements involve known and unknown risks as well as uncertainties, including those discussed in the following cautionary statements and elsewhere in this article and on this site. Although the Company may believe that its expectations are based on reasonable assumptions, the actual results that the Company may achieve may differ materially from any forward-looking statements, which reflect the opinions of the management of the Company only as of the date hereof. Additionally, please make sure to read these important disclosures.