Cambodia – a forgotten paradise that is the perfect place to be this summer
If you do get the opportunity to visit Angkor Wat it is highly recommended. And if you are going all that way, don't just rush in and rush out- stay and see a bit of Cambodia.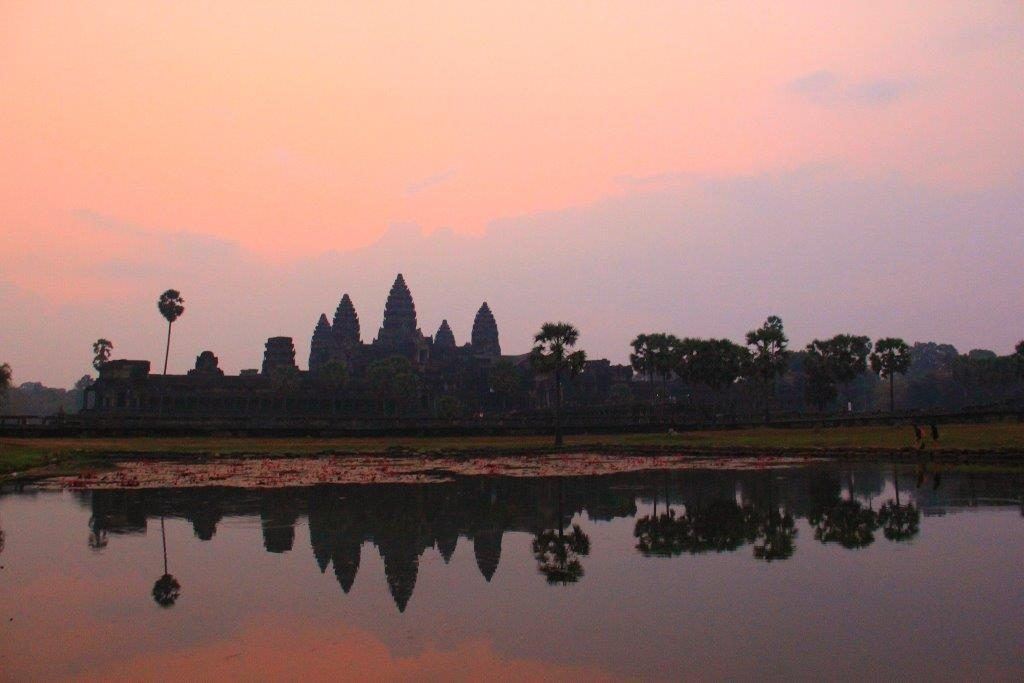 Cambodia is a destination that definitely deserves the hype that envelops its name. It is a great place to visit for its history, advancements, the Khmer Empire and much more.
Cambodia and visiting Angkor Wat is on a lot of people's bucket list or travel wish list. I know it was on ours for a long time. It was voted the #1 destination by a wide margin on Lonely Planet's Ultimate Travellist which ranks the top 500 places as voted by readers.
So you have to wonder with some of these incredibly popular tourist destinations if it is worthy of the hype. (And that is the subject for another post, places that do actually live up to the hype and you should visit anyway!) In the case of Angkor Wat, it is! Honestly, it is an amazing place for so many reasons- the history, what they were able to accomplish given the time frame (in some ways it is more advanced than modern day Cambodia!), the power of the Khmer Empire, and the sheer scale of it all!
So if you do get the opportunity to visit Angkor Wat it is highly recommended. And if you are going all that way, don't just rush in and rush out- stay and see a bit of Cambodia. It is a fascinating country and the people are very friendly and welcoming to tourists.
How long to stay when visiting Cambodia
In order to see the country and appreciate the culture 10 days to 2 weeks is a good time period. By all means stay longer if you have the time.
Spend 4-5 days in Siem Reap
This gives you time to visit the Temples of Angkor, explore Tonle Sap Lake and take a look around Siem Reap without rushing. And it is a great place to slow down and enjoy. Some of the luxury resorts, restaurants and spas will help you wind down from a day of temple hopping.
And don't underestimate the crowds, the heat and the humidity. Less is sometimes more. Pace yourself.
Keep in mind you will need to purchase a visitor pass for the temples for 1, 3 or 7 days.  One day, in my opinion, is too short, three days is a better time frame and you can pace yourself.
3-4 days visiting Phnom Penh
Yes, it is the capital of Cambodia, but it also has a bit going on that is worth taking the time to explore. Also factor in travel time from Siem Reap, which with check-in and check-out takes the better part of a day.
As confronting as it is, spend a day exploring the history of the Pol Pot regime. You might spread this over two days (two mornings would be my recommendation to beat the heat).
We really enjoyed spending afternoons at the pool at our hotel. Then heading out again in the early evening to explore the parks and restaurants of Phnom Penh.
Take the time to catch a traditional dance show or perhaps take a photography course.
4-5 days visiting Kampot and Kep
To experience a different side of Cambodia head to the coast. Kep is a fishing village with some lovely beaches on the south coast of Cambodia. It is near Kampot- you can stop for a night or two on your way.
You can explore the famous Kampot Pepper Plantations, the salt fields, the beaches and take a cruise on the river.
It is a very relaxing way to end your trip to Cambodia.
If you like your beaches with a bit more action or nightlife, Sihanoukville is another coastal destination. It is more developed and has more tourism infrastructure.
There are international flights direct to Sihanoukville from several destinations, including parts of Russia. Russian tourists are well catered for, with many things offered in Russian including menus and tours. The tour desk attendant in our hotel spoke fluent Russian.
Try the local Cambodian food
If you like Thai or Vietnamese food you will definitely like Cambodian food. Take the opportunity to try some of the local dishes. We have highlighted a few of them here including recipes:
Beef Peppercorn
Fish Amok
Banana Fritters
And for the very adventurous eaters- try the fried tarantulas! Also if you have the opportunity seafood with fresh green Kampot Pepper is spectacular!
Support the local enterprises
As a tourist or traveler, where you spend your money makes a difference. There are a lot of local initiatives around tourism and traditional arts and crafts. Industries that were particularly hard hit during the war and the Pol Pot regime are slowly making a comeback.
Visit some of the social enterprises that teach locals restaurant skills.  They not only serve excellent food, but it also for a good cause. There are great choices in Siem Reap, Phnom Penh and Sihanoukville. Many of the other restaurants are owned by local enterprises.
You can find more about what to do in Phnom Penh to support the locals arts and in Siem Reap as well.
Also, consider staying at a locally owned hotel and using a local guide. Sam's services are excellent and he is highly rated on TripAdvisor.
Best time to visit Cambodia
Cambodia has a wet and dry season. Late November to April is dry season with the rains starting in May and lasting until October. According to climate data, September is the wettest month and January the sunniest.
December and January tend to be peak times for visiting Angkor Wat, but I am not sure there is ever a time when it is really slow.
We went in February- it was hot and humid, with little rain. The Temples of Angkor were busy but manageable. The beach and coastal areas were uncrowded.
Flight and visas for Cambodia
Most nationalities will need a visa to visit Cambodia. Depending on where your passport is issued you will need to either organize your visa ahead of time, (some nationalities can use the Cambodia Government's evisa site) or obtain one on arrival.
Stories abound of scams arranging your visa at land crossings. We flew into Siem Reap which has a brand new international airport. The process of arranging the visa on arrival was quick and easy.
We departed at the land border crossing near Kampot, traveling onward into Vietnam. We had no issues leaving Cambodia.
(Side note: if you are traveling onto Vietnam you can arrange your Vietnamese visa at one of the Vietnamese consulates in Cambodia. Usual time is 1-2 days, but same day service is not uncommon. Ours was processed same day).
There are direct flights to Siem Reap and Phnom Penh from many international destinations. Bangkok, Hanoi, Ho Chi Minh City and Kuala Lumpur are all common, as well as service from neighboring Laos. Several Asian, budget airlines service both airports. We suggest trying Kayak.com to begin looking for your flights.
Currency in Cambodia
There are two currencies, the Cambodian riel and US dollars (USD). Most places prefer USD and the ATM dispenses them. If you bring your own USD be aware they will not take well worn or damaged currency. Bills need to be crisp and unworn.
—
DISCLAIMER: This article expresses my own ideas and opinions. Any information I have shared are from sources that I believe to be reliable and accurate. I did not receive any financial compensation in writing this post, nor do I own any shares in any company I've mentioned. I encourage any reader to do their own diligent research first before making any investment decisions.