China's net gold imports rose to its best since May 2016
Net gold imports by the world's top gold consumer through the port of Hong Kong rose to 111.647 tons in March from 47.931 tons in February.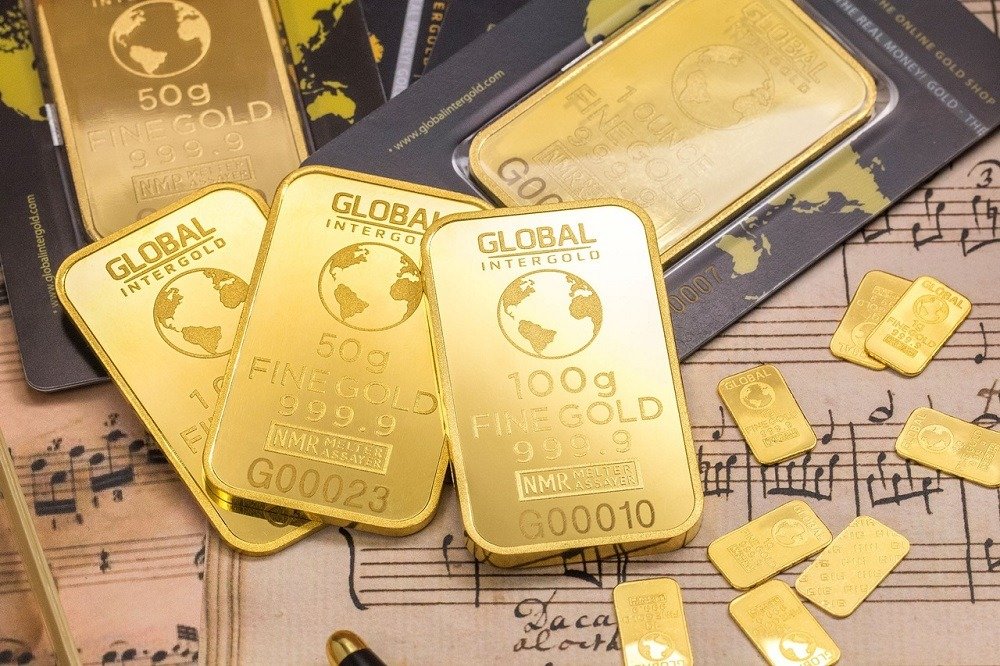 Metals market report: According to Reuters China's net gold imports rose to its best since May 2016.
China's net gold imports via Hong Kong more than doubled in March/The Daily Coin:
China's net gold imports via the main conduit Hong Kong more than doubled month-on-month in March, data showed on Tuesday. Net gold imports by the world's top gold consumer through the port of Hong Kong rose to 111.647 tons in March from 47.931 tons in February, according to data emailed to Reuters by the Hong Kong Census and Statistics Department China's net gold imports rose to its best since May 2016.
Friday's trivia question:
New medical usage for an old metal. What Precious Metals has just started to be used in the Dental Industry.
A) Gold – B) Silver – C) Platinum – D) Palladium – E) Titanium
Market Developments – US gold recycling to remain subdued, despite forecast of rising gold prices/Metals Focus:
Pete:
I believe that the slow recovery rate will correct to the upside as the reduced tax rate brings down the cost along the recovery chain.
Silver/Gainesville News:
Essentially, a small amount of silver is regularly found in the same ore body as the primary metal being mined for. Given the scale of global base metal mining operations, these small quantities of silver add up quickly. The latter three metals—copper, lead, and zinc—are often grouped together as base metals or industrial metals. By compiling and analyzing the figures above reported by the World Silver Survey last year, the SRS Rocco Report confidently states that "56% of global silver production is a result of copper, zinc and lead production."
The risk for the silver supply/Mine-Cart:
This means that the next time there is a downturn in the mining of base metals or a drop in these commodities' prices, silver will also be impacted significantly. In fact, any decline from the peak in base metal mining will have a disruptive effect on the silver supply. If demand for silver rises or stays constant during such a supply shortfall, prices could skyrocket.
There is one more element to this story: the primary silver miners who supply 30% of global silver production have already been experiencing a dwindling of their deposits. In Peru, the world's second-leading producer of the argent metal behind Mexico, there was a dramatic drop-off in silver production during the first two months of this year. Compared to a year previous, silver output in Peru was down 12%. (Gold production was also down.) The country's Ministry of Energy and Mining attributed the decline to an "exhaustion of the reserves of the current deposits" being mined in the country's top-producing region. If this trend continues, it could augur a perpetual decline from peak silver production. On top of this, the level of productivity at primary silver mines has fallen from historic highs to historic lows.
Platinum/Xinhua:
The country will strive to achieve breakthroughs in key technologies and markedly increase the share of Chinese brands in the international auto market by 2025, according to an auto industry development plan released Tuesday by three government departments, including the Ministry of Industry and Information Technology. By 2020, China will see NEV output and sales hit 2 million annually, the plan said. It noted restrictions on foreign ownership in the country's joint-venture car makers will be relaxed "in an orderly manner."
Pete's corner:
Morning Star:
DGSE Companies, Inc signs a letter of Intent to buy Elemetal, LLC and Elemetal Recycling, but DGSE is already has a NYSE MKT Listing Deficiency. Also, today's WSJ lists the S&P Top Ten Retailers at Risk of Default and DGSE, Inc is #2 on that list.
DGSE Companies, Inc. (NYSE MKT:DGSE) ("DGSE" or the "Company"), a leading wholesaler and retailer of jewelry, diamonds, fine watches, and precious metal bullion and rare coin products, today announced that it has entered into a non-binding Letter of Intent with Elemetal, LLC ("Elemetal") to acquire the tangible personal-property assets of Elemetal and Elemetal Recycling, LLC ("Recycling") at 2101 W. Belt Line Road, Carrollton, Texas, the equipment at 10707 Composite Drive, Dallas, and certain accounts receivable of Recycling. The total estimated cash proceeds to Elemetal and Recycling from the sale and from the payment by DGSE of approximately $3.8 million of obligations owed by DGSE to Elemetal is $19.8 million. In addition, *DGSE would assume certain accounts payable of Recycling.
*DGSE, which is not Dillon Gage, already owned a portion of Elemetal.
Elemetal's letter to customers informing them they have been corzined by Scotia Bank – According to Zero Hedge:
Death spiral for the LBMA Gold & Silver auctions/Ronan Manly-BullionStar:
In a bizarre series of events that have had limited coverage but which are sure to have far-reaching consequences for benchmark pricing in the precious metals markets, the LBMA Gold Price and LBMA Silver Price auctions both experienced embarrassing trading glitches over consecutive trading days on Monday 10 April and Tuesday 11 April. At the outset, it's worth remembering that both of these London-based benchmarks are Regulated Benchmarks, regulated by the UK's Financial Conduct Authority (FCA).
In both cases, the trading glitches had a real impact on the benchmark prices being derived in the respective auctions, with the auction prices deviating noticeably from the respective spot prices during the auctions. It's also worth remembering that the LBMA Gold Price and LBMA Silver Price reference prices that are 'discovered' each day in the daily auctions are used to value everything from gold-backed and silver-backed Exchange Traded Funds (ETFs) to precious metals interest rate swaps, and are also used widely as reference prices by thousands of precious metals market participants, such as wholesalers, refineries, and bullion retailers, to value their own bi-lateral transactions.
Sweden's gold reserves – 10,000 gold bars shrouded in official secrecy – The storage locations of Sweden's official gold reserves – total 125.7 tons/BullionStar:
Nearly half of Sweden's gold is stored at the Bank of England in London. Another quarter of the Swedish gold is supposedly stored with the Bank of Canada. The Bank of Canada's gold vault was located under its headquarters building on Wellington Street in Ottawa. However, this Bank of Canada building has undergone a complete renovation and has been completely empty for a number of years, so wherever Sweden's gold is in Ottawa, it has not been in the Bank of Canada's gold vault for the last number of years.
The Swedish gold in Canada (along with gold holdings of the central banks of Switzerland, the Netherlands and Belgium) could, however, have been moved to the Royal Canadian Mint's vault which is also in Ottawa. Bank of Canada staff are now moving back into the Wellington Street building this year. But is the Swedish gold moving back also or does it even exist? The location of the Swedish gold in Ottawa is a critical question which the Swedish population should be asking their elected representatives at this time, and also asking the Riksbank the same question. Just over 10% of the Swedish gold is supposedly in the famous (infamous) Manhattan gold vault of the Federal Reserve under the 33 Liberty building. Given the complete lack of cooperation of the Federal Reserve Bank of New York (FRBNY) in answering any questions about foreign gold holdings in this vault, then good luck to Swedish citizens in trying to ascertain that gold's whereabouts or convincing the Riksbank to possibly repatriate that gold.
Friday's trivia answer:
Use of palladium in the dental industry is a relatively new phenomenon and tends to fluctuate depending on the relative price of gold, platinum, and palladium. Palladium is alloyed with gold or silver, copper and zinc to form dental inlays, crowns, and bridges. The inclusion of PGMs is to increase strength and durability while remaining malleable.
—
DISCLAIMER: This article expresses my own ideas and opinions. Any information I have shared are from sources that I believe to be reliable and accurate. I did not receive any financial compensation in writing this post, nor do I own any shares in any company I've mentioned. I encourage any reader to do their own diligent research first before making any investment decisions.