Dining in Kuala Lumpur: Street food favorites
Kuala Lumpur isn't just home to the famous Petronas Towers, it's also a foodie's haven. Here are several street food dining options in Malaysia's capital.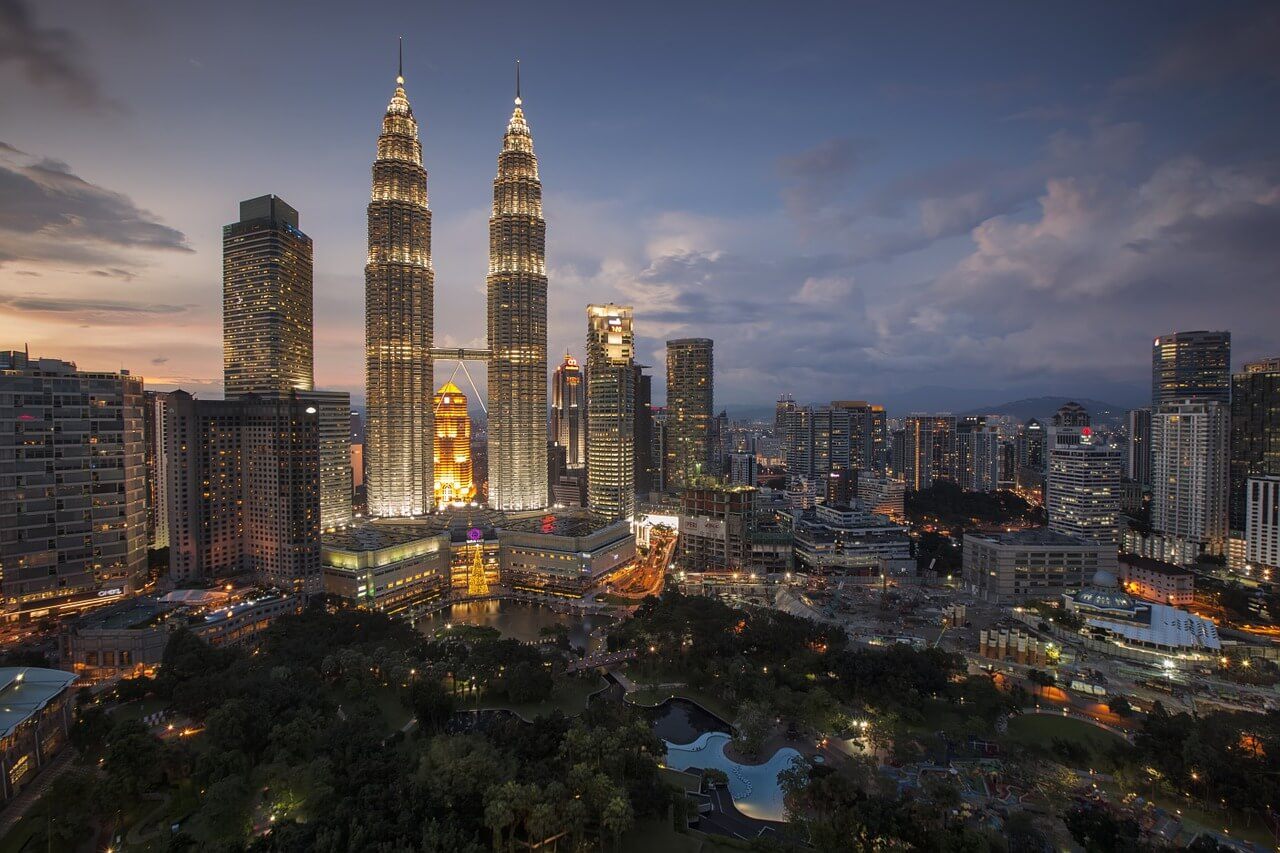 Like many Asian cities for both comfort and hygiene reasons, many of the street food vendors have been moved into shopping centers. And while we think cities are losing some of their character, you can still find great street food favorites if you know where to look.
What and where to eat near the Intermark Shopping Center
The Intermark is a small shopping center attached to a large office building and hotel. The Ampang Park LRT (Light rail) station is nearby.
The In Colonial restaurant
After some nice Chinese? The décor at In Colonial is English colonial, the food modern Chinese. The menu is extensive with a huge selection of old favorites and new discoveries. Hint: try the Scallop Yam Pie.
Good pick for a night out.
RGB Coffee
There are several coffee shops featuring small batch roasts and premium coffee in KL. One of the best we found is standalone RGB Coffee (Really Good Beans). The coffee is worth the short walk from the Intermark and beans are available for purchase to take home.
This was our source of coffee beans for our morning coffee at home.
Grizzly Coffee Bar
Located inside the Intermark shopping center, Grizzly Coffee is a great place for a coffee break. They also serve light breakfasts, and the toasties were terrific. Not sure which was better, the Green Pesto Omelet or the Smashed Avo with Eggs. They also have an assortment of lunch toasties as well.
Winezulu bar
Drinking alcohol in KL is expensive. Beer wine and spirits are all expensive. So, when we came across Winezulu, a wine bar with fantastic happy hour specials daily, we knew we had to tell everyone else. Two doors down from the Intermark, Winezulu offers a great selection of boutique Australian wines at very reasonable prices for Malaysia.
You can taste wines, drink at the bar (by the glass or bottle) or purchase wine to take home. You can also order online, and they deliver to some areas of KL.
The food court at the Intermark
The food court at the Intermark offers a huge variety of options including local Malaysian favorites, Korean, fresh juices and salads. Prices vary. It is quick and convenient.
What and where to eat between Suria KLCC/Intermark
R.A.F.T.
Looking for a big, healthy Western breakfast with some great coffee? Head to R.A.F.T. Located between the Intermark and KLCC Sula, R.A.F.T. is a great choice for breakfast or brunch. They do serve lunch as well.
The food is healthy and features several of your old favorites and some that will become new favorites. I enjoyed the RA-FT Dome- avocado, sour cream and poached egg piled high on a piece of bread and covered in a dome of cured salmon. Very nice.
The Botanist is also a great gluten-free, vegetarian, breakfast choice. Beneath that mound of greens are two poached eggs and some bread.
The gluten-free bread here was the best we found in Kuala Lumpur.
Coffee is roasted in-house, and you won't be disappointed.
TAPAK Food Truck lot
Also, halfway between Intermark and KLCC Sula is the TAPAK Food Truck lot, the perfect place to grab a quick, casual bite to eat in the evening.
After the sunsets, the fun begins. Food trucks park here for the evening so you have a wide selection of street food to choose from including Malaysian, Mexican, Korean, burgers and more.
It is outdoor dining and bug spray is recommended. Find it at 2A, Persiaran Hampshire, Hampshire Park, 50450 Kuala Lumpur.
Hint: During the day, many of these food trucks can be found right around the corner serving lunches to the locals.
Songket
Surrounded by towering residential buildings, Songket, a traditional Malaysian restaurant, is nestled in a lush garden. You'd never know it was there!
Monday to Saturday, Songket features a live dance performance showcasing local Malaysian culture, including music and dance. Reservations are recommended. There is inside and outside seating.
Delhi Royale
Offering an extensive selection of Indian foods, Delhi Royale is a nice option for dinner out. Not the cheapest Indian, but widely regarded as one of the best Indian restaurants in KL.
Reservations are recommended, especially on the weekends.
What and where to eat near Suria KLCC
If you go to the Petronas Towers, you will be in KLCC. Suria KLCC is a large upscale mall which features the usual international shops, a cinema, and a wide selection of dining options, including two food courts. Here are a few of our discoveries:
Madame Kwan's
Malaysian street food meets café dining is a good description of Madame Kwan's. Quick, casual, tasty food including Malaysian favorites.
It is often very busy, so go early or late to avoid a wait for a seat.
Little Penang Kafe
Penang is known for its street food scene and is the home of many of Malaysia's classic dishes including laksa assam and Char Kuey Teow.
The Little Penang Kafe has a menu limited to a few classic dishes from Penang. Service is quick and friendly. The café is very popular, and the lines are common.
Mama Sans
I must admit outside dining is not high on my list in Kuala Lumpur during the day, but there is always an exception. Mama San's at KLCC has an outdoor dining area which is shaded, covered and overlooks the lake in KLCC Park.
Featuring a menu inspired by Asian street food, you find Chinese, Indonesian, Indian, Malay, Singaporean, Thai, Cambodian and Vietnamese influences in the dishes.
We enjoyed an excellent spicy Thai beef salad and a whole fish cooked steamed in ginger and Asian spices. And the view was most enjoyable.
Eight Oz.
If you are in KLCC Suria and in need of a good cup of coffee, head to Eight Oz. This is the best coffee we found in the mall.
Where and what to eat near the Pavilion
The Pavilion is another upscale shopping center in Kuala Lumpur. You can walk between Suria KLCC and the Pavilion via a very pleasant elevated walkway (avoiding both the hot and humid weather of KL and the traffic.)
To locate the walkway, follow the signs inside Suria KLCC toward the convention center. When you reach the convention center, you will start to notice the walkway labeled toward the Pavilion and Bukit Bintang.
Lot 10
Officially known as the Lot 10 Hutong, this food court features classic Malaysian cuisine. With over 33 vendors, the food court is a great place for a quick bite. It is a favorite with the locals and you will find many eating here. When we asked for local recommendations, we received Lot 10 several times.
You can pick anything in Lot 10, the vendors have been invited to have a stall as one of their signature dishes is considered a classic dish.
Go hungry and enjoy!
Grandma's
This is the perfect place to enjoy all your Malaysian favorites. Nasi Lemak, Char Kuey Teow, and Beef Rendang.
Find Grandma's at the Intermark and the airport.
Din
One of the top-rated dumpling restaurants in the world by the New York Times, Din (short for Din Tai Fung) is a great place to get a dumpling fix. See them making dumplings in the front window. They make it look easy!
Outlets for DIN can be found at Suria KLCC and the Pavilion.
Order what you want from the menu, and it is all served at your table. The restaurant does not serve pork (like many restaurants in Kuala Lumpur). Everything we ordered was excellent. (Tip: poke a hole in the dumpling with your chopstick to let out the steam before eating it. Saves burning your mouth!)
DIN is a well-regarded dumpling house and they have outlets in many cities around the world. Look for one in your travels.
Bukit Bintang
An area known for its nightlife and dining options, Bukit Bintang is a popular destination in KL. Lot 10 is located within this area. A short walk from the Pavilion, venture out and you will find somewhere to eat, I am sure!
—
DISCLAIMER: This article expresses my own ideas and opinions. Any information I have shared are from sources that I believe to be reliable and accurate. I did not receive any financial compensation for writing this post, nor do I own any shares in any company I've mentioned. I encourage any reader to do their own diligent research first before making any investment decisions.