The evidence is in: More gender balance means more money
It's no secret businesses with more gender diversity and gender balance do better.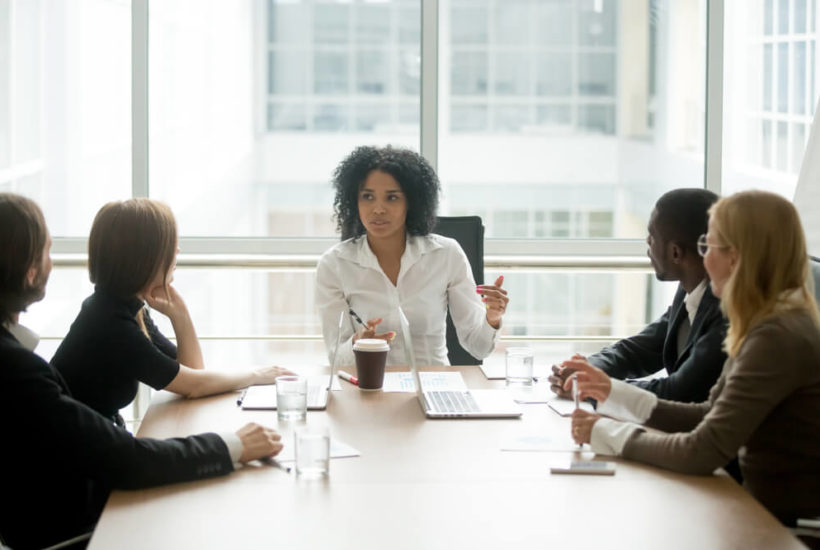 Maybe a few years ago, this would have been a point of contention between wrinkled, old white men sitting around their conference table. But it's no longer just a matter of principle and doing what is right. Inclusionary practices have been studied and the verdict is in—women in the workplace make companies more profitable.
The Organization for Economic Cooperation and Development (OECD) has been examining gender in business on a global level. Despite cultural differences the same truth—that women better businesses—was found universally.
In the Middle East and North Africa, "legal and social barriers" that hinder a woman's access to building a career actually cost them about $575 billion a year. If the talent of working-aged women was utilized to the same extent as men in the workforce around the world, we could see a 25% boost in the global GDP leading to $12 trillion by 2025.
According to McKinsey and Company, companies in the top quartile for gender diversity in their executive teams were 21 percent more likely to have above-average profitability than those in the bottom quartile.
Think about your company's growth goals. How many times a week do you have heart palpitations wondering if you're doing enough to get your team to that goal? When you compare the time, energy and stress you put behind creating initiatives, new strategies, and reinventing processes to hiring and retaining smart, capable women the decision is clear.
In the states, angel investor and venture capitalist Kevin O'Leary has learned lessons on gender in business from his experience as an investor on NBC's Shark Tank. After almost a decade of investing in small businesses, O'Leary found that woman-run or owned is the way to go.
In the Middle East and Africa, legal and social barriers that hinder women from building their careers costs them about $575 billion per year. (Photo by Flamingo Images via Shutterstock)
"Not some of my returns, all of my returns, have come from the [companies] run by women or owned by women," O'Leary explained in 2017. He crunched the numbers and in 2015 none of the male-run companies he invested in were out-performing the women-run companies.
Across the board, O'Leary found women in leadership roles manage time better, delegate more efficiently and boost morale. Barb Stegemann, founder of The 7 Virtues perfume line, is the perfect example of this. She built her company on a social cause—helping farmers in war-torn countries rebuild their economy—with a line of credit and pure ambition. She has become a catalyst for women entrepreneurs everywhere.
Stegemann travels across the world to speak to aspiring entrepreneurs about available resources to help get them started. In her keynote at the Canadian Women in Tech conference held at The Riveter in Marina Del Rey, California, she spoke to a room full of women who believed in their causes and needed the guidance to get their ideas off the ground.
Her empowering conversation and deep dive into being a female entrepreneur in a male-dominated industry was the kind of tenacious morale boost to move anyone into action.
There's a new wave of women taking control of their business careers in a world that truly sees their potential and value. With women like Barb Stegemann supporting and uplifting the women around her and men like Kevin O'Leary who want to partner with the best, there's no doubt it's a woman's time to conquer the world of business.
(Featured image by fizkes via Shutterstock)
—
DISCLAIMER: This article expresses my own ideas and opinions. Any information I have shared are from sources that I believe to be reliable and accurate. I did not receive any financial compensation for writing this post, nor do I own any shares in any company I've mentioned. I encourage any reader to do their own diligent research first before making any investment decisions.