CEO Spotlight: Haier Group's Zhang Ruimin
Zhang Ruimin transformed Haier from a bankrupt company into a global leader in producing high quality home appliances.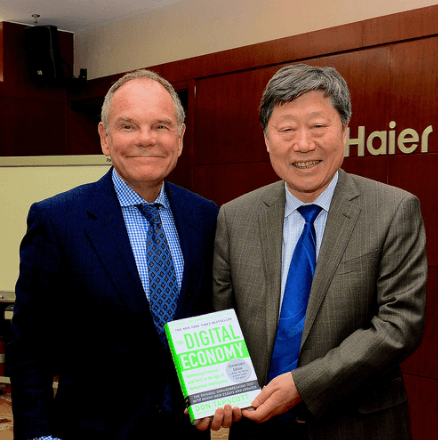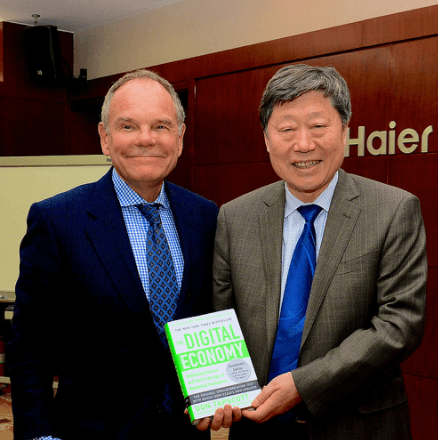 The Haier Group is one of the world's leading appliance makers. The man credited behind its success is no other than CEO Zhang Ruimin. Read on to learn how he transformed the once-bankrupt company into a global force it is today.
Brief background
Zhang Ruimin was born on Jan. 5, 1949, in Laizhou, Shandong. According to the book "The Haier Way" by Jeannie Jinsheng Yi, Zhang failed to get a college degree because of the Cultural Revolution in China from 1966 to 1969, but that did not stop him from acquiring knowledge. He worked at a construction factory in Qingdao and quickly learned the ins and outs of the system by sheer determination. He was soon promoted to deputy director in just 12 years working at the factory.
He was then appointed as the general manager of Qingdao Refrigerator Plant, which was embroiled in debt worth ¥1.47 million. He realized that the poor quality was a big factor why their products failed to make sales and impressions. In a bid to turn things around, he invited factory workers to destroy substandard refrigerators that the company made, which left an impression. Soon enough, the emphasis was put on making quality products. In 1986, Qingdao Refrigerator recorded an average of 83 percent sales growth that year, per Funding Universe.
In 1991, Qingdao Refrigerator was renamed to Qingdao Haier Group and later on dropped Qingdao in the company name. Zhang enrolled at the University of Science and Technology of China and earned his master's degree in business administration there.
Career at Haier Group
Haier grew to more than just being an appliances maker. It now provides services such as water safety tips and other areas how to improve quality of life in China and other developing nations. Haier has also customized its products according to the needs of a particular region or country.
In Pakistan, Haier washing machines are larger to accommodate the washing of Pakistani robes, while in China, they feature a large hose to wash vegetables in some farms.
When strategy+business asked how Haier has maintained its position as one of the top companies in the world year after year, Zhang attributed this to a saying that the company believes: "Successful companies move with the times." He also noted that once a company goes big, its employees tend to lose market sensitivity because they are just going to follow orders around, which is what he hopes to change in Haier.
He introduced new systems such as "All-around Optimized Management Approach" (OEC), the "Market Chain" management system" and the "Integration of Individuals and Goals" which catapulted Haier into one of the world's top companies.
In the age of the internet, the CEO wondered how Haier can get customer insights. They used to do calls and ask customers to answer questionnaires, but the changing times mean the method must be refreshed. In the same interview with strategy+business, Ruimin says that they once invited users to select which among the modules and designs Haier created were favorable to them. The strategy worked, and they have managed to sell more than 10,000 television sets online in just 24 hours.
Future plans
According to Asia Times, the Haier Group is planning to go public on the China Europe International Exchange's D share market. In line with this, the company is selling up to 400 million D-shares (D is for Deutschland). The China Europe International Exchange is composed of Shanghai Stock Exchange, Deutsche Boerse Group and China Financial Futures Exchange.
The main aim is to promote Haier globally and hopefully invite more investors.
Milestones and achievements
Zhang Ruimin was the first Chinese entrepreneur to give a speech at Harvard, per Thinkers 50. Aside from that he was also given the recognition of "Entrepreneur of the Year" by Asia Weekly (1997), one of Financial Times's "Global 30 Most Respected Entrepreneurs" (1999), "Businessman of the Year in China" by CCTV (2002), BusinessWeek's "China's Most Powerful People" (2009) and Fortune Magazine's "Asia's 25 Most Influential Business Figures" (2004), among others.
Moreover, he was a recipient of different international awards, including "Inspired Leadership Award," "IMD Management Thought Leader," "Asia Brand Eternal Spiritual Leadership Award," and "Dale Carnegie Leadership Award."
Zhang Ruimin is a leader who does not let setbacks get in the way of reaching success. As proven by his track record, lack of education and taking over a struggling company are no valid reasons for not striving harder. His thoughts are always forward-looking; that is why Haier has strongly cemented its place in the appliances industry.
(Featured image by Don Tapscott via Flickr. CC BY 2.0)