Is Triad Pro Innovators' eCell Battery Tech Really Better than Lithium?
Lithium batteries get a lot of attention with good reason. Of all the existing battery technologies, they do appear to be the best of all available solutions. However, lithium does have its pain points, most of which a new solid-state energy storage cell from Triad Pro Innovators overcomes. Named the eCell, the patent-pending technology is fast making a name for itself in numerous applications.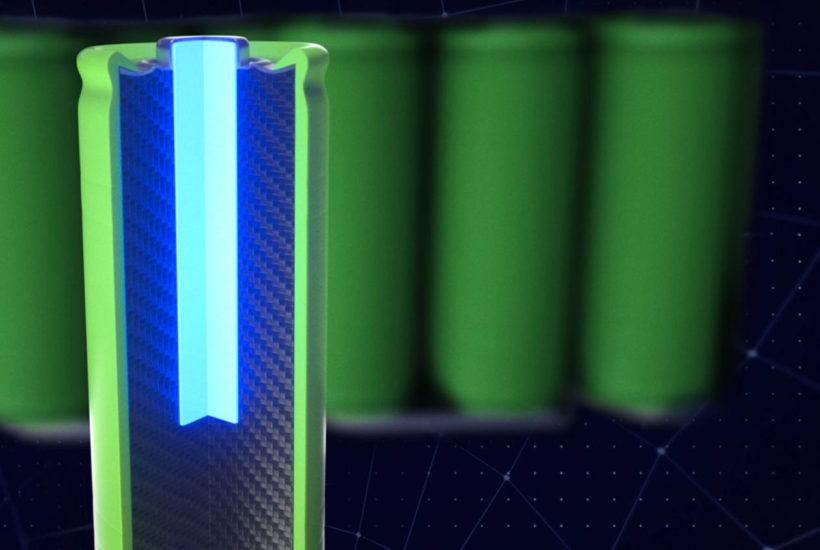 In our quest to move towards a renewable energy future, the demand for batteries and other energy storage systems is accelerating at a blistering pace. In semi-recent times, Tesla (NASDAQ: TSLA) has even held 'Giga Fest'; a giant festival celebrating the completion of its absolutely massive Gigafactory in Berlin. And the price of lithium carbonate has catapulted to almost 500% of what it was a year ago.
But missing amongst all the talk and speculation about lithium batteries are serious discussions about its limits. Sure, for certain applications, it is still the best technology we have. But it also comes with some serious limitations that, depending on the application, make lithium far from the most desirable material.
These shortcomings and problems are, at least in the industrial space, creating a strong interest in viable alternative technologies. A perfect example here is Syncrude—Canada's largest producer of synthetic crude from oil sands—which has to operate in the extreme colds of northern Canadian winters where lithium either severely degrades or fails completely. This is seeing the company seek out solutions like Triad Pro Innovators' (OTC PINK: TPII) EEL Diesel Hybrid Genset—a hybrid genset that can operate in temperatures as low as -50°C thanks to its innovative eCell energy storage technology.
And let's not forget that lithium is a relatively limited resource, with analysts predicting we could run out by as early as 2040.
The Quest for Lithium Alternatives: Triad Pro eCell Shows Massive Potential
For this reason, the search for viable lithium alternatives is heating up. This is seeing a range of alternatives being proposed.
Unfortunately, the majority of them fall well short of lithium. Zinc-air, for example, suffers from slower charge times, lower energy density, and has a shorter lifespan than lithium-ion. On the plus side, they could offer a lower-cost alternative, and they are more environmentally friendly given the primary components are zinc and — you guessed it — air.
However, there is one relatively overlooked technology that, in the right applications, outperforms lithium by a mile: supercapacitors. They charge faster (way, way faster), live longer, operate in extreme temperatures, and are 100% recyclable.
Of course, they do have a couple of downsides—there's no such thing as a free lunch—but, when used in the right places, the downsides are more or less inconsequential.
Triad Pro Innovators' eCell Technology Harnesses the Power of Supercapacitors
The first problem that supercapacitors have is energy density—they simply don't hold as much energy in the same amount of physical space as lithium. This results in bigger batteries, which pretty much rules them out in the super-competitve consumer electronics space. When one of the biggest concerns is how slim a device is, every fraction of a millimeter counts.
The second problem is to do with the difficulty of controlling how they accept and deliver a charge. This, however, is more about addressing existing technology, which is a task that Triad Pro Innovators (OTC PINK: TPII) has taken up with great success.
After just a couple of short years, the Triad Pro Innovators have developed an advanced system for adapting supercapacitors to virtually any application, and any source of power. This is seeing the company develop energy storage cells (called eCells) for everything from off-grid crypto mining, to golf carts, and portable light towers.
This represents a huge breakthrough as, until now, supercapacitor uses have largely been limited to highly-specialized applications. One example is an electric bus with a supercapacitor bank that needs highly-specialized charging equipment distributed throughout the network.
Just How Much Better Are Triad Pro's eCells over Lithium Batteries?
As mentioned, supercapacitors have massive advantages over lithium batteries. The reason for this is largely due to the fact that they're 100% solid-state with no volatile chemicals that cause heat and degradation every time the battery is charged.
Of the advantages that Triad Pro's eCell brings, the two biggest advantages over lithium that apply to all use cases are its ultra-fast charging ability, and its ultra-long life.
As an example, the eCell as deployed in the company's Spree Solar-Powered Gold Carts comes with a ten-year warranty, and is expected to last for at least 30,000+ recharge cycles. Compared to a lithium battery, this represents at least a ten-fold improvement.
As for its fast charging capabilities—they're really only limited by the source. Said another way, with the right eCell, it's not outside the realm of possibility that an EV could be developed which could be charged in a couple of minutes to 100% capacity. The only limiting factor is how big the wires delivering the charge can be.
As for other advantages, they depend more on the application. For example, a huge amount of interest in the eCells is coming out of northern Canada, where winter temperatures are often well below the operating temperatures of standard lithium batteries. In fact, the company has already tested the eCell down to -50°C without seeing any signs of degradation. But, again, the size of this advantage is application-specific—residents of California, for example, probably couldn't care less about this point. (Although they might care that it's 100% recyclable.)
The Future for Triad Pro Innovators and the eCell Energy Storage System
It's still early days for Triad Pro Innovators—the company has only been around a couple of years. However, things are already looking incredibly bright. Given the right application (remember, no slimline electronics as the eCells do have a size disadvantage), the eCell is a far superior technology compared to any existing lithium battery technology on the market.
The deployment of the technology won't necessarily be limited to what the company can come up with itself, either. The eCell technology is now patent-pending and a big part of the company's strategy going forward is to open up its technology to licensing agreements. This will exponentially increase the number of devices and place where we see eCells deployed. Expect to see them everywhere from off-grid applications (such as its crypto mining deployment and its EEL Diesel Hybrid Generator) to Electric Vehicles (EVs), and maybe even in domestic solar installations (they don't overheat and have zero fire risk).
For these reasons, Triad Pro Innovators is one company that deserves to be on everybody's radar. If you're an investor looking for your next renewable energy/battery technology play, now's the time to get in. If you're a tech enthusiast, watch the news feed for more innovations. And if you're a company in need of energy storage that overcomes most of lithium's limitations and downfalls, then you might just want to get in touch.
__
(Featured image courtesy of Triad Pro Innovators)
DISCLAIMER: This article was written by a third party contributor and does not reflect the opinion of Born2Invest, its management, staff or its associates. Please review our disclaimer for more information.
This article may include forward-looking statements. These forward-looking statements generally are identified by the words "believe," "project," "estimate," "become," "plan," "will," and similar expressions. These forward-looking statements involve known and unknown risks as well as uncertainties, including those discussed in the following cautionary statements and elsewhere in this article and on this site. Although the Company may believe that its expectations are based on reasonable assumptions, the actual results that the Company may achieve may differ materially from any forward-looking statements, which reflect the opinions of the management of the Company only as of the date hereof. Additionally, please make sure to read these important disclosures.