How to maximize your office renovation on a budget
Executing even a minor office or business renovation can feel like a major undertaking. That's why it pays to embark on this project knowing which materials and investments deliver the best return, and how wise purchases today can yield major satisfaction, and major savings, in the long run.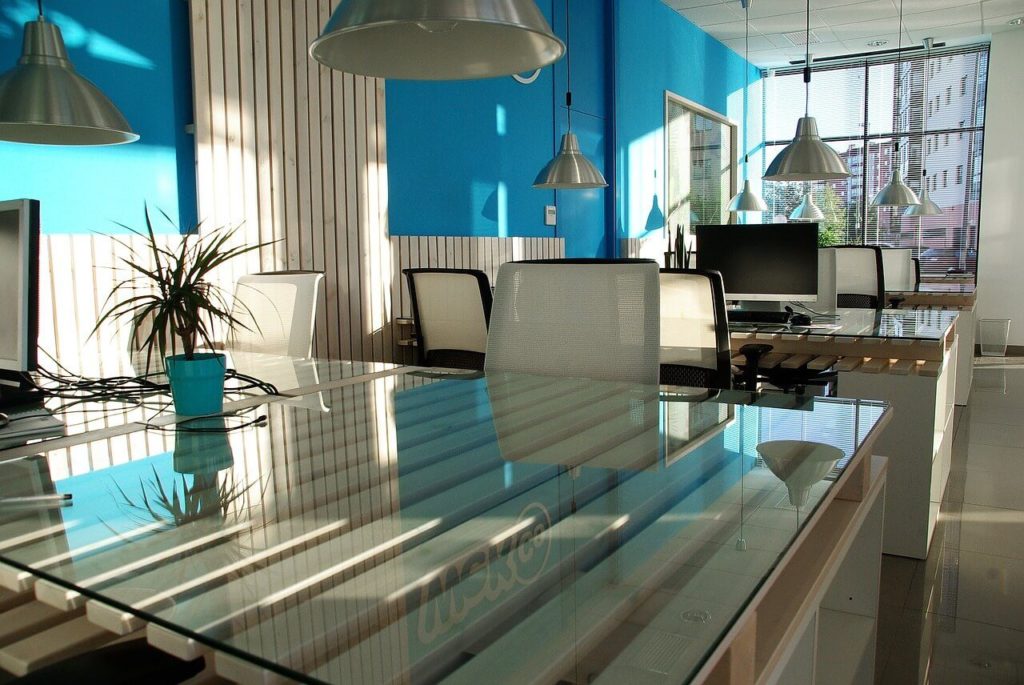 When it comes to renovations, budgets are zero-sum games. Making the most of yours means you need to set priorities.
We're here to talk about "maximizing" your budget — but that doesn't mean you'll be jumping in to perform the flashiest upgrade. For the biggest impact, think about which factors actually drive your business forward. Pay attention to where your revenue generation comes from:
Anything obviously broken or unsafe has to come first. Your facility and infrastructure is the heart and soul of your business. Don't neglect your plumbing, electrical or HVAC systems because you were chasing a more "visible" upgrade.

Anything that stands a chance at turning off customers comes next. Think about curb appeal, in other words.

Anything that would make daily life more convenient or pleasant for your employees should be a top priority too.
Having your parking lot expanded or repaved might not sound like a high-impact way to maximize your renovation budget. But would it solve a major headache for your employees as they pour in for their shifts? Has crumbling asphalt and cement eaten into your foot traffic? Stretching your budget means beginning in areas that make a high impact — even if not all of that impact is visual.
1. Buy a "lifetime" roof
In some parts of the world, living "green" roofs are common and even required by law for new construction. There are many benefits of a green roof, but they're not for every type of business or every environment.
If you have a facility that needs a new roof, today, there are many good reasons to question the conventional wisdom of installing a "standard" asphalt roof. Residential and commercial metal roofs can last for up to 70 years in the right conditions. That makes this another choice where the day-one expenses might be higher than you'd like, but where a smarter material choice can deftly minimize the long-term impact on your budget.
2. Choose flooring that will stand up to punishment
Landlords know only too well the struggle of replacing carpeting and other types of floors on the regular. It's fairly common to roll up and throw away entire apartments' worth of carpeting in between tenants. But what's the point of buying hundreds of yards of the same cheap carpeting year after year?
The modern business is nearly spoiled for flooring options these days, much of which is very unlikely to require regular replacement. Bamboo is reasonably sustainable — it looks great, and it's durable. There are also many attractive composite materials on the market today, too, under various names involving plays on the phrase "life proof" or "everything proof." Depending on the choices you make today, even if it means paying a little more, you might be able to erase flooring from your budgeting concerns for a long time to come.
3. Apply paint to cabinets, walls and elsewhere (instead of gutting and replacing)
Homeowners everywhere have discovered how budget-friendly and easy it can be to spruce up parts of the home with new paint and hardware. Cabinets — especially the bathroom and kitchen cabinets — are a great place to start with this budget-friendly facelift. Remember that even a single kitchenette can cost $4,000 to renovate — and a bathroom can cost a few times that. So what does this project entail?
Removing drawers and cabinet doors, painting them and refreshing the hardware, is a pattern that you can repeat throughout your place of business. Know, too, that many real estate professionals tout the advantages of a fresh coat of paint in a working or living environment, especially when the colors chosen amplify the available light in the space. Provided there are no structural issues to address first, give your "demo" a pause and go for a paint-fueled "reno" instead.
4. Make wise appliance purchases
Energy-efficient appliances are just about non-negotiable these days. The cost of an HVAC replacement could represent up to 20 percent of your entire reno budget, and that makes it something you don't want to have to invest in again in a couple years because you're spending too much on utility payments today.
The longevity of your appliances and even some of the machinery your business relies on should also be a consideration during renovations. Some types of treatments, like powder-coating, can improve an appliance's resistance to wear and tear and various sources of corrosion. There's also a chance of scoring grants or tax incentives, depending on your municipality, for efficient investments in your infrastructure.
All of this means you can offset some of the costs of your renovation by making strategic, durable and/or energy-wise purchases during your next upgrade.
5. Minimize profits lost from slowdowns in business
Some of the expense associated with renovating an office involves potential lost business and revenue. You're not necessarily planning on bringing operations to a hard stop while work progresses, but it still might be worth thinking about completing as much of the job as possible during a slow season — or, depending on the business you're in, during a period when customers would rather be at home with their families, like around holiday breaks. You don't have to let a business slowdown eat into your renovation budget unnecessarily.
Planning and executing a renovation on your office or business location is an exciting process! With some planning and prioritizing beforehand, plus some wise choices when it comes to choosing new materials, "upcycling" old ones, and investing in your infrastructure, you can sail through this with your budget intact — and possibly with some additional savings on your books, too.
—
DISCLAIMER: This article expresses my own ideas and opinions. Any information I have shared are from sources that I believe to be reliable and accurate. I did not receive any financial compensation for writing this post, nor do I own any shares in any company I've mentioned. I encourage any reader to do their own diligent research first before making any investment decisions.