5 office design trends that will attract and retain millennial workers in 2019
The work environment is changing as millennials are taking over much of the workforce from the retiring baby boomers.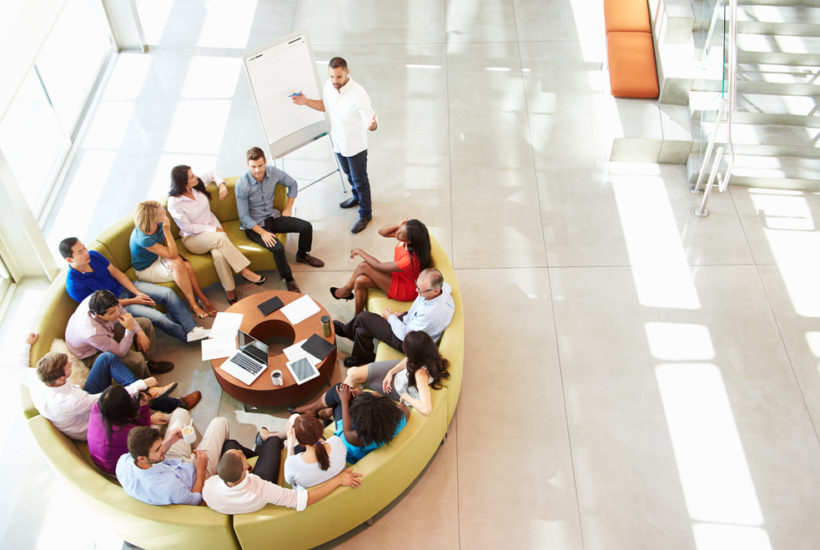 Workplaces around the world are gearing up to say goodbye to Baby Boomers and give a big welcome to millennials. As their numbers swell up to 73 million in 2019, the millennial generation is set to take up the largest portion of the workforce, even outnumbering baby boomers. It's important for employers to understand that millennials' expectations for the work environment are more unique than any generation to come before them.
The differences are huge: whereas baby hoomers have a reputation of staying put at the same company for years at a time, millennials are much more likely to switch jobs, and six in 10 are always open to new job opportunities. As the older generation of workers retires, employers must find new ways to connect with this new wave of employees if they want to successfully attract and retain them.
Here are five practical steps employers can take to make the workplace more accommodating to millennials:
1. Say goodbye to cubicles
Long gone are the days of dark and dingy high-walled cubicles: Employers who want to attract millennials certainly won't do so by holding onto their old cubicles. However, not every office needs to make a huge switch to a completely different open concept design. There are plenty of ways to find a happy medium by using mid-high cubicles, group work stations, and sit-stand desks.
This new mix is part of a trend called activity-based work design, wherein offices create an environment designed to encourage activity and physical movement, while also creating quiet zones with noise-canceling panels and even sound booths for those who want total privacy to make phone calls.
Apple is on top of this trend: CEO Tim Cook announced last year they would be giving all employees sit-stand desks, noting how collaborative and active workspaces at its Apple Park headquarters supports creativity and innovation.
2. Inspire physical movement in the office
Speaking of sit-stand desks, new research shows that sitting for long periods of time is as bad for the brain as it is for the body. The benefits of taking brief movement breaks have been well-researched in recent years, with reports showing that constant sitting puts you at higher risk of heart disease, diabetes, depression, and obesity.
Luckily, just a five-minute walking break every hour can improve your health and well-being. Employers who want to encourage better health for their employees can inspire physical movement in the office by creating a common space with a foosball or ping pong table that gets employees up and moving around, which in turn helps them go back to work feeling inspired and energized.
3. Integrate oxygen into your design
One easy and crucial change you can make to spruce up your office is to simply add plants. While many offices have decorative greenery, infusing your office with live plants actually increases the amount of oxygen circulating in your office, while modernizing the office look and feel in the process.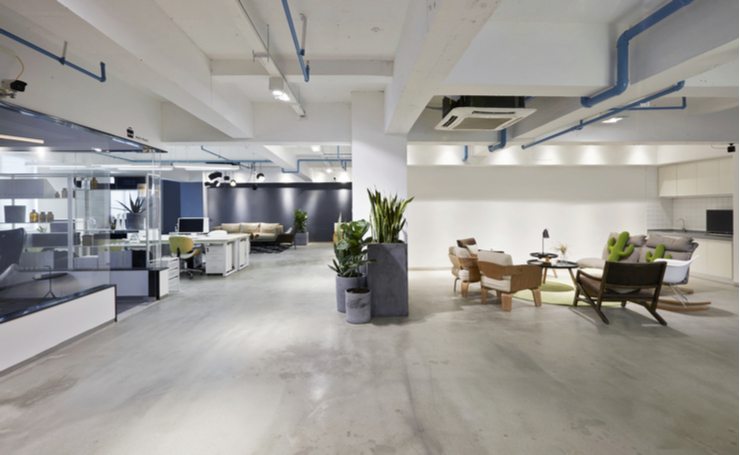 There are plenty of scientific benefits to adding plants in the workplace: from reducing stress and sickness (meaning fewer sick days) to increasing productivity and reducing office carbon dioxide levels by about 10 percent. The physical appeal of greenery shouldn't be underestimated, either. Forty-eight percent of workers think that the workplace design has a notable impact on their decision as to whether to stay with an employer, meaning that those plants around the office may have a tangible impact on your employee retention rate.
4. Create more natural lighting
That dim, flickering fluorescent lighting that offices are infamous for aren't cutting it in the workplace anymore. A study conducted by the American Society of Interior Designers showed that a staggering 68 percent of employees complained about their office lighting. On top of that, it actually negatively affects productivity.
Another study showed that workers without windows reported lower scores than their counterparts on quality of life measures related to overall sleep quality, sleep efficiency, sleep disturbances, and daytime dysfunction.
And while it may not be feasible for every business to install windows throughout their building, employers can still help boost employee productivity and happiness simply by changing their lighting systems. Businesses looking to keep costs down can do so by switching to LED or CFL bulbs, which are energy-efficient and more easy on the eyes than fluorescent bulbs.
5. Add up-to-date flooring
One thing that can make or break an office design is its flooring, and carpet isn't exactly popular amongst millennials. And while old-fashioned carpeting can be good for sound-dampening in offices that need a lot of quiet, carpet also traps in allergens, dirt, and dust — which isn't ideal for the health of any employee, millennial or not.
Offices that are looking to transition from outdated carpeting are starting to choose Luxury vinyl tile as an option that looks like solid wood but is actually a synthetic material that's cheaper than actual hardwood floors. Solid tile and natural stone are also becoming more popular commercially, with designs that can make an office look more modern and comfortable.
A new era in the workplace has arrived, and employers need to be aware of this to attract and retain new talent in 2019. By taking these steps to modernize your office and encourage the health of your employees, you can ensure that your business will be among the top choices for talented millennials in the workforce.
(Featured image by Monkey Business Images via Shutterstock)
—
DISCLAIMER: This article expresses my own ideas and opinions. Any information I have shared are from sources that I believe to be reliable and accurate. I did not receive any financial compensation for writing this post, nor do I own any shares in any company I've mentioned. I encourage any reader to do their own diligent research first before making any investment decisions.