Stimulus round two: Will 600 bucks make you happy?
On Monday evening, Congress passed a $900 billion rescue package. Once again, the American people, at least singles making under $75k or couples under $150k, will catch another freebie in the form of $600 checks, half of what they got last time. Some of the other notable items in this bill include $284 billion towards forgivable PPP loans, $300 per week for enhanced unemployment benefits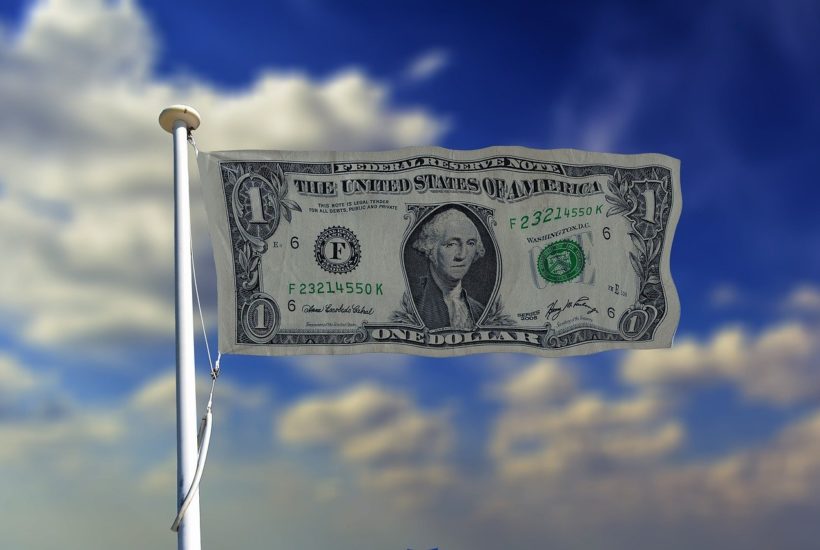 Remember when you got that nice $1,200 check in the mail back in the spring?  Not really, you answer, actually yah I think maybe, didn't we get that in the summer for something?  If you can't remember why or where that money came from, don't worry, you don't owe your cousin back.  Who could blame a little forgetfulness over the dreary fog that has engulfed the year 2020.  Since Uncle Sam kindly fattened our wallets, businesses have closed down, reopened (kinda), closed down again (kinda), and then some reopened, I guess? Parents balanced a new remote work situation with teaching their kids everyday through a virtual half-day of at-home-school.  And oh yeah, while the hostess was being forced to scold you for lowering your mask before reaching the crowded bar, we can now all rest easy since COVID doesn't infect the seated, there were a couple of protests and then a quiet election.  Whether you forgot that $1,200 bump, or not, or maybe were passed over because of a strong financial year in 2019, it was there.  And it cost our country over $218 billion.  But hey, who's counting?
Those famous, or infamous, checks were part of the larger $2.2 trillion CAREs Act passed in March of 2020.  This was meant to be a bridge loan of sorts to carry the American economy across a flood of financial catastrophe sure to be felt from a nationwide shutdown.  Now, as Coronavirus continues to be present while the American people cautiously adopt a vaccine, the economic flood has expanded, leaving politicians screaming for a bigger bridge.
President Donald Trump has routinely stated that the cure, referring to shutdowns and quarantines, cannot be worse than the problem, COVID-19. As this politicized debate continues to rage on, stimulus is promoted as the only logical solution for bailing out a country opting for safety over enterprise. Enter round two.
On Monday evening, Congress passed a $900 billion rescue package. Once again, the American people, at least singles making under $75k or couples under $150k, will catch another freebie in the form of $600 checks, half of what they got last time. Some of the other notable items in this bill include $284 billion towards forgivable PPP loans, $300 per week for enhanced unemployment benefits, $82 billion for education providers to reopen classes safely, $13 billion for food stamps, and $25 billion for rent assistance. The enhanced unemployment benefits will add $300 per week on top of the normal state unemployment benefits, through March 14, 2021.
"While the deal is months late and will likely fall short of what is needed to prevent a rough winter, it's better than nothing", said Gregory Daco, chief US economist at Oxford Economics. So, it might not really work, but again, who's counting? Not Senate Minority Leader Chuck Schumer, a NY Democrat, who said the bill is, "… just a first step."
This latest stimulus package will also expand the $600 direct payments to "mixed-status households", with spouses or children who are not citizens and do not have a Green Card, or are undocumented. This assistance will also be retroactive to the CAREs Act. Secretary of Treasury, Steven Mnuchin, has promised people will start seeing these checks as early as next week, just in time to pay off some new Christmas gifts.
I'm sure that this year you have heard the word "unprecedented" an unprecedented amount of times. It's very easy to overlook the bickering on Capitol Hill when you don't know when your kids will get off TikTok and go back to school, or why Walmart's packed but your store across the street has been shuttered for months. Even when you do try to focus, the 24/7 media pissing contest, and social media delirium, can be distracting. Let's take a deep breath and look at the unaltered facts.
America's Gross Domestic Product (GDP) in 2019 was a whopping $21.5 trillion, accounting for almost 25% of the world's economic output of $87.2 trillion. For comparison, China, the only other superpower, had a GDP of $14.14 trillion. California, with over $3 trillion of GDP, has more economic output by itself than all of India, at $2.9 trillion. But as any business owner who's still in business will attest, inflows are only half of the equation.
Here are the trends of inflows and outflows in America.  When President Bill Clinton took office in 1993, after the economic boom under Reagonomics and the first Bush administration, federal spending was $1.41 trillion, national debt totaled $4.35 trillion, and America's GDP was $6.58 trillion. When he left office in 2001, federal spending was $1.86 trillion, national debt was up slightly to $5.77 trillion, and GDP was $10.06 trillion.  After 9/11, a couple of wars, and the Great Recession, President Bush left office in 2009 as federal spending totaled $3.11 trillion, national debt exceeded $10.41 trillion, and GDP reached $14.10 trillion. President Barack Obama took over for the next two terms and left in 2017, as federal spending was $3.98 trillion, national debt had doubled to $19.90 trillion, and GDP fell short at $19.49 trillion.  Now at the conclusion of Trump's presidency, the federal spending for fiscal year 2020 was $6.5 trillion, the national debt currently sits at $27.52 trillion, and projected GDP for this unprecedented year is well short at $20.66 trillion.  It does not take a statistician to see that debt has rapidly overtaken our economic production, with no sign of slowing down.
If you're starting to tune out again, as numbers of such unfathomable size are so casually moved around, allow me to illustrate what a trillion dollars actually looks like? That $100 bill we all covet can fit comfortably in your wallet. One hundred of them, or $10,000 can actually fit in your pocket. 100 packets of $10,000, or $1 million can fit in a gym bag. 100 gym bags, or $100 million can fit on a standard pallet. Therefore, 10 pallets full of $100 bills would equal $1 billion. Now a trillion, is 1,000 billion.
America must beat Coronavirus. America must restore the economy. American youth must get back to school. But what should the path to recovery look like? Is a $600 handout enough? Was $1,200? What about $5,000 or $10,000? At what point is it enough for the person, but too much for the government? Up-and-coming generations are known for perking up to financial conversations when they address their student loan epidemic. Politicians, in an effort to help and/or placate these voters, have promised all sorts of eventual student loan relief. But ask yourself, what will future generations be burdened with, if the government continues to pay for the problem?
__
(Featured image by geralt via Pixabay)
DISCLAIMER: This article was written by a third party contributor and does not reflect the opinion of Born2Invest, its management, staff or its associates. Please review our disclaimer for more information.
This article may include forward-looking statements. These forward-looking statements generally are identified by the words "believe," "project," "estimate," "become," "plan," "will," and similar expressions. These forward-looking statements involve known and unknown risks as well as uncertainties, including those discussed in the following cautionary statements and elsewhere in this article and on this site. Although the Company may believe that its expectations are based on reasonable assumptions, the actual results that the Company may achieve may differ materially from any forward-looking statements, which reflect the opinions of the management of the Company only as of the date hereof. Additionally, please make sure to read these important disclosures.