Rise of the wearables: IoT tech companies expand focus on health-conscious consumer market
What do FitBit, Garmin, and Apple Watch have in common? They all take a huge chunk of the wearable tech market, which overlaps with the healthcare sector. Amazon is reportedly working to enter the same industry and has a "secret" health tech team called 1492. Analysts surmise that the retail giant is creating wearable devices that would collect data and employ AI to monitor disease.
The lion's share of the wearables market is held by Fitbit (FIT), Garmin (GRMN), and Apple (APPL) Watch—but the real question on investors' minds is Amazon's (AMZN) strategy to disrupt the healthcare market. 
In July 2017, CNBC broke the news of Amazon's secret health tech team called 1492.  This skunkworks team was reported to be focusing on opportunities in healthcare such as electronic medical records and telemedicine. 
Over the past year, little snippets of Amazon's strategy has been making its way into the market. First, there was the hiring of HIPAA compliance team members, and then the Alexa team started to test various ways of using artificial intelligence to make healthcare more efficient.  The next hires were the "health and wellness team" looking to make an impact on disease management.
Then showstopper in 2018 was Amazon's purchase of PillPack for approximately $1 billion.  The purchase of PillPack was to develop a physical presence and "distribution" in the pharmacy market, but it was just one piece in a much bigger healthcare strategy. 
The overriding theme behind the 1492 team hires was the development of a health and wellness plan that monitored disease. Amazon's vision centered around wearable devices that would collect data and interface with powerful software packages and AI that would recommend optimal treatments.  
Growth through acquisition—the only option
The next step in the giant retailer's healthcare strategy is to acquire complementary businesses that have the technology or are in the process of developing it.  Acquisition seems to be the company's only option at this point because it is behind in development.
In truth, Amazon doesn't have the luxury of time, and a wearable device that gains market acceptance will reset the playing field. Apple and Android already control the market for wearable tech. FitBit had a chance to challenge Apple in 2015 when it gained popularity as a fitness tracker, but it never invested in a smartwatch or developed an ecosystem of apps like what Apple did—and almost faced extinction. 
FitBit's best hope for survival rests with Amazon, which has the horsepower to crowd out other options—its Fitbit Versa Lite is its second-generation smartwatch catering to the lower end of the market.
Consider that FitBit and Samsung were able to take the market share away from Apple. This resurgence might just be what the doctor ordered for Amazon. FitBit is the second most popular smartwatch platform, and Amazon might be tempted to acquire it and use its own ecosystem to encourage the use of apps, as well as solidify the platform as an alternative to Apple.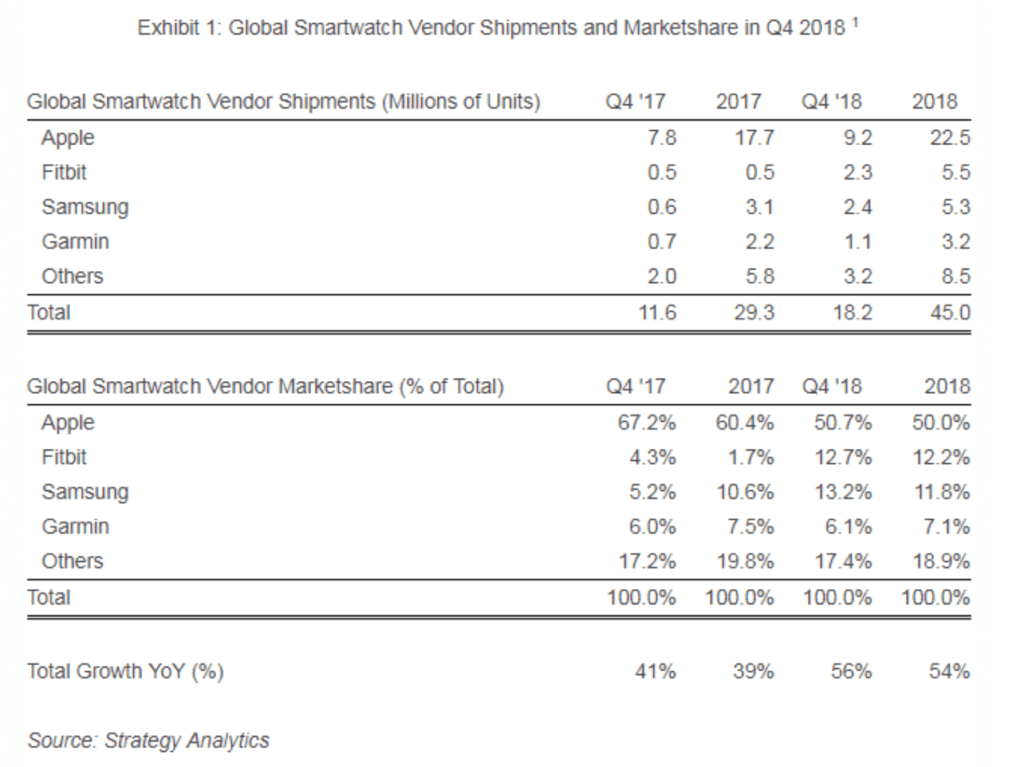 Garmin is also a player.  You may recall the company making a name for itself with GPS devices many years ago, only to be squashed by the free Google Maps app. Like many tech companies, it eventually evolved into the production of smartwatches.
The newest Garmin smartwatch product unveiled at the Consumer Electronics Show in Las Vegas, Nevada on January 7, 2019, demonstrates the fusion of a secure contactless payment mechanism using a digital wallet for consumers on the go. 
Next-ID (NQ: NXTD) ran with the business model of FitPay, like Apple Pay, but for most other wearable devices that enable consumers to make highly secure contactless payments. The company is working with Garmin, FitBit and others.
Garmin's new smartwatch, the vívoactive 3 Music with LTE connectivity is one of the most significant advances in contactless payment solutions, which could usher in a new era of wearable tech usage.  As consumer demand increases so do the value of the licensing platform and, ultimately, the stock price. Amazon might also find value in this approach.
Competitive landscape
There are other major players in the space that aren't likely acquisition targets for Amazon due to their size, but may be on the prowl for acquisitions themselves.  These giants include both Samsung and AT&T (T). Samsung has its own ecosystem of products on the fitness side but may choose to balance its growth out with something in the healthcare market.  
More wearables are jumping into the health and medical space, with Samsung Galaxy Watch Active promising a feature the Apple Watch doesn't yet have: blood pressure monitoring. Apple's latest version of its smartwatch, the Apple Watch Series 4, features a built-in electrocardiogram feature and fall detection. Samsung's newest smartwatch for the consumer market features exercise, sleep, stress and health tracking features, as well as an upcoming blood pressure tracking feature. According to a Samsung release last March 15th, users can already download MY BP Lab, the research app jointly developed with the University of California, San Francisco, directly to the Galaxy Watch Active to monitor blood pressure. 
9to5Mac reported that the phone version of the My BP Lab app that is already available on the market uses an optical sensor (camera) to take measurements, but a traditional blood pressure cuff is still needed to "calibrate" the sensor. The app only tracks changes over time without an initial calibration: "Tech specs for Samsung's new watch don't mention any new hardware beyond the heart rate monitor so it's possible the same limitations will apply."
But Samsung's wearable health offerings aren't the only new features on the market. AT&T has been in the running since 2010 and has shown little traction, but there are tiny indications that things are changing.  AT&T's goal was to improve patient outcomes and reduce the cost of medical care. They planned to do this through electronic health records and telemedicine.  The telecommunications giant is planning on using the IoT to connect all sorts of devices wirelessly to monitor patients and connect them with their caregivers.  Some ideas include pressure sensors in patients slippers to track them and determine fall risk. It also means tracking wheelchairs, monitoring glucose meters and much more.    
AT&T LTE-M connection now allows clinicians near real-time access to patient data in a highly secure environment while providing caregivers with the ability to intervene when necessary.  The LTE-M Low-Power Wide-Area network is designed for IoT devices that are compact and wearable such as the OnePulse medical and smartwatch. This makes possible OnePulse' five-day battery life, always-on feature and lightweight design.
The OnePulse smartwatch, a ripe acquisition target for someone, is a valuable tool for the medical provider to monitor chronically ill and elderly patients who plan to "age in place," a niche market versus the healthy, fit and on-the-go. This watch offers many benefits for the user, clinician and caregiver:
24/7 monitoring with near real-time alerts for family and/or doctor
Medication reminders and auto prescription refills
Fall detection
A customizable suite of services, for specialty conditions
Fully encrypted medical records that can be accessed via a cloud-based dashboard.
Artificial Intelligence analytics and predictive analysis
Open API allows connection to any system including Electronic Health/Medical Record platforms
The OnePulse LTE-M medical and health smartwatch is a complete solution for practical, affordable telehealth and remote patient monitoring.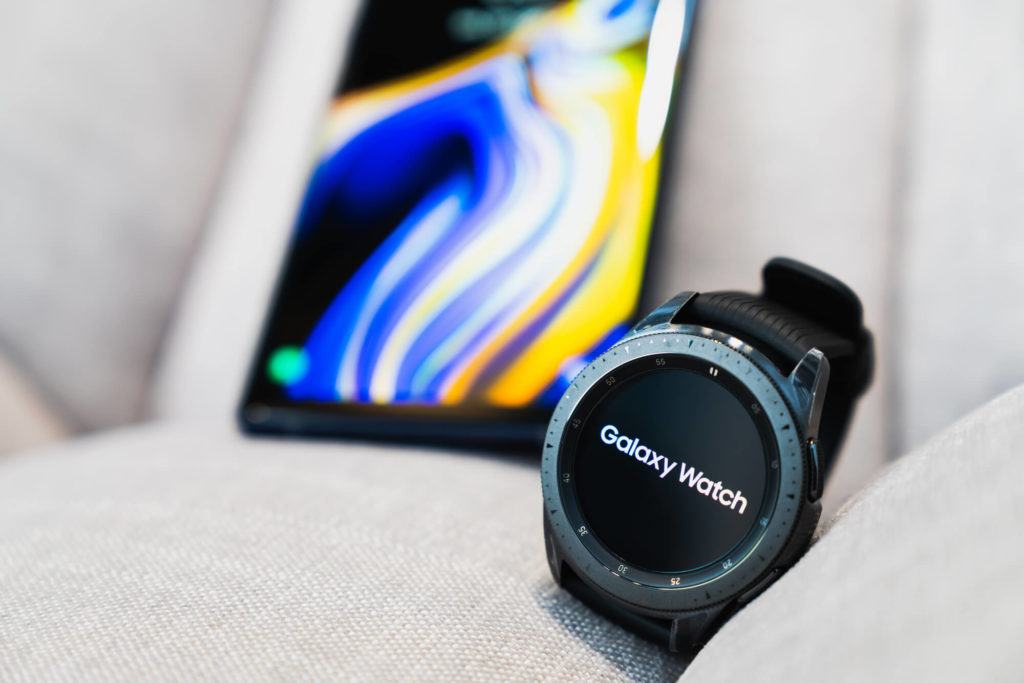 Strong demand across healthcare
Healthcare providers and hospitals have shifted their focus on testing wearables to monitor patients' health. A survey of hospital executives from HIMSS and AT&T found 47 percent of hospitals are providing wearable tech to patients with chronic diseases and 47 percent are also conducting remote monitoring via in-home medical devices and smartphone apps. Approximately one-third of hospitals say they provide wearables to post-op patients to track their activity, and one-third equip their patients with the devices to encourage preventative care, another cost that can save insurance providers a lot of money. 
The survey also found that 43 percent of hospitals accept data from patient-owned devices. Insurance companies such as Aetna and Humana are also exploring ways to use wearables as a way to enable patients to monitor their own health. Aetna partnered with Apple to allow its members to purchase an Apple Watch and then earn it back through healthy behavior.
 A recent consumer survey from Rock Health on digital health adoption found that wearable adoption increased significantly in 2018, rising from 24 percent to 33 percent from 2017's previous stats. The way health conscious consumers use wearables is transitioning, with more consumers using the devices to address modern-day health needs rather than just tracking their fitness tracking, according to the survey.
"In 2018 the tides of wearable usage changed dramatically—respondents reported using wearables to manage a diagnosis and using them less to motivate a physically active lifestyle," Rock Health researchers Sean Day and Megan Zweig said.
While monitoring physical activity remains the top reason for wearable use, only 44 percent of wearable owners cited physical activity as the top reason for their wearable use, down from 54 percent in 2017. This 10 percent decrease is mirrored by a 10 percent increase in respondents using a wearable to manage a diagnosis, growing from 20 percent in 2017 to 30 percent last year.
"Wearables are morphing from their original fitness and wellness label into a tracker that can be clinically meaningful to patients—and perhaps even providers," the researchers said.
The healthcare monitoring issue has attracted a lot of investment dollars. Since 2011, over $3.4 billion has been invested into wearable companies—11 percent of all digital health venture dollars across that time period, Rock Health reported. The Rock Health researchers noted that getting consumers to keep wearing a smartwatch is an ongoing challenge—39 percent of wearable users stopped using their device in 2018, up from 27 percent in 2017. "We suspect wearable use will become stickier as the shift from fitness to clinical uses continues, as providers get more value from data to monitor patients, and as consumers are incented to sustain use," the Rock Health researchers said.
Healthcare incubators
The Global Wearable Devices Market is expected to exceed more than $51.50 billion by 2022 at a CAGR of 15 percent in the given forecast period.  An up-and-coming healthcare incubator named "True Nature Holding" (OTC: TNTY) is positioning themselves to take advantage of this booming market. The company has plans to acquire multiple healthcare-related companies that fit their model. Like any other Holdings style company, they seek assets, or in this case, marketable health-related businesses, who have an app, provide service(s) or product(s) where a savvy management team and proper funding can advance the business and turn them profitable.
Reflecting on True Nature's interests such as Simple HIPAA for Vets and Pets, a personal healthcare records application (PHR) customized for the pet and veterinary marketplace along with the highly anticipated WebMD style portal "Apps for Better Living," it makes sense for TNTY to dive into the wearables market and solidify their health and wellness assets portfolio.  
The company's mission is to leverage new technologies and services to improve healthcare and outcome for individuals, their families and their pets. It believes it can reduce the cost of healthcare while improving the quality of life using telehealth and telemedicine solutions. It is building healthcare applications that focus on patient engagement, care coordination, remote monitoring, data analytics, and may include Blockchain RX(TM) to provide applications for market participants in healthcare through the encryption of sensitive data as a service bureau.
Lastly, its approach is to develop these business opportunities as individual "threads" in response to client needs, ultimately creating an end-to-end set of solutions from the end user up to the healthcare provider or veterinary professional. Further, it expects to assist suppliers to the healthcare industry by allowing them to access unique technologies that bind them with their clients in a "top-down" distribution model.
The future of wearable tech in healthcare
The Amazon healthcare strategy represents a strong bid for any companies that can achieve a critical mass.  The acquisition of PillPack was the spark of Amazon's consolidation phase. Investors need to keep their eye on FitBit and Garmin as the next possible acquisitions which have achieved the critical mass necessary to get on Amazon's radar. 
It's likely that an acquisition could come after the next quarterly release of numbers showing continued erosion of Apple Watch's market share. After one of these wearable companies is acquired, Amazon will need to grow its ecosystem.  This trigger will redefine the landscape for app developers rushing in to feed this rapidly expanding new ecosystem.
So looking beyond the impending acquisition of one of these major wearable companies are the killer apps for these wearable devices. Healthcare incubator like True Nature Holding, which is highly focused on healthcare apps and app developers, see this critical opportunity.  An investment in True Nature Holding is like an early-stage investment in a baby Amazon, where they are both seeking to acquire companies to increase their market share, just on a much smaller scale.
Their strategy will be defined by making some more key acquisitions in healthcare, with an end game that may result in being acquired themselves. It's a long term play, where shareholders will be able to witness its Amazon-like "growth by acquisition strategy" with Amazon-type potential.
(Featured image by DepositPhotos)
—
DISCLAIMER: This article expresses my own ideas and opinions. Any information I have shared are from sources that I believe to be reliable and accurate. I did not receive any financial compensation for writing this post, nor do I own any shares in any company I've mentioned. I encourage any reader to do their own diligent research first before making any investment decisions.