Why Does The Price of Gas Move Up and Down?
The U.S. is the largest oil producer in the world, ahead of Saudi Arabia and Russia, but it is also the biggest consumer. America only gets about 8% of its oil imports from Russia, less than it gets from Canada or Mexico.  The obvious question then is why is Russia's problems a big deal for Americas? Much of Europe is dependent on Russian oil.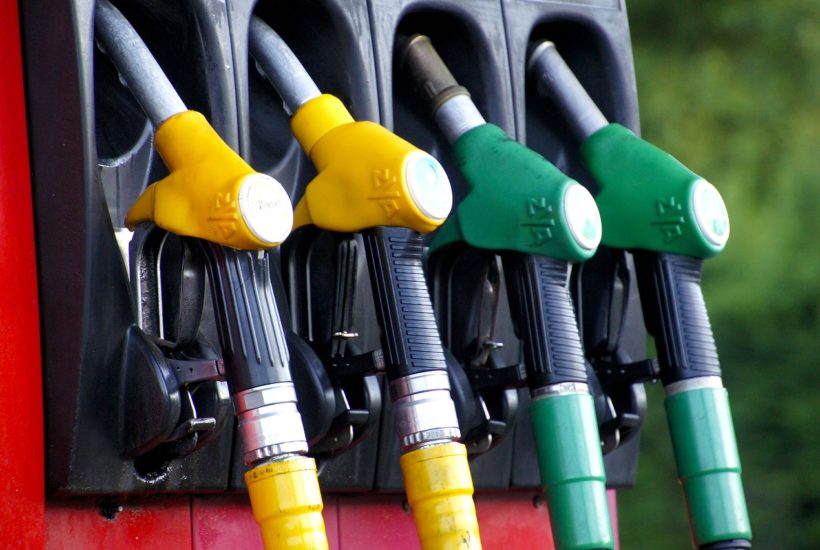 The cost to fill up a tank of gas usually goes unnoticed. It is one of those necessities people mindlessly deal with every week or two, like buying milk or grabbing a sandwich on lunch break. Maybe it fills an awkward silence between customer and pump attendant, "Hey, looks like my fuel went up a nickel this week." (Gas station attendants are the people who actually pump the gas for drivers in Oregon and New Jersey).  Or, for some of the frugal folks, they take note of the Cash versus Credit prices and determine if the Cash Back Rewards on their credit card might present a better deal.  That's where the economics of energy begin and end for the average citizen.
But gas prices do move, a lot.  Gasoline has provided one of the most well-communicated markets in all of economics.  It has been updated every single day and posted for all of the world to see, long before the advent of the internet or 24-hour news networks.  It is so precise, that these market reports found at intersections across America go down to the fraction of a penny.  Therefore, it may come as a surprise that the price of gasoline only affects 3.7% of the Consumer Price Index (CPI), categories such as housing, medical care, and education play larger roles. However, gasoline has more impact on short-term inflation than any other item in the index.  Because of its daily volatility, it is the top contributor to monthly CPI movements.  The neon marquees afront of every gas station are not the only record keepers.  The price of gasoline is tracked by the government through the Energy Information Administration (EIA), by private sources such as American Automobile Association, Oil Price Information Service, AAA, and the Lundberg Survey.  It is also one of the only nonfood items tracked by the Bureau of Labor Statistics (BLS).
Before examining what causes the ups and downs of gasoline prices, it is important to understand the real costs of gas over time.  In 1980, the average price for a gallon of gas was $1.221.  One decade later, gasoline was slightly cheaper at $1.217 per gallon in 1990.  At the turn of the millennium, gas reached $1.563 per gallon in year 2000.  Following the Great Recession, gas averaged $2.836 in 2010.  In 2020, gasoline cost Americans $2.242 per gallon.
To provide a frame of reference, it is worth looking at other staples and benchmarks of the economy.  The S&P 500, arguably the most quoted barometer of the stock market, closed at the following year-end values at the same intervals:  1980—135.76, 1990—330.22, 2000—1,320.28, 2010—1,257.64, and 2020—3,756.07.  The median home price in America at the same periods was:  1980– $66,400, 1990– $121,500, 2000– $172,900, 2010– $224,300, 2020– $358,700.  Some simple arithmetic shows that over this forty-year period, the stock market increased by 27x, home values by over 5x, and the price of gasoline by less than 2x.
This data reemphasizes the relatively minimal long-term impact that gasoline prices have on the costs of living.  However, because fuel is so incredibly far-reaching, whether it be in a city bus transporting a commuter to his job or in a private jet carrying billionaires to Monaco, or moving food and supplies from ships and trucks around the world, it seems everyone is in need of it. 83% of Americans report they drive a car several times a week. This last statistic is one that every politician clings to, realizing that low gas prices for their voters are an easy bragging right, whereas a spike at the pump provides ample opportunity to attack the opposing party in power.
So, gasoline prices usually do go unnoticed, but then there are times like today when the cost of a tank of gas gets more nightly airtime than Hollywood's biggest celebs.  As of this writing, the average price of a gallon of gas in the U.S. is $4.243, the highest price of all time and nearly double what it was at the beginning of 2021.  The second-highest price, not counting for inflation, was in July of 2008. 
Why does the price of gasoline go up and down? It all comes back to classic supply and demand, particularly regarding crude oil supplies, refinery operations, and gasoline pipeline deliveries. The cost of crude oil is the biggest determinant, followed by excise taxes, transportation and retail, and refining costs. Traders around the world buy and sell crude just as they do every other asset that makes up the financial markets. Brent Crude is traded on the Intercontinental Exchange (ICE) and West Texas Intermediate (WTI) is traded on the New York Mercantile Exchange (NYMEX). These traders buy and sell using oil spot prices (transacting instantly) or using oil futures contracts (transacting at a set price at a set future date). These expectations of future price performance and the realities of supply and demand create a market and pricing platform for oil and eventually the gasoline that goes into every car.
From 1861-1972 the real price of oil fell on average 1% per year. This might seem confusing considering the demand side of the equation exploded in the 20th century.  The invention of the Ford Model T, a shift from coal-fired electricity plants to oil-fired plants, and other factors led to a rapid and consistent increase in U.S. oil consumption.  Fortunately, for people in love with moving around, the supply of oil was more than ample. The 1970's created the first real price shock to oil when in 1973 the U.S. supported Israel in the Yom Kippur War and the members of the Organization of Arab Petroleum Exporting Countries (OPEC) retaliated by announcing a U.S. oil embargo.  After a couple of years, prices stabilized, only for history to repeat itself in 1979 with the Iranian Revolution. During the 1970s, U.S. politicians tried a number of supply and demand price controls, gas tariffs, lowering speed limits to reduce fuel consumption, odd-even license plate rationing programs, and other efforts to limit price volatility.  The consensus was that a few small oil-rich countries could wield enormous impact on global energy prices, essentially crediting geopolitics for why the price of gasoline moves up and down.
It is in vogue, and logical, to leverage this geopolitical justification with the current Russia-Ukraine war as cause for record high gas prices.  However, the entire situation needs to be considered.  Between February 2020 and April 2020 (the arrival of COVID-19 in the U.S.) the price of gas fell 27%, and global gasoline consumption remained low for all 2020.  As Americans and the rest of the world began a return to normal in 2021, demand for oil and its price jumped in tandem.  Cyberattacks on the Colonial petroleum pipeline and Hurricane Ida's impact on nine refineries also caused major disruptions in the flow of fuel in the states.  The average cost for a gallon of gas in America had already increased from $2.242 at the beginning of 2021 to $3.341 at the end of 2021.  Geography also plays a large role in what people pay at the pump.  California consistently has the most expensive gasoline in the country due to its gas tax and environmental regulations, and since there are no interstate pipelines carrying gasoline into the Golden State, the majority of its oil comes from Alaska or other countries (the majority of Californian oil comes from Ecuador, Saudi Arabia, and Iraq).
The U.S. is the largest oil producer in the world, ahead of Saudi Arabia and Russia, but it is also the biggest consumer. America only gets about 8% of its oil imports from Russia, less than it gets from Canada or Mexico.  The obvious question then is why is Russia's problems a big deal for Americas? Much of Europe is dependent on Russian oil.  The price of crude oil is very sensitive and replacing missing imports is a lengthy process.  Countries can pursue other sources of oil, such as Venezuela, Saudi Arabia, and Iraq, but again risk geopolitical concerns.  Politicians can enact temporary changes such as "gas tax holidays" to immediately offset the cost to consumers at the pump, but the true cost of filling a tank of gas still rises.  There is no doubt that crippling sanctions against Russia have had a direct impact on global oil prices, and consequently American gasoline prices.  But the trend towards more expensive gas was well in motion for a year before Putin decided to commit his atrocities.  The glimmer of hope is that while history shows oil to have fast and sometimes severe impact on the costs of living in the near-term, it is well controlled and holds a low relativity of importance in CPI over the long-term.
__
(Featured Image by IADE-Michoko via Pixabay)
DISCLAIMER: This article was written by a third party contributor and does not reflect the opinion of Born2Invest, its management, staff or its associates. Please review our disclaimer for more information.
This article may include forward-looking statements. These forward-looking statements generally are identified by the words "believe," "project," "estimate," "become," "plan," "will," and similar expressions. These forward-looking statements involve known and unknown risks as well as uncertainties, including those discussed in the following cautionary statements and elsewhere in this article and on this site. Although the Company may believe that its expectations are based on reasonable assumptions, the actual results that the Company may achieve may differ materially from any forward-looking statements, which reflect the opinions of the management of the Company only as of the date hereof. Additionally, please make sure to read these important disclosures.