Why you should invest in your employees if you want to grow your business
Investing in your employees means your team members are more likely to stick around. Establish a culture of mutual respect and teamwork and offer chances for people to move up and grow professionally. Happy employees are more productive, and a more productive team gives your business the strong foundation it needs to grow. Here are a few tips to grow your business by investing in your team.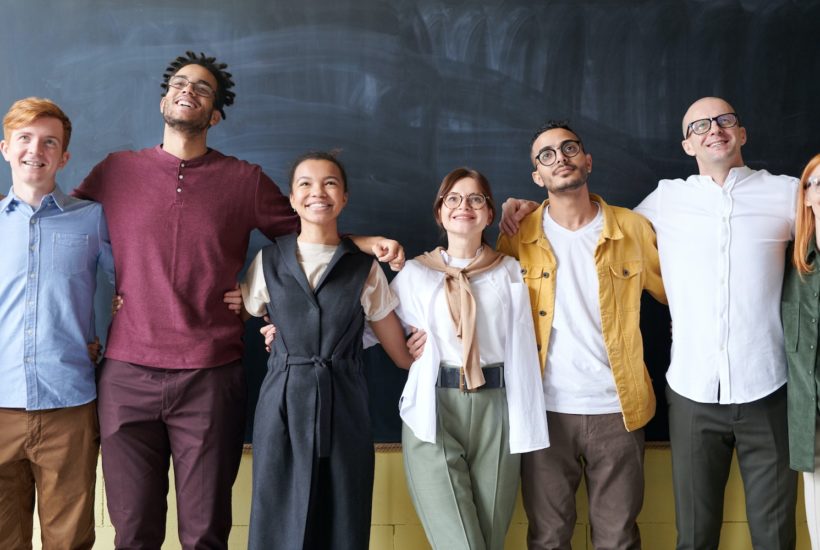 If your business is large enough to need a team, then fostering a positive working environment and investing in the development of that team is essential for your growth. Without enthusiastic employees who feel valued, respected, and motivated, your business will be bogged down with unnecessary expenses, HR trouble, and low productivity that can kill any small business.
In this piece, we'll examine some steps you can take to invest in your employees and analyze some of the most important reasons why you should make the effort to invest in your team.
How can you invest in your employees?
When thinking about how to improve your business and the productivity of your team, you should ask how you can make your employees enthusiastic to work for and help build your company, how to create a positive and friendly work environment, and how to retain employees.
This starts with setting clear expectations, giving your team a reason to want to come to work, and incentives to stick around.
Set Clear Expectations
Every team member should know what their role is, what their goals are, and how their work contributes to the team and aims of your company. Without clear goals, employees may be anxious that they are falling behind which leads to rushed and unsatisfactory work. On the flip side, without goals an employee may unknowingly fall behind and feel targeted when they are asked to explain why.
Set clear expectations, check in with your employees to see if there is anything that will help them achieve those goals, and encourage frequent updates.
Teamwork
Promote teamwork at every step. Host team building activities that help employees get to know one another, understand one another's strengths and learn to reach out to colleagues when they need help.
That way, no employee attempts to solve problems alone when a team can help solve the problem faster. It also gives your employees a sense of greater purpose.
Competitive Compensation
There is no getting around the importance of fair and competitive compensation. A smaller team of properly reimbursed staff will always be more productive than a larger team of people who are constantly on the lookout for better-paying roles.
Perks and Positivity
Perks might seem expensive and unnecessary, but if they can help maintain a positive work culture and stop team members leaving, they more than pay for themselves over a period of years. Consider offering staff trips, prizes for the best performers, and other perks that keep people engaged and enthusiastic.
Attract new talent and save on recruitment costs
Replacing employees is expensive. The cost of replacing a single employee, for many businesses, can be as much as twice the price of their salary. Depending on the kind of business you're in and the availability of new staff, that cost keeps on increasing the longer you go without a vital team member. 
Investing in your employees means your team members are more likely to stick around. Establish a culture of mutual respect and teamwork and offer chances for people to move up and grow professionally, and you'll not only save on the costs of replacing employees but also on the costs of recruitment.
Businesses with notoriously bad work culture will need to actively seek new talent. Businesses with a great reputation, whether in a local community or on a national basis, find it much easier to attract new talent during times of expansion. This is absolutely vital for any business that intends to grow and fight competition long-term.
Improve your customer service
Good customer service can make or break your business. When you invest in your employees you give every single member of your team reason to do their best every day. Positive energy and enthusiasm for the success of your company are immediately noticeable whether a customer is interacting with your employees in person or over the phone.
Studies show time and time again that customer service is a key factor in customers and clients choosing to do business with you. A 2016 study from the Temkin Group found that 77% of customers would recommend a company to their friends if they have a single positive experience. Isn't that incredible? Imagine every single customer receiving amazing customer service and telling loved ones or colleagues that they should do business with you too. 
Not only that, but investing in new customers is significantly more expensive than retaining the ones you already have. That means investing in your employees by fostering a positive and friendly work culture can have a direct and positive impact on your balance sheet. It means any marketing efforts you make in the future increases your customer base and reach, rather than replacing customers and clients you lost as a result of bad service.
Customer service is essential for your company's continued growth, so it's important you do two things. First, ensure that your employees are resourceful, knowledgeable, and happy. Secondly, ensure customers know how to reach them. Create a QR code for your business and potential customers can scan it and immediately start interacting with your social media, website, or customer service. And make sure your contact details are easy to find – don't frustrate your customers by making it hard to get in touch!
Streamline your team and enhance productivity 
Engaged and happy employees are more productive, and a more productive team gives your business the strong foundation it needs to grow. One Gallup report from 2018 showed that happy and engaged employees can increase sales by one-fifth, and combined with the customer service benefits, your business will be well-equipped to handle growth.
By enhancing productivity, you can save on unnecessary labor costs, too.
Invest in your employees and you'll enjoy a streamlined, productive team who know exactly what is expected of them, and who are able to effectively engage with new customers and clients. A productive and positive team always does a better job than a large and disengaged one, so be sure to bear that in mind when planning your company's expansion!
—
(Featured image by fauxels via Pexels)
DISCLAIMER: This article was written by a third party contributor and does not reflect the opinion of Born2Invest, its management, staff or its associates. Please review our disclaimer for more information.
This article may include forward-looking statements. These forward-looking statements generally are identified by the words "believe," "project," "estimate," "become," "plan," "will," and similar expressions. These forward-looking statements involve known and unknown risks as well as uncertainties, including those discussed in the following cautionary statements and elsewhere in this article and on this site. Although the Company may believe that its expectations are based on reasonable assumptions, the actual results that the Company may achieve may differ materially from any forward-looking statements, which reflect the opinions of the management of the Company only as of the date hereof. Additionally, please make sure to read these important disclosures.