6 workplace transformations to help your business thrive
One-third of Americans spend their weekday hours at work, so it's important to factor in design when it comes to workspaces.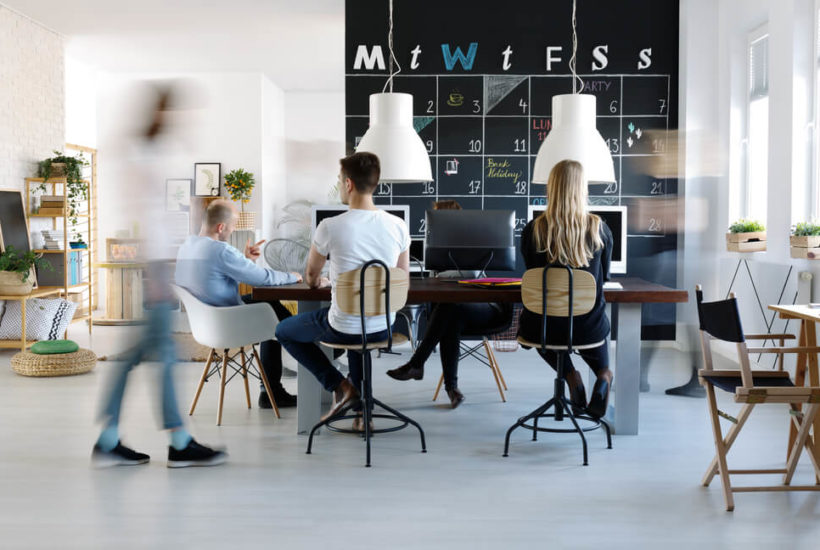 Despite the rise of remote working and coworking spaces, the office remains somewhat of a second home to many, with Americans spending on average one-third of their weekday hours at their place of work. So, you can imagine the difference it makes when this space invokes feelings of happiness and enthusiasm, rather than ones of disillusionment, boredom, or fear, which are widely associated with bleak and badly designed offices.
An office revamp doesn't need to involve a complete, expensive remodeling to have a big impact on your employees' well-being and productivity levels. Small changes like adding some bright colors, adding lounge spaces and independent quiet zones, can help you optimize your office space for a happy team and thriving business.
Add more color
Research shows that we experience certain psychological changes when exposed to different colors. And while many have felt that offices shouldn't be places of experimentation for bold colors, keeping things neutral and inoffensive isn't necessarily the best route if you want a stimulated team.
Adding some red to your office space can help employees feel excited and stimulated, green and blue invoke feelings of relaxation, while yellow and orange can help employees feel energized. In fact, one study found that more mistakes were made by participants in white-walled offices than those in red offices — so it may be time to say goodbye to an all-white space.
Don't be afraid to experiment and change wall colors often, since all they need is a new tin of paint. Colors can also be used as an organizational tool, or to support your brand by integrating its colors into your office's design — just like Domino's did with their headquarters.
Create designated lounge spaces
Having a space in your office for your employees to go to take a break, relax their mind and body, and allow their attention span to rest is invaluable. Yet, only 25 percent of professionals have these types of spaces available to them.
Including comfortable seating to create a cozy coffee shop environment is a great way to make these spaces an inviting, relaxing place to take a break. And it's no secret that this benefits both your employees and the business itself, with regular work breaks resulting in increased concentration, creativity, health, and brain function. These spaces can also facilitate impromptu collaborative work, so it's a good idea to place them next to the kitchen to keep noise in one area.
Use adaptable furniture
Workplaces that enable collaboration without sacrificing employees' ability to focus are a winner, and are undoubtedly more successful. Companies facilitate creative collaboration between team members while always giving them the option to work more independently with fewer distractions by utilizing adaptable furniture that can lock and unlock together, be moved easily, and have adjustable levels of privacy.
Investing in this kind of furniture can help your office become a hybrid space that's a hotbed for productive activity and positive energy. Giving people the autonomy to go between an impromptu collaborative meeting to taking a private phone call, to independent work in a quieter area, is the secret to finding that perfect office setup.
Make use of co-working spaces
If your office has some extra room that is not being optimized, it might be an idea to consider transforming this into a coworking space. You can invite complementary or smaller organizations to use the space, which not only means extra space isn't being wasted but also has the potential to bring some fresh new perspectives into your company. Proximity allows you to "pick the brains" of those in related fields.
Or if you work from home, using a coworking space for some days of the week could help you find a new lease of life with your work. Coworking spaces can help people avoid loneliness, be less distracted and more disciplined, have flexibility, and make new contacts. Many even have benefits such as social events or health and wellness activities, helping to promote a work-life balance.
Provide one person quiet zones
Office workers have reported that they're most comfortable when the noise level is between 48 and 53 decibels (dB). Whereas noise levels of 60-65 dB, which are common in some open-plan offices, can hinder both concentration and effective collaboration. Noise distractions can be a huge source of environmental stress in open-plan spaces, with 58 percent of high-performance employees saying they need more quiet work spaces.
So, it's obvious that if your office is open plan, it would certainly pay to have some separated, quiet zones for employees to get their important, independent work done. These could be individual privacy pods or nooks situated away from collaborative areas. If these aren't an option, invest in some high-quality, noise canceling headphones.
Incorporate wellness design
Bringing aspects of wellness into your workspace is a sure-fire way to boost the mood, health, and productivity of your team. Bring the outdoors inside with natural elements like reclaimed wood, stone, and live greenery. Having plants in your office is a proven way to promote creativity, clean the air, reduce sickness, and curb stress. In fact, studies have even shown that employees are 15 percent more productive when plants are added to otherwise "lean" workplaces.
Thought should also be given to the number of time employees spend sitting slouched over a screen, especially when professional advice is to actually stand more than you sit at work. Hunching over a computer for hours at a time is not only bad for your posture, but taking a break from this and moving your body also facilitates collaboration. Employees report feeling more alert after an insightful conversation with a coworker, and it's no secret that physical activity helps you think better. Google even built a climbing wall in their New York Headquarters as a place for employees to go and work out their tension.
So, investing in health-focused furniture such as standing desks and stability ball chairs can be extremely beneficial for your team-members' overall wellbeing. It's also worth paying attention to thermal comfort, natural light, and air quality in the office, in order to keep your team as comfortable and healthy as possible.
With all this in mind, it's clear that the properties of the physical environment in which most people are spending 8 hours of their day can never be overestimated in terms of all-round well-being and business success. Happy and healthy employees translate directly into a happy and healthy business, and office space plays a huge role in that. So, if your office is feeling bleak, or productivity levels are lagging, consider the above methods to help you inject some new energy into the space.
(Featured image by Photographee.eu via Shutterstock)
—
DISCLAIMER: This article expresses my own ideas and opinions. Any information I have shared are from sources that I believe to be reliable and accurate. I did not receive any financial compensation for writing this post, nor do I own any shares in any company I've mentioned. I encourage any reader to do their own diligent research first before making any investment decisions.