Woman to Watch: YouTube CEO Susan Wojcicki
Susan Wojcicki is a self-made entrepreneur who made significant contributions to Google's success.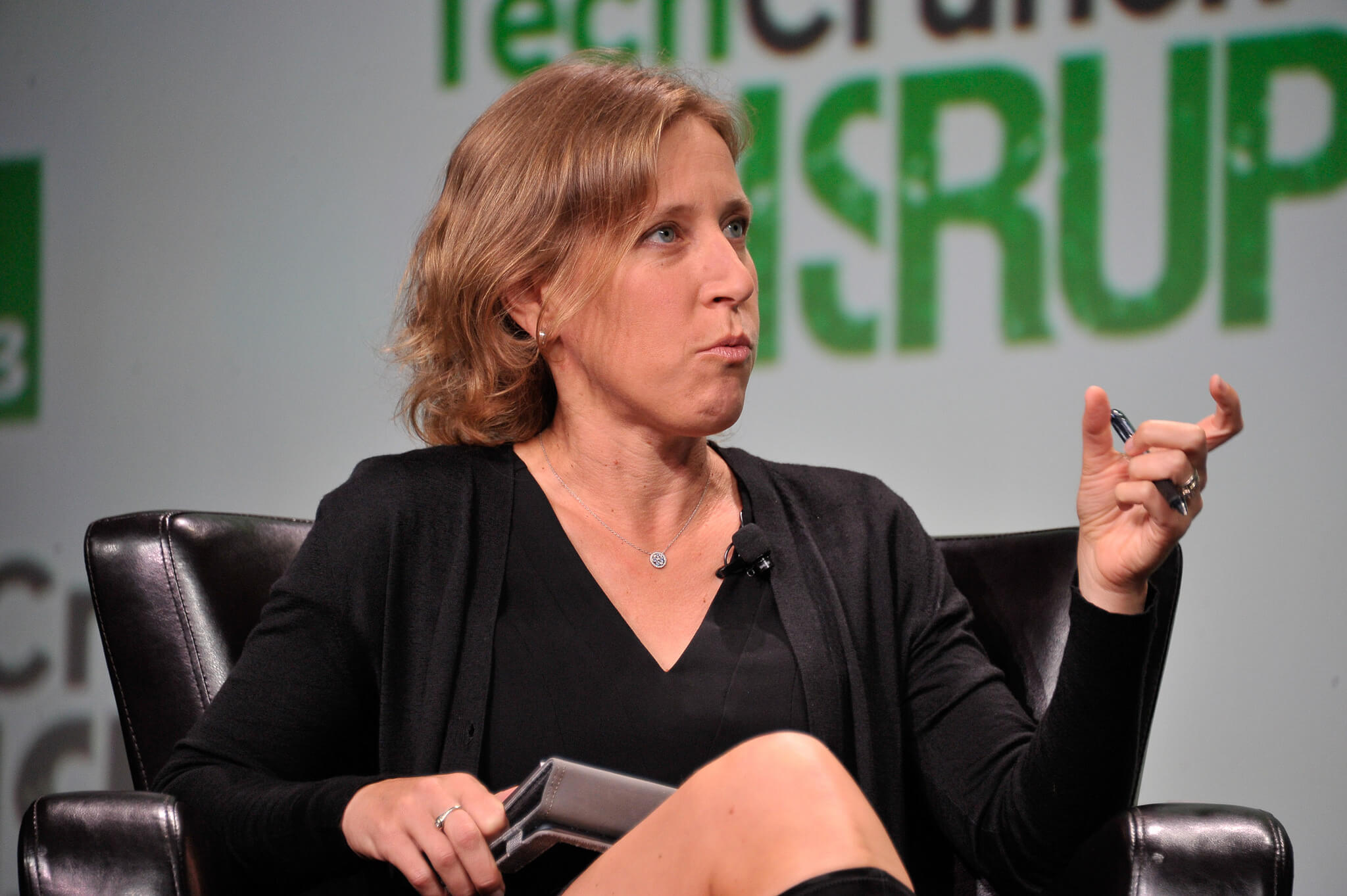 YouTube has been one of the most frequently visited websites in the world as evident by Alexa hailing it as the second most famous website, globally speaking. Adding to its success is the fact that its user base and selection of videos continue to grow to this day. However, in every company's accomplishments, there is always a person behind it. Susan Wojcicki, its current CEO, stands out from other CEOs as she is one of the few female executives in the tech industry.
Who is Susan Wojcicki?
Susan Diane Wojcicki was born on July 5, 1968, in Santa Clara, California, and she spent most of her childhood days at Stanford. Her sisters, Janet and Anne, are both successful in science, with Janet being an anthropologist and Anne being the founder of a biotech company called 23andMe.
She finished her bachelor's degree in literature and history at Harvard University in 1990, and she also studied economics for her master's degree at the University of California, Santa Cruz in 1993. However, she kept going deeper into business studies and received a Master of Business Administration at the University of California, Los Angeles in 1998.
Google tenure
In the same year that she finished her master's degree in business administration, Google was established. And when she returned to Silicon Valley that time, she converted her garage at her Menlo Park as an office for the future tech giant, hence becoming its first headquarters.
While Google founders Larry Page and Sergey Brin work in her garage, Wojcicki spent her time post-graduation working in companies such as Intel, Bain & Company, and R.B. Webber & Company. When Google relocated to an actual office space a year later, Google hired her to be its marketing manager, where she was tasked to look for methods the company can use to produce revenue with the help of its search engine.
During her stint in Google, Wojcicki became a vital player thanks to her involvement in the company's analytics and advertising products like Google Analytics, AdSense, AdWords, and DoubleClick.  
Acquisition of YouTube
Wojcicki was responsible for Google's acquisition of YouTube back in 2006. Google Video and YouTube were competitors before the deal, and the latter was outperforming the former, which led to her idea of Google acquiring YouTube. The purchase turned out to be beneficial for both parties as YouTube grew to what it is today and even reached the value of $80 billion, surpassing companies such as eBay and Starbucks.
The rise of Google as the world's leading search engine is also one of Wojcicki's contributions to the company. She did not spend any money to promote the company's said service, which is an impressive feat, and instead teamed up with universities and asking them to place its search bar on their websites.
Her achievements and efforts in Google's road to success were rewarded when the company selected her to be its senior vice president in 2010.
Transforming YouTube
Four years later, Google appointed Wojcicki as the new CEO of YouTube, replacing Salar Kamangar. Her new role indicated a shift in Google's focus as the company geared towards working on advertising at the video website. It also gave her the chance to shine in leading a separate business from Google.
Despite being YouTube's CEO, Wojcicki directly interacts with the community of users who create and upload their content on the website in order to determine and understand what they need. This effort of hers impressed the community, establishing a good relationship between her and the users.
Additionally, YouTube has doubled its efforts on hiring more women in the company in order to bring more diversity in its workplace. With Wojcicki's leadership, its population of female employees received a six percent increase, almost reaching 30 percent from the previous 24 percent.
YouTube ad controversy
At the VidCon, which was conducted this June, Wojcicki announced that YouTube has achieved a milestone when it counted a total of 1.5 billion monthly viewers, which are specified to be "logged in" users in the website. It could mean that there is a separate count for viewers who do not have a Google account logged in on the website.
In an attempt to exceed traditional TV, Wojcicki has been working on trying to please not only the YouTube community but also the advertisers, viewers and even famous figures in Hollywood.
However, it showed that this was no easy task as earlier this year, YouTube received backlash when advertisements are featured on videos that promote terrorism and extremist content. Some of the brands that pulled out their advertisements include AT&T, L'Oréal, and Johnson & Johnson, among others. The withdrawal of brand advertisements harmed the company's revenue as it lost millions of dollars.
During an event of YouTube called Brandcast, Wojcicki stepped into the stage and apologized to advertisers about the controversy. She also admitted that the website will never reach the heights of television
She further added that YouTube has received the feedbacks and that they have been working on applying modifications in order to put the ads in the more appropriate videos, avoiding the same disaster from happening again and reclaiming the advertisers' trust. As part of addressing the feedback, they installed a new technology capable of learning to better spot inappropriate content and give marketers more control in choosing where they want their ads to be featured.
In addition, the YouTube CEO hired entertainment executive Susanne Daniels to oversee YouTube Red, a paid streaming service similar to Netflix. However, developing shows have been a struggle for the service as channels and talents have been getting away from its grasp.
YouTube Red challenges
One particular instance was comediennes Ilana Glazer and Abbi Jacobson, who were initially releasing their episodes of "Broad City," a comedic web series, on YouTube. Unfortunately for the website, television channel Comedy Central hired Glazer and Jacobson to develop their web series into a TV show there before YouTube could even think of pursuing them for YouTube Red.
After that, Daniels became keen on keeping YouTube talents. She has successfully established vehicles for YouTube personalities like comedienne and rapper Lilly Singh and Korean boy band Big Bang. And then, there are also the movies and shows produced for and streamed on YouTube Red, with 30 new selections on their way to the streaming service.
Late night TV talk shows also found a new battleground on YouTube, and just like in the TV industry, they are also competing for viewership. Talk show host James Corden's Carpool Karaoke video featuring British singer Adele attracted more than 155 million views, making it the website's most watched video last year. Meanwhile, his talk show channel acquired about 12.5 million subscribers.
This realization inspired the website to create YouTube TV, another paid streaming service. However, unlike YouTube Red, YouTube TV focuses on broadcasting shows from media companies like Comcast and Fox.
Despite the recent issue, YouTube continues to expand its services to entertain the needs of its users, viewers, advertisers, and talents. It may be an intimidating task for Wojcicki, but she is very determined in keeping the business running.
One of the "Richest Self-Made Women"
Another achievement of Wojcicki is her inclusion in Forbes' Richest Self-Made Women list this year, with her net worth valued at approximately $410 million. She is placed at the 41st spot on the list.
Other self-made women include Hewlett-Packard CEO Meg Whitman, SHI International CEO Thai Lee, Facebook COO Sheryl Sandberg and former Yahoo CEO Marissa Mayer. One bonus fact is that Mayer, Sandberg, and Wojcicki all worked at Google in the early stages of their career.