5 of the most expensive diamonds ever sold at an auction
Diamonds are good investments but others are just going the extra mile just to get their hands on these multi-million worth gems.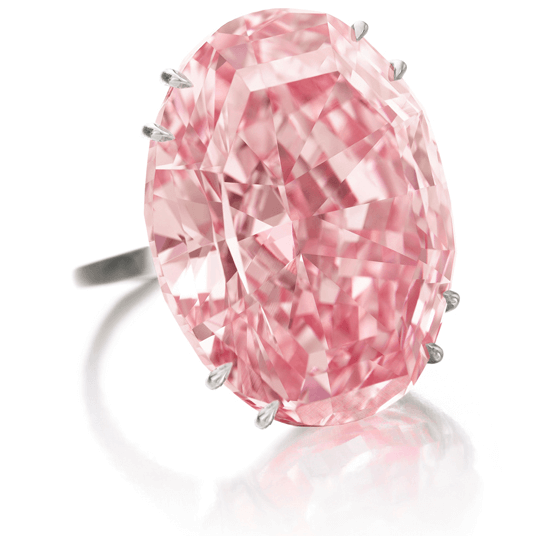 Diamonds command a high price, especially if they are large, uncut stones. Not only is it a good investment, diamonds also mark those momentous occasions in life, be it a birthday, an engagement or a wedding.
With that said, it's obvious that there is a market for diamonds, and it's a pretty big one. According to a report, this year's global natural diamond production is estimated at 142.3 million karats and worth over $15.6 billion.
With such large estimates, it's expected that different diamond mining companies from around the globe are set to mine more diamonds, and maybe, even stumble upon large and very rare sparklers. Here's a look at the five most expensive diamonds that ever sold.
The Princie – $39.3 million
Auctioned off by Christie's New York in August 2013, The Princie has a bit of royal history under its belt. Found over 300 years ago in the Golconda mines, The Princie is a pink 34.65-karat sparkler that also once belonged to Nizam of Hyderabad who was named the richest man in the world by TIME magazine in 1937. It was last seen in public in 1960 as it was auctioned off by Sotheby's.
Blue Moon – $48.5 million
Weighing at 12.03 karats, the Blue Moon or Blue Moon of Josephine was purchased by Hong Kong billionaire Joseph Lau for $48.5 million in November 2015. Auction off by Sotheby's, the Blue Moon was purchased by Lau for his then 7-year-old daughter Josephine. The diamond also netted the highest price per karat for a diamond at $4 million. That same week, Lau also shelled out $28.5 million for a 16.08-karat pink diamond he called "Sweet Josephine".
Lessedi La Rona – $53 million
Mined by Lucara Diamond two years ago at its Karowe mine in Botswana is the Lessedi La Rona which weighs a hefty 1,109 karats. Approximately the size of a tennis ball, the diamond was purchased by London-based Graff Diamonds for $53 million or $47,777 per karat. Lucara Diamond had a hard time finding a buyer for it as the company wanted someone who would "take the diamond through its next stage of evolution."
Pink Star – $71.2 million
One of the most expensive gemstones ever sold was the Pink Star. Weighing 59.60 karats, the diamond was auctioned off by Sotheby's in Hong Kong in April 2017. The diamond fetched $71.2 million and was sold to jeweler Chow Tai Fook, who renamed the diamond as the CTF Pink. The diamond was cut from the 132.5-karat rough diamond that was found by DeBeers in Africa in 1999. Originally, it was supposed to be bought for $83 million at Sotheby's in Geneva, by Isaac Wolf, but he defaulted on his payment.
Wittelsbach-Graff – $80 million
Weighing 31 karats, the Wittelsbach-Graff is a deep blue flawless diamond that is considered to be one of the rarest kinds of gems on earth. Originally, the diamond was bought by Graff Diamonds founder Laurence Graff in 2008 for $23.4 million. Today, the stone's value is at $80 million as Graff sold the rare gem in 2011 to the emir of Qatar, Sheikh Hamad bin Khalifa.
Featured image by Diamondhistorygirl via Wikimedia Commons. CC BY-SA 4.0