How could businesses take advantage of Augmented Reality?
According to renowned research firm Insider Intelligence, 83 million people in the United States would use augmented reality at least once a month this year. Studies predict that AR spending's compound annual growth rate would be around a whopping 177.4 % from the duration of 2018 to 2023. Augmented reality can eradicate the hurdles that lie in the path of international business collaboration.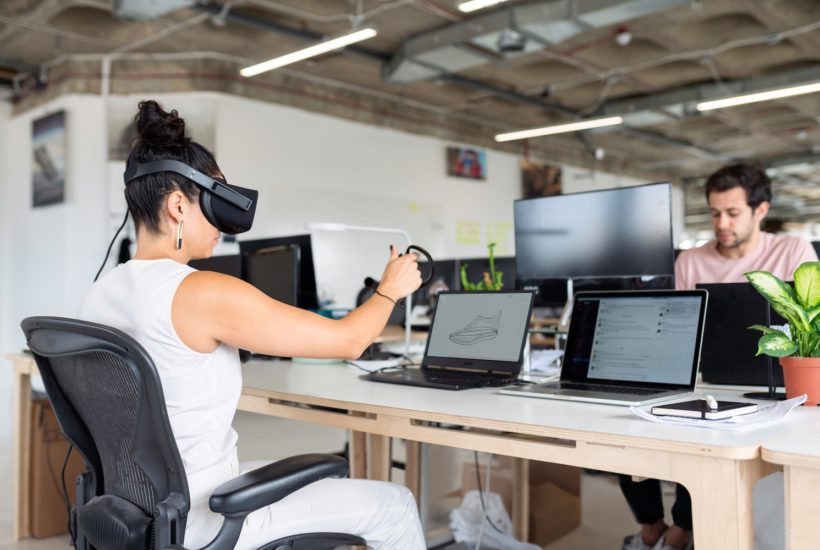 Augmented reality (AR) is a phenomenon that seems to have arrived right from the cyberpunk movies. In the current era, it has found usage in many everyday tasks. It might be so that the transformation has occurred only recently. Yet, indeed, the future is virtual!  
AR is not just about animated snapchat filters, as funny as it may seem. AR encompasses a whole range of applications from interactive weather reports to fighter jet emulators that help pilots train. Augmented reality could be a road having a virtual route embedded in it. It could be a typical house with three-dimensional overlaid reality furniture or having your garden full of characters from Disney's cartoon movies.
Business benefits of AR
In augmented reality, the algorithm markers and sensors are used to determine the object's initial position. Then the calculation of the distance and location of the simulated objects takes place. It helps in the rendering of the photograph as it appears on a camera.
If we look at the statistics, then we will find that the market size of augmented reality in 2020 is predicted to be around USD 19 billion. Studies predict that AR spending's compound annual growth rate would be around a whopping 177.4 % from the duration of 2018 to 2023. 
I have written this article to make businesses aware of the business benefits of augmented reality. For this, I would talk about its impact and role in various business processes to prepare your mind for implementing augmented reality in your business verticals. Let us begin with some of the most prominent of the business benefits and use cases of AR.
Imparting education in interactive way 
Let us try imagining how fascinating it would be if the education industry starts using augmented reality applications to explain various events in history. Not only would it make the dull and dry subject to become alive but would also enable them to cater to the nuances of the subject, which are hard to explain verbally.
The fact is that the education industry is already on the way to becoming digital. It is mostly due to COVID-19 pandemic induced lockdown measures that educational institutions are utilizing computer applications and remote measures for imparting education.
Let us ponder over what could be achieved by imparting education through augmented reality. Educational organizations can help students understand complex human anatomy by visualizing the movement of human cells or showing our galaxy in three-dimensional space-time over their smartphone or computer screens.
Augmented reality finds its utilization in every subject. It can make the classes more interesting, engaging, and fascinating—thereby enabling a better learning experience.
International business collaboration with AR 
Augmented reality can eradicate the hurdles that lie in the path of international business collaboration. It is a technology that can display a real-world view of the content through computer-modeled graphics. It has already found many practical implications in the operational and marketing verticals of businesses. With every passing day, we see that the number of augmented reality applications in business collaboration is rapidly growing.
Professionals can use remote assistance services made possible through augmented reality to detect hazardous working circumstances. They can see the final product and provide step-by-step directions to workers in the field. Remote support through augmented reality goes far beyond the conventional collaboration tools as it can enrich a working environment through the creative use of three-dimensional objects and images. You can show a bird's eye view even if you are sitting time-zones across the world.
Information in real-time provided by the augmented reality boosts the field-view. It can further let the gathering of data and instructions on how to operate a particular machine. In international business collaboration, augmented reality offers incredible and endless benefits. AR is slowly entering every facet of global business—marking its way right from social media sites to eCommerce.
Better and efficient healthcare through AR
Augmented reality is offering incredible benefits and opportunities in the healthcare domain. Some of the practical implications of helping healthcare organizations and professionals are augmented diagnosis, augmented surgery, and augmented training and practice.
We often see that patients are hesitant/unable to chronicle their symptoms. Sometimes we see that patients overreact to a medical situation. They sometimes even underplay their illnesses. It causes healthcare professionals to fail to diagnose their condition correctly. But with the help of augmented reality, diagnosis is possible in a non-personal way. Doctors can easily find the right nerves for injections.
One of the most recent examples is that of three-dimensional visualization system that provide real-time holography of human anatomy for better and efficient surgeries. Doctors can now visually locate every part of the body and ensure that nothing goes wrong while performing surgery.
Augmented reality-powered training and practice can make the imparting of medical education more rigorous and streamlined. Students of medical science can have a real-time view of the situations and are prompted to act, unlike random dissection training. People become psychologically tough and can hold their emotions and stress while imparting healthcare.
Real estate 
Augmented reality has paved the way for tremendous success in the domain of real estate. With the help of augmented reality, real estate businesses can crossover the hurdles posed by currently available software tools. Marketing and branding tools for real estate have inherent limitations, such as text-based descriptions of the real estate units.
Although real estate agents certainly like to craft fascinating and engrossing text descriptions for their apartments, they sometimes fail to catch customers' eyes. It is so because it is really tedious to go through all the text details and then re-imagine the property's look and feel. Augmented reality has come to the foray by offering the software applications that can engage the potential customers in a more interactive style that may lead to higher conversion.
Often, it so happens that potential customers get confused regarding the apartment building's suitability for their actual requirement. The main factor behind this confusion is that—in photographs, they show a two-dimensional rendering of the property. Augmented reality-powered applications can show three-dimensional computer-generated imagery of the property with many interactive descriptions. It means they can pull objects from one place and place it somewhere on a computer-generated simulation of the property.
They can really tell if the property has sufficient space for their belongings. Also, they can cut short the time in selecting their property of choice without compromising any of the factors.
AR for marketing
Augmented reality is prominently noticeable and unique! It surprises your potential customers. You can create a thrill giving you a lead over your competitors as AR has better 'viral' potentiality. You can give the requisite buzz to your offering, and the fascinating aspect of AR would give immense word-of-mouth popularity.
It can build something very unique and would give your marketing efforts a true personalization. Augmented reality users have a unique advantage over their competitors that deploy traditional content marketing.
Moreover, you would be able to retain your customers due to the sheer interactivity offered by AR. Users would be tempted to use your interactive application again and again. It would give the marketing efforts of a very distinctive push.
Conclusion
According to renowned research firm Insider Intelligence, 83 million people in the United States would use augmented reality at least once a month this year. Needless to say, we are witnessing an era where the usage of augmented reality in businesses is growing exponentially. Besides entertainment and gaming—conventional sectors such as healthcare, education, and real estate are benefiting from the immense advantages offered by augmented reality.
It has set a stage that was unknown a decade before. Not only has it has given a push to revenues, but it also has lowered the costs of operations. I believe that this article would help businesses leaders to gauge the inherent value addition that augmented reality offers.
—
(Featured image by ThisIsEngineering via Pexels)
DISCLAIMER: This article was written by a third party contributor and does not reflect the opinion of Born2Invest, its management, staff or its associates. Please review our disclaimer for more information.
This article may include forward-looking statements. These forward-looking statements generally are identified by the words "believe," "project," "estimate," "become," "plan," "will," and similar expressions. These forward-looking statements involve known and unknown risks as well as uncertainties, including those discussed in the following cautionary statements and elsewhere in this article and on this site. Although the Company may believe that its expectations are based on reasonable assumptions, the actual results that the Company may achieve may differ materially from any forward-looking statements, which reflect the opinions of the management of the Company only as of the date hereof. Additionally, please make sure to read these important disclosures.