Codebase Ventures could hold the key to a hydroxychloroquine COVID-19 treatment
As countries across the globe extend costly lockdown measures, the need for a COVID-19 treatment has never been more urgent. Hydroxychloroquine has been touted as one of the most promising solutions—but it comes with brutal side effects. Codebase Ventures Inc. (CSE: CODE / FWB: C5B / OTC: BKLLF) is working on a delivery solution which could accelerate the roll-out of a treatment.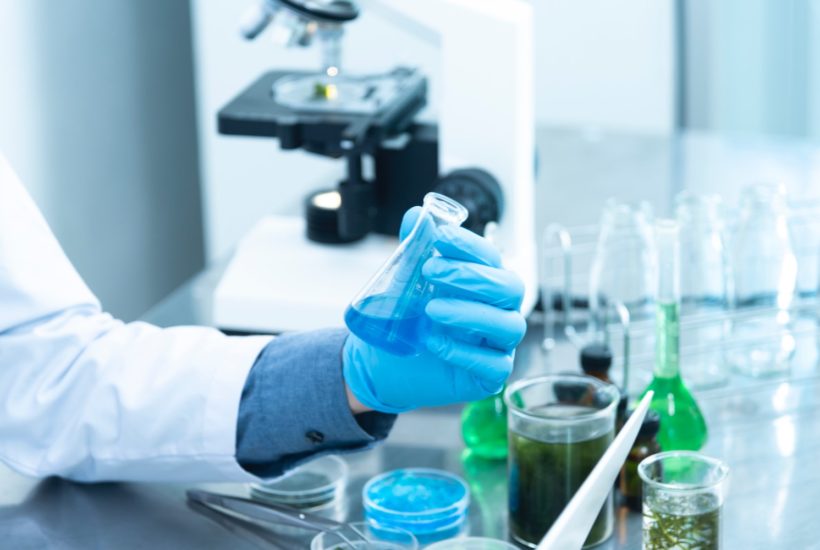 European nations continue to extend economically devastating lockdown measures, but it is becoming clear that there is no easy way out of the COVID-19 crisis. Social distancing practices have saved lives at a heavy cost, though at best they are simply a way of delaying the spread of COVID-19 in the hopes of flattening the curve. Yet there is hope for a COVID-19 treatment, thanks to Codebase Ventures Inc. (CSE: CODE / FWB: C5B / OTC: BKLLF) and its unique hydroxychloroquine transdermal drug delivery system.
Find out more about the company behind this breakthrough development
The problem with ventilators
One of the key reasons that COVID-19 has proven so difficult to combat is the lack of treatment. If an individual reacts badly to the virus, their only chance of survival is to be put on a ventilator in order to allow them to continue breathing as their lungs fill with fluid.
Severe shortages aside, ventilators are a treatment of last resort for a reason. It has been reported that 40-50% of patients with respiratory distress die when put on a ventilator. In New York, the death rate amongst COVID-19 patients on ventilators has been disclosed to be as high as 80%.
The reason for this is that ventilators do not directly treat the disease. They essentially act as life support and are designed to buy the patient time in order for them to recover from the disease on their own. They also leave patients with severe problems post-treatment, and it is a long road to recovery.
These reasons, combined with the acute shortage of hospital beds, have led to a race for an effective treatment. In the United States, hydroxychloroquine has been touted as the front-runner, with many doctors rating it the most effective treatment. The drug has even received the support of President Donald Trump—but there is a problem.
Hydroxychloroquine—a potential COVID-19 treatment with brutal side effects
Hydroxychloroquine is a less toxic derivative of chloroquine and is used to prevent or treat malaria as well as certain autoimmune diseases, including lupus and rheumatoid arthritis. Despite studies demonstrating its potential as a COVID-19 treatment, there are still reservations about utilizing the drug, many of which surround its side effects.
Aside from the more well-known side effects, recent studies have demonstrated that high doses of hydroxychloroquine can cause heart rhythm problems. This concern has led to a number of studies being halted early in the interests of patient safety. These studies are imperfect and researchers note that the antibiotic azithromycin is also known to increase the risk of heart rhythm problems.
Despite these risks, the world is in desperate need for a COVID-19 treatment—and hydroxychloroquine, with its plentiful supply, remains the front-runner. What is needed is a new method of administering the drug. This is where Codebase Ventures Inc. (CSE: CODE / FWB: C5B / OTC: BKLLF) comes in.
A safe way to administer a hydroxychloroquine COVID-19 treatment
The key reason for the majority of problems associated with hydroxychloroquine is heavily dose-dependent. In other words, a lower dose reduces risk. This bears true with heart rhythm problems, where patients in the low-dose group remained broadly unaffected.
Codebase Ventures have secured a 49% interest in the private company Glanis Pharmaceuticals Inc. which recently filed a US provisional patent for a transdermal delivery method that could be the key to a safe hydroxychloroquine COVID-19 treatment. The decades-old oral delivery method requires two to three daily doses of the drug. Side effects, including vomiting, can limit the effectiveness of the treatment.
In comparison, a transdermal delivery method, via a patch or transdermal composition, can reduce dosing frequency. The method releases a smaller amount of the drug over a long period of time, reducing toxicity and therefore the risk of adverse side effects. It also enables quick termination of a treatment by simply removing the patch in the case of an adverse reaction.
This approach could be the missing ingredient needed to create a truly safe hydroxychloroquine COVID-19 treatment. It additionally creates a unique opportunity to transform the lives of sufferers of lupus and rheumatoid arthritis.
Primed to go to market
Codebase Ventures Inc. (CSE: CODE / FWB: C5B / OTC: BKLLF) is working with an FDA-approved lab in New Jersey, specializing in transdermal delivery systems, to ensure that they can bring a COVID-19 treatment to market as soon as legally possible. To protect its investment, the company has already filed a patent for a transdermal drug delivery system for chloroquine and hydroxychloroquine.
In light of the COVID-19 crisis, Codebase Ventures is fast-tracking a solution to the disease that could have a wide-ranging impact not just for COVID-19 patients but for countless others currently relying upon hydroxychloroquine treatments.
Given the political attention, particularly in the U.S., on the potential of hydroxychloroquine to treat COVID-19, it is likely that any solution that can make the drug safer will be highly prioritized in order to help offset the significant problems facing the world due to COVID-19 lockdowns. This presents a unique opportunity for investors who need to find a way to help alleviate the crisis while protecting their own interests.
Codebase Ventures introduces a unique opportunity in a market that is currently experiencing severe turbulence due to the crisis. The company also provides investors with a suitable way to help mitigate the severe economic and human cost of the pandemic and bring this glum chapter in our history to a close.
5 reasons why Codebase Ventures Inc. should be in your portfolio
The company has a patent-pending solution that solves the major concerns surrounding a COVID-19 hydroxychloroquine treatment.
The drug delivery method has a wide-ranging futility that could transform the lives of patients across the globe and become the go-to companion to hydroxychloroquine.
The treatment is ready to go to market the moment that it is legally viable.
The company's solution represents one of the few ways for investors to come out ahead in a market suffering heavy losses.
This is the only solution ready now that can help to bring an end to the COVID-19 crisis.
Sign up for the latest news about COVID-19 and its effect on businesses around the globe
—
(Featured image by Chokniti Khongchum from Pexels)
DISCLAIMER: This article was written by a third party contributor and does not reflect the opinion of Born2Invest, its management, staff or its associates. Please review our disclaimer for more information.
This article may include forward-looking statements. These forward-looking statements generally are identified by the words "believe," "project," "estimate," "become," "plan," "will," and similar expressions. These forward-looking statements involve known and unknown risks as well as uncertainties, including those discussed in the following cautionary statements and elsewhere in this article and on this site. Although the Company may believe that its expectations are based on reasonable assumptions, the actual results that the Company may achieve may differ materially from any forward-looking statements, which reflect the opinions of the management of the Company only as of the date hereof. Additionally, please make sure to read these important disclosures.