Here is why specialized next generation devices will be key for operators like AT&T (NYSE: T), Motorola Solutions (NYSE: MSI), Sierra Wireless (NASDAQ: SWIR) and Siyata Mobile (OTCQX: SYATF)
Smartphones dominate our lives but few devices are designed for first responders and for use in commercial vehicles. Siyata Mobile, Inc (TSX-V: SIM) (OTCQX: SYATF) is changing that.
While the likes of Samsung Group (KSE: 102780.KS) and Apple Inc. (NASDAQ: AAPL) focus on producing high-end devices for the consumer markets, an important new niche has opened up for specialized devices. AT&T (NYSE: T), Motorola Solutions (NYSE: MSI) and Sierra Wireless (NASDAQ: SWIR) have all been looking into specialized devices to enhance their own business models, and Siyata Mobile, Inc (TSX-V: SIM) (OTCQX: SYATF) has one of the best examples of a specialized in-vehicle smartphone on the market today.
Commercial vehicle solutions are insufficient
For the average user, their smartphone is almost magical in its ability to organize their lives. The problem is that smartphones are not designed for use in complicated commercial situations. If a phone becomes wet or is dropped, it could break. Signals often fail in rural areas or on the highway, and the screen may well be too small to be useful while trying to focus on driving.
Take the example of a commercial vehicle cabin. A typical cabin contains five or more separate devices, each requiring the driver's attention and interaction. This is highly distracting and can lead to sometimes fatal consequences. 8 of 10 collisions in Canada can be contributed to distracted driving, and 3,166 people were killed in the US in 2017 by distracted driving.
Most existing solutions rely upon two-way land mobile radio (LMR) solutions that require expensive subscriptions and ancillary equipment, leading to a crowded cabin. As mobile infrastructure has developed, it has become possible for mobile carriers to offer Push-to-Talk over Cellular (PoC) subscriptions. This allows companies to leverage a single device that can handle PoC communications, GPS, Cellular communication, fleet management tools, and a host of other features.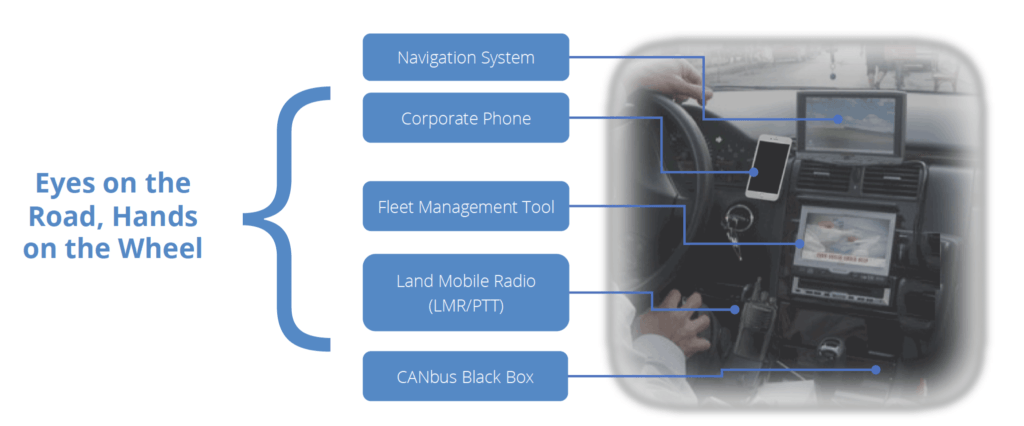 FirstNet has created a unique opportunity for investors
First Responders also face significant challenges. The 9/11 attacks and Hurricane Sandy laid bare the problems first responders face when dealing with exceptionally complicated events. Often their equipment was incompatible and they found themselves unable to effectively communicate between multiple emergency departments when it counted most. The First Responder Network Authority (FirstNet) was created as an attempt to solve this very problem.
As with PoC subscriptions offered to commercial companies, FirstNet provides an opportunity for first responders to upgrade to a streamlined solution that requires just a single in-vehicle device, eliminating the need for multiple communication devices in the cabin. That is where Siyata comes in…
The UV350 demonstrates the potential of specialized devices
Siyata's Uniden® UV350 is the world's first, and only, 4G/LTE dedicated in-vehicle smartphone. Unlike other smartphones, it has been designed with in-vehicle use specifically in mind.
The UV350 is installed directly into vehicles so it will always have power, and comes with high-tech noise cancellation to make communication simple while driving, an essential feature for commercial and emergency vehicles such as fire trucks, police cars, ambulances, yellow school buses, trucks, snow plows, and much more.
The device includes Push-to-Talk over Cellular and can even act as a Wi-Fi hotspot. Most significantly, the UV350 is the first in-vehicle mounted phablet that has been tested, approved and specifically designed to function on Band 14. This gives public safety subscribers access to the dedicated FirstNet network, which makes the UV350 the perfect companion to connect into FirstNet. In short, the UV350 can take the role of a number of different devices found in an emergency or commercial vehicle cabin, and allow first responders and drivers to concentrate on the road.
Bob Sloan, Chief Operating Officer for the FirstNet program at AT&T even stated that the "UV350 meets the highest standard of reliability, security and performance: marking it out as a key feature tool in the FirstNet network."
Mobile carriers are beginning to recognize the value of next-generation devices
Mobile carriers are already beginning to take note of unique devices like the UV350. Siyata Mobile has successfully secured a distribution agreement with Bell Mobility, Canada's largest LTE network and PTT community. In addition to signing with AT&T, the company is also looking to sign with another tier 1 U.S. operator.
The agreement will see the UV350 in-vehicle device carried on the AT&T Network as well as FirstNet. This is significant because it means that the UV350 has passed the notoriously difficult battery of tests in order to become certified and approved on the FirstNet network.
There are currently more than 9.7 million commercial trucks in the U.S. alone that could benefit from updating from an outdated LMR system to a PoC offering, and 3.5 million first responder vehicles that need to tap into FirstNet. This represents a $13 billion market opportunity that mobile carriers and smartphone producers could tap into. Currently only Siyata seems to be taking it seriously with its unique in-vehicle all-in-one communications device.

A market with real growth potential
While other device manufacturers, such as Huawei, have been able to make significant profits by focusing on high-quality, affordable devices for the consumer market, Siyata has taken a far more specialized and targeted approach. This offers a unique opportunity to invest in the telecommunications sector at a discount compared to investing in traditional mobile device manufacturers.
As technology continues to enhance all aspects of our lives, it has produced niches that give unique tech manufacturers room to thrive. This has created a unique window of opportunity for investors. At this stage in the market, smaller, more agile, and more specialized companies like Siyata have room to grow and thrive in a market that has traditionally been dominated by multinationals.
(Featured image by Siyata Mobile)
—
This article may include forward-looking statements. These forward-looking statements generally are identified by the words "believe," "project," "estimate," "become," "plan," "will," and similar expressions. These forward-looking statements involve known and unknown risks as well as uncertainties, including those discussed in the following cautionary statements and elsewhere in this article and on this site. Although the Company may believe that its expectations are based on reasonable assumptions, the actual results that the Company may achieve may differ materially from any forward-looking statements, which reflect the opinions of the management of the Company only as of the date hereof. Additionally, please make sure to read these important disclosures.