Making VRET accessible: XRApplied dream of helping PTSD victims
Often, the only way PTSD sufferers find relief is through exposure therapy: confronting traumatizing events directly. But for veterans, this can be problematic. How do you 'expose' someone to the horrors of war without putting them in danger? Once impossible, researchers and companies like XRApplied are now advancing the state of VR and offering a glimmer of hope to those who need it most.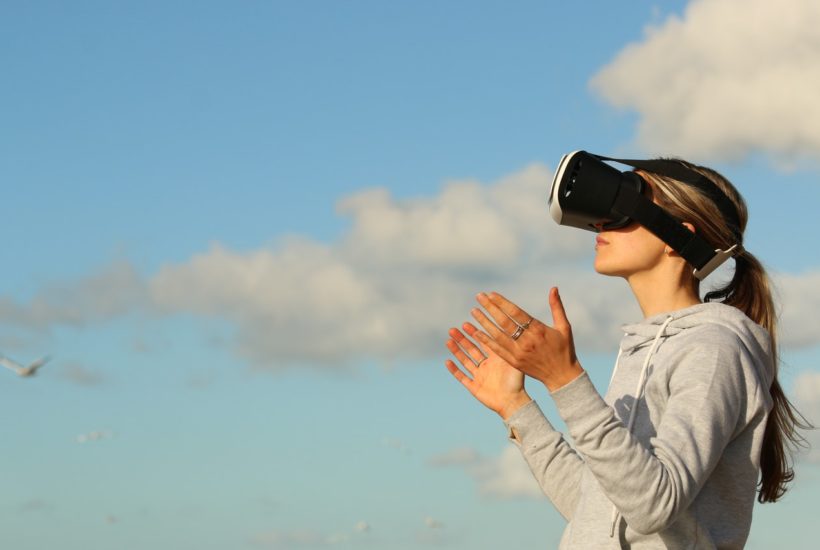 "Exposure therapy is a well-established treatment for Post Traumatic Stress Disorder (PTSD) that requires the patient to focus on and describe the details of a traumatic experience. Exposure methods include confrontation with frightening, yet realistically safe, stimuli that continues until anxiety is reduced… A review of the literature on exposure therapy indicates… that exposure therapy is a safe and effective treatment for PTSD." (Barbara Olasov Rothbaum, Ph.D. & Ann C. Schwartz, M.D. — Exposure Therapy for Posttraumatic Stress Disorder. — American Journal of Psychotherapy (Vol. 56, No 1, 2002)
Using Exposure therapy for the treatment of Post Traumatic Stress Disorder (PTSD) is nothing new, and its efficacy has been well established for decades now. What is new, however, is the emergence of Virtual Reality Exposure Therapy (VRET). This type of therapy is when clinical professionals use the technology that companies like XRApplied are creating to simulate the realistic yet safe scenarios that are so critical to the success of exposure therapy in treating PTSD.
In particular, the use of VRET shines when it comes to treating military veterans suffering from PTSD. For many of these veterans, creating exposure to sufficiently real situations in order to effectively treat their PTSD would otherwise be impossible; how does one realistically re-create confrontations with the violence of war and the thin line between life and death? Prior to the use of Virtual Reality (VR) in therapy, there simply was no way. But now, a growing number of researchers are trying to use VR to change that.
Meet Matt Neve
At the tender age of 16, Scotsman Matt Neve joined the UK Royal Air Force with little understanding of what lay ahead. Two years after signing up, he was deployed to Iraq as a driver.
Eighteen years old at the time, the innocent young man was, amongst other things, charged with the task of collecting dead and brutally injured soldiers from the field. Confronted with this grim, almost-daily chore, the eighteen-year-old soon found he was struggling to cope with the emotional turmoil it was inflicting upon him.
"When you're put into an environment like that when you're seeing guys that have been catastrophically injured, some have been killed, it's quite difficult to describe. You have all these emotions flowing through you – fear, upset, anxiety – and it all hits you in one wave and it took its toll on me constantly seeing that on a daily basis." (Matt Neve – BBC News – 2019)
He was, in some sense of the word, one of the lucky ones. Matt made it out of Iraq alive, just one year after being deployed. However, this was only after being kicked out of the RAF, medically discharged due to the PTSD he had developed on duty.
There is nothing virtual about the reality of PTSD
"I ended up turning to alcohol, getting a drinking problem. I've attempted suicide. I've been in the darkest holes. The only way to really put it, is a living hell." (Matt Neve – BBC News – 2019)
Matt was discharged as a broken shell of a man, but his will to live was simply too strong. After multiple attempts on his own life, it seemed the only solution left was to attempt to erase his Iraq deployment from his life entirely. He took up archery and reached a competitive level which saw him taking on the Invictus Games. And he got himself a life-partner, Zoe.
It was so difficult for Matt to confront his demons that it took him six years to tell Zoe that he had even been in Iraq. Prior to the moment that Matt revealed the truth, Zoe thought he had been in Cyprus during that time.
And while Matt's attempts to erase his time in Iraq had kept others in his life in the dark, they did little for his internal state. Over the years, Zoe had noticed that Matt seemed to be mentally unwell in general.
Coming to grips with his PTSD
"It was really difficult because I didn't know why his behavior was like that because he didn't tell me what he'd seen or what he'd been through in Iraq. To come back a totally different person to the one before he went, and to not know the reason why, it made me think, 'do I really want to be with that person' at the time. But we did fight through it." (Matt's Partner, Zoe – BBC News – 2019)
Whilst Matt's love of archery-only served as a temporary distraction from his inner turmoil, it was, ultimately, the vehicle which put him on the track to recovery. In attending the Invictus Games, Matt found himself surrounded by a supportive peer group of veterans, amongst which there were many who'd been suffering the same darkness as him.
With the realization that this event provided him, Matt was finally able to recognize what was at the root of his troubles.
Empowered by the experience, Matt sought treatment. He started seeing counselors and undergoing Cognitive Behavioural Therapy (CBT)—a branch of psychotherapy that seeks to train its patients to change their thought patterns.
Unfortunately for Matt, simply changing his thought patterns was not enough. His PTSD was reclassified as 'treatment-resistant' as the more traditional approaches failed him.
With options running out, Matt volunteers for a Virtual Reality Exposure Therapy study
If burying his past and changing his thought patterns weren't going to help, there was only one avenue left if he was ever going to find solace; he needed to directly confront the terrors that he'd buried for so many years through exposure therapy.
The problem, of course, is that exposure therapy for a returned veteran is an entirely different kettle of fish to treating, for example, a phobia of spiders; there is no safe and realistic way to confront patients with what they're so desperately trying to avoid in the veteran's case.
But we're living in a time where companies like XRApplied are developing technology that's making all sorts of 'impossible' things look easy, and researchers are finding new ways to use this technology every day.
This confluence of technologies and realizations led Matt—and 41 other veterans—to sign on to a multi-year research project conducted by Cardiff University and Cardiff and Vale University Health Board (CVUHB). The study hoped that, by using VR to recreate that which terrified its volunteers, some relief from their treatment-resistant PTSD might finally be achieved.
The Virtual Reality was almost too real, but it worked
"It's very, very hard. About halfway through the programme I thought 'I can't do this anymore,' because the images are taking you right back there." (Matt Neve – BBC News – 2019)
The treatment Matt received was tough. He spent many emotionally taxing sessions walking on a treadmill; walking towards horrific (simulated) scenes that he never wanted to see again. He was, almost literally, being forced to walk towards his fears so he would stop avoiding them.
But, just as it is for so many other people when they're supported and guided by an experienced and empathetic therapist, exposure therapy started making a real change in Matt's life. But it was not only Matt who experienced a gradual, but long-lasting lifting of his condition.
This new style of Virtual Reality Exposure Therapy, known as Interactive Motion-Assisted Exposure Therapy, or 3MDR, was found to provide significant relief for two-thirds of the volunteers that took part in the trial. All were veterans with what was thought to be treatment-resistant PTSD.
There remain countless thousands in desperate need of VRET
"The recovery journey is still ongoing, it'll never end, but planning wise we're looking to go away as a family in the October half-term. That's something we wouldn't have done before." (Matt Neve – BBC News – 2019)
While full recovery from the sort of trauma that Matt has experienced is an unlikely thing to ever occur, the veteran has found that 3MDR has been the single thing that has made the 'biggest impact' on his quality of life. Acknowledging that "it's little things like that make the biggest difference," Matt has found himself able to do things that paralysed him before, but which most of us take for granted—going away on vacation, for one thing.
And while the outcome has been positive for Matt, the unfortunate side to this is that there are untold thousands of silent sufferers just like him; men and women who've had their souls shredded by the horrors of war, only to be classified as 'treatment-resistant' and cast aside.
This is the kind of situation that is inspiring young startups like XRApplied to pursue the rollout of Virtual Reality technology in clinical scenarios. By pursuing their goal of making VR affordable and rapid to develop they will bring Virtual Reality Exposure Therapy to the masses, fulfilling their dream of helping thousands of PTSD victims like Matt find relief.
—
(Featured image by Bradley Hook via Pexels)
DISCLAIMER: This article was written by a third party contributor and does not reflect the opinion of Born2Invest, its management, staff or its associates. Please review our disclaimer for more information.
A majority of the source material for this article was obtained via BBC. In the case of any discrepancies, inaccuracies, or misrepresentations, the source material will prevail.
This article may include forward-looking statements. These forward-looking statements generally are identified by the words "believe," "project," "estimate," "become," "plan," "will," and similar expressions. These forward-looking statements involve known and unknown risks as well as uncertainties, including those discussed in the following cautionary statements and elsewhere in this article and on this site. Although the Company may believe that its expectations are based on reasonable assumptions, the actual results that the Company may achieve may differ materially from any forward-looking statements, which reflect the opinions of the management of the Company only as of the date hereof. Additionally, please make sure to read these important disclosures.