Extended Reality's Magnificently Broad Spectrum of Possibilities
Extended Reality (Augmented, Virtual, and Mixed Reality) is unquestionably the way of the future, and will eventually leave no area of our lives untouched. And while it's still early days, surveying the landscape reveals a gamut of applications already making a big impact in everything from early childhood education to solving the problem of domestic violence. What else will the future hold?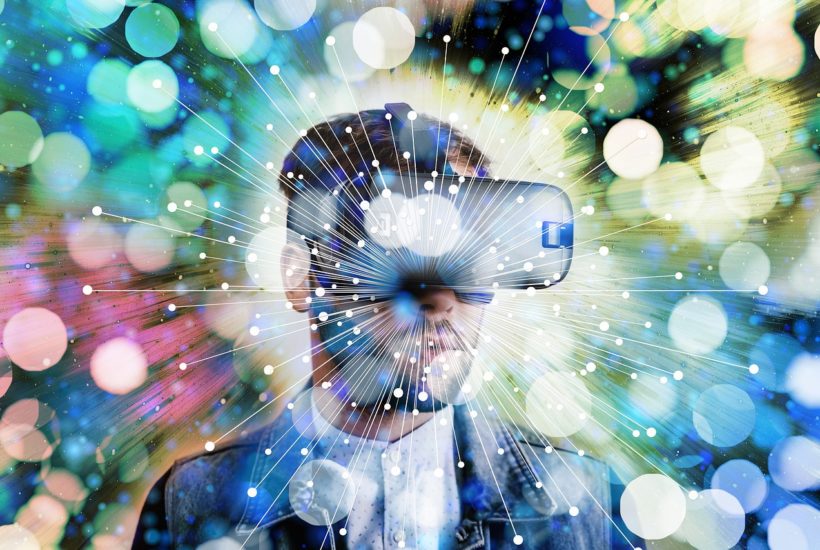 What fights violence and entertains children? Extended Reality (XR) — the branch of technology that encompasses Virtual Reality (VR), Augmented Reality (AR), and Mixed Reality (MR)! Yep, from the innocence of childhood to the misdeeds of adulthood, immersive next-gen technologies are making an impact at all stages of human life.
To show how broad-reaching extended reality can be, we're going to take a look at two powerful uses for the technology that (apart from being based on XR technology) seem to have nothing in common. However, while the applications are entirely different, they both help illustrate the diversity of possibilities that extended reality makes possible. Moreover, they show the unique ways that extended reality engages the brain and its profound positive impacts.
France Trials Virtual Reality Empathy Training to Fight Domestic Violence
The fight against domestic violence is a difficult one. Research often shows that there is a strong correlation between low cognitive empathy and tendencies towards violence. This suggests that if only we could teach empathy to domestic violence offenders, we could drastically lower the rate of recidivism. But attempting to teach empathy—the ability to understand how other people think and feel—is no small task.
However, while it might be hard to teach empathy skills using traditional methods, there is a tool that can do better than teaching empathy by—almost literally—putting people into the shoes of nearly anyone. That tool is virtual reality—a tool that has mainly been associated with gaming for a long time now.
One example that shows how virtual reality empathy training looks like comes from France, where the Justice Minister, Eric Dupond-Moretti, has unveiled a new virtual reality trial with thirty participants. This follows shortly on the heels of a trial across the nation's southern border (Spain) where the technology has already proved its great potential in this application.
The proposed program is comprised of a number of short scenes that put the participants into the shoes of various actors, changing perspective as the scenario evolves. For example, in one scene, which starts from the husband's perspective, a couple's candlelit dinner quickly degrades into an argument. It then moves into the woman's perspective in the scene as the husband raises his voice and begins becoming aggressive. Finally, concluding the scene, participants move into the skin of the couple's baby, where they must helplessly listen to its mother's pleas for help as it witnesses its father's blows.
The full version is longer and more intensive than this. It is hoped that this sort of exposure to domestic violence situations will instill a greater sense of cognitive empathy. If this is successful, then the research suggests that the program will be highly effective at reducing or eliminating violent tendencies in its participants.
XRApplied Shakes up Early Childhood Education Using Augmented Reality
Shifting to the other end of the spectrum—both in the age of the intended audience and graphicness—another example of extended reality technology revolutionizing the way we teach the human mind is found in XRApplied's (CSE: XRA) AR Balloon Pop Fun Learning app. Far from being a novelty, the app, an educational game where children pop virtual balloons, is shaking up our prior notions of child attention spans and our expectations of so-called edutainment.
The app, a cross-platform augmented reality mobile game, contains a couple of big twists on the popular balloon popping genre of games. The first, of course, is the augmented reality twist, which takes the balloons and game mechanics into the real world. Children can see the balloons in whatever location they are in, almost as though they were really there. And to pop the balloons, they must aim an animated toy bow and arrow using real physical actions, as though they were doing it for real.
The second twist, which works in harmony with the first, is the transformation of the balloon popping format — a format usually preserved for relatively passive entertainment — into an engaging educational game where children must pop balloons according to various prompts, testing their ability to identify a range of colors, animals, words, and numbers. An example is where the game puts animal-shaped balloons onto the screen, and then asks the child to pop a tiger. If the child succeeds, they are rewarded with bonus points added to their total score. And if they get it wrong, they are encouraged to continue the learning adventure until they master it.
What makes this app so much more effective than any other technique for teaching young learners to date is that it combines active learning with a high level of entertainment, keeping young learners deeply engaged with the content for extended periods. This compares favorably with other techniques that either result in the child becoming frustrated and losing focus, or which fall back on sing-songy memorization techniques that aren't all that conducive to an out-of-order recall of information.
With Extended Reality, the Possibilities Are Endless
These are just two examples of the thousands of apps that already exist in the world of extended reality. And, given the extreme ends of the spectrum that these apps exist at, they only go to show that thousands of other applications that are yet to be conceived of are waiting for us just around the corner.
If this isn't already evident, XRApplied, the company behind the AR Balloon Pop Fun Learning app, even has an AR Flooring App. Doing pretty much what it says on the tin, it uses augmented reality to replace the flooring with any of the thousands of flooring products out there, allowing users to see what their home would look like with any given flooring product.
What this all spells out is an exciting future where nothing will remain untouched by extended reality. And while some applications may pan out to be little more than novelties, there will be thousands of others that prove to be infinitely useful, as we have seen today.
—
(Featured image by Geralt via Pixabay)
DISCLAIMER: This article was written by a third-party contributor and does not reflect the opinion of Born2Invest, its management, staff or its associates. Please review our disclaimer for more information.
This article may include forward-looking statements. These forward-looking statements generally are identified by the words "believe," "project," "estimate," "become," "plan," "will," and similar expressions. These forward-looking statements involve known and unknown risks as well as uncertainties, including those discussed in the following cautionary statements and elsewhere in this article and on this site. Although the Company may believe that its expectations are based on reasonable assumptions, the actual results that the Company may achieve may differ materially from any forward-looking statements, which reflect the opinions of the management of the Company only as of the date hereof. Additionally, please make sure to read these important disclosures.