Millennials spend almost $93,000 on rent between the ages of 22 and 30
The real estate industry is particularly difficult for millennials compared to the previous generations, with rent prices continuously increasing.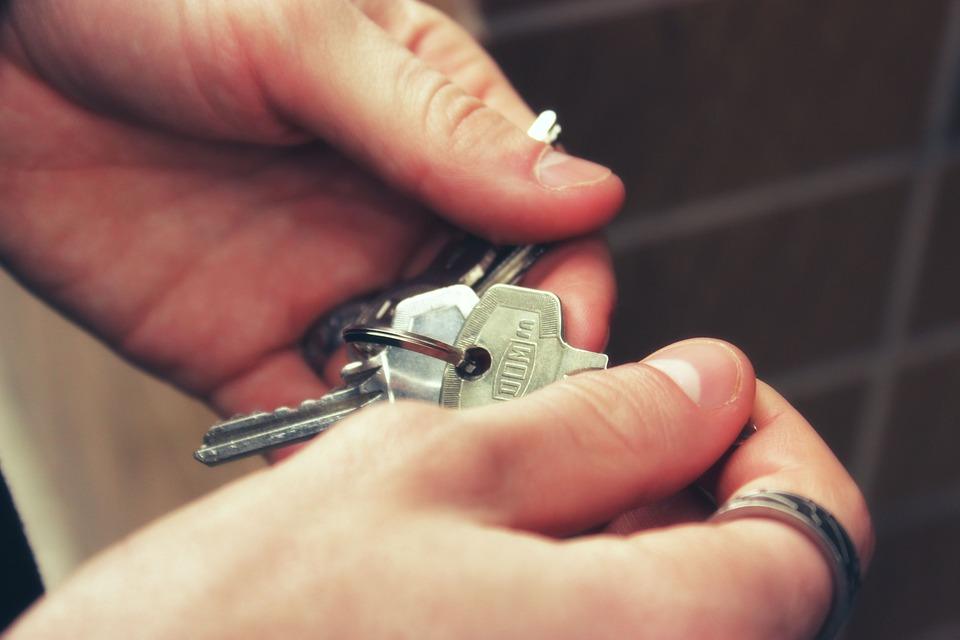 Renting in the U.S. nowadays is challenging for anyone, given the increasing rent prices, but the real estate market has proved to be especially unforgiving to Millennials. A generation of renters, struggling to pay off high student loan debts and constantly hunting good job opportunities, Millennials face more difficulties than what their Baby Boomer parents did back in the day. According to a recent study from apartment search website RENTCafe.com, Millennials spend 92,600 on rent between the ages of 22 and 30. This is considerably more than what previous generations used to spend when they were in their 20s.
Millennials carry the highest rent burden of 45 percent
To avoid being rent burdened, renters should not spend more than 30 percent of their income on rent. However, looking at Millennials, Gen Xers and Baby Boomers, it seems that none of them managed to stick to that golden rule. In fact, Millennials turned out to be the most rent burdened generation, spending a staggering 45 percent of their income on rent alone. Their total income earned between the ages of 22 and 30 was of $206,600 and $92,600 of that went only on rent.

Gen Xers didn't fare any better, with 41 percent of their income going on rent, meaning that they earned $202,100 during the eight-year period of time and spent $82,200 on rent. Baby Boomers were also rent burdened, with 36 percent of their $195,700 income going directly toward rent.
As the generation carrying the highest rent burden, it's no wonder Millennials are unable to afford to buy a home. Besides the high rent prices and student loan debts, their spending habits differ from other generations, with more Millennials preferring to live in big, high-tech cities like San Francisco, CA, Miami, FL or New York City, NY. The high cost of buying a home is also an important factor contributing to Millennials' decision to postpone setting down and forming families.
Although they have higher incomes, Millennials spend more on rent than previous generations
While comparing Millennials' income and rental amounts paid between the ages of 22 and 30 to those of Baby Boomers and Gen Xers, RENTCafé analysts showed that Millennials pay $10,400 more on rent than Gen Xers and a staggering $21,600 more than Baby Boomers. As for the income, Millennials earn $4,500 more than Generation X renters and $10,900 more than Baby Boomers. They do have a higher income compared to previous generations, but it's important to point out that rent prices were considerably lower prior to the U.S. housing market crash of 2008 when Gen Xers and even Baby Boomers used to rent. Home prices were also more affordable back then than they are nowadays.
Younger Millennials spend higher amounts of money on rent than older Millennials
Millennials do spend an impressive amount of money on rent but there's a difference between older and younger Millennials. Older Millennials, now aged between 30 and 40, used to pay less on rent than younger Millennials, aged between 22 and 29 years old. To be more specific, older Millennials paid $90,500 on rent before hitting 30 while younger Millennials paid $97,400 before hitting the same age. The incomes also differ between the two cohorts with younger Millennials earning about $4,000 more than older Millennials.
As for the rent burden, younger Millennials carry a rent burden of 47 percent and older Millennials have a rent burden of 44 percent, well above the recommended 30 percent.
Gen Z renters are expected to pay over $102,000 on rent
According to the data, Baby Boomers used to pay the lowest amounts of money on rent between the ages of 22 and 30, followed by Generation X renters and Millennials. For example, Baby Boomers that turned 70 in 2017 used to spend $66,900 on rent while those aged 60 spent about $73,000. The amounts continued to increase considerably along the years. If the trend continues and rents keep on increasing, it's projected that Generation Z renters, aged 20 in 2017, will pay about $102,100 on rent before the age of 30.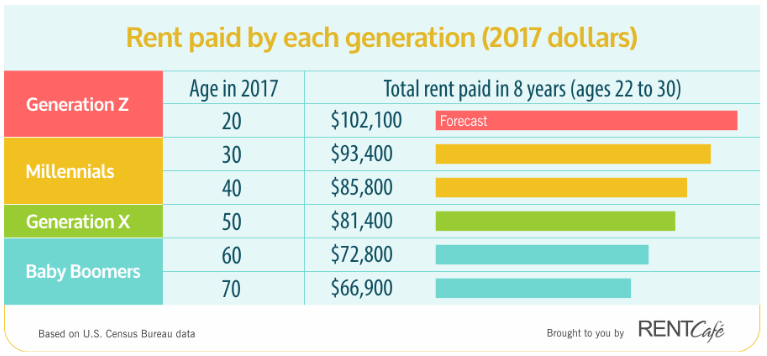 Considering the fact that Gen Z renters are just now starting to look for their first apartments, the housing market will need to adjust in order to justify the high prices. Although similar to Millennials, this cohort will have completely different needs and will be much more selective in their apartment hunt. Growing up in the internet era, surrounded by cutting-edge technology, Gen Zers are prone to have a preference for innovative amenities and will not be easily convinced to rent an apartment that offers only standard perks.