New quality-of-life facilities in demand throughout the U.S.
Municipal leaders and local governments are creating more and more quality-of-life enhancements in their areas despite facing huge constraints on funding and resources. What the public don't realize often is how stressful and demanding their jobs are because they are working on "stretch goals" but still strive to provide the community with services and facilities that they need.
Municipal leaders have stressful and difficult jobs. Elected officials and tenured public servants struggle to provide more citizen services with less funding and fewer municipal resources.
Public leaders at the local levels of government are guided by mandates that could easily be categorized as "stretch goals." And, they provide services to a diverse group of citizens and taxpayers who are demanding, often impatient, and focused on reducing taxes but increasing quality-of-life amenities. This situation exists because, throughout the country, the public at large is extremely busy and few have time to ponder the plight of municipal leaders. Their lives are also stressful, and the demands on them are just as significant.
However, in spite of funding restraints and stressful times for all parties, progress is being made. Municipal leaders throughout the U.S. are launching new quality-of-life enhancements for the regions they serve.
Michigan
Crystal Township in Michigan has hired a firm to evaluate options to either launch a major renovation and expansion project of their current community center or the construction of a new facility. Cost estimates currently associated with the renovation and expansion option are $2.38 million. Construction costs for a project that would salvage half of the current facility and add an extension would be approximately $2.63 million. The last option, which would be to sell the current building to a private owner and build a new community center in another location, has an estimated cost of $2.88 million without a new gymnasium or $3.97 million with a new gymnasium. Once a decision is made about which option to pursue, plans will be announced about a timeline and solicitation documents will be issued to potential contractors.
Texas
Friendswood's City Council in Texas has authorized a November bond election to ask voters to approve $76 million for a number of projects—one of which is a $9 million construction project of a new activities center. An advisory committee appointed by city leaders has recommended the project. The current 49-year-old building is in poor condition, and remodeling the facility would cost as much as building a new one. The new facility would likely be designed to serve as a community civic center, an emergency shelter, and also as home for senior adult programs.
City officials in Conroe, Texas, want a new community center and have included it in their Capital Improvement Plan. Dubbed the Oscar Johnson Jr. Community Center, the facility will be relocated and expanded. More space is needed, and the city wants activity rooms, a gym, recreational facilities, safe drop off areas, and other amenities. The city has acquired a 25 acre site, and plans estimate project costs at $51.7 million. Approximately $3.6 million has been set aside for design services.
Colorado
Cañon City officials in Colorado also have announced plans for a new recreation center and aquatics facility. The proposed project has an estimated cost of approximately $24 million for land costs and $41 million for construction costs. An independent citizen committee promoting the project will host future meetings and work with governmental agencies to procure a public information/technical survey. Construction will be planned following the final decisions related to location, facility, and funding.
The Durango Parks and Recreation Department in Colorado has proposed lofty goals over the next 10 years, and a new recreation center is a priority. The city will launch a $300 million Capital Improvement Plan that includes a $45 million recreation center.
Georgia
A $444,000 design plan was approved by officials of Cherokee County, Georgia, and an architect will begin preparing Phase I construction documents for the L.B. Ahrens Recreation Center very soon. The first phase of the project involves a $9.75 million construction project for a double gymnasium with an open fitness area, an aerobics/dance studio, a climbing wall, lockers, restrooms, family changing rooms, community meeting sections, two multi-purpose classrooms, and offices. The facility will include about 33,000 square feet. Design work should be completed soon, and construction bids will be let immediately after that. Future phases may include additional gyms and swimming pools.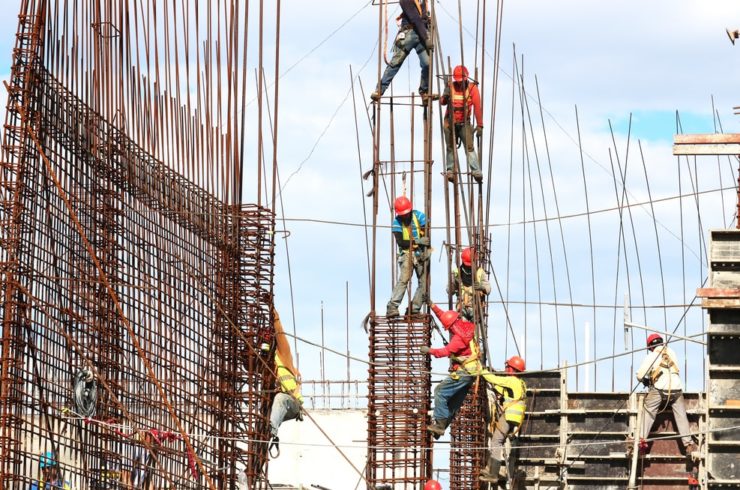 Missouri
Voters in Sedalia, Missouri, approved a new community center on August 6. Sedalia Parks & Recreation will manage the 78,000-square-foot Heckart Community Center located on city property. A budget of $20 million has been adopted. Once design plans are approved, city leaders have indicated that solicitation documents will be issued shortly after that for engineering and construction services.
Maine
The Naples Board of Selectmen in Maine recently discussed a proposal to construct a community center. Current plans call for the center to be built on the space of the current town hall. The new 19,000-square-foot building would be home to offices for city officials, a post office, gymnasium, and community meeting space.
Construction companies, engineering firms, technology providers, and professional services groups will find an abundance of contracting opportunities at the municipal levels of government as communities strive to improve quality of life amenities for citizens.
—
DISCLAIMER: This article expresses my own ideas and opinions. Any information I have shared are from sources that I believe to be reliable and accurate. I did not receive any financial compensation for writing this post, nor do I own any shares in any company I've mentioned. I encourage any reader to do their own diligent research first before making any investment decisions.