Paradise found: Luxury cruising in Halong Bay
Halong Bay is one of Vietnam's most popular tourist attractions. Skip the crowds and have a more intimate experience of seeing the bay in style.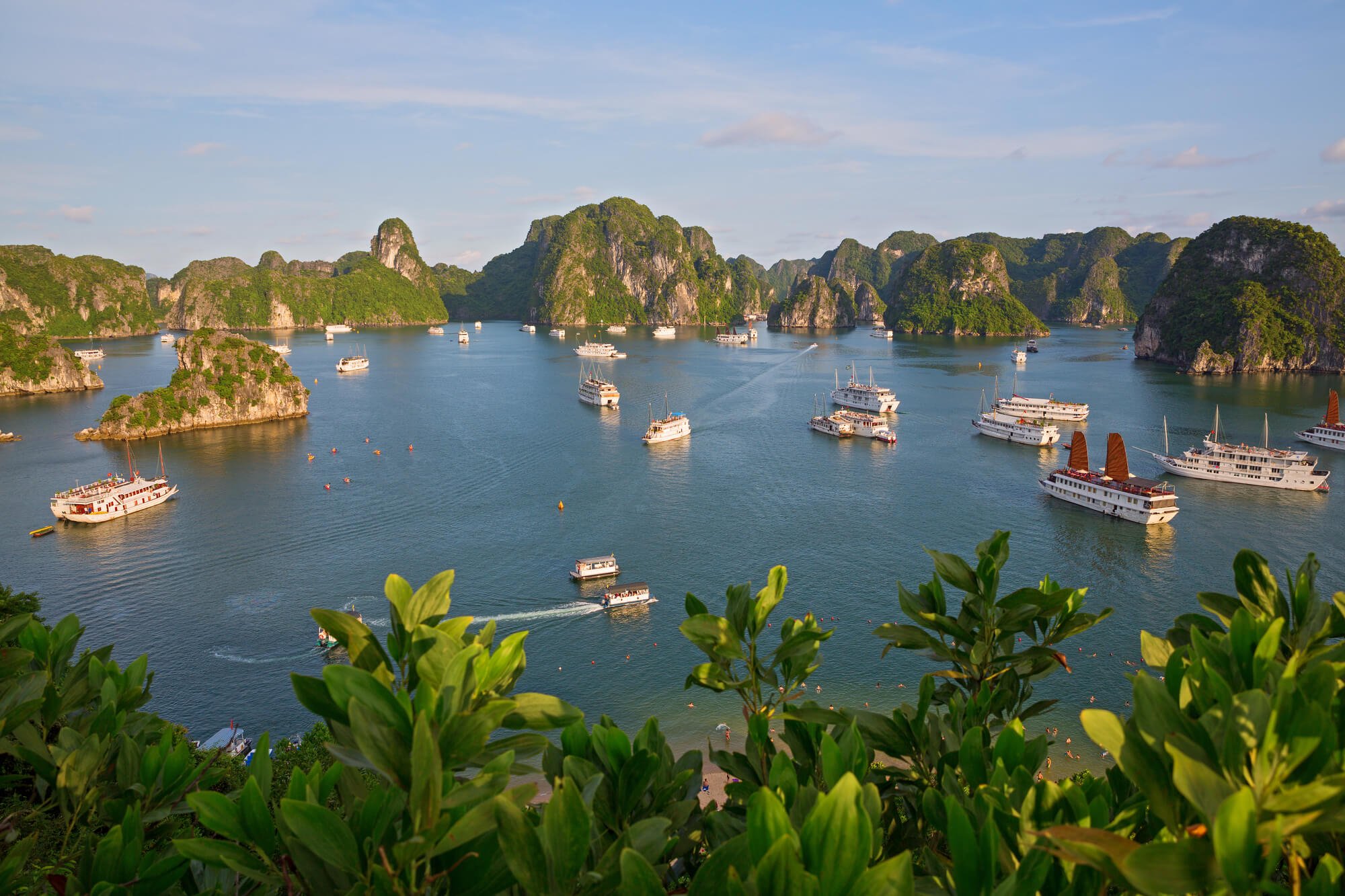 Halong Bay is one of those iconic places. You see lots of photos and it makes lots of "must do," "must see" travel lists. But does it live up to the hype? Is it worth going to? Well, we set off to find out. It is not an easy place to get to as it is not close to a major city. Hanoi is closest and it is a three- to four-hour drive from there. So getting there requires a bit of commitment.
We decided if we were going, let's make it worthwhile. I had read the bay was very crowded with boats and it was quite touristy so it had the potential to disappoint. After much research and equivocating, we decide on the three-day/two-night option. At least that way we would get further into the bay and have a chance to see some of the less busy areas. Well, let me tell you—it was spectacular. It definitely delivers on the scenery, the pictures, the vibe, the whole thing was just fantastic.
A luxury three-day/two-night cruise
We decided to take the luxury option, after all, what is there to do on a boat besides eat, drink and be entertained, and the excursions would be in a smaller group (and we are anti-large groups of anything). So our journey begins with a morning pick-up at the hotel in Hanoi. We took the private car option because it was not much more than the "shuttle" option and as the road was under construction, we were warned the ride could be long and uncomfortable. Also, it was in keeping with our luxury theme. So the driver arrived promptly on time for a drive to Halong Bay. The ride is somewhat interesting in the sheer number of factories. There are many high tech industrial factories, including industrial ceramics. But traditionally produced ceramics, for which this area is known, are also common. There are also a number of rice fields and if you haven't been out to see rural Vietnam, this is quite scenic. Halfway along, we have a comfort break at a rather large shop that sells everything! You can arrange to make the trip to or from Halong Bay into a full-day tour with stops along the way. There are some touristy villages, including Bat Trang ceramic village. We are dropped by our driver at the Heritage Lines office, check-in, check our luggage and sit down for a quick drink and a relax along the water while we wait to board. When it is time to leave, a smaller boat takes us out to the Jasmine and we are shown to our cabin. The boat is made of dark wood and decorated in the style of 1930s Indochina. The hallways and public areas have beautiful antiques and old pictures which help set the scene. Our cabin is luxurious and we have our own little balcony to enjoy an evening drink and soak up the atmosphere of Halong Bay! As we cruise out through the bay, the weather is spectacular. The bay is busy, but the scenery is captivating. We have boarded the boat just in time for lunch so as we move further into the bay, lunch is served in the dining room, which is surrounded by windows and has great views. The first day includes two excursions one to Tien Ong cave, and the second to a floating fishing village in the bay, Cua Van. The cave was recently discovered and has evidence of humans in the area going back to 10,000 BC. We arrive in Cua Van, the floating fishing village, just in time for the evening sun. The light made for some spectacular pictures. The whole village is floating, the house, the school, the grocery store, everything! This is not unusual in Halong Bay. These families have for generations made their living through fishing and today tourism also supplements their income.
The evening includes a cooking demonstration and a presentation about Halong Bay, before drinks and dinner. We anchor for the evening. Sunset provides some great picture opportunities. It is a relaxing day and a great start.
Day 2
Begins with Tai Chi on the upper deck, a great way to both try Tai Chi and get the blood flowing. After breakfast, those of us on the three-day option transfer to a small "day" boat. The Jasmine will be returning to the dock to drop off the one-night guests and pick up new passengers. This is rather clever, as it results in a small group for the day 2 excursions, and it also means there will be new guests on the boat tonight when we return. Our excursions for the day are a trip to Cat Ba (the Women's) Island and a kayaking excursion. At Cat Ba Island we bike for about a half hour to Viet Hai Village (you can also go on the back of a motorbike). This is a small village and you can see rural life. The bike ride itself is also very pleasant through the rice fields. We set sail for Bat Cave and eat lunch en route. When we arrive, we go for a kayak through the water exploring the coves and caves. It is very pleasant and provides quite a different perspective being so close to the water. We have time for a swim and sitting out on the deck as we head back to join the main boat where we will have dinner. There is a bar set up on the top deck which is a lovely place to watch the sunset and meet some of our fellow passengers.
Day 3
Begins again with Tai Chi. After that, we head to SoiSim Island. Here you can climb to the top and be rewarded with panoramic views. Many of the boats in the area have their sails raised and the pictures are quite nice. There is the opportunity for a swim as well. After that, we head back to the boat. Breakfast is served as we cruise back to the dock for our departure. It is over all too soon. And having been to Ninh Binh known as "Halong Bay on land," there is a considerable resemblance in the landscape and rock formations. In Ninh Binh, it is the stunning green of the rice paddies and in Halong Bay, there is the tranquil waters. Both are very nice. You can read more about it and see the pictures in our Ninh Binh post. We sailed with The Heritage Line on the Jasmine and were very happy. The transfer was booked at the same time as the cruise. The food, accommodation and excursions were all very good. There is also a spa on board the boat should you want a massage or other treatment. We were very pleased we did the two-night option, it provides more time to relax and we went much further into Halong Bay where it was less crowded with boats. And even then we only saw a very small portion of the whole bay. If you can arrange to leave the rest of your luggage in Hanoi and travel with only an overnight bag, it is advisable. The cabins are made for a two-night stay, there is not a lot of room for luggage or unpacking. So we can definitely say yes, Halong Bay did live up to the hype. Cruising spectacular Halong Bay in luxury was paradise if only for three days. Halong Bay does deserve its place on so many travel wish lists! We hope you enjoy your trip! — DISCLAIMER: This article expresses my own ideas and opinions. Any information I have shared are from sources that I believe to be reliable and accurate. I did not receive any financial compensation for writing this post, nor do I own any shares in any company I've mentioned. I encourage any reader to do their own diligent research first before making any investment decisions.