Kiss Boring Cafeteria Food Goodby: SavorEat and Sodexo Unveil Plant-Based Robot Chef
SavorEat, a Food Tech company specializing in AI and 3D printing, has partnered with global food services leader Sodexo to introduce plant-based, customizable meals through their Robot Chef. The technology aims to revolutionize dining by allowing extreme customization in meal preparation, thus enhancing the user experience while also minimizing food waste and promoting sustainability.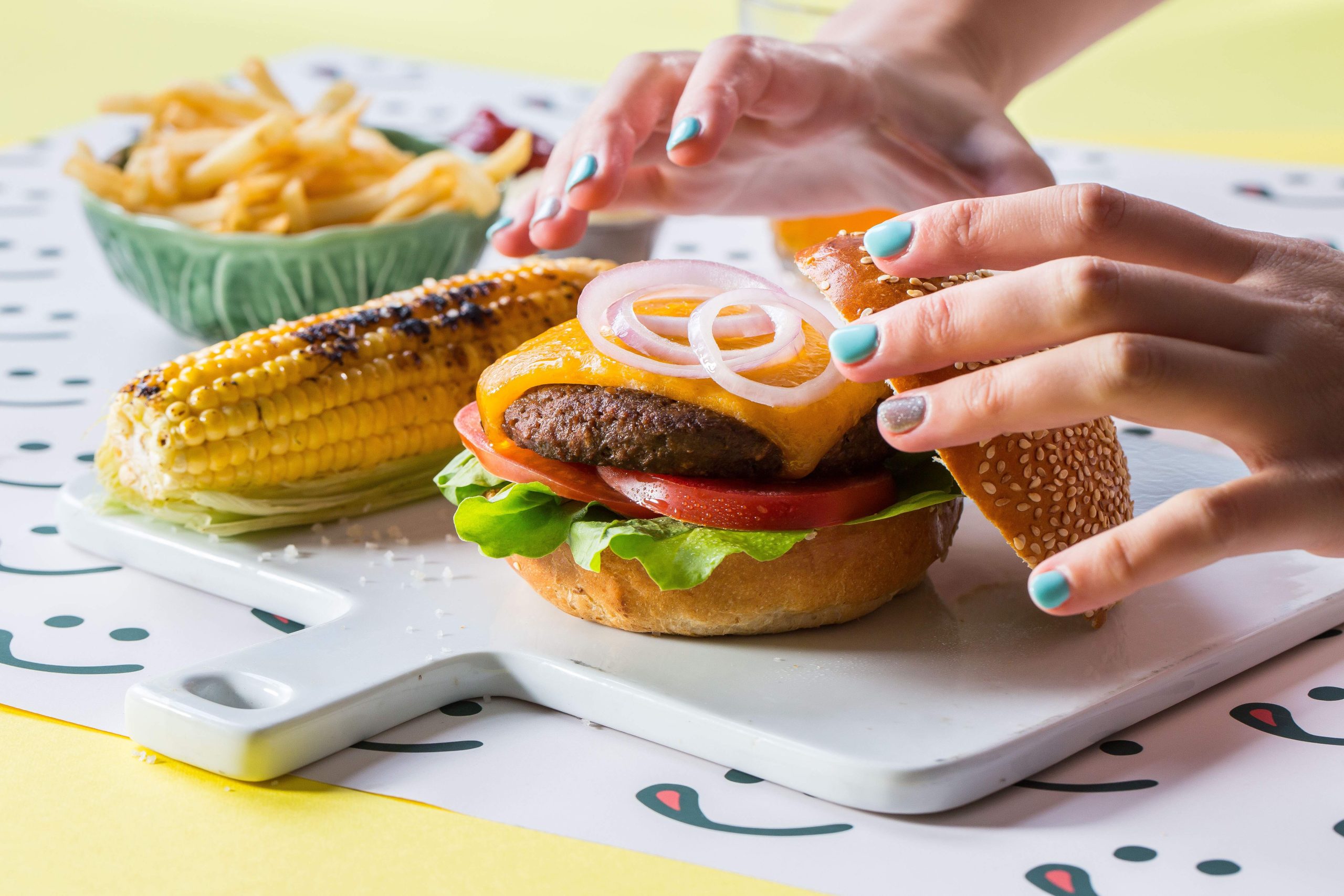 Eating out or dining in a cafeteria usually involves making a bunch of compromises. Between people's various food preferences, allergies, and other dietary restrictions, finding the right place to eat can be a real challenge.
And then there's the vegan friend who wants to tag along, just to complicate matters even further.
Or maybe you're the vegan fried, and all you want is the simple pleasure of going out to enjoy a delicious burger alongside your carnivorous friends.
In either case, the usual scenario involves compromise. And usually, it's the plant-based diner making them.
Go to one burger joint, and maybe they find the Beyond Meat patties a little too "meaty". But maybe at another place, the veggie patties are just plain… meh.
But what if a food tech company and a global food services leader joined hands to make customization in plant-based eating a day-to-day reality?
This is about to become a reality, thanks to a new collaboration just announced between SavorEat, a cutting-edge Food Tech company, and Sodexo, a world leader in food services and facilities management.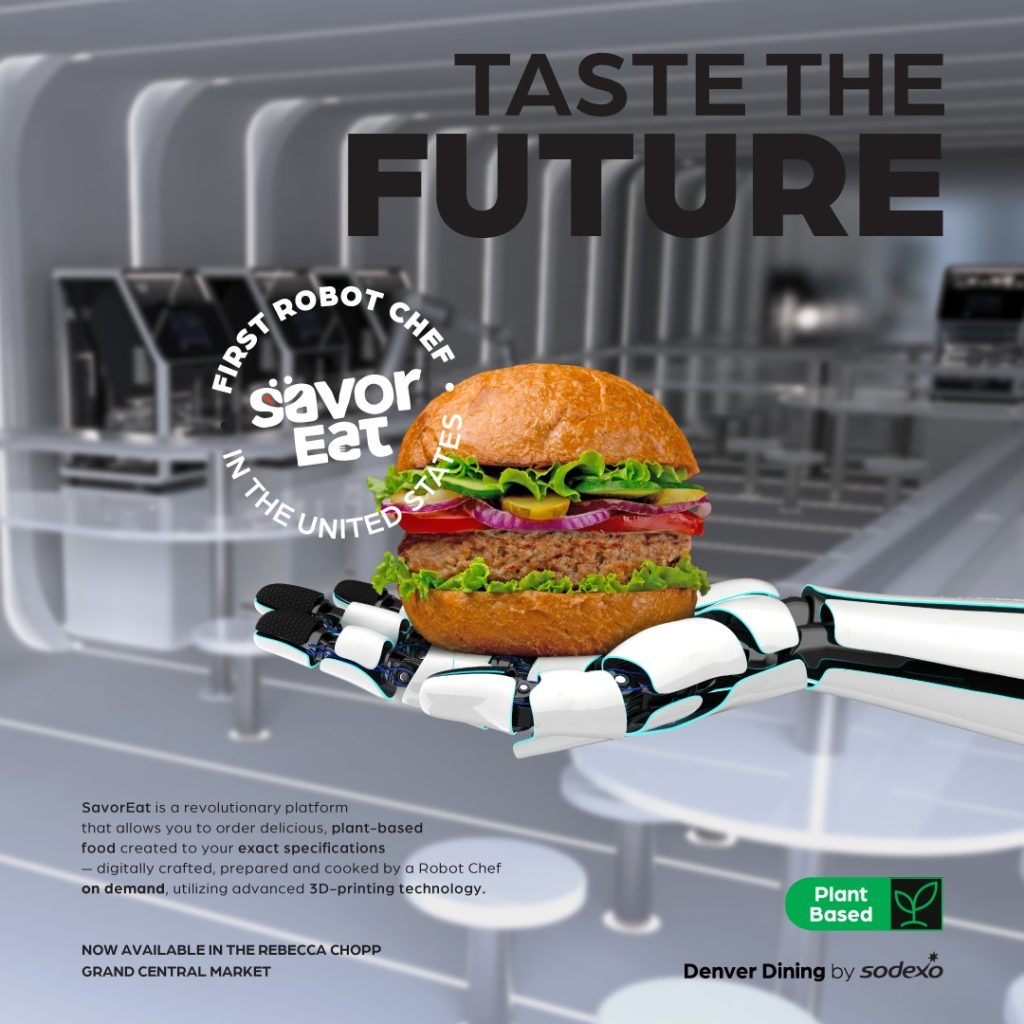 ---
Discover How SavorEat Is About to Reshape the Food Service Industry: Skip the journalist's take and head straight to the source — discover SavorEat here.
---
The SavorEat Plant-Based Robot Chef System
SavorEat is a fast-growing food tech company known for deploying AI and 3D printing technologies into the food services industry.
Their groundbreaking plant-based Robot Chef allows fast-moving kitchens to deliver 100% customized meatless burgers with little more than the push of a button. This is all achieved using cutting-edge 3D food printing technology combined with some clever AI.
But leaving the tech aside for a moment, the implication here is simple.
Diners can now select everything from protein levels and consistency through to fat content, and receive a burger that exactly matches their tastes.
Now, returning to the tech side for a moment — this is obviously a relatively sophisticated kitchen machine. This means it's probably out of the reach of the average home cook. That's not to say it's complicated to use (it's not — we're talking about single-button operation here). It's just to say this isn't a basic kitchen appliance you're going to pick up a Walmart for a couple of hundred bucks.
However, put this into a restaurant or cafeteria where volume will more than offset the startup costs, and you have a pretty attractive proposition in the SavorEat plant-based Robot Chef.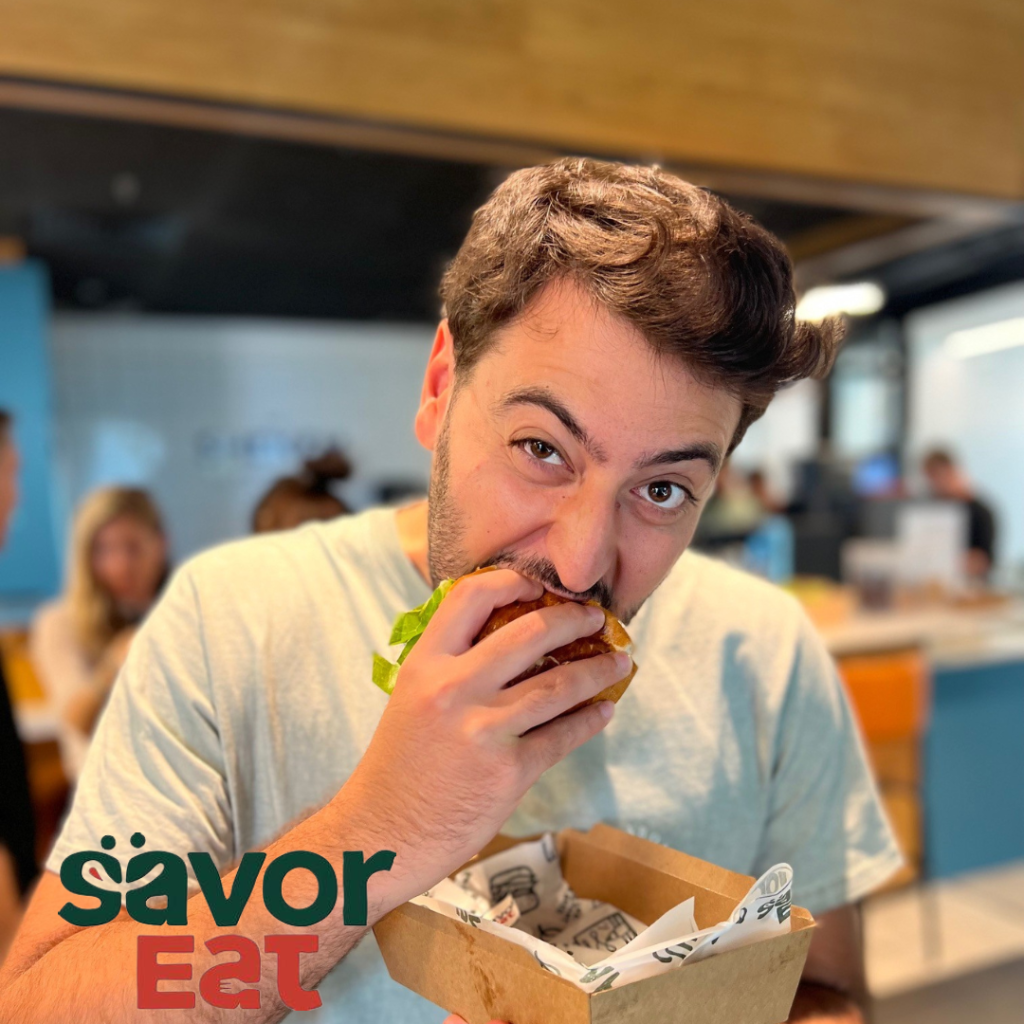 SavorEat x Sodexo — A Partnership for a Sustainable, Plant-Based Future
Naturally, SavorEat is targeting commercial kitchens with its Robot Chef. At least, initially. (Who knows where the efficiencies of scale and a couple of small innovations might lead?)
To get there, it is now looking to partner with food service companies, with the first partnership having just been announced this week with Sodexo.
This could potentially turn into something very big. For reference, Sodexo is a global powerhouse in the food services industry, holding a presence in 53 countries and employing 94,000 people across North America alone.
That's a lot of kitchens and, potentially, a lot of SavorEat burgers.
Initially, the Sodexo partnership will see SavorEat deliver its plant-based Robot Chef to select university cafeterias that are under Sodexo management. Here, it will trial the technology with one of its biggest markets — eco-conscious, younger diners.
Additionally, Sodexo will also play a role in getting the necessary approvals and permits in place for the Robot Chef's initial activities.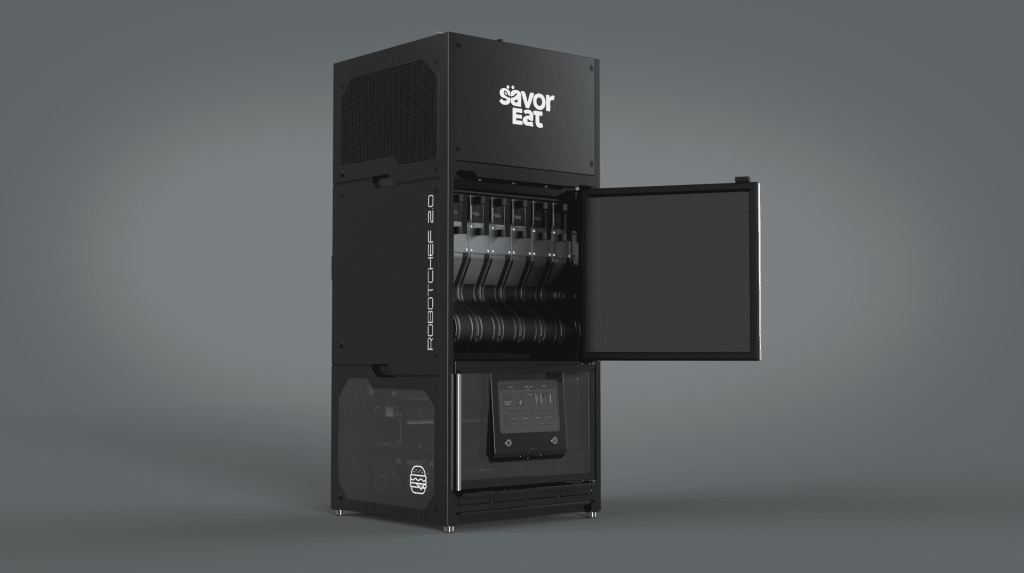 "By partnering with a legacy company like Sodexo, which encourages innovation and is at the forefront of adopting food tech to serve students worldwide, SavorEat is able to extend its reach and bring our Robot Chef to the U.S. market," said Racheli Vizman, CEO and Co-Founder of SavorEat.
"We are excited to share the deliciousness of food that tastes like real meat (without any animal-based ingredients), with the tens of thousands of students on these campuses. We're proud to partner with Sodexo, and could not ask for a better partner with which to mark our U.S. debut."
Technology Serving a Larger Goal
With the SavorEat Robot Chef delivering on-demand, plant-based alternatives to traditional meat-based meals, the venture naturally goes beyond food delivery and customization.
Ultimately, SavorEat is also addressing issues around sustainability. And this goes beyond the obvious climate advantages that plant-based meals have over meat-based alternatives.
As the Robot Chef allows for on-demand preparation from long-lived base ingredients, it ultimately ensures that only the required amount of plant-based meat is produced, thus reducing waste. This results in drastically reduced food waste by eliminating the disposal of perishables, benefiting both restaurant and cafeteria profitability, and the environment.
Finding a SavorEat Robot Chef — Where to Taste the Future
For those keen to try out the SavorEat experience, the initial rollout will unfortunately be relatively limited.
SavorEat will deliver the first Robot Chef units this Fall semester to the University of Denver, followed by the University of Colorado at Denver in January 2024. Specifically, the University of Denver will house the SavorEat platform at the Rebecca Chopp Grand Central Market, while the University of Colorado will introduce it at its Eat Food Market.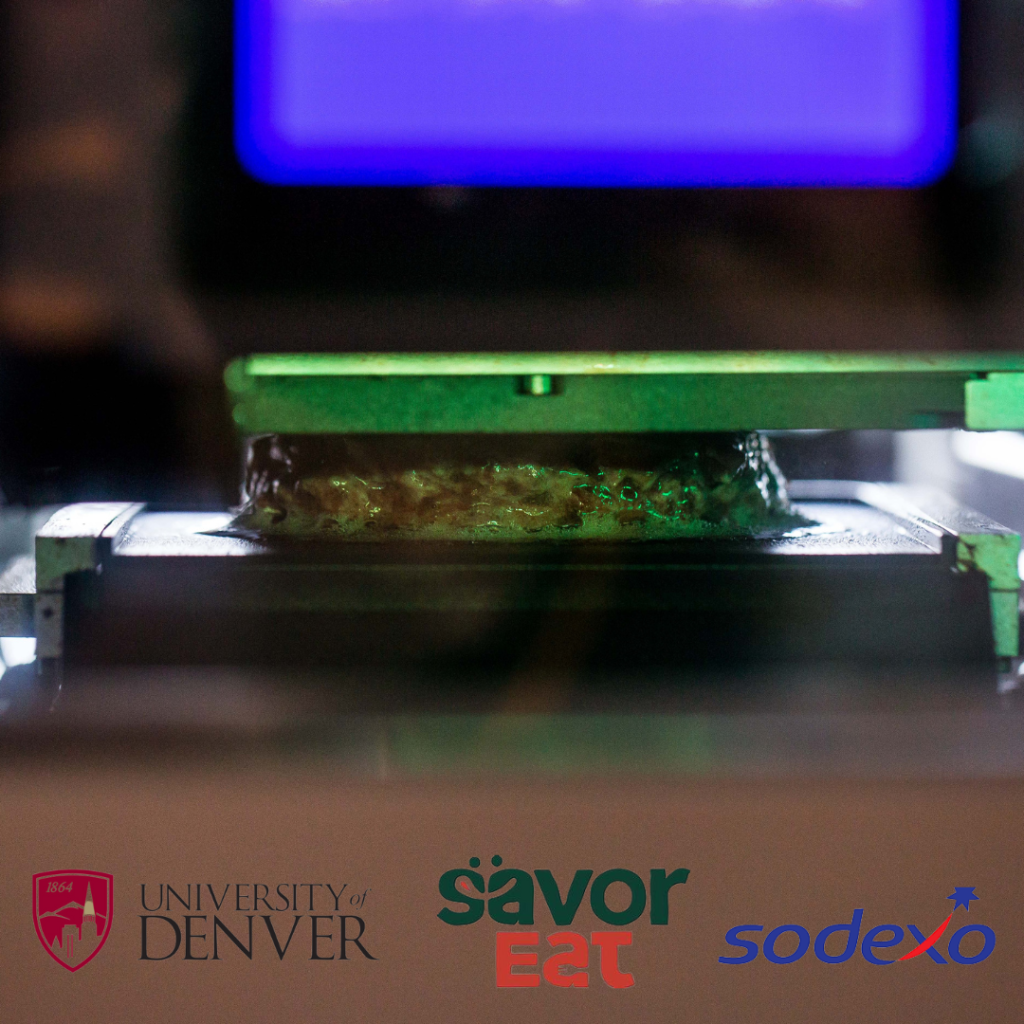 However, SavorEat has big plans — plans that align perfectly with Sodexo's vision for the future of dining, too. That means, beginning next year, things could soon scale rapidly.
Moses DeBord, Senior Vice President for Sodexo Campus, said, "We are thrilled to be partnering with a company making waves in the Plant-Based and Food Service Robotics industry. SavorEat's unique mission to bring customizable plant-based solutions perfectly fits our vision to bring a happy and healthy eating experience to college campuses."
SavorEat is also actively looking to partner with other food service companies.
It has also opened up the opportunity for restaurants to try a demo out for themselves.
Learn More About SavorEat
Today, diners are increasingly conscious about what they consume and how it impacts the environment. This makes the SavorEat plant-based Robot Chef precisely the sort of innovation the food industry needs.
Not to mention the fact it can offer restaurants and cafeterias massive cost benefits due to reduced waste.
And let's not forget the initial novelty the SavorEat Robot Chef will offer diners. 100% custom plant-based meat alternatives have never been seen, giving any restaurant deploying this technology a massive point of differentiation.
To learn more about the plant-based Robot Chef concept and explore SavorEat further, visit SavorEat's website for a more in-depth view of their mission and technology.
__
(Featured image courtesy of SavorEat)
DISCLAIMER: This article was written by a third party contributor and does not reflect the opinion of Born2Invest, its management, staff or its associates. Please review our disclaimer for more information.
This article may include forward-looking statements. These forward-looking statements generally are identified by the words "believe," "project," "estimate," "become," "plan," "will," and similar expressions. These forward-looking statements involve known and unknown risks as well as uncertainties, including those discussed in the following cautionary statements and elsewhere in this article and on this site. Although the Company may believe that its expectations are based on reasonable assumptions, the actual results that the Company may achieve may differ materially from any forward-looking statements, which reflect the opinions of the management of the Company only as of the date hereof. Additionally, please make sure to read these important disclosures.