Resigned or not: The real status of Zimbabwe President Robert Mugabe
Former vice president Emmerson Mnangagwa is set to take over as interim president if Robert Mugabe resigns.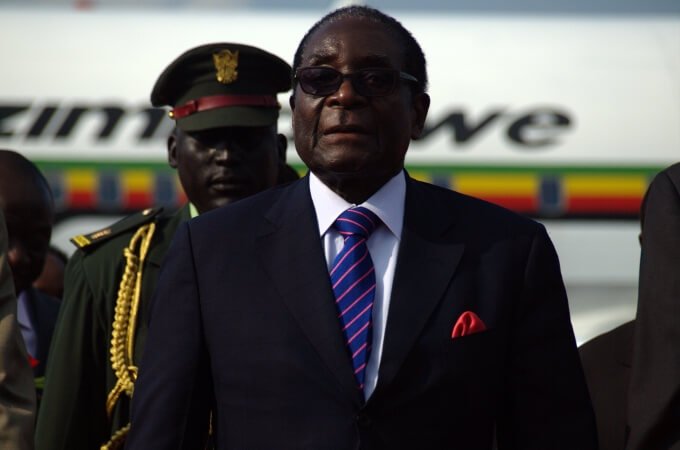 Zimbabwe President Robert Mugabe is the man of the moment. Reports surfaced he is ready to step down from his post after almost four decades while others claim he remains adamant about leaving. What is the real score about his resignation?
President Robert Mugabe ignored calls of stepping down and even dared his party to impeach him. He was given a deadline to either step down voluntarily or risk getting impeached. The ruling ZANU-PF party agreed to oust Mugabe as their head and hand-picked former Vice President Emmerson Mnangagwa to take over. When Mugabe faced the media that night, everyone thought he was going to say goodbye for good. Instead, he talked about healing the division in Zimbabwe. There was no mention of stepping down.
If Mugabe refuses to leave, Zimbabwe will have no other choice but opt for a military takeover. The 93-year-old leader called for a cabinet meeting including the army chief Constantin Chiwenga who says that the embattled president is in talks with ex-vice president Emmerson Mnangagwa. An impeachment was prepared for Mugabe because his party believes that the leader is a "source of instability." Rival party Movement for Democratic Change (MDC) insists the change was a long time coming.
"I have long felt he should have been impeached for what he has done of the last decades and for how he has violated the constitution," says MDC Secretary David Coltart. Zimbabwe had only known Mugabe as their leader since 1980 and for others, it is time for a change.
ZANU-PF also ousted the first lady, Grace Mugabe, because she was poised to replace her husband as the leader of the country. According to BBC News, one of the reasons for the impeachment case is that Mugabe allowed his wife "to usurp constitutional power." Both the ex-vice president and the first lady are seen as potential successors to Mugabe. However, what triggered the military intervention was the sudden firing of Emmerson Mnangagwa last week, which was a step in the direction of Grace Mugabe's endorsement as the next ruler of Zimbabwe.
The country's constitution allows impeachment case based on "serious misconduct", "violation" of the constitution or "failure to obey, uphold or defend" it, or "incapacity." Critics claim Mugabe let her wife insult civil servants, the vice president, and the military despite having no legal position in the government. Those accusations, plus Mugabe's advanced age, triggered the calls for a voluntary exit.
Due to the immense pressure, it looks like Mugabe finally gave in. Bloomberg reports that Mugabe has finally agreed to step down his post he had for almost forty years. Upon this news, thousands of people gathered in the streets of Harare and Bulawayo to celebrate. "This is the end of the line for Mugabe," adds EXX Africa's executive director of political risk advisory Robert Besseling.
It remains to be seen if interim president Mnangagwa can make immediate changes in the country after being ruled for so long by Mugabe. Mnangagwa is 75 years old, a lot younger than his predecessor, but he will face extreme challenges of turning things around especially Zimbabwe's sagging economy where unemployment is high and exodus is rampant.
Mnangagwa might not be the savior everyone has hoped for but what he represents for is a crucial change. And sometimes, that is enough for a country badly needing a fresh start.
(Featured image by Al Jazeera English via Flickr. CC BY-SA 2.0)