Three Ways VR and AR Will Revolutionize Your Meetings
While Virtual Reality and Augmented Reality have been thrilling gamers for years now, it is only in recent times that their potential in business has been getting serious attention. One in-demand use case that has emerged out of the pandemic is for business meetings. Here we take a look at three examples of how, and briefly discuss how businesses can implement the technology for themselves.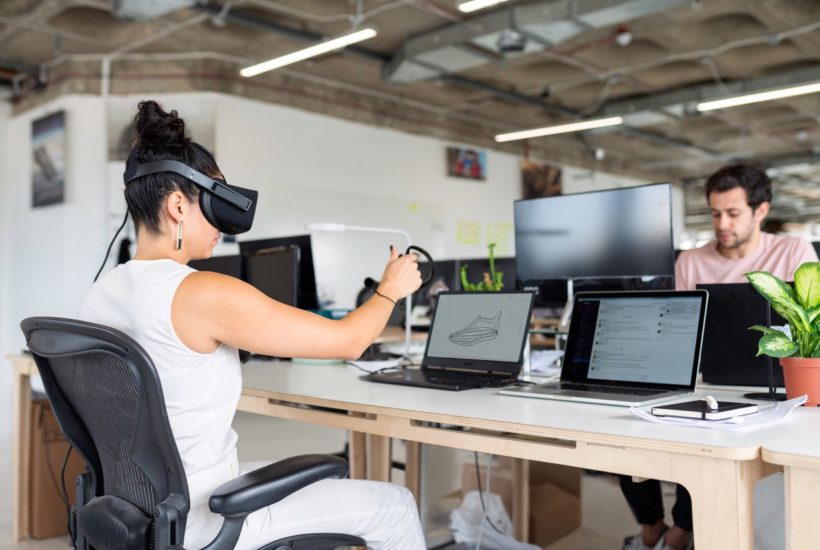 Virtual Reality (VR) and Augmented Reality (AR) already have a solid reputation for delivering immersive gaming experiences. From Pokémon GO to Beat Saber, these almost-real digital worlds have been delighting gamers for a number of years now.
Now, as the technology matures, everyone, from the military to businesses, is getting in on it. Each day we're seeing new use cases invented for it, further proving the immense transformative power that AR and VR can have in all areas of our lives.
Some businesses are already starting to incorporate these emerging use cases into their daily operations. From training to quality control, they are finding it delivers reduced costs and increased productivity, ultimately leading to more efficient and profitable businesses.
Today we will take a look at three ways businesses can take advantage of AR and VR today to deliver more engaging and productive meetings, whether remote or in-person.
1. Bridging the Gap Between Remote and In-Person
Businesses have been using teleconferencing for a long time now, finding it makes an adequate replacement for in-person attendance when travel just isn't feasible. It could be for weekly meetings between remote branches, or for quickly bringing someone in when flying in would take too long.
As the benefits largely outweighed the negatives, we were largely happy with the solutions on offer, accepting that the disconnect of a 2D head and shoulders on a screen was a reasonable compromise.
Then the pandemic changed this. As we were all forced into fully remote meetings, we realized the huge productivity gap that opened up between remote and what we could achieve when we could get together in-person. Suddenly, those 15-minute meetings around a whiteboard turned into hour-long sessions, eating up ever larger parts of our days.
But VR technology, in particular, is bridging this gap, with a number of solutions coming onto the market in recent times. These emerging Zoom-killers are allowing us to virtually meet as though we were in person. We can interact with virtual objects in real-time, sit as though we were face-to-face, and even gather around a virtual whiteboard.
2. Speed Up Design Meetings
Not every business needs to work with 3D models and designs. However, for those that do, virtual reality and augmented reality have the potential to change the game when it comes time to get together and discuss a design proposal.
The most immediate benefit comes to businesses operating in verticals like the automotive industry—industries where 2D representations are usually unsatisfactory, but 3D mock-ups are time-consuming and expensive to produce.
Here, VR can step up to the plate and deliver realistic interactive mock-ups of everything from an engine part right up to a full car. All at no additional cost over what's already been incurred during the design and drafting process.
But the advantages extend much further than this.
For example, designers no longer need to select what they believe to be the best solution to have mocked-up. Instead, they can easily present multiple iterations of their design—again, at no additional cost. It's even possible to make a modicum of alterations real-time in the meeting, reducing the time spent debating, for example, if a particular curvature would make something look disproportionate—after all, seeing is believing.
3. Augmenting Information With Augmented Reality
One of the biggest bottlenecks in meetings comes when information is difficult to communicate. This can be the case when, for example, a business is dealing with a multi-dimensional problem involving complex data.
This was one of the killer use cases for AR that Tim Cook, Apple CEO, pointed to during his New York Times interview.
The example he gave at the time was the idea of augmenting conversations. He expressed that, if he and the reporter interviewing him could, for example, bring up all sorts of charts and data in real-time, that it could contribute to improving their conversation. Of course, if a use case applies to a conversation between two people, it can also apply to a meeting of multiple people.
This use case becomes even more powerful when remote attendees become involved in the meeting, as it enables them to also interact with the data in real-time, and have everyone see the same thing at the same time.
Aren't VR and AR Complex to Implement?
While many businesses are aware that immersive technology can deliver immense benefits, a major point of friction has been the high barriers to entry. Often, adopting AR and VR might have meant engaging developers to design and build custom applications.
Fortunately, that is not the case anymore, with many off-the-shelf applications already coming onto the market. Many are also delivered via the popular SaaS model, allowing businesses to start testing the waters without the risk of large upfront cost commitments.
For more custom use cases, there are other solutions available as well, with one of the most compelling coming from XRApplied (CSE: XRA)—an XR company specializing in delivering VR and AR solutions built from a proprietary set of building blocks. This technique allows them to deliver custom applications at rapid rates and drastically reduced costs over traditional development.
—
(Featured image by ThisIsEngineering via Pexels)
DISCLAIMER: This article was written by a third party contributor and does not reflect the opinion of Born2Invest, its management, staff or its associates. Please review our disclaimer for more information.
This article may include forward-looking statements. These forward-looking statements generally are identified by the words "believe," "project," "estimate," "become," "plan," "will," and similar expressions. These forward-looking statements involve known and unknown risks as well as uncertainties, including those discussed in the following cautionary statements and elsewhere in this article and on this site. Although the Company may believe that its expectations are based on reasonable assumptions, the actual results that the Company may achieve may differ materially from any forward-looking statements, which reflect the opinions of the management of the Company only as of the date hereof. Additionally, please make sure to read these important disclosures.