Values-based leadership: Tips from working with 3 US presidents
James Comey served under three different administrations and held a leadership position as U.S. Deputy Attorney General and Director of the FBI.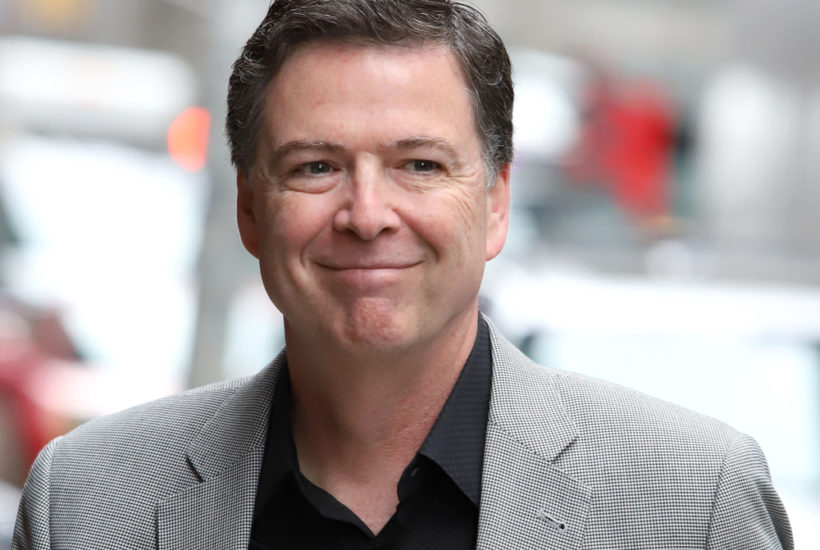 I'm a registered Democrat who wants James Comey to be President of the United States. I know this wish will never come true because he's too smart to get himself into that kind of mess, but here's to hoping.
Yes, I'm fully aware the Democratic party holds Comey accountable for Hillary Clinton's defeat in the 2016 Election, but after hearing him speak in a Distinguished Speakers Series in Los Angeles, I have new faith in the political system and our potential to reassemble our shattered bipartisan dichotomy. That's right—what you're hearing is hope; hope in a time of sheer hopeless chaos. James Comey did that.
Comey's keynote, followed by an unbridled moderated questioning, focuses on a question that was prevalent for him throughout his time working with D.C.'s most important figures: what makes a good leader? He served under three different administrations (Bush Jr., Obama, and Trump) and held a leadership position as U.S. Deputy Attorney General and Director of the FBI. His biggest take away—political party does not matter when it comes to leadership. The only thing that matters is an allegiance to the truth and our values.
As a newer nation, our people are not bound together through a common culture or heritage. Instead, our glue is a constitution that holds our truths: truths we deeply identify with and, as Americans, view as part of our core identity.
In Comey's line of work, bad leadership practices can mean a loss of faith of the American people in their government, unnecessary war and even a total collapse of our political system. Most of us don't have these pressures when making decisions, but we can all learn from the lessons of our country's leaders.
Confidence and humility
Comey believes that confidence and humility go hand in hand because you cannot show humility and be vulnerable without confidence in yourself and your abilities. He believes the best way to get a sense of someone's confidence is to pay attention to who speaks during important moments.
When he led FBI debriefings and needed intel on China he waited to see how the reporting team member handled the situation. Did the head of his team regurgitate information from his lower ranking China Specialist or did he bring in the China Specialist so he or she was given a chance to shine? People who are truly confident don't need the recognition and they are aware of what they don't know. They are excited about a chance to uplift others and take pride in creating a team that compliments each other.
Within the three administrations, he noticed how each president used him as a resource…or in some cases, didn't. Both Bush and Obama practiced active listening when Comey spoke on his area of expertise. Not only does this show their confidence in him and their own ability to delegate, but it also shows Comey they valued him. However, Comey recalls having to interrupt President Trump to add anything to the conversation because Trump never stopped speaking to listen.
Earned respect
Leaders cannot demand respect from their followers; it is always earned. This was something Comey knew all along but never realized until it was demanded. At the beginning of Trump's presidency, Comey was invited to a private dinner with the President where Trump asked him if he could count on his loyalty as the Director of the FBI. Shortly after, Comey impressed at that dinner that there is a separation of power for a reason, one that the people hold incredibly valuable since the Watergate Scandal. Trump fired Comey and ended the traditional 10-year appointment.
He also learned quickly a strong leader will find ways to break down the hierarchy to make everyone she or he works with comfortable. This links back to having the confidence to show vulnerability. Comey exemplifies this in the way the presidents interacted with him. Every time Comey had a meeting with Bush or Obama, they sat side by side in the comfy chairs you see in movies by the fireplace, but when it came to meeting with Trump he was always sitting behind his desk. As Director of the FBI, Comey was often breaking bad or unpleasant news to the President, so creating a comfortable environment for these discussions made all the difference in his openness.
As a leader, every encounter with your team shapes your relationship. You earn their respect and trust through how you treat them. Every interaction, no matter how small, makes an impression.
Allegiance to truth
In a time of severe division through the country, Comey seemed to piss everyone off. The Democrats blamed him for Clinton's loss in the 2016 election and the Republicans felt he was targeting Trump with FBI investigations. This is because Comey (who was registered Republican until 2016 but who is now Independent) doesn't have an allegiance to a party; instead, his goal is to uphold the truth.
When he was put in the incredibly difficult situation of reopening the investigation on Clinton right before the election or hiding the facts from the public and waiting, it didn't seem like much of a choice. Regardless of how he felt about the election, he knew that hiding information from the public would ruin the institution of the FBI by betraying the public's trust. In Comey's talk, he says even after being fired by the man who beat Clinton in the election he stands by his decision and hopes someday someone can prove it was not his decision that turned the election.
Every leader will have to make a tough decision at some point in their career. Not everybody will be happy with the outcome. That's what makes it so difficult. But as long as you base your decision off upholding truth and transparency you will be able to hang onto your team's respect.
(Featured image by JStone via Shutterstock)
—
DISCLAIMER: This article expresses my own ideas and opinions. Any information I have shared are from sources that I believe to be reliable and accurate. I did not receive any financial compensation for writing this post, nor do I own any shares in any company I've mentioned. I encourage any reader to do their own diligent research first before making any investment decisions.