Christmas wonder bolstered by Augmented Reality for all: XRApplied's dream
Christmas is the season to indulge the childlike wonder at the marvels of the world, and XRApplied knows that Augmented Reality is the perfect tool to make that sense of wonder come to life. From Christmas cards brought to life to fan-made Harry Potter experiences, the season is bringing AR into many homes. However, if you want it in your business, options are limited or expensive: but not for long.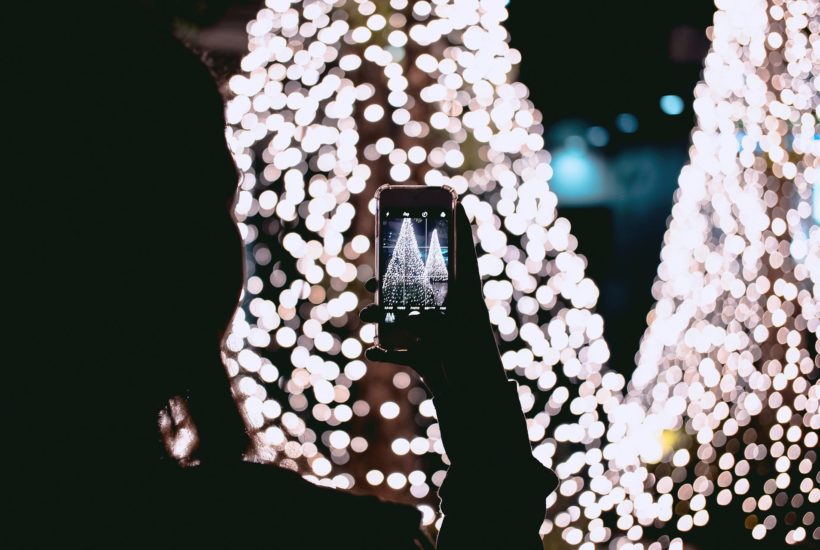 Is there an emotion better suited to the Christmas season than wonder? Captured perfectly in a child surprised by gifts arriving mysteriously to their tree or stocking; it can also be found in adults marveling over peaceful family gatherings, or shared by all in song and spirit. While it is firmly anchored in traditions, the season embraces new ones each year, particular if they can help bring that sense of wonder to life. This is what XRApplied reminds us Augmented Reality has the potential to do. 
Christmas wonder and Augmented Reality
Why do we love snow so much on Christmas morning? Because it transforms the world. We recognize the shapes and objects outside, but they look different. Enhanced. It awakens in each of us that sense of wonder so key to the holiday season. But not everyone has the fortune to be blessed with a white Christmas, but there are other tools, like Augmented Reality which can nurture that same sense of awe at a changed, but recognized world. 
Augmented Reality (AR), for any who have not yet been let in on the secret, is the term for technology which digitally enhances the world around us, usually through a cell phone app or pair of science fiction goggles. Companies like Apple, Google or XRApplied bring everyday objects and moments to life by adding new layers of discovery, education, or entertainment to our reality.

Like a blanket of fresh snow in the morning, these technological marvels are perfectly suited for adding a sense of wonder to our day. And what day could be more important to foster that feeling of joy at rediscovering our world than Christmas? Perhaps that is why so many have already been bringing the technology to homes and events around the globe for the holiday season.
Augmented Reality is already decking the holiday with wonder
We are hardly the first to have noticed the obvious connection between Christmas and the potential of AR technologies. AR and VR (Virtual Reality offers a very different type of wonder) presents may already be waiting under Christmas trees for the technologically inclined, from new headsets to AR enhanced bottles of wine. But some have taken the tech to the next level and applied it directly to the holiday and the sense of wonder it should bring.
One creative youth has used the technology to bring the Marauder's Map from the world of Harry Potter to life. The (in)famous tool of magical mischief used by the boy wizard on more than one Christmas holiday in Hogwarts is now a reality in the muggle world, thanks to AR tech. And while the map will bring wonder to the eyes of any child or harry potter fan, it is hardly the kind of gift one can easily give this season. 
Another clever, more marketable, AR project can be found bringing Christmas cards to life. As a way of attracting customers and attention they have unveiled the ability for ordinary people to enhance their holiday greetings cards with Augmented Reality. A little slice of wonder for your home this season, and a perfect example of why Augmented Reality is aptly suited for Christmas!

Yet these technologies are like the snow on Christmas morning in another way, they do not keep their wonder long. And smaller companies may find themselves struggling to unlock their potential. Yet, like the man trying to shovel his driveway after a snowplow has passed, these Small and Medium Enterprises (SMEs) are likely to find themselves at a steep disadvantage against the big corporations which can afford the wondrous new tools. Enter XRApplied, a small start up determined to bring AR, and VR, to SMEs everywhere. Ho ho ho. 
XRApplied has the Christmas spirit: AR for everyone!
This small startup has quite the Christmas tale: based out of Germany, incubated in France, and now exciting investors on the Canadian Securities Exchange. The team's international story is born out of a desire to put the tools of Augmented and Virtual Reality technologies into the hands of SMEs. In other words, they want to help others share that Christmas wonder, especially those who might not be able to afford to develop their own projects from scratch. 
AR and VR are expensive — many wondrous things are — and are attracting a great deal of attention and investment. This is in part due to the shortage of developers and the dominance of large tech companies. But it is also because everyone is trying to hold on to all the tech they design. XRApplied has a different idea. With holiday style spirit, they have set about creating an SDK (Software Development Kit) that enables them to quickly launch and use assets in AR and VR across multiple platforms and systems. Truly, for everyone. 
While XRApplied are always looking for companies to partner with to show off its capabilities, they have also developed a couple of apps in their spare time which could come in handy this Christmas. Their AR flooring app could be a great way to offer your loved one the home redecorating they have always wanted! Let them look at their old and tired floors through new eyes of Augmented Reality. Watch the wonder bloom in their eyes as they make flooring choices without ever leaving the comfort of their (hopefully) snow covered home. 
—
(Featured image by ktphotography via Pixabay)
DISCLAIMER: This article was written by a third party contributor and does not reflect the opinion of Born2Invest, its management, staff or its associates. Please review our disclaimer for more information.
This article may include forward-looking statements. These forward-looking statements generally are identified by the words "believe," "project," "estimate," "become," "plan," "will," and similar expressions. These forward-looking statements involve known and unknown risks as well as uncertainties, including those discussed in the following cautionary statements and elsewhere in this article and on this site. Although the Company may believe that its expectations are based on reasonable assumptions, the actual results that the Company may achieve may differ materially from any forward-looking statements, which reflect the opinions of the management of the Company only as of the date hereof. Additionally, please make sure to read these important disclosures.