Blue Origin makes successful liftoff, landing of New Shepard rocket
Blue Origin also aims to reuse rockets for a more affordable space travel.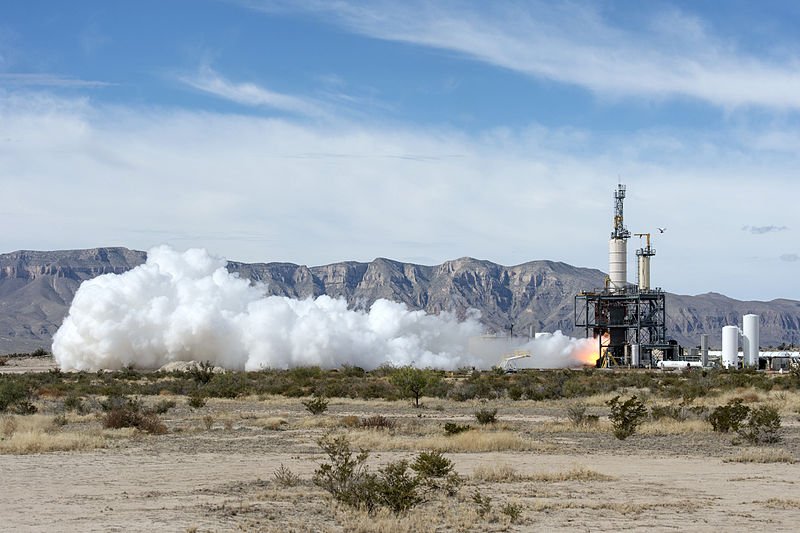 American aerospace company Blue Origin recently saw success with its last test flight of the New Shepard, a fully reusable launch system. The rocket took off on Sunday, April 29 from Blue Origin's launch site located in West Texas at 1:06 p.m. EDT.
Newsweek reported that New Shepard reached an altitude of 347,485 feet before making a smooth landing. What makes the test flight notable is not just the rocket's successful lift-off and landing but also its news of surpassing its usual target of 62 miles or 100 kilometers in an area known as the Kármán line, a boundary between Earth's atmosphere and outer space.
Paving the way for Blue Origin's future?
The launch of New Shepard marks the eighth test flight for the Jeff Bezos-founded company, which aims to reuse its fly systems. According to Business Insider, reusable rockets have become the trend for space exploration companies like that of Elon Musk's SpaceX as sending things into outer space is an expensive process. Both Musk and Bezos reason that reusing rockets will significantly cut down costs, making space travel and exploration a lot easier.
The New Shepard marks great progress for Blue Origin, and it will eventually pave the way for the company's New Glenn rocket, which is expected to make its debut flight in 2020. The rocket is named after astronaut John Glenn, the first American who orbited the earth.
In an Inverse report, Bezos said that the total expenses for the construction of the New Glenn rocket is $2.5 billion. The Amazon owner and founder said that the key to making spaceflight accessible to many was to bring costs down. In addition to this, the New Glenn already has some customers waiting patiently in line, and in 2021 or 2022, Blue Origin will help Eutelsat Communications in putting a geostationary satellite into orbit. It also has contracts with companies like OneWeb and mu Space corporation, which is located in Thailand.
Commercial space flights soon a reality?
Apart from helping companies to deliver satellites to space, another function of these test flights is to bring space tourism closer to the public. In a webcast, Ariane Cornell from the Blue Origin Strategy and Business Development team said that space tourists will be flown 100 kilometers above the Earth's surface so that they can get to experience four minutes of weightlessness in an 11-minute flight and see the curvature of Earth, per Space.com.
In this new era of the space race, it isn't just Bezos and Musk who are envisioning the growth of space travel. Richard Branson's Virgin Galactic is another company aiming for commercial space flights in the near future. An estimate in 2012 revealed that space tourism has the potential to become a $1.6 billion industry in the next decade with a clientele made up of wealthy adventurers. Securing a seat aboard the Branson's SpaceShipTwo, which would take travelers to sub-orbital space, is expected to cost $250,000.
Other companies vying for a spot in the new space race
While the likes of Blue Origins, SpaceX, and Virgin Galactic are popular names, there are other companies working on rockets that will shake up the tough competition in the new race for space. According to Business Insider, some of these companies are:
United Launch Alliance
Established in 2005 by Boeing and Lockheed Martin, United Launch Alliance aims to launch the biggest payloads into space using the Delta IV Heavy launcher, which costs $350 million per launch. The company is working on a new launcher touted as the Vulcan, which packs more power and is also reusable.
ArianeGroup
A low-cost competition to SpaceX is ArianeGroup's subsidiary, Arianespace. The company is currently developing the Ariane 6 which is reported to carry twice as much payload compared to the Falcon 9 rocket and is slated for launch in 2020. Via Satellite recently reported that the company said a nozzle of its P120 solid rocket motor will be fitted into the body of a booster that will have its first firing test this summer. The nozzle is said to help the company in accomplishing the goals of its Vega C and Ariane 6 programs by optimizing costs and having shorter production cycle thanks to a simplified design.
Stratolaunch Systems
Founded by Microsoft co-founder Paul Allen in 2011, Stratolaunch Systems created the world's largest aircraft by fusing two 747-400 jet airplanes into one that has a 385-foot wingspan. It is reported to "tow a launcher to high altitude, drop it," and send it off to space and can lift objects that weigh up to 500,000 pounds. This summer, Stratolaunch Systems is slated to conduct the maiden flight of its aircraft, SpaceNews reported. The company has so far performed two taxi tests at California's Mojave Air and Space Port, and more taxi tests are planned.