CEO Spotlight: LVMH's Bernard Arnault
Bernard Arnault is the undisputed king of luxury brands with his leadership of LVMH Moët Hennessy Louis Vuitton.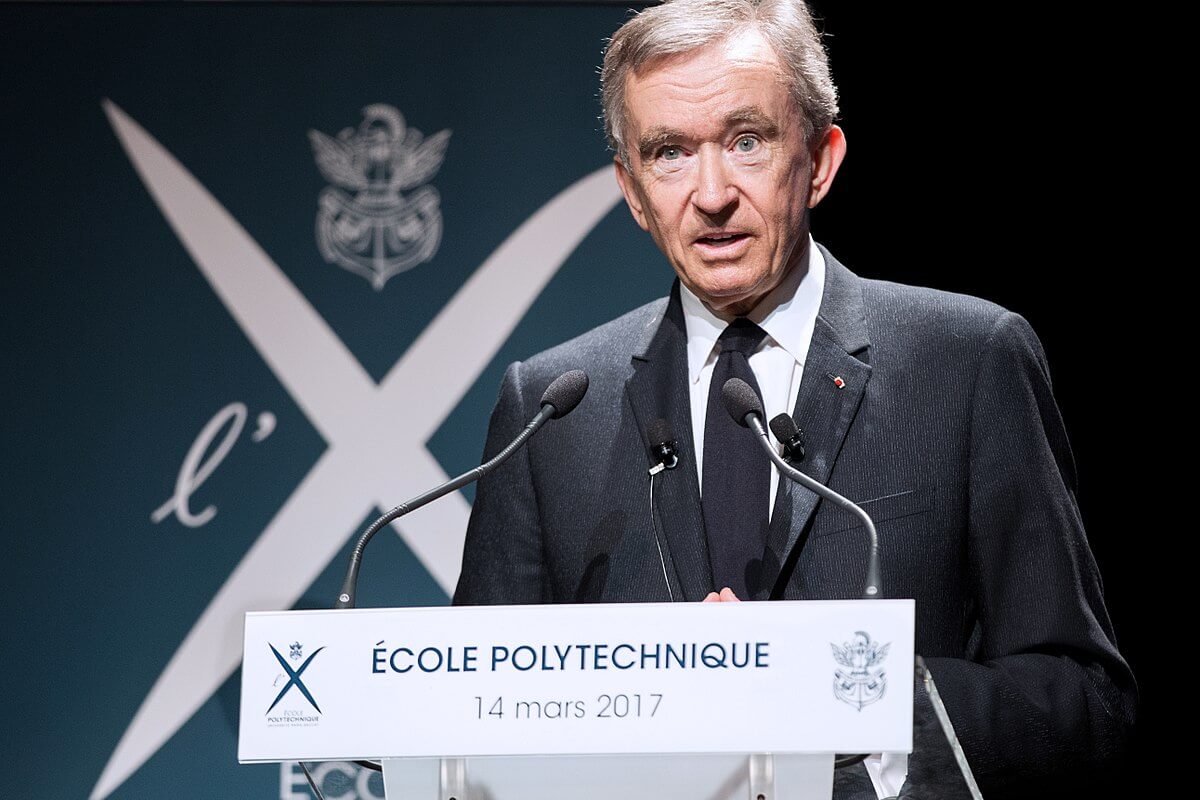 Bernard Jean Étienne Arnault is the CEO and Chairman of LVMH Moët Hennessy Louis Vuitton Company since 1990. Part of his tasks is to oversee luxury brands such as Dom Perignon, Bulgari, Louis Vuitton, Sephora, De Beers, Bulgari and Tag Heuer.
Brief background
Arnault was born in Roubaix, France on March 5, 1949. His father owned an engineering company. Years later, he took over the family's construction and property business firm called Ferret-Savinel. He finished high school at Maxence Van Der Meersch in Roubaix and earned his engineering degree in École Polytechnique in 1971.
His estimated net worth is $73.6 billion. Considered the wealthiest man in France, Arnault is ranked 11th on the Forbes' list of billionaires in 2017 and he placed 66th on the list of most powerful people in 2015.
He has married twice and has five children in total, two from the first marriage with Anne Dewavrin and three from his second wife, pianist Helene Mercier. Two of his children named Delphine and Antoine are now helping him run his luxury goods empire.
Passion for the arts and career
Arnault is also a renowned art collector and his collection includes a Claude Monet, Mark Rothko, Picasso, Yves Klein, Henry Moore, Andy Warhol and Bernard Buffet. He is credited with building the Louis Vuitton museum in Paris' Bois de Boulogne. The $135 million worth facility was designed by Frank Gehry and opened in public in 2014.
After taking over the family business, he convinced his father to sell the company and transform it into a real estate firm. The company's name also changed to Ferinel, which specialized in constructing holiday accommodations.
In 1984, he collaborated with the senior partner of Lazard Frères et Cie Antoine Bernheim to acquire Financière Agache. After the deal was signed, Arnault managed a textile company called Boussac which owned Christian Dior and the department store Le Bon Marché. He later sold Boussac but retained Christian Dior brand and Le Bon Marché department store.
He also serves as the President of the Board of Directors of Groupe Arnault S.E., a holding company owned by his family.
Leadership at LVMH
Arnault has control over half of LVMH which has over 3,900 retail stores and spans over 70 luxurious brands which feature Christian Dior, Dom Perignon, Bulgari, Louis Vuitton, Celine, Fendi, and Sephora. In 2016, LVMH posted revenues of $41.6 billion. He also entered the yacht business after acquiring Princess Yachts for €253 million and Royal van Lent.
He has expanded his empire and made investments in Netflix, Blue Capital, and Carrefour. As well as in Boo.com, Libertysurf, and Zebank. The company also acquired Givenchy, Guerlain, Marc Jacobs, Sephora, Emilio Pucci, Fendi, Loro Piana, Nicholas Kirkwood, Thomas Pink, R.M Williams, EDUN, Moynat and Donna Karen. Arnault, however, has failed to buy Hermes. It is safe to say that majority of luxury brands today are under LVMH and under the leadership of Arnault.
With such a huge success, Arnault says he is not done yet and will not rest on his laurels. "What I love is to win. What I love is being number one. But yes, today I still feel passionate about taking on brands like Dior, and mixing those world famous roots with modernity," he explains. In fact, when he took over Louis Vuitton, he managed to grow its revenue ten times despite the company already enjoying relevancy at that time.
He has worked with Marc Jacobs, Alexander McQueen and John Galliano which earned him the nickname, "The Pope of Fashion" from Women's Wear Daily.
Tax issues
The billionaire was allegedly involved in tax evasion case before. This was initially thought as the reason why he once sought to become a citizen of Belgium. To clear the issue, he dropped applying for Belgian citizenship altogether. "I explained several times that I would remain a resident of France and that I would continue to pay my taxes there. In vain – the message did not get through," a part of his statement reads.
Philanthropic works
LVMH has been supporting various organizations in the past such as Save the Children, the Foundation for Hospitals in Paris and Princess Grace of Monaco Foundation.
Awards and achievements
In 2007, he received the Commmandeur of the Légion d'Honneur. Four years later, he was a recipient of the Grand Officer of the Légion d'Honneur and the Woodrow Wilson Award for Global Corporate Citizenship. In 2012, he was given the Knight Commander of the Most Excellent Order of the British Empire and two years later, he was the recipient of The Museum of Modern Art's David Rockefeller Award.
(Featured image by Jérémy Barande via Wikimedia Commons. CC BY-SA 2.0)