CEO Spotlight: Expedia and Uber's Dara Khosrowshahi
Uber has finally found someone to replace Travis Kalanick, naming Dara Khosrowshahi as its new CEO.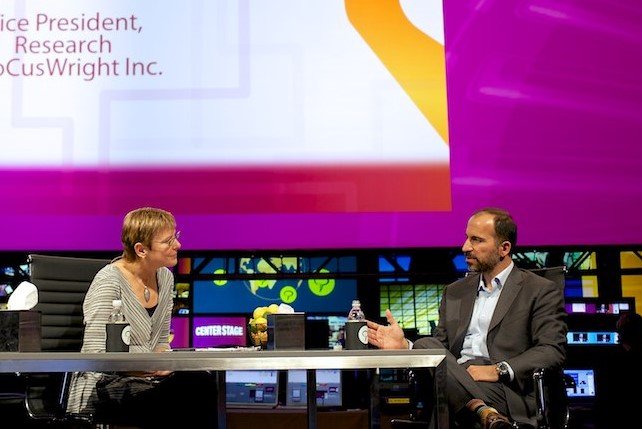 After an extensive search, Uber has finally found its new CEO to replace Travis Kalanick. The company has chosen Iranian-American entrepreneur Dara Khosrowshahi as Kalanick's successor in the position. Khosrowshahi accepted the startup's offer on August 29.
The two other choices, current Hewlett Packard Enterprise President and CEO Meg Whitman and previous GE CEO Jeff Immelt, bowed out in July and August, respectively.
But before Uber picked him, Khosrowshahi is not the most well-known CEO compared to Microsoft's Satya Nadella and Apple's Tim Cook. Who is he before the transportation startup found him? What was he doing?
Who is Dara Khosrowshahi?
According to Entrepreneur, he was born in Iran. During the Iranian Revolution, he and his family immigrated to the United States. He lived with his mother and two brothers in New York while his father was kept in custody by Iranian officials.
Khosrowshahi finished his degree in electrical engineering at Brown University in 1991. He first started working for an investment company named Allan & Co., where he worked as an analyst. Then in 1998, he became an executive for USA Networks, and when IAC purchased USA Networks, he was selected to be IAC's CFO. His role in IAC further led him to Expedia when the former acquired the latter in 2003. Two years after the acquisition, he then became Expedia's CEO.
Uber controversies
Before Khosrowshahi's appointment, Uber has had an incredibly tumultuous year as controversies plagued the company, leading to Kalanick's resignation last June. The company's rough patch began when former Uber engineer Susan Fowler posted a blog entry about her leaving the company and accusing it of sexual harassment. Departures of Uber's executives then followed along with a video of Kalanick arguing with an Uber driver and the U.S. Department of Justice's investigation of the company, among others.
Entering Uber
Now that Khosrowshahi is about to enter Uber, he has a lot of things to take on as its new CEO. The firm's culture is a mess, and he is about to reconstruct it from the ground up, Reuters reported. Khosrowshahi told Uber employees in their first meeting that the company needs to stand firm and take huge risks. He also stated that there is a chance that the company may have an initial public offering in 18 to 36 months.
In the same meeting, Khosrowshahi ended his introductory speech with three things that Uber employees must know about him. First, he stated that he will be completely transparent and honest with them. Second, he will fight with his new employees. Lastly, his indication of Uber's success is when everybody has contributed something for the company's achievement in his or her own way.
Perfect for the job
A Wall Street analyst named Mark Mahaney stated that Khosrowshahi is the perfect replacement for Kalanick. He has been watching Khosrowshahi's progress in Expedia, and Mahaney stated that Khosrowshahi's capabilities of operating an international company with a collaborative relationship with his strong board directors and negotiating with the government in terms of regulation will benefit Uber.
These skills of Khosrowshahi will come into play when he will work on changing Uber's culture and unifying its board. The board right now is divided into two sides because of a lawsuit between Kalanick and Benchmark: those who support the former CEO and those who back the venture capital firm.
What's next for Expedia?
With Khosrowshahi leaving, Expedia has selected Mark Okerstrom to be its CEO, per TechCrunch. Okerstrom joined Expedia in 2006 as the senior vice president of corporate development. He then became its chief financial officer since 2011. Okerstrom's new role is a challenging one since his predecessor has lifted Expedia to new heights with its stocks skyrocketing during Khosrowshahi's term.
Aside from being chosen as the new CEO, Okerstrom will also become a member of Expedia's board of directors. Meanwhile, Khosrowshahi will remain as a board member of the company.
(Featured image by George Grinsted via Flickr. CC BY-SA 2.0)