Paul Pierce retirement: Is he the most successful Celtic ever?
Paul Pierce played the most memorable years in Boston. Is his jersey retirement a testament that he is the greatest Celtic ever to wear the white and green jersey?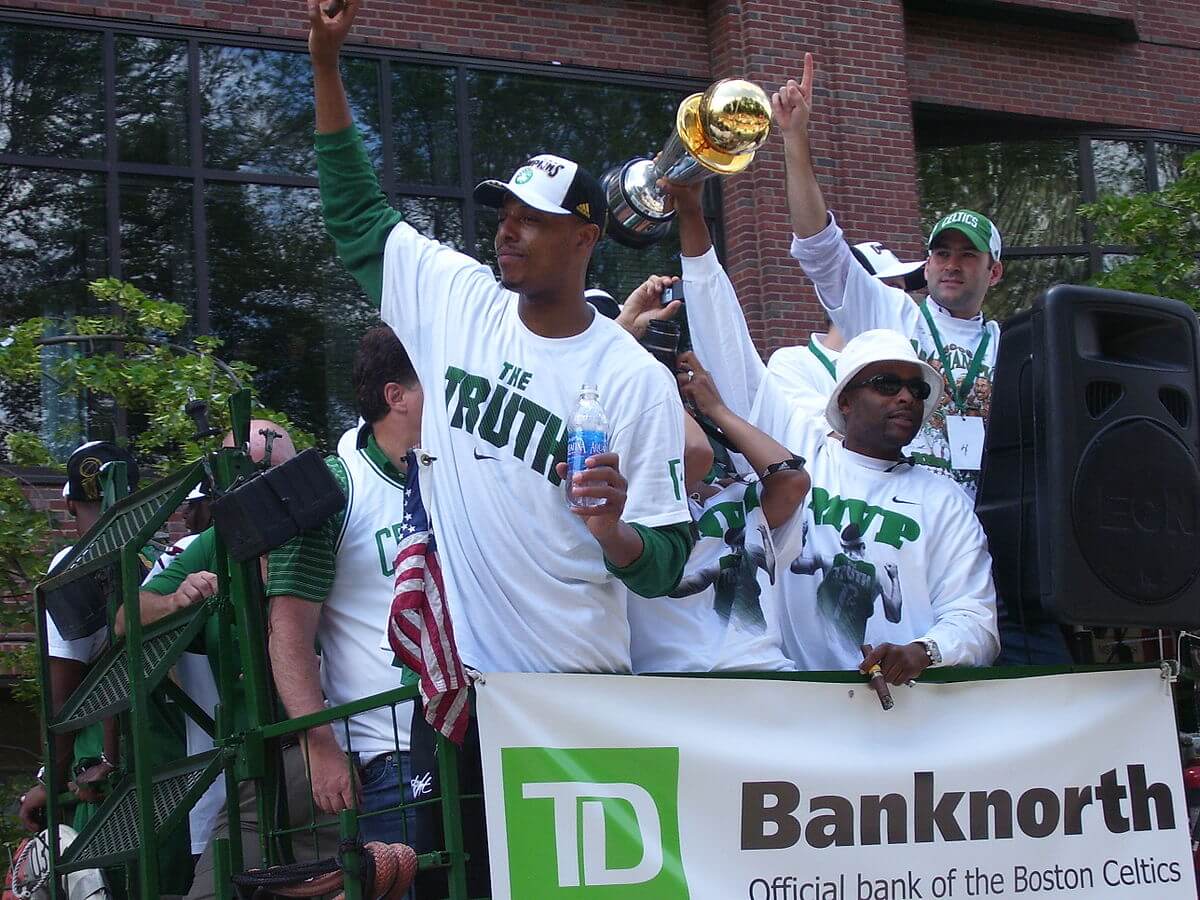 From now on, no other player wearing a Boston Celtics uniform is allowed to don the number 34 as the organization retired the number in honor of former Celtic legend Paul Pierce. With his achievements wearing the Celtic's trademark green and white jerseys, is he the most successful Celtic of all time?
Nicknamed "The Truth," Pierce played in Boston almost all his career. He was drafted as the 10th overall pick in 1998 and played for the Celtics for 15 seasons before getting shipped to the New Jersey Nets in 2013. Pierce was again traded to the Washington Wizards in 2014 and also suited up for the Los Angeles Clippers for the last two seasons of his career. Overall, his career spanned almost two decades, and although he got traded to multiple teams, he spent the most memorable years of his career as a Boston Celtic.
Pierce joins other Celtics legends who also retired their jerseys such as Dennis Johnson, Larry Bird, Kevin McHale, Reggie Lewis, Robert Parish and Cedric Maxwell. The celebration of his retirement was held after Boston's game against the retooled Cleveland Cavaliers, which the Celtics lost 121-99. Former teammates Kevin Garnett, Rajon Rondo, Leon Powe, James Posey and Brian Scalabrine were in attendance as well as former coach Doc Rivers.
With the outpour of tributes from Magic Johnson and rival Kobe Bryant, Pierce became emotional. He also treasured the moment with his family and young kids who are still young enough to appreciate the career that their dad had. "My daughter was born April of the year we won it, my first daughter, so they didn't really get a chance. For them just to see their dad and how appreciated he was in the city and to be able to leave a legacy to be able to come back years down the line and say, 'That's my dad. My dad's number is up there.' That means a lot to me," he added.
Unknown to the younger basketball fans, Paul Pierce almost did not make it after surviving a stabbing incident at a nightclub, which resulted in 11 wounds to his face, neck and back in September 2000. He underwent surgery and survived the ordeal. In the next season, Pierce was able to play in all of 82 games.
Even though he did not play all his years in Boston, the franchise still gave him a tribute. With this feat, is Pierce considered the most successful Celtics ever? In his 19 seasons, Pierce had been to postseason 14 times, 10 of them while suiting up for Boston. For his career, he accumulated a hall of fame worthy averages of 19.7 points, 5.6 rebounds, 3.5 assists, 1.3 steals and 0.6 blocks. His numbers were almost the same during the postseason, a testament to his consistency with playoff averages such as 18.7 points, 5.8 rebounds, 3.4 assists, 1.2 steals and 0.6 blocks.
Among his career highlights are winning the NBA championship in the 2007-2008 season with the Boston Celtics, getting voted for the All-Star game 10 times and being awarded the finals MVP the year they won the title.
In terms of commercial success, Pierce's net worth is allegedly at $70 million as of January 2018. He may not have been as sensational as LeBron James, Kobe Bryant or Allen Iverson in terms of jersey sales or signature shoes, but he managed to play for long as a respected colleague who can be depended upon when the situation calls for it. In 2013, he was number 82 in the Forbes' list of Highest Paid Athletes in the World.
With these achievements, Pierce may still not be the most successful Celtic ever. That honor can go to Bill Russell. Other Celtics fans can also mention the likes of Larry Bird, John Havlicek and Kevin McHale.
In terms of titles won, Russell bagged 11 titles in his time with the Boston Celtics, which spanned from 1956 to 1969. He was also awarded MVP five times in his career and a 12-time All-Star while wearing the white and green. His career averages were 15 points, 22.5 rebounds, and four assists per game. Although his numbers pale in comparison with Paul Pierce, it's hard to argue who is the most successful Boston Celtic ever with the player who owns the record of having the most NBA rings ever.
(Featured image by Harmonfunk via Wikimedia Commons. CC BY 3.0)