These travel products will ensure a great adventure ahead
From high-quality luggage to earbuds that give your hearing a boost, make traveling a breeze with these tried-and-tested travel items.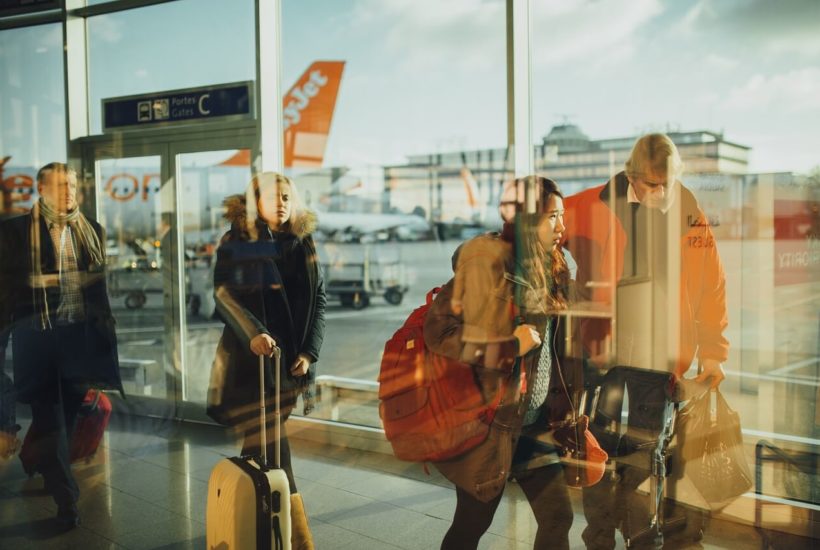 It's a fresh New Year and the perfect time to refresh our travel routines, courtesy of innovations in the consumer goods sector. With this in mind, here are some tried-and-true travel enhancers and problem solvers that'll help ensure a great year of adventure ahead.
Eagle Creek Luggage
Travel-lovers will surely adore Eagle Creek, including its Weekend Warrior Gear Kit that's perfect for quick weekenders. This bag will refuse to let you overpack while ensuring you're organized and efficient. With it, you can bolt through the airport thanks to this Tarmac Carry-On's oversized wheels, and easily lift it into overhead airplane bins courtesy of sturdy handles.
Use the Add-a-Bag feature to affix a Cube or a daypack to the exterior for extra bags you may come home with. Parse your laundry with the included Pack-It Specter Clean Dirty Cube. And, keep dressier items wrinkle-free with the Pack-It Specter Garment Folder Medium. Other Pack-It compartments are included to organize toiletries, shoes and small accessories.
For bigger jaunts, the Eagle Creek ORV Trunk 36 is a stellar option. It's a durable, lightweight, dependable and efficient design ideal for every adventure. With wet and dry compartments, multi-point handles, a cargo net for internal compression or outside gear attachment, Puncture-resistant lockable zippers, central lock point security, oversized treaded wheels, padded laptop sleeves and more, this luggage seemingly has it all.
Zumer Sport Ball Material-Made Gifts
For the sport-lover in your life, Zumer Sport is a fabulous gift option—or get for yourself! The company creates a wide array of lifestyle products out of actual sport ball materials—actual baseball, basketball, football, softball, tennis, and soccer supplies. They feature an array of travel-friendly items like backpacks, wallets, bottle openers and more. While other companies may create similar "sports" items, Zumer says it's the only company that makes its products with true, authentic sports ball material, not a look-alike. So Zumer's products don't just look like the real deal; they are the real deal!
The company makes over 200 different products. I'm particularly fond of their basketball line, which includes the patented Zumer Sport Basketball Material Duffel Bag created from, you guessed it, actual basketball material. It's durable, puncture resistant and virtually spill proof. It's perfect for guys or girls of any age, in any environment. The bag includes multiple pockets and a separate shoe compartment. Any NBA or NCAA hoops fan will love this, or their other options, like lanyards, eyeglass cases, and business card holders. The luggage tags (also available in soccer and other ball materials) are an eye-catching and conversation-starting way to easily identify your suitcase or bag while traveling.
NasalGuard Airborne Particle Blocker
Stop the sniffles all year through! You can prevent the cold and flu often contracted while traveling, and indoor and outdoor allergies, with NasalGuard. With a mild electrostatic charge, this topical gel reduces inhalation of particles as small as rhinovirus, pet dander or pollen, along with many other airborne pollutants, contaminants and allergens. The electrostatic technology creates an invisible filter around the outside of your nasal passages.
A pin-sized couple of drops of NasalGuard restricts thousands of fine and ultrafine particles from entering your system for up to six hours by either attracting the particles to stick to the gel rather than being inhaled or by repelling the particles away from your nose in the first place. Plus, it is drug-free and lasts up to 150 applications. As the leader in particle-blocking electrostatic technology, NasalGuard has sold over 12 million units worldwide. It's a great way to avoid airborne illness.
Kami Home Camera
Want peace of mind while you're traveling? Check out Kami, which offers an economical and complete AI-featured home security system. Mount the camera on a surface or on the ceiling, and it'll give you more control over what you want to see in your room. In fact, its 360-degree rotation gives you an entire room's view from one location. There are also sophisticated algorithms that allow for smarter alerts. With AI-based detection of humans, pets and abnormal sound, you only get alerted when it actually matters. You can also turn on privacy mode to temporarily disable the camera.
Eyelid design makes it easy to know when you're being recorded. Kami Home relies on Microsoft Azure to protect your data with the same level of security and privacy that protects millions of businesses around the world. It surpasses the highest U.S. and European data privacy requirements. There's also a Kami Home App for iOS and Android which lets you check-in anytime, from anywhere. Access Kami Cloud, live view, adjust privacy settings, communicate over two-way audio and much more.
Nuheara IQbuds BOOST
Those with mild hearing loss should definitely check out Nuheara's IQbuds BOOST earbuds. Because only one out of six Americans hear perfectly under any conditions — such as a crowded restaurant, a concert or the movies, among others — these IQbuds can help enhance your hearing experience no matter where you are. With a sleek design and Bluetooth compatibility, IQbuds BOOST delivers smart, personalized hearing. It includes Ear ID, a clinical grade hearing assessment that automatically calibrates the earbuds to your unique hearing profile.
They also feature audio transparency to bring the sound directly in front of you into sharper focus; an intelligent audiometric system that learns how you hear and automatically adjusts the IQbuds to your hearing prescription; super Intelligent Noise Control to balance between world noise and speech; 20 hours of on-the-go Bluetooth streaming and so much more. They're perfect for people who could use a little help with their hearing, but either don't want or aren't ready for, a traditional hearing aid. They cost thousands less than a traditional hearing aid and deliver "20/20 hearing" (20Hz-20Khz) without the need to visit an audiologist. IQbuds BOOST will transform the way you hear and connect to your world.
MotoAngels Capsule Garment Collection
For the stylish gal or guy in your life who wants to moto with some additional flare, check out MotoChic's MotoAngels Capsule Collection. The line is composed of a unisex hoodie suitable for women or men, as well as an array of ladies mix-and-match tops all made from antimicrobial fabric helping style-seekers on-the-move look good and stay fresh, day or night.
As a women's lifestyle brand, the MotoAngels Capsule Collection is activewear meets loungewear line with boast-worthy fabrics. It's super-soft and treated with an antimicrobial agent that mechanically destroys 99.9 percent of germs, including odor-causing bacteria, fungi, and mold. Plus, there are magnificent white angel wings on the back of the white tee shirts that glow-in-the-dark. So don't settle for fashion wear that's less than what you or your own angel deserves.
BambuLife Socks
Perfect for work, play or leisure, BambuLife socks deliver a trifecta of quality material, comfortable fit, and unique style. They are two times softer than cotton and are naturally antimicrobial. They feature arch grip support and a cushioned sole for maximum comfort. BambuLife's Low Cut socks have non-slip tabs to keep them in place, and their No-Show socks have an anti-slip silicone grip on the heel so they stay put.
The No-Show socks also have size indicators on the toe to make sorting easier than ever. Plus, the socks' fabrics naturally resist typical trapping odors because they are made of viscose rayon derived from bamboo, which regenerates naturally and grows without the use of harsh chemicals or pesticides that can cause skin irritations.
Unlike cotton, bamboo needs no fertilizers to boost its growth since bamboo is naturally pest-resistant. Once harvested, bamboo can replenish itself within a single year. You'll even stay a few degrees cooler in warm temperatures, and warmer in the colder climates thanks to the product's moisture-wicking properties.
GoodJanes "Flirty Girl" Lashes / 'Kiss My Lash' Mirror
GoodJanes luxury "Flirty Girl" false eyelashes will have you covered to look gorgeous while you jet set. These 100 percent cruelty-free mink fur falsies (collected from natural shedding) give surplus length, without unnaturally extreme thickness. They blend seamlessly with your natural lashes for a subtle pop. The lashes are stored in clear, protective trays and, with proper care, each lash can be reused up to 25 times.
The company also carries a wide assortment of silk eyelash options. You can even pair "Flirty Girl" falsies with the Kiss My Lash mirror for effortless lash application. This novel triangulated mirror lets you to see your upper lash line from both above and below at the same time. The patented design provides the truest line of sight to get your falsies flush against the lash line on the first try! The mirror can be held in your hand, placed on a flat surface or attached to the magnetic, hands-free Kiss My Lash Stand.
n:p beautiful Hair Dryer
Surely everybody struggles to maintain the perfect hairdo while traveling, right? When out and about, we all want to ensure we have lovely locks. For me, the struggle is all too real. But the good news is there are modern tools that'll help you nail your desired look. Among these is the n:p beautiful hair dryer. Sexy and sleek, this highly portable tourmaline blow dryer makes every day styling a breeze. It's lightweight, has a high-wind performance motor, a protective tourmaline-coated grill that dries hair super-fast, a cool-shot button to seal your look in place and an extra-long cord for effortless styling.
This professional hair styling tool is also ergonomically designed, allowing for flexible handling and styling. It has a long-lasting, high-quality engine that produces a concentrated airflow flushing through the nozzle for fast drying. The unit actually includes two double-injected durable nozzles for long-term use. Its powerful AC motor proffers a faster, highly efficient blowout. Perfect for all hair types, it's a great way to get a smooth, high-shine finish.
Cake in a Jar
New York's "Caked Up Café" started from humble beginnings and has quickly grown into a world-renowned, celebrity-loved bakery focused on creating tasty treats using nothing but all-natural ingredients. The company's travel-friendly, single-serve "Cakes in a Jar" are particularly perfect to pack and bring wherever you go for a delectable treat wherever, whenever. Pick either the 4-ounce or 8-ounce sizes that can be shipped anywhere in the country.
There are a variety of flavors to choose from as well, such as Brownie Sundae, Cannoli, Cheesecake, Chocolate Chocolate, Churro, Cinnamon Bun, Cinnamon Streusel, Cookie Dough, Dulce De Leche Cheesecake, French Toast, Hostess, Maple Bacon, Milky Way, Mint Chocolate Chip, Mocha Latte, Nutella Hazelnut, Oreo and Red Velvet. Caked Up has reportedly made custom cakes for celebrities such as NBA All-Star Kevin Durant, NFL Pro-Bowler Odell Beckham Jr., Rihanna and many more. The A-List-approved company sees each of their creations as more than just a mouth-watering treat for your taste buds; they see it as a work of art.
—
DISCLAIMER: This article expresses my own ideas and opinions. Any information I have shared are from sources that I believe to be reliable and accurate. I did not receive any financial compensation for writing this post, nor do I own any shares in any company I've mentioned. I encourage any reader to do their own diligent research first before making any investment decisions.