Going remote with Uniqorn and the Startup Supercup
The COVID-19 pandemic has drawn a lot of attention to remote working, even though it was an established trend well before the pandemic struck. But beyond the work-from-home movement, there is another more significant trend—the shift away from the city—which is now seeing tech startups, incubators, and accelerators, like Uniqorn and the Startup Supercup establishing themselves in rural locations.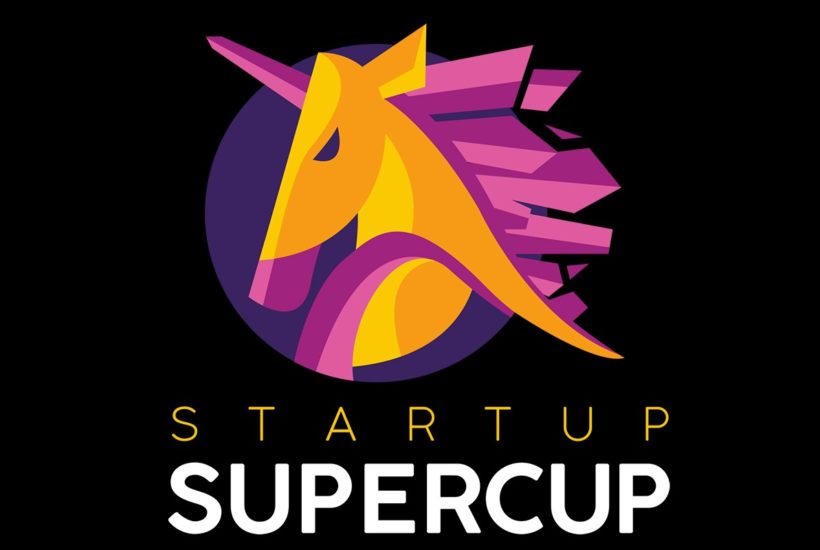 The desire to flee the city for greener pastures (or saltier waters…) is nothing new. It was a trend that began decades ago—long before TechCrunch reading, startup founders caught wind of it—with retirees who wanted to quit the hustle and bustle of city life for a more tranquil lifestyle. But, despite the durability of this trend, it had never caught on with working-age populations who were bound to the city due to lack of professional work opportunities further afield. But changing attitudes, Covid-19, and intrepid organizations are breaking down those barriers. Now, the likes of French rural incubator/accelerator Uniqorn are not only showing a shift to rural locations is possible, but they're also even hosting an international tech event in rural France next year: the Startup Supercup.
The Startup Supercup will bring together approximately 1000 investors and startup founders from around the world in an event sharing many similarities with traditionally city-based events like TechCrunch Disrupt. And while basing such an event—and even more so, an entire incubator/accelerator—in a rural area only a few years ago would have been unimaginable, times change. Technological advances and changing attitudes have been driving us in this direction for some years now; changes that COVID-19 has only accelerated.
COVID-19 thrust remote working into the spotlight, but it didn't initiate it
While COVID-19 has made working from home a necessity for many, it should be seen as the catalyst for the acceleration of this trend, not the cause. In fact, according to EU data, 5.4% of all people in the EU-27 were employed from home on a full-time basis in 2019. If accounting for those who also worked from home on an occasional basis, that figure goes up to 9%. And that is out of the total workforce. There are many industries that do not lend themselves well to telework, like the food service industry among others.
If we drill down deeper into the figures, it should come as no surprise that some sectors are skewed far more heavily than others towards remote working. The most prominent among them—perhaps, unsurprisingly, IT and communications—already had more than 40% of its workforce engaged in remote work in 2018.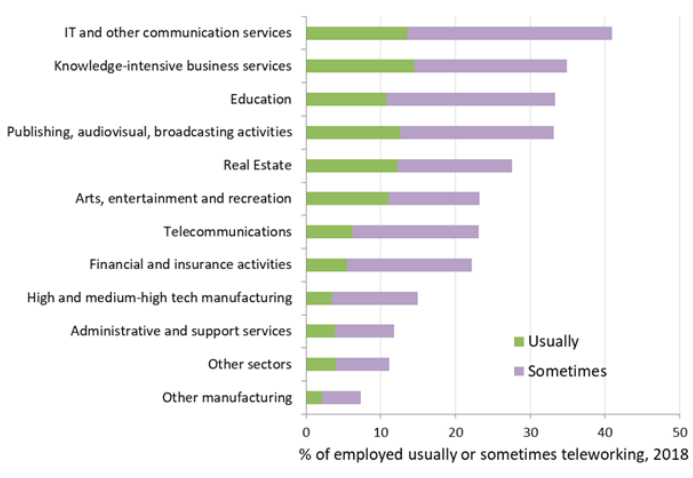 And with other sectors like education and "Knowledge-intensive business services" (sectors like legal, accounting, architecture, market research, etc.) not too far behind, it is clear that we were already somewhat primed for the remote working revolution, COVID-19 or not. All that has changed is the pace at which it is happening.
But physical presence is still desired, even amongst cutting-edge tech firms
Despite the tech industry's predisposition to remote working arrangements, COVID-19 did little to push it further in this direction. In fact, Giants like Facebook have been seen snapping up Manhattan office space throughout the pandemic at a pace that matches the rapid expansion of its workforce. And while some of this big-city expansion may be driven by the opportunity presented by declining rents creating a tenant-friendly environment, there is more to it than bargain-hunting.
For now, many companies still see the value in physical presence. According to Nicholas Bloom, professor of economics at Stanford and co-director of the productivity, innovation and entrepreneurship program at the National Bureau of Economic Research, full-time work from home arrangements are suboptimal. He said, "It's hard to remain motivated or innovative sitting in your living room. That sounds more like being a gig worker."
In breaking down this summary to its fundamental assertion, we find the one critical component working-from-home arrangements lack: human interaction. Without it, workers can begin to feel more isolated—less like a part of a team, and more like an external contractor—which can drop engagement and motivation levels. There are also the small things that are hugely beneficial—particularly in innovation-driven companies—like being able to bounce ideas back and forth between coworkers and receive immediate feedback. No one wants to schedule yet another Zoom meeting just to have a five-minute chat they could normally have had spontaneously with a coworker.
The original remote-working vision
The origin of the idea of telecommuting was first articulated in a book by former NASA engineer, Jack Nilles: The Telecommunications-Transportation Tradeoff. Curiously enough, the research for this work was born out of another crisis: the 1973 oil crisis, which only further compounded the growing problems that mass urbanization and the 1970 Clean Air Act were causing for America's car-centric culture.
Nilles's original vision saw companies moving to the workers, rather than workers moving to the companies. Specifically, this meant companies would set up smaller, remote satellite offices, rather than having large, centralized locations. But the idea never really caught on. The technical challenges that distance present, along with ingrained attitudes and cultures meant workplaces largely carried on as they always had.
The difficulties of going remote
While there are certainly examples of many companies with geographically dispersed locations (the tech giants who've been busily acquiring Manhattan office space are just a few examples) this has still been within the large, centralized location model. It has had more to do with desiring a presence in large business centers than it has had to do with 'going remote.'
And, for a long time, this has also been out of necessity. The idea of remote satellite offices depends on communications technologies more than it does on anything else. This has meant that without access to the essentials, like high-speed internet, truly remote locations were just a pipe-dream.
But that is not the case anymore. With many countries now in the process of rolling out fiber-optic networks at a nationwide level, distance is becoming less of a problem. Now, even media-heavy companies working in video and other data-intensive fields are able to operate in locations that were, only years ago, serviced by nothing more than degraded copper wires supplying basic ADSL internet access.
So why is Facebook doubling down on Manhattan office space?
Enterprises at the scale of Facebook face additional problems beyond communications technology—they're weighed down by their sheer size. With 4000 employees already crammed into their Manhattan office spaces, decentralizing would mean splintering off into dozens of different offices. And, besides the administrative burden that operating so many locations would bring, restructuring a large company in such a radical way is not something that's easily done.
But, away from the spotlight that the large enterprises like Facebook and its other FAANG counterparts attract, there are smaller operations who are beginning to benefit from their ability to move towards remote locations. Enabled by technology, and driven by shifting attitudes and the desire to escape the hustle and bustle of city life, some intrepid companies are now setting up shop in previously unthought of locations.
Uniqorn lands in Sarlat-la-Canéda
One such enterprise is the incubator/accelerator Uniqorn, founded by serial entrepreneur Dominique Einhorn in the small French town of Sarlat-la-Canéda. But, despite the attractive lifestyle and lower rents that the town had to offer, it is only the recent rollout of high-speed fiber optic cables in the region that has enabled such an endeavor.
But with optimal internet connectivity, this historic and storied location transforms into the ideal location for agile and fast-moving startups to establish themselves. Now, with the addition of a support network and the access to investors and funding that Uniqorn provides, founders and early-stage employees can benefit from the small-town lifestyle—more green space, next-to-nothing commute times and, of particular importance to startups who are still burning through cash reserves, much lower rents—all without the drawbacks such a move once entailed.
Inaugural Startup Supercup to show rural – tech compatibility
If setting up an incubator/accelerator in a remote location wasn't already enough, Uniqorn will be hosting the Startup Supercup in October next year. The event, which will play host to approximately one thousand high-profile investors and startup founders from around the globe, promises to show that going remote is a real option for enterprises wanting to get ahead of the pack.
With the Startup Supercup event and Uniqorn now attracting innovators in fields like AI and machine learning, extended reality, fintech, gaming, and SaaS to the deeply traditional French town, a big departure from previous ways of thinking is underway. So while we might not see much more of a transition to the stay-at-home style of remote working that COVID-19 has thrust upon us, we're already beginning to see a seismic shift towards remote locations.
__
(Featured image courtesy of Startup Supercup)
DISCLAIMER: This article was written by a third party contributor and does not reflect the opinion of Born2Invest, its management, staff or its associates. Please review our disclaimer for more information.
This article may include forward-looking statements. These forward-looking statements generally are identified by the words "believe," "project," "estimate," "become," "plan," "will," and similar expressions. These forward-looking statements involve known and unknown risks as well as uncertainties, including those discussed in the following cautionary statements and elsewhere in this article and on this site. Although the Company may believe that its expectations are based on reasonable assumptions, the actual results that the Company may achieve may differ materially from any forward-looking statements, which reflect the opinions of the management of the Company only as of the date hereof. Additionally, please make sure to read these important disclosures.