5 growing career tracks with high demand for workers
These five career and employment fields continue to have a strong need for workers.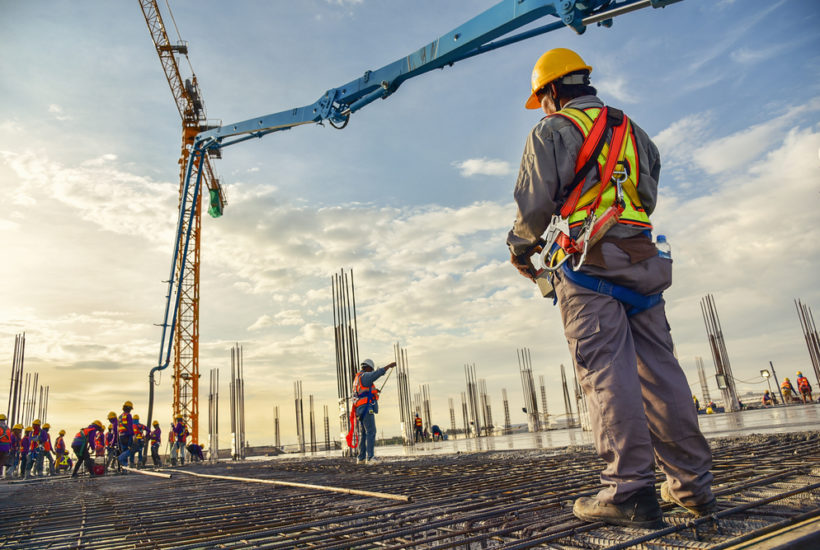 Choosing a college major or a trade school program is a big decision for students. It defines the rest of their lives, and there's no guarantee there will be work in that field once someone gets a diploma. To make that decision a little bit easier, here are five of the top growing career tracks that will continue to have a high demand for workers in the coming years.
1. Construction laborers
If people enjoy working with their hands and derive great satisfaction from a job well done, a career in construction might be a fantastic choice. According to the Bureau of Labor Statistics, the construction industry will likely grow by up to 12 percent between now and 2026. This growth isn't the only reason the construction industry is continually looking for new workers — it is facing a massive labor shortage.
When the recession hit in 2008, construction companies across the country lost more than 600,000 jobs. While the economy has recovered since then and unemployment is at an all-time low, many people have moved into other careers rather than returning to construction.
Getting into the construction industry isn't difficult, especially in an entry-level position. Most of these jobs only require a high school diploma, but workers may be able to progress further with a four-year degree that specializes in engineering, architecture or other related fields. Apprenticeship programs are also an option for specific careers like carpentry, electrical installation and repair, or plumbing to help people get their foot in the door and learn the skills needed to succeed.
2. Medicine
A doctorate is not required to be successful in the field of medicine or to take advantage of this industry's exponential growth. The healthcare industry as a whole created 346,000 new jobs in 2018 alone. The entire medical sector will continue to grow up to 18 percent through 2026 — much faster than other occupations.
Entering into the medical field requires extensive schooling, with a minimum of a master's degree in a related discipline, as well as certifications and multiple hours of practical hands-on experience. If someone chooses to go into medicine, they should focus on science and mathematics while in high school, and select a college with a comprehensive medical program to put them on the right path.
3. Heavy equipment technicians
Field technicians for heavy equipment are in short supply, leading to increased demand for these skilled workers. Fewer young graduates are entering technical fields, which is leading to a labor shortage that makes it harder to keep these vital pieces of equipment running. Caterpillar alone estimates it needed to hire 45,000 more field technicians between 2014 and 2019 — and that's just one company in a vast and varied industry.
A fancy degree or experience is not needed to become a field service technician. It's easy to enter the industry just out of high school with on-the-job training, making more than $35,000 a year. Experienced workers can easily earn more than three times that, averaging a salary of over $100,000 annually. If someone works well independently, loves problem-solving and doesn't mind getting their hands dirty, becoming a field repair technician for a heavy equipment company could be a lucrative option to consider.
4. Financial sector careers
The financial sector is multiplying, and that means there are more job openings than ever before. According to the Bureau of Labor Statistics, careers in the business and finance sector are projected to grow by 10 percent between 2016 and 2026. As of May 2018, the average annual wage for employees in this sector is $68,350.
Finance-related careers usually require an undergraduate degree in an applicable discipline, so a four-year college should be the first option before seeking employment or starting a business. Many finance specialists work for themselves, so this is an excellent option for people who prefer to be their own boss but want to make enough money to thrive. Those who like working with numbers or are good at math should consider a career in the financial sector.
5. Truckers
Construction isn't the only industry that's facing a massive labor shortage due to the 2008 recession. Right now, the industry needs drivers. To bring in new workers, trucking companies are increasing pay, improving benefits and making their workplaces more inclusive and amenable to those seeking a healthy work/life balance. In the past year, the transportation and trucking industry has already increased employment rates by 2.5 percent.
Breaking into the trucking industry requires a two-year program at a vocational school and passing a test to receive a CDL — commercial driver's license. These programs will teach people how to drive large tractor-trailers and other similar equipment safely. A CDL can be applied to other industries as well — it's required to operate much of the heavy equipment on construction and mining sites.
Choosing your path
A four-year degree in business or something similar won't guarantee a job upon graduation, but hopping on one of these five career tracks almost certainly will. It's good to consider one of these options when choosing a major, whether someone is waiting to graduate from high school or needs a change. These five industries will continue to grow exponentially over the next few decades, and new openings are appearing all the time.
(Featured image by Bannafarsai_Stock via Shutterstock)
—
DISCLAIMER: This article expresses my own ideas and opinions. Any information I have shared are from sources that I believe to be reliable and accurate. I did not receive any financial compensation for writing this post, nor do I own any shares in any company I've mentioned. I encourage any reader to do their own diligent research first before making any investment decisions.