Is Augmented Reality (AR) the Best Thing to Happen to Education? Yes, it is!
Augmented Reality has arrived with much fanfare, particularly in the educational market. However, prior experience has shown that technology doesn't always improve learning, prompting researchers to ask difficult questions of AR. Their results have been more than just promising, with early evidence showing that AR's potential to enhance learning is beyond anything we've had to date.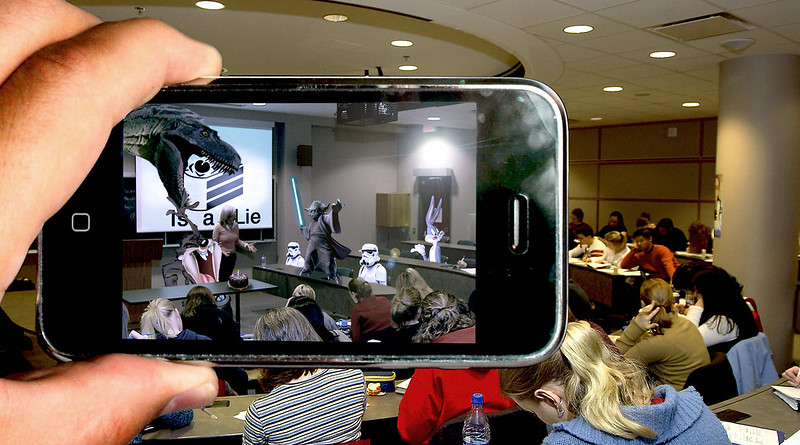 For several generations now, technology has played an important role in education. Widespread penetration first began with relatively basic personal computers operated from the command line back in the late 70s, and has only progressed both in sophistication and adoption since. Now we're at a point where just about every student carries a device in their pocket that's 1000 times faster than a Cray-1 mainframe computer from that era.
Much like the hardware technology that has evolved alongside it, the software used by students has progressed rapidly, too. The first entry of computers into the classroom saw students using them for little more than doing textbook exercises through drill and practice programs. However, before too long, students were doing all sorts of things, from surfing the internet to making their own animations.
These days, the latest technological revolution of Augmented Reality (AR) promises to bring a whole new range of learning possibilities. With the ability to seamlessly merge our surrounding environment with the digital in real-time, it is now possible to move beyond humble clicking on a screen experience. This opens up the possibilities of interacting with objects using a full range of movement as if they were really there.
Is AR in Education Just Using Tech for Tech's Sake?
For all the heraldry that AR brings with it, however, tough questions about its ultimate utility do need to be addressed. While it is arguably necessary to prepare students for an increasingly digital world by introducing them to the best that technology has to offer from an early age, we do run the risk that simply adding more bells and whistles to the education experience will distract students. In addition to the potential for distraction, there's also the risk that educational content becomes excessively diluted by fancy animations and convoluted interactions.
This has already been the unfortunate reality before and, in our haste to push the use of new technology in education, there have been some cases where it has had a negative impact on learning outcomes.
Naturally, it follows that a number of researchers have been investigating the merits of AR technology in education. Fortunately, the evidence has been overwhelmingly positive for AR.
Research Shows AR Has Great Potential in Education
While it's still early days for AR, particularly as it applies to education, the research done to date has highlighted the potential of immersive technology to not only engage students to a high level but to also deliver significantly improved test results.
In one of the pioneering studies on the use of AR technology, researchers set out to investigate AR as both a teaching and learning aid for teaching the alphabet to early childhood learners in a pre-school setting. What they discovered was that AR's ability to more deeply immerse children in the learning experience led to higher and more sustained engagement levels. This correlated with testing outcomes at the end of the study, with a linear relationship between AR engagement and improvement in test scores being observed.
Further to this, the researchers also found that AR also had the potential to develop mental and cognitive skills that more traditional methods of education do not encourage. This is attributable to several attributes of AR, such as its ability to encourage creativity in students, and to prompt them to explore and engage with material from multiple perspectives rather than treating it as a fixed unidimensional fact.
Educational AR App Design
While augmented reality presents multiple opportunities for enhancing education, a level of care is still needed in designing educational apps. Simply smattering a small dose of educational content throughout an otherwise distracting game will do little to enhance learning, as will distracting a child with too many interactive animations when the goal of an exercise is to learn to read.
Indeed, one very early study on AR reading apps found that the additional learning enhancements observed from the use of AR were observed only when looking for evidence that children had learned something more than the story. Further, these enhanced learning experiences required the intervention of a teacher to prompt the student with questions about, for example, what type of animal a certain character might be.
Thus, while this particular reading application was still found to have provided an enhanced learning experience, this was only achieved due to teacher initiative. The additional learning also occurred outside of the primary focus of reading.
This illustrates the need for a close alignment between the enhancements that augmented reality delivers and the educational content that is intended to be delivered through the application.
Exemplary Educational AR App Design: An Example
One of the leading companies in educational AR app development, XRApplied, provide a perfect example of tightly integrating AR enhancements with educational content delivery in its recent Balloon Pop Fun Learning application.
Aimed at young preschool learners, Balloon Pop Fun Learning guides children through the acquisition of critical early learner skills, such as the alphabet, numbers, colors, and simple single-word reading. It does this by gamifying the whole experience in a way that students' progress in the game is entirely dependent on them learning the material.
Thus, while the game's premise is overtly oriented towards fun—popping balloons using a virtual bow and arrows—strong learning outcomes are still achieved.
Additionally, learning enhancements through increased engagement are further reinforced through repetition of the material. As players are prompted to pop, for example, a specific color of balloon when they are learning colors, they are effectively being repetitively drilled on the material without the usual boredom and frustration that accompanies traditional drills.
The end result is an application that does more than just teach children vital thinking skills from as early an age as possible. It also manages to do so far more effectively than any existing technologies or methods could achieve, highlighting the great potential that AR has in education.
—
(Featured image by Tom (CC BY 2.0) via Flickr)
DISCLAIMER: This article was written by a third party contributor and does not reflect the opinion of Born2Invest, its management, staff or its associates. Please review our disclaimer for more information.
A majority of the source material for this article was obtained via BBC. In the case of any discrepancies, inaccuracies, or misrepresentations, the source material will prevail.
This article may include forward-looking statements. These forward-looking statements generally are identified by the words "believe," "project," "estimate," "become," "plan," "will," and similar expressions. These forward-looking statements involve known and unknown risks as well as uncertainties, including those discussed in the following cautionary statements and elsewhere in this article and on this site. Although the Company may believe that its expectations are based on reasonable assumptions, the actual results that the Company may achieve may differ materially from any forward-looking statements, which reflect the opinions of the management of the Company only as of the date hereof. Additionally, please make sure to read these important disclosures.