VR companies like XRApplied are delivering engaging education experiences
While traditional school rarely features on the list of the most exciting things a child can do—especially post-holiday season—field trips and science experiments do. Yet, despite their educational benefits, time and money costs hold many schools back from providing more of these experiences. But Virtual Reality is set to change this, and companies like XRApplied are leading the way.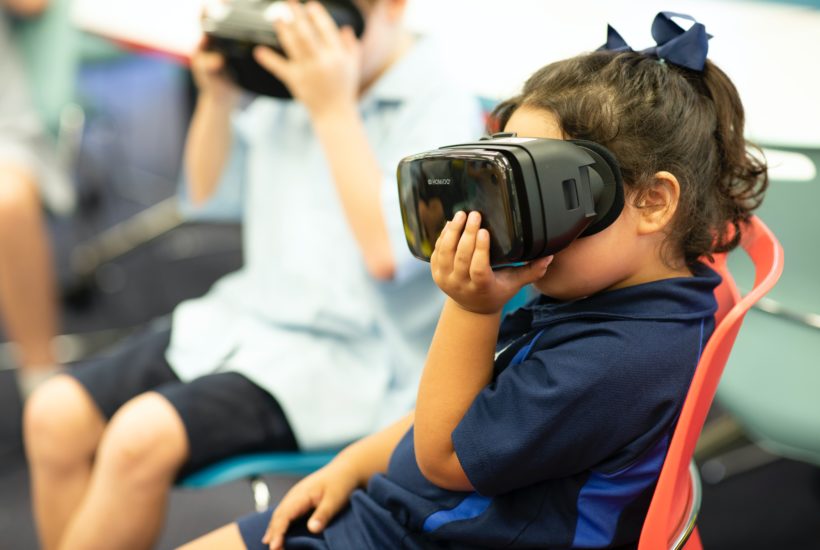 With the holiday season coming to an end, many students are heading back to school and it's a dreaded time for many. The thought of going back to rote memorization of facts, repetitive exercises, and a steady-state of information overload just doesn't seem appealing.
Especially after the wonder and excitement that Christmas brings, with many having to exchange time with their new and exciting toys, like Virtual Reality (VR) headsets and other wondrous things, for time with their textbooks and notepads.
But it's not all drudgery and mind-numbing repetition. Schooling has come a long way over the decades. Many students are now privileged enough to enjoy a regular rotation of field trips, science lab experiments, and many other activities providing hands-on experience, immersion, and increased mental stimulation. There is, however, a problem with this sort of education: its cost. Not just the one-off financial hit that these experiences bring but, just as importantly, the time cost.
This is why companies like XRApplied and emerging Virtual Reality (VR) technologies are so exciting. With the ability to transport users away in seconds or to put things in front of them that would otherwise be hard to obtain or setup, increased educational engagement is becoming a reality.
Teachers would make more field trips if they could
Teachers would take more field trips if it weren't for the additional costs that they entail. Field trips are rarely free, and science labs need to keep supplies replenished. This can be a particular problem in less advantaged districts where many parents are simply unable to afford to fund these excursions, and the schools themselves are underfunded. 
But the financial cost is not the only hindrance. Field trips disrupt schedules and eat into the day with travel time. Then there's the hassle of keeping students together without the convenience of school bells and perimeters. And even doing simple science experiments can see half of the class time eaten up by the demands of setting up and tidying up.
These latter costs impact even the most privileged students and schools and act as a major limiting factor in students' ability to learn from more engaging learning experiences. Even if students enjoy gross benefits from these sorts of enhanced learning experiences compared to traditional modes of education, the net impact once disruptions and wasted time are accounted for make their frequency a difficult balancing act.
The increasing use of technology in the classroom solves some of the problems
In the last couple of decades, computers have infiltrated education and revolutionized learning. Beyond the obvious easy storage and retrieval of information that they've enabled, they've also provided us with the ability to gamify education and to make it more engaging by giving students things like three-dimensional models that they can interact with. And, much like field trips and science experiments, the increased immersion and interactivity is an important element in improving the educational experience.
What's more is that, unlike experiences that come with one-off time and money costs, the upfront investment in a piece of technology is a one-off cost in something that can be reused infinitely and (almost) instantly. The setup and pack up time of science experiments and the travel and logistics problems of field trips are reduced to the push of a button and the click of a mouse.
But, despite their advantages, computers are still limited. Even with the high-definition video and photo-realistic 3D rendering we have available now, interacting with a two-dimensional representation of a three-dimensional object will always come with a level of abstraction. Granted, it is several levels below from the abstraction of textbooks and chalkboards, but it is still no match for true immersion; at times, traditional computer technology is nothing more than a slightly easier to use textbook.
How Virtual Reality (VR) will reshape education
The fact that computers can, at times, act as nothing more than enhanced textbooks is largely a side effect of their interfaces. Two-dimensional screens, keyboards, and mice always keep the user at a (literal) arm's length from even the most realistic-looking experiences. And, even if touch screens do improve the interactive side somewhat, they still suffer from a problem inherent to their name: screens that are necessarily two-dimensional.
This is why Virtual Reality (VR) is shaping up to become a critical component of the educational toolkit. With its ability to fully immerse its users in any environment, and to provide far more natural ways to interact with it, like gestures and bodily movement, abstraction through two-dimensional screens and "Human Input Devices" (HIDs) is removed.
This advance will allow schools and students to conduct field trips and science experiments in a way that doesn't eat into precious classroom time. With students needing to do nothing more than pick up a hardware device, there's no reason why students in the coming years can't visit the Louvre in Paris in the morning, before conducting zero-gravity science experiments on the International Space Station (ISS) in the afternoon.
While Virtual Reality (VR) is expensive now, XRApplied says it doesn't have to be that way
Of course, time costs are not the only problems that the field trips and science experiments of today have. The financial expense is also a major consideration for countless schools and students. And, unfortunately, current Virtual Reality (VR) implementations can also come with the same financial hindrances.
But the current high prices for VR tech don't have to stay that way, which is why tech startup XRApplied set out to solve VR's cost problem. By identifying ways in which developing new applications could be scaled out, such that it could be done quickly and with minimal cost, this company is playing an important role in VR's march towards the sort of educational importance that regular computers play today.
—
(Featured image by STEM.T4L via Unsplash)
DISCLAIMER: This article was written by a third party contributor and does not reflect the opinion of Born2Invest, its management, staff or its associates. Please review our disclaimer for more information.
This article may include forward-looking statements. These forward-looking statements generally are identified by the words "believe," "project," "estimate," "become," "plan," "will," and similar expressions. These forward-looking statements involve known and unknown risks as well as uncertainties, including those discussed in the following cautionary statements and elsewhere in this article and on this site. Although the Company may believe that its expectations are based on reasonable assumptions, the actual results that the Company may achieve may differ materially from any forward-looking statements, which reflect the opinions of the management of the Company only as of the date hereof. Additionally, please make sure to read these important disclosures.