Community colleges launch hundreds of new contracting opportunities in 2019
The 1,051 community colleges in the United States—more than 900 of which are public—are no longer viewed as stepping stones for students on the path to a degree from a four-year institution.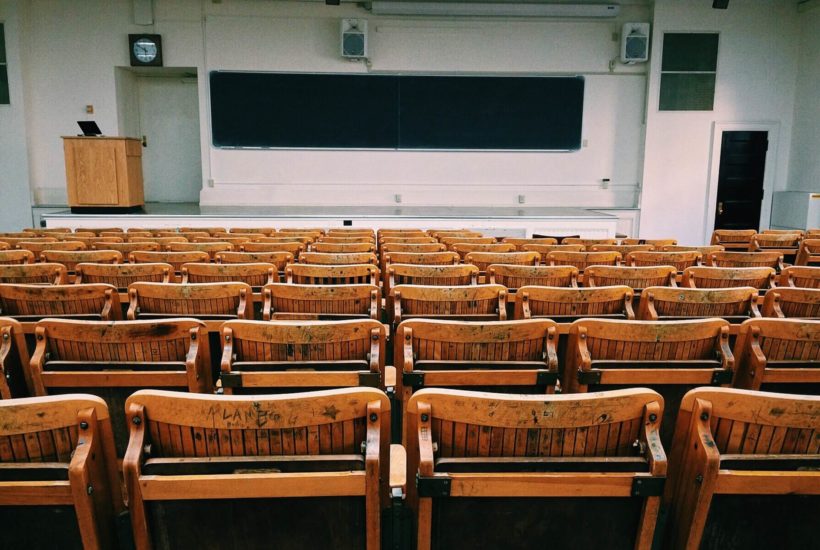 Because of the country's growing economy and the immediate need for specialized workers, community colleges are a critical component of America's global economic prowess.
Community colleges throughout the country collaborate with industry leaders to provide critical training for high-demand jobs. Community colleges are producing high-skilled workers in business sectors that include technology, renewable energy, cybersecurity, and health care.
To manage the increased demand and facilitate the enrollments of significantly more students, community colleges must have more facilities as well as upgrades to buildings that are 50 to 60 years old. A growing student population requires the latest in technology, study labs, training rooms, equipment and more. Many community colleges also provide student housing, parking garages, and health clinics. As a result, community colleges are becoming a major sector in an expanding government marketplace.
Last year, a record number of apprenticeships, more than 238,000, were added to the labor force, according to the U.S. Department of Labor (DOL). The American Association of Community Colleges and DOL are collaborating on an initiative to add 16,000 additional apprenticeships across multiple industries. And, the federal government is increasing what is allocated for apprenticeships from $145 million last year to $160 million this year.
Cybersecurity is an industry that will definitely benefit from the increase in apprenticeship programs. The National CyberWatch Center reports that in 2018 there were approximately 768,000 cybersecurity workers nationwide, but there are more than 300,000 jobs that need to be filled.
The safety fears are very real to parents, students, administrators and college board members. College officials have expanded security efforts by opting to purchase new technology, but there's much more to be done.
Upcoming contracting opportunities at community colleges throughout the U.S. include the following:
The Tennessee College System, which includes 13 community colleges, has a number of planned projects on various campuses. They include $1.35 million in HVAC and electrical updates and repairs for Pellissippi State Community College in Knoxville, a $3.49 million industrial readiness facility at Southwest Tennessee Community College in Memphis and a $1.28 million building envelope and repairs project at Roane State Community College in Harriman.

Wake Technical Community College in Raleigh, North Carolina, will solicit architectural design services for a new 120,000-gross-square-foot classroom building that includes a 500-space parking deck and associated parking lot, roadway work and demolition of three buildings. The college is also seeking a construction manager at risk for a new $93.53 million, 70,000-gross-square-foot advance industries classroom building with a 1,000-space parking deck and other infrastructure projects.
Earlier this month, voters in the Dallas County Community College District approved a $1.1 billion bond referendum. Nearly half of the proceeds – $535 million – are allocated for construction of the Dallas Education and Innovation Hub and a redesign of the El Centro College campus in downtown Dallas. Bond funding will also be used for a new student learning space with specific types of modern equipment.

Haywood Community College in North Carolina is in the planning stage for a project that will build a new $7.2 million building for high-demand fields relating to health and aging.

Bucks County Community College in Pennsylvania will move forward with a plan for a $29 million Bristol Township campus expansion and renovation project. County commissioners have guaranteed the funding, nearly half of which will be used to build the $14 million Center for Economic and Workforce Development. The remainder will be spread over various other improvement projects, such as security upgrades.

In Texas, voters approved the Amarillo Junior College District's $89.2 million bond issue in early May. Bond funds will provide for facility maintenance, additional parking, and construction, renovation and equipment needs.

Lawmakers in the state of Washington approved a two-year capital budget that includes $5.9 million for repairs at Spokane Community College. Similar projects at Spokane Falls Community College will receive $4.5 million in state funds. Additionally, the Columbia Basin College in Pasco and the Walla Walla Community College were allocated $11.2 million for maintenance, preservation and repair projects. Both campuses were also awarded funds for student recreation centers – $3 million for Columbia Basin and $1.5 million for Walla Walla.

Bates Technical College in Tacoma, Washington, will receive $40.8 million to replace the West Annex building with a new health science center and $2.8 million for pre-design and design for a new fire training facility. Another $3.3 million will be used for pre-design and design of a new science, technology, engineering and mathematics building at Pierce College in Puyallup.
Large, diverse contracting opportunities are up for grabs in this market space. When sales managers contemplate new regions and jurisdictions to pursue in 2019, it would be a mistake to overlook community colleges.
—
DISCLAIMER: This article expresses my own ideas and opinions. Any information I have shared are from sources that I believe to be reliable and accurate. I did not receive any financial compensation for writing this post, nor do I own any shares in any company I've mentioned. I encourage any reader to do their own diligent research first before making any investment decisions.