Why Jon Gruden left his job as an analyst to return as a coach
Jon Gruden will be part of the 99th NFL season and nine more seasons after. Why did the coaching great return after years as an analyst?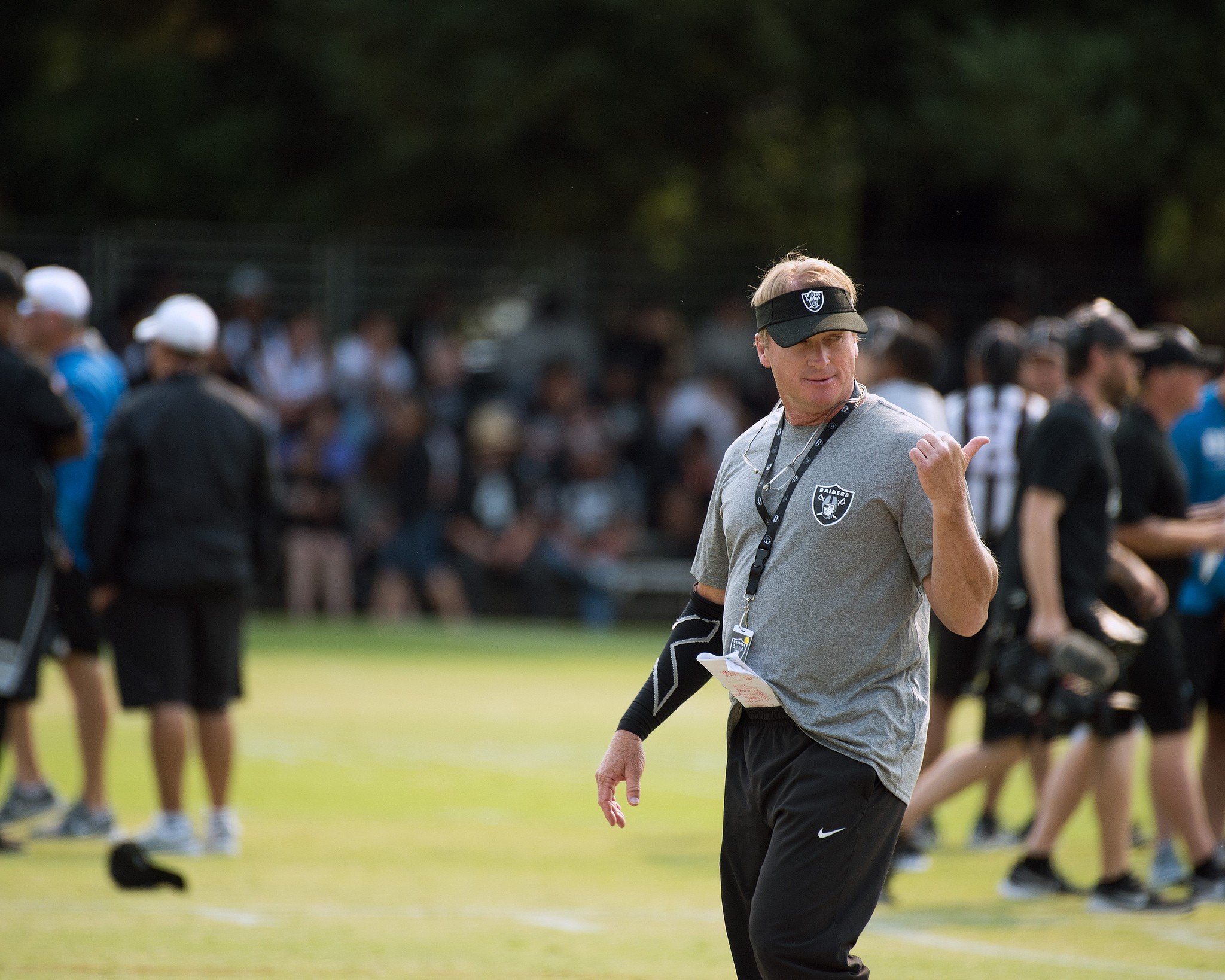 Jon Gruden has been an analyst and a commentator for ESPN's Monday Night Football telecasts for nine years. Before his stint on the sports channel, Gruden made it big as one of the top coaches in the NFL. He ended his coaching career in 2008. After nearly a decade-long coaching hiatus, Gruden is making a comeback. What caused Gruden's return after all this time?
Earlier this year, Gruden signed a 10-year $100 million contract to coach the Oakland Raiders, a team he had coached from 1998 to 2001. This new contract of Gruden is a far cry from the $6.5 million a year deal he has with ESPN and is one of the biggest made in the NFL history. Adding to his massive pay, the contract also includes a no-trade clause, meaning Gruden will be with the Raiders exclusively.
Beyond this, Gruden revealed in an interview with Bleacher Report that his New England Patriot's quarterback Tom Brady had a role to play in his return too.
Gruden once wanted to create a video that puts mental toughness at the forefront and the start of that clip was none other than Brady. While he was still coaching the Raiders years ago, Gruden had a few run-ins with Brady. At that time, Brady was still a young gun in the NFL, and he was making easy work of the game. Nearly two decades, 5 Superbowl trophies and countless accolades later, Brady is still in the game.
Brady never left the Patriots for another team. Gruden now has another chance to face off against one of the toughest and most determined players the NFL has seen. Simply put, Gruden was inspired by Brady's will and passion for football. He shared these two things in common with Brady. Though Gruden may not play alongside Brady on the field, he still has the privilege to go up against him in the same game.
How Gruden has changed as a coach
Moving forward, Gruden wants to bring in all the knowledge he has learned from coaches during his years as an analyst. He is also going to use new age tools like analytics and video boards during training sessions. These would allow him to see his team from a whole new perspective.
Despite his reliance on new coaching tools, Gruden will also bring some of the items he has used before. Some of which are countless game tapes that date back to the career of Elroy "Crazy Legs" Hirsch.
The 2018-19 season of the NFL kicked off last Sept. 6. Gruden will make his return as a coach for the Raiders soon and they will go up against the Los Angeles Rams first. The Raiders are coming off of a 6-10 standing from last season and it will be exciting to see how Gruden's return will make an impact on the team.
(Featured image by Travis AFB via Flickr. CC BY-NC 2.0)